The welcoming committee at Gerard Butler's Malibu spread is a 25-pound former Bulgarian street dog with a penchant for licking.
"Shushka, stop! Come here!" Butler says, standing in his doorway in a pecs-hugging gray T-shirt, jeans, and hiking boots. He found the stray a few weeks ago while filming a movie in the mountains outside Sofia and immediately fell in love, so he had her spayed, vaccinated, microchipped, and flown to L.A. "I was worried at first—her first couple of days, she was on my girlfriend's dogs nonstop," he says. "One was hiding under the bed, another was in the corner with its tail between its legs. She was in their face every second." He laughs and looks almost proud.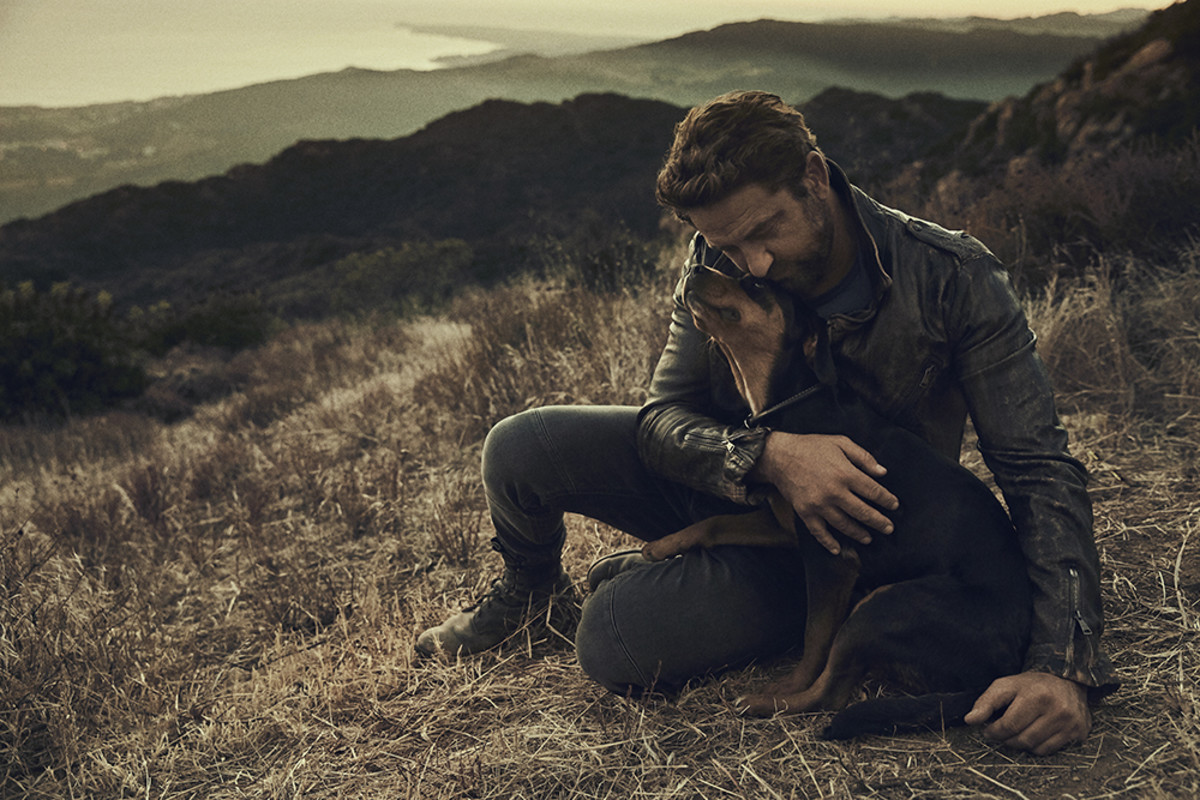 Butler knows something about being the alpha dog. The 48-year-old Scot—call him Gerry; everyone does—made his name playing badass action heroes, from the ancient Spartan king Leonidas in 300 to Secret Service agent Mike Banning in the Olympus Has Fallen franchise. Tall, gregarious, and quick with a hug, he favors dudely pursuits—mountain biking, surfing, paddleboarding, motorcycles—and he's never met a story he didn't love to tell in his lowland burr. If he weren't 20 years sober, he'd be an excellent guy to have a beer with. (Instead, he's an excellent guy to have a Diet Coke with.)
We take a little stroll around his property, a secluded two acres cloaked in eucalyptus that he bought two years ago in Malibu's low-key luxe Point Dume neighborhood. (Neighbors include Matthew McConaughey, Sean Penn, and Bob Dylan.) There's a creek running through the middle and an old corral where he wants to put some goats or maybe donkeys. He also plans to build a zip line and a treehouse, in addition to the tepee he recently installed, which he uses to meditate and for the occasional "journey" (read: ayahuasca). In fact, he was journeying in the tepee just four nights ago. "It's really therapeutic," he says. "I couldn't believe how much it grounded me and made me more excited about my life. It really affects you at a cellular level."
We go into his house, a gorgeous teak-and-stone number that's built into the surrounding landscape like a California-modernist Hobbit hole. "My little cabin," Butler calls it. He also owns a house in Los Feliz, as well as a massive loft in Manhattan. But this one's different. "Once I come here, I'm not in L.A. anymore," he says. On one shelf there's a snapshot of Butler with his buddy and fellow Scotsman Rory McCann (best known as the Hound on Game of Thrones), while on a nearby coffee table are two notebooks full of hand-scribbled character ideas for his latest film, Den of Thieves, a gritty L.A. crime flick that opens this month.
We settle in the kitchen, where Butler fixes me a cappuccino, and we make a plan for this perfect Malibu afternoon. Butler has two ideas: Either we take a short stroll down to a private beach, sit on the bluffs, and have a chat—or we hop on our motorcycles, ride up the canyon, and do a longer mountain hike with sweeping views of the Pacific. The answer seems obvious; the only drawbacks to the latter plan, Butler says, are that, one, it's already mid-afternoon, and he's worried about having enough daylight, and, two, he suffered a gnarly, near-fatal motorcycle crash a few weeks ago and is still a little hesitant to get back in the saddle. "I'm not nervous," he insists. "It's just…I don't know. Should we do it?"
He debates with himself for a few minutes, going back and forth on the pros and cons of each. "Welcome to my brain," he says, laughing. Finally he says, Screw it—if we run out of daylight, we'll just hike in the dark. "Let's take the bikes."
I'm riding a Triumph Scrambler, and Butler would be as well, but his is still in the shop after getting mangled in the crash. So, instead, we gear up and he hops on his brand-new Harley-Davidson Roadster, a recent gift from the company—so recent, in fact, that he's never ridden it before. We head north on the Pacific Coast Highway. At first Butler takes it slow and careful, sticking to the speed limit or even under. But as soon as we turn onto the old Mulholland Highway and start climbing the serpentine roads up into the Santa Monica Mountains, he starts having some fun, slaloming up the straightaways and pushing it around the curves. At one point, he stops in the middle of the road and sweeps his arms across the vista surrounding him, wonderstruck. Eventually we arrive at a dirt parking lot near the trailhead. "Oh my God," Butler says, as he pulls off his helmet. "Amazing, huh?"
Butler is a big motorcycle guy. He's taken weeks-long rides through the Himalayas (where he got violently ill after drinking river water) and the American South (where he was rescued, after getting stranded in Arkansas, by some bikers he describes as "Christian Hells Angels"). Last year, he and a friend took a rambling road trip through the national parks in Arizona and Utah (Zion, Canyonlands, Arches), and last summer, they rode through Oregon to see the solar eclipse. "You're so fragile on a bike," Butler says. "But it's so fun."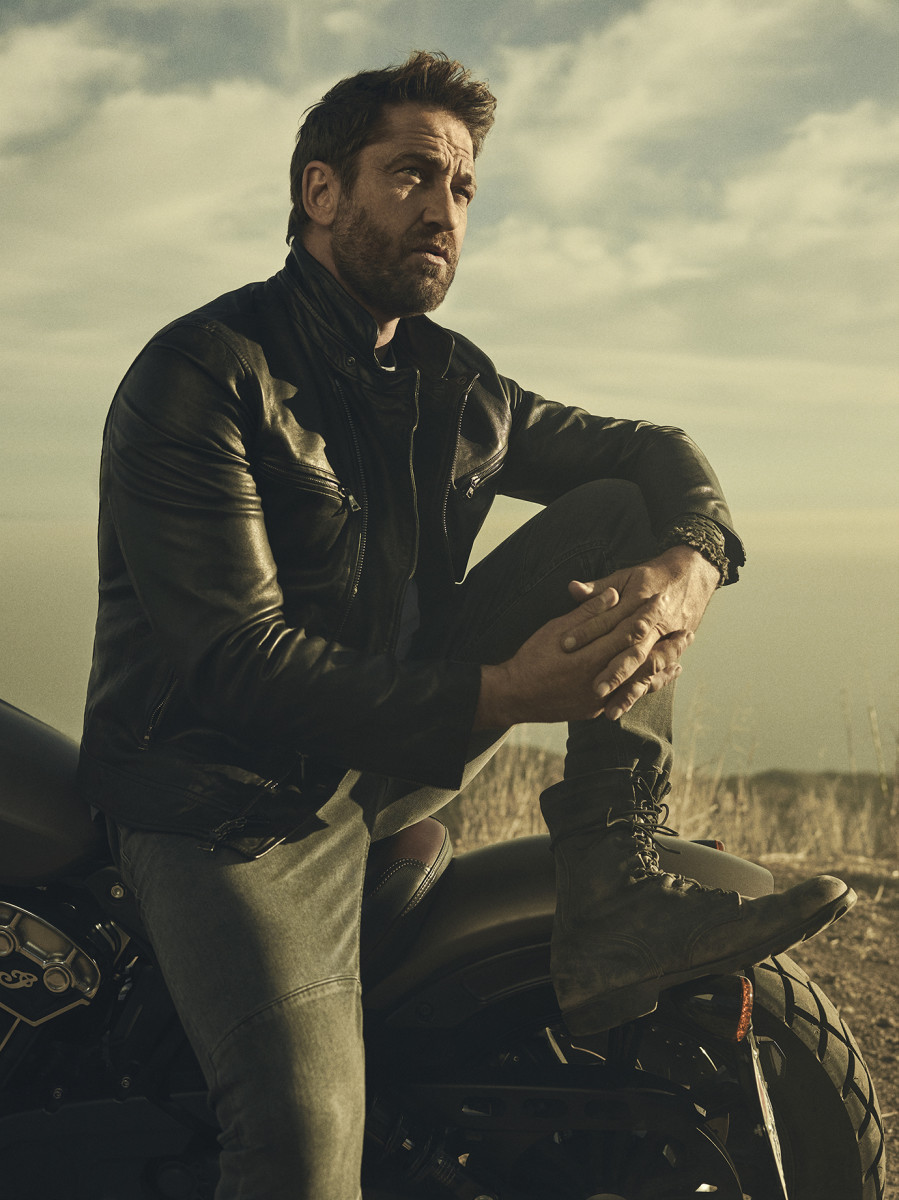 By now we've got about 90 minutes till sunset, so we decide to hike out for 45 minutes and then turn back. He starts down the trail, setting the pace with long, confident strides. At one point he comes across a downed tree branch blocking the way and, instead of hopping over it or around it, plows right ahead, crunching the wood under his boot.
That's the kind of outta-my-way mentality Butler inhabits in Den of Thieves, a cops-and-robbers heist movie, in which he plays "Big Nick" Flanagan, the leader of a crew of crooked L.A. detectives. ("You're not the bad guys," he tells a bank robber at one point. "We are.") To prep for the role, Butler spent two months hanging out with undercover cops from the Drug Enforcement Administration; the Bureau of Alcohol, Tobacco, Firearms, and Explosives; and the L.A. Sheriff's Department. He says he was most struck by "this animal they have to be to outmaneuver the bad guy—a silverback gorilla, a fuckin' T. rex. An apex predator."
Butler gained 30 pounds to play Flanagan, a brilliant cop with voraciously bad impulse control who's usually his own worst enemy. "I really felt the weight and the appetite," Butler says. One night he was out at an Asian restaurant with the director, Christian Gudegast. "I'm sitting there eating sushi, talking about Big Nick, and I get this sense of power surging through me," Butler says. "And [Gudegast] says, 'Dude—what the fuck! That's raw chicken!' " It turns out it was a Korean barbecue restaurant, and Butler was scarfing down the uncooked meat for the grill. "I'd eaten a whole plate of raw chicken not even knowing it," he says, then laughs. "T. rex, T. rex, T. rex!"
Butler has been an envelope-pusher for most of his life. He grew up working-class with a single mom, in a small Scottish town called Paisley, but busted his ass and studied law at Glasgow University, where he became the president of the law society. Before graduating, he came to California for a slightly blurry gap year, in which he lived near the beach in Venice, drank his way around the country and, on a few occasions, got arrested. Back in Scotland, he landed a prestigious law internship in Edinburgh, only to get fired a week before it turned into a full-time job. At 25, with no real plan, he moved to London.
Butler landed a few small TV and film gigs and eventually decided to move to the States to try acting for real. He replaced his boozing with a new addiction: workaholism and physical effort. For his breakout role as the shredded Leonidas in 300, he spent so many hours every day pumping iron that he nearly ripped his shoulders out of their sockets. For the 2012 surf movie Chasing Mavericks, Butler nearly died when he got demolished by a massive wave and was held underwater for nearly a minute. The injuries from that incident led to some problems with painkillers and, eventually, a short stint in rehab.
"It takes its toll, you know?" Butler says of the physical side of his work. "You do these movies so you can live your life. But sometimes you go so hard when you're working that you can't live your life." His knees give him particular trouble, especially when he has to pack on pounds for a role. These days, he has a whole room in his house filled with gadgets that do things like shoot electrical charges into his muscles to stimulate recovery. "I live for these things now," Butler says. "Probably 50 percent of my day is spent doing physio and training."
All his envelope-pushing came to a head in October, when he had his crash. "It was the busiest period I've ever had in my life," Butler says. "I essentially had four movies coming out, and I was prepping for another one—I was going from L.A. to New York, back to L.A., then London, then Italy, then Bulgaria, in less than a month. This spiritual guide I'd heard about came into town, and I wanted to take his course, but I was too busy—so I went over on my motorbike to talk to him instead." The guru talked to Butler for a while and advised him to slow down, take some time off, carve out some personal space. "Then I got back on my bike," he says, "and 15 minutes later, I was in an accident."
It happened like this: He was riding down a busy street called Motor Avenue, in West Los Angeles, when a woman parked on the right side of the road tried to do a U-turn across two lanes of traffic. Unfortunately for them both, Butler was in one of those lanes. His bike slammed into the side of her sedan, and he somersaulted high into the air. "Everything went black—I couldn't see anything," he recalls now. "But I knew I was in the air for an inordinate amount of time. And as I went through the air, I literally thought, 'If this doesn't go the right way, I'm going to die. It really depends on how I land.' "
Butler hit the ground knees first, a full 30 feet from his bike. "I had five fractures in my right foot," he says. "A torn meniscus. Road burn to the bone. And my knuckles were all cut to shit because I wasn't wearing gloves." All things considered, he was lucky. "If ever there was a time to feel like Leonidas would have felt after he'd made it through all those wars," Butler says, "that was it."
"As I went through the air, I literally thought, 'If this doesn't go the right way, I'm going to die. It really depends on how I land.'"
The crash caused Butler to step back and evaluate what he was doing with his life. It occurred to him that he wanted to work less and spend more time doing what we're doing right now—riding, hiking, communing with the outdoors. He tells a story about a long-ago trip to Iceland, where he, his friend the Hound, and another pal camped atop a glacier with the northern lights shimmering overhead. "When you get to the edge of the edge of the edge, that feeling is so powerful," Butler says. "That's the feeling you miss when you get so into work. I had a big panic this year, because I sort of felt I wasn't leaving myself the time to do it. That's when you go, Is it worth it? Is it worth it for that one movie—which, by the way," he laughs, "chances are, will bomb anyway?"
Back in the parking lot, we sit on our bikes and take in the scene one last time—the moon, the ocean, the dark mountains silhouetted against the sky. He says it reminds him of camping in Joshua Tree a couple of months earlier. "We were in the Hidden Valley—the only people there," he says. "We sat on a rock as the moon came over the valley. It was so fucking powerful." He's quiet for a minute, just staring up at the stars. "We all need a bit of this in our lives."
It's starting to get chilly, so we make our way back down the PCH to a Malibu gastropub called Ollie's Duck & Dive. In the parking lot, Butler takes off his helmet, shivering. "Now I remember why we wanted to be back before dark," he says. "That was fucking freezing!"
We get a booth in the back, and he orders a bison burger, fries, and a Diet Coke—plus some truffle fries to start. Oh, and we have to get the buffalo-sriracha cauliflower. And the roasted corn with chili and lime is amazing. And the pork belly brussels sprouts—we need the pork belly brussels sprouts! Before we know it, the entire four-top is overflowing with food, and a ravenous Butler digs in, shades of Big Nick coming out.
"I think maybe my eyes were bigger than my belly," he admits after a few minutes. "But it's pretty fucking great, huh?
Ever since the crash, Butler has been trying to refine his work-life balance. "I often find, when I finish something, no matter what it is: Let's try the fucking opposite," he says. "A perfect example is my line 'This is Sparta,' from 300. I'd done four or five takes, and they were all really quiet and very dramatic." He drops his voice and whispers through clenched teeth: " 'This is Sparta.' We were finished and were about to move on, and I went, 'Wait, wait, wait. This! Is! Sparta!'" As he shouts, a few startled fellow diners turn to stare.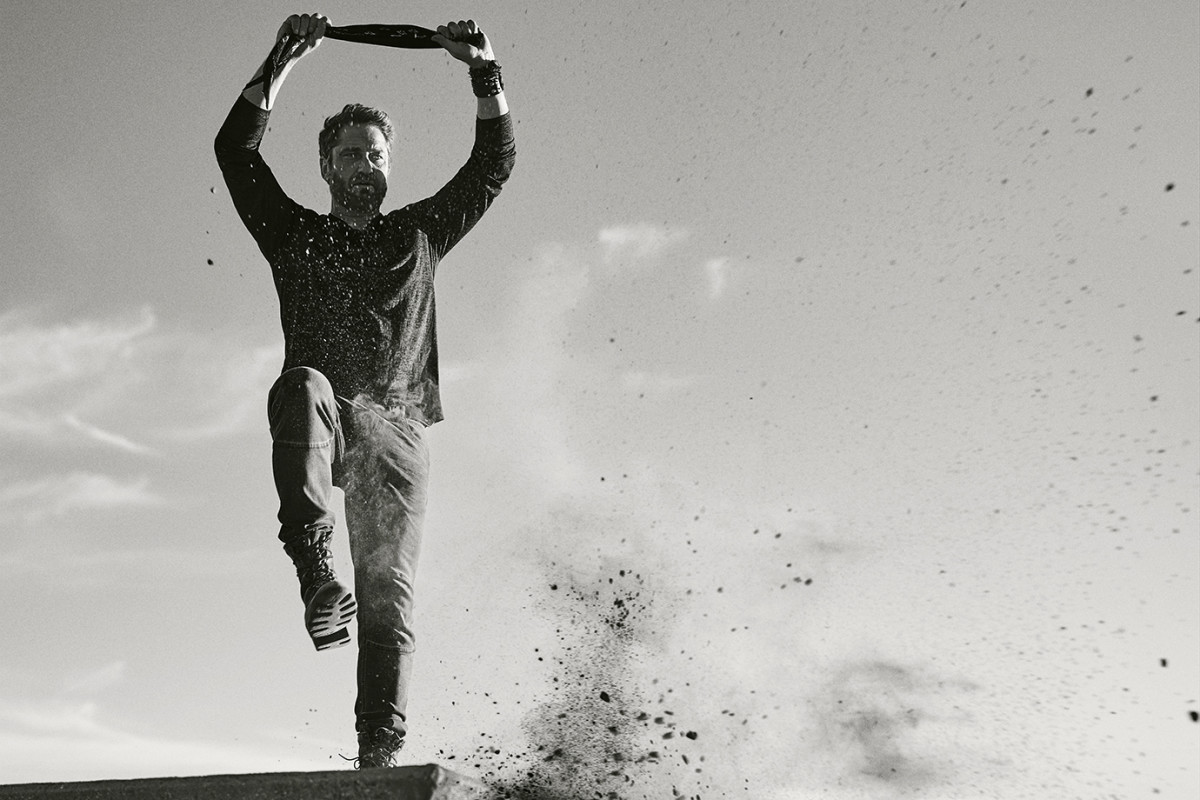 Now he's thinking about trying the opposite of working too hard. For the past three years, he's been in an on-again, off-again relationship with an interior designer named Morgan Brown. They broke up for a brief time last summer but got back together again. ("It's hard for us to stay away," Butler says.) He'd like to spend more time with her, and he thinks he'd like kids soon; he's nearing 50, after all.
For all his jockish action hero–ness Butler is secretly kind of a dreamer, a seeker, a wanderer. He enthusiastically recommends New Agey self-improvement books and recently went to Burning Man for the first time, where he says he "felt creatively free to discover different parts of myself… I just realized that life had a whole other dimension. Just like the ocean exists, whether we use it or not. Being on the edge of the Playa, it was literally like being on another planet."
Careerwise, he'd like to spend some time focusing on smaller and, to his mind, more interesting films—such as Den of Thieves. "I feel like I'm climbing into a different area of performance that I'm excited about," Butler says. "A new challenge." His last three major movies—Gods of Egypt, London Has Fallen, and last year's environmental disaster movie Geostorm—were big-budget action flicks that were widely panned. (When I tell him I haven't seen Geostorm, he smiles. "You're not missing much.")
Butler would like to do fewer of those. "I don't know if they'll ever fully go away," he says—after all, he knows what he's good at. "But, for instance, in Hunter Killer"— a new submarine thriller he has coming out this year—"there's a Navy SEAL character who everybody thought I was going to play. But I wanted to play the captain." His reason? "I wanted to make a movie with a lot of action but not have to be involved in any of it."
In the meantime, he has at least one more franchise to get through. He will soon start shooting Angel Has Fallen, the third film in his Has Fallen trilogy, after Olympus and London.
"And then, after that," he says, "I think I'd like to chill."
For access to exclusive gear videos, celebrity interviews, and more, subscribe on YouTube!