Day of the Dave
How Dave Bautista Defied the Odds to Become a Box Office Monster
CROWDS DIG DAVE BAUTISTA. During his run as a WWE pro wrestler, the six-time champion got pretty hooked on hearing the roar of 70,000 fans. His ears are still ringing. "Nothing will replace that electricity," says Bautista, who stepped away from the sport (aside from some cameos) in 2012. In his unlikely second act, Bautista has found himself a Hollywood heavyweight—literally—a 6'6″, 270-pound star known for playing the soulfully deadpan Drax the Destroyer in Marvel films like Guardians of the Galaxy and The Avengers: Infinity War. Between the wrestling and Comic-Con crowds, Bautista is now recognized instantly in airports and health food stores across the planet. So you might think that after a pandemic year lying low in his Tampa, Florida, home, the dude might be itching to get back in the mix. To jump back into being adored, you know?
Not quite. "This is like, my jam!" says Bautista. "Quarantine is my shit. I'm socially awkward. I miss going to movie theaters and taking my family to baseball games, but I don't mind being alone."
Bautista won't be alone for long. On May 21, he plays a mercenary in the zombie heist flick Army of the Dead, a big-budget summer movie on Netflix from director Zack Snyder (300). In October, Bautista stars in the sci-fi blockbuster Dune as the sadistic villain Glossu Rabban, reuniting with director Denis Villeneuve (Blade Runner 2049). And later this year, he'll don Drax's greenish-blue makeup again to shoot Guardians of the Galaxy 3. Safe to say that millions of eyeballs will be on Bautista in the coming months. So how's he been spending each day while waiting for the world to reopen? We checked in.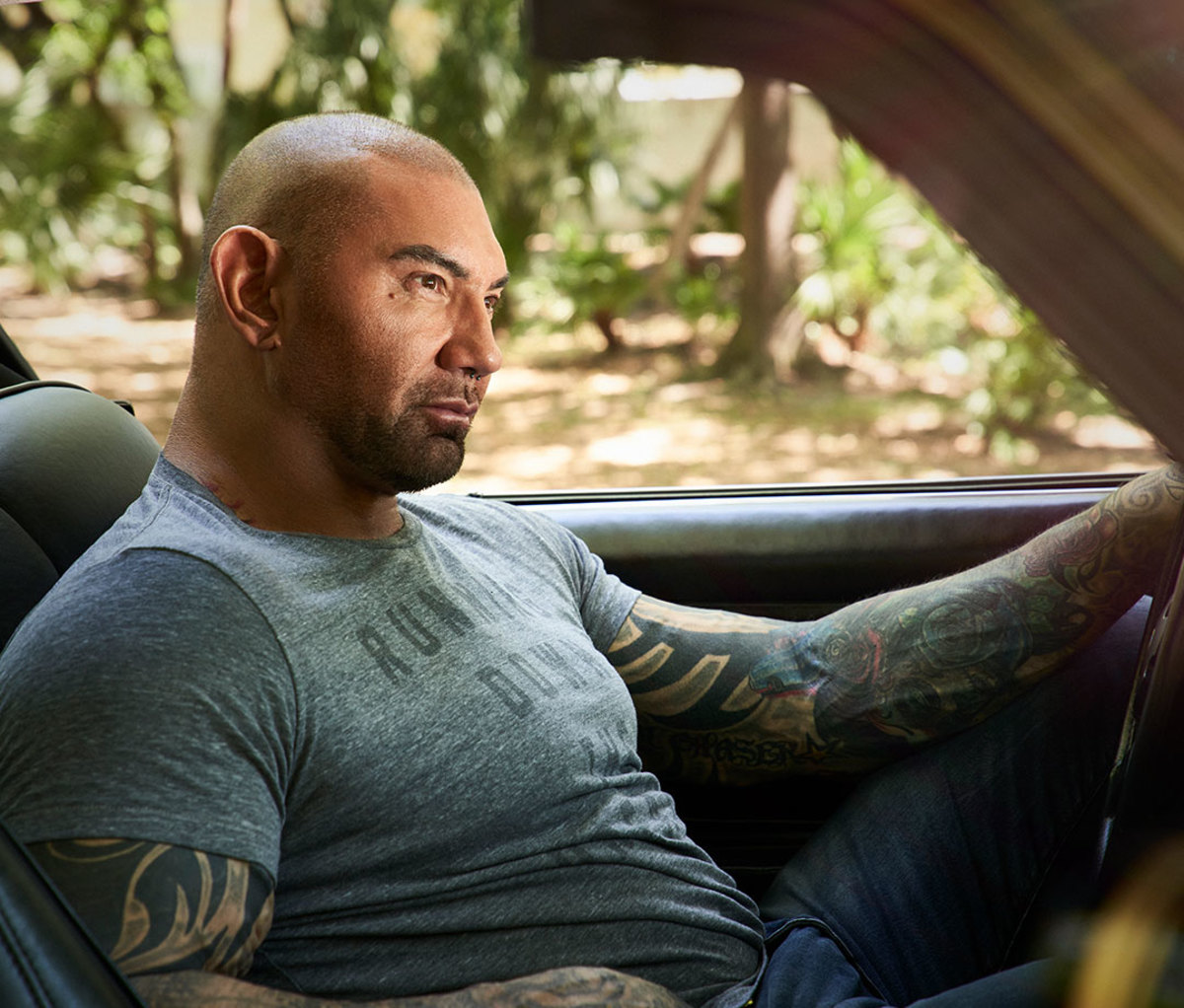 EVERY DAY IS A GOOD DAY
The alarm doesn't ring in the Bautista household until about 9:30. That makes sense, perhaps: "I tend to get into things on the later side," he says. Bautista spent his 20s as a bouncer, didn't start wrestling until he was 30, and didn't find success as an actor until he was already into his 40s, when Guardians director James Gunn took a gamble. "Guardians changed the trajectory of my life. It gave me a new start. It stripped away everything that I had in wrestling and let people see me as an actor. I was broke. My house was foreclosed on. I had just lost everything. I was barely working. I couldn't get auditions." Point being: Bautista, most days, wakes up in a pretty good mood. "Because I had fortune so late in life, I never take anything for granted," he says.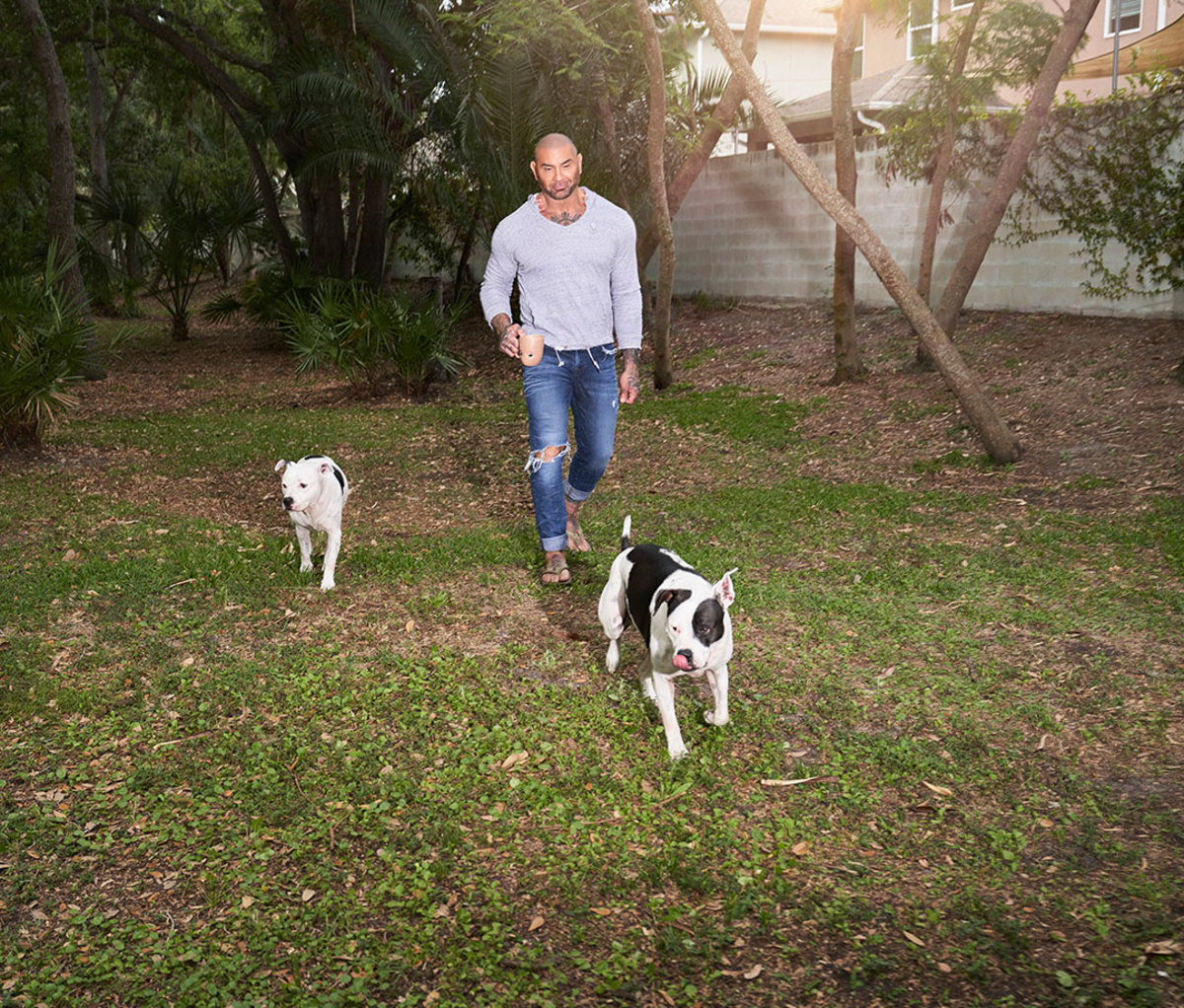 HEADS OF THE HOUSEHOLD
The first matter of business: letting the dogs out. Maggie and Ollie are six-year-old pit bull mixes Bautista rescued a year-and-a-half ago. It's Maggie and Ollie's mansion, essentially; they're just letting Dave crash there. "They're just completely unruly," Bautista laughs. "They're 65 pounds each, and are constantly slamming into this or that. They play rough. I have to immediately open the door to let them outside to snarl at each other or bite at each other's faces, that kind of thing." They're enough of a challenge, Bautista says, that most days, a dog trainer visits the house, or Bautista tries playing the role of one. "It works…sometimes."
FEELING THE PUMP
Next, the dogs join him at his private gym a few miles down the road. "The reason I look this way is a side effect of my mental issues," says Bautista. "Working out is therapeutic for me. You know how some people might feel better after a good cry, or from sitting on the couch at the therapist? That's working out for me. I'm just fucked in the head. I saw too many dead bodies growing up in Washington, D.C., when I was a kid. I need to train or I have bad visions." Unlike you and me, Bautista has to try not to lift too much. "I pack on muscle too easily. I can look ridiculous on film because I'm usually so much bigger than the people I'm working with. So I don't do anything super-fancy: assault bike, speed bag, flipping tires."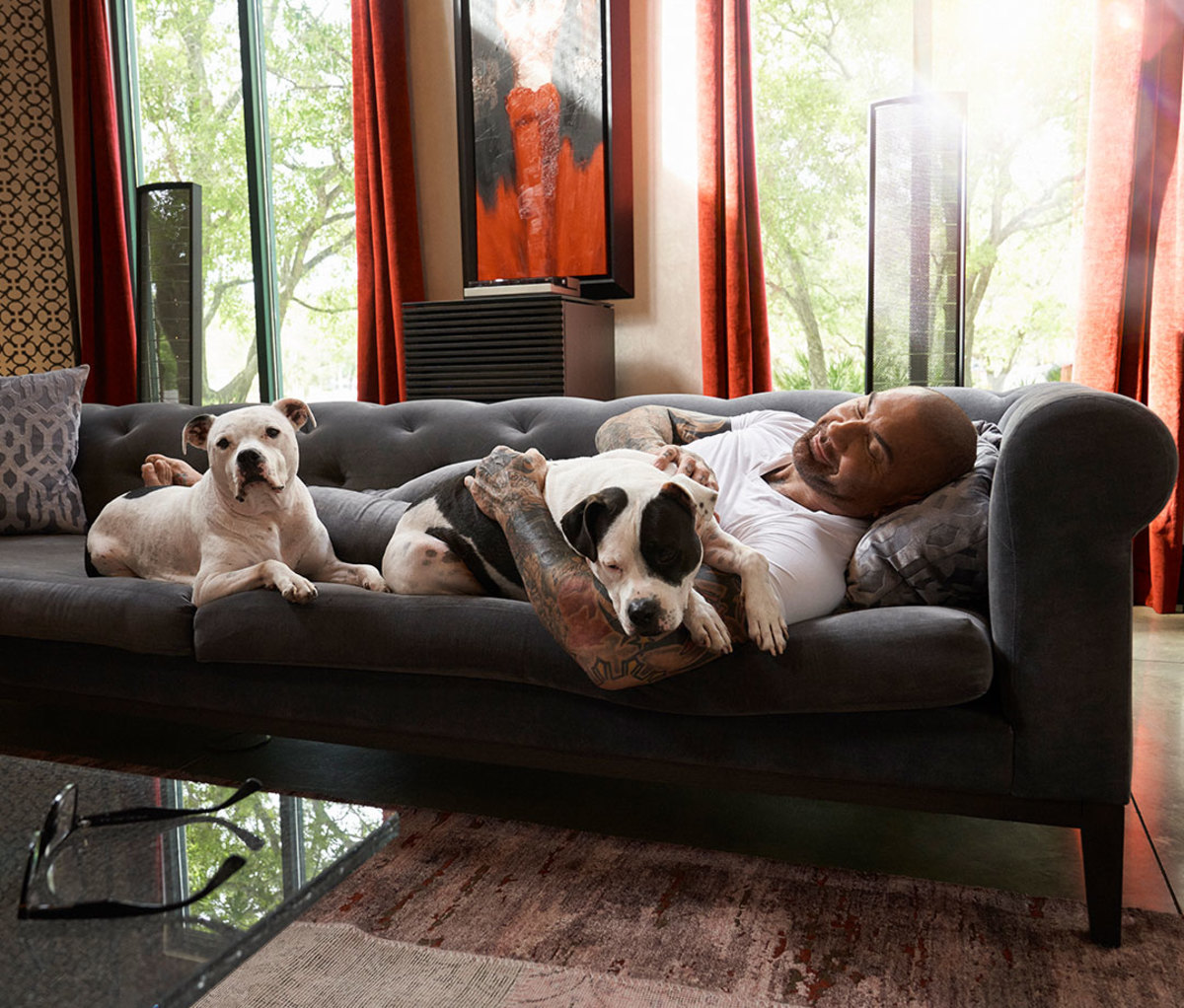 AT THE TRAINING TABLE
Part of that slimming-down plan includes intermittent fasting, so Bautista doesn't have breakfast until he's back home, midday. "I'll have like half a dozen scrambled eggs and avocado and some turkey bacon. No carbs, typically. My girlfriend will have about half of what I eat, plus a stack of pancakes." Bautista says he frequently plays chef for his guests. "I like bringing a bunch of friends over and cooking for them. We didn't have much as a kid, and I learned that being content with a full stomach is everything."
BOSSING HOLLYWOOD
Now it's deal time: Bautista checks in with his agent to discuss offers, work on negotiations, and hear about new projects. The long-term goal, he says, is to produce and direct. "My heart tells me that's the next step. Years ago, I figured out that at the end of the day, if people can make a dollar and a cent off of you, then they'll want to work with you. In any business that's true, but especially in entertainment. So I want to be as big of a star as I can, only so that people want to hear what I have to say when I walk in the room, so I can get to the other side of the camera."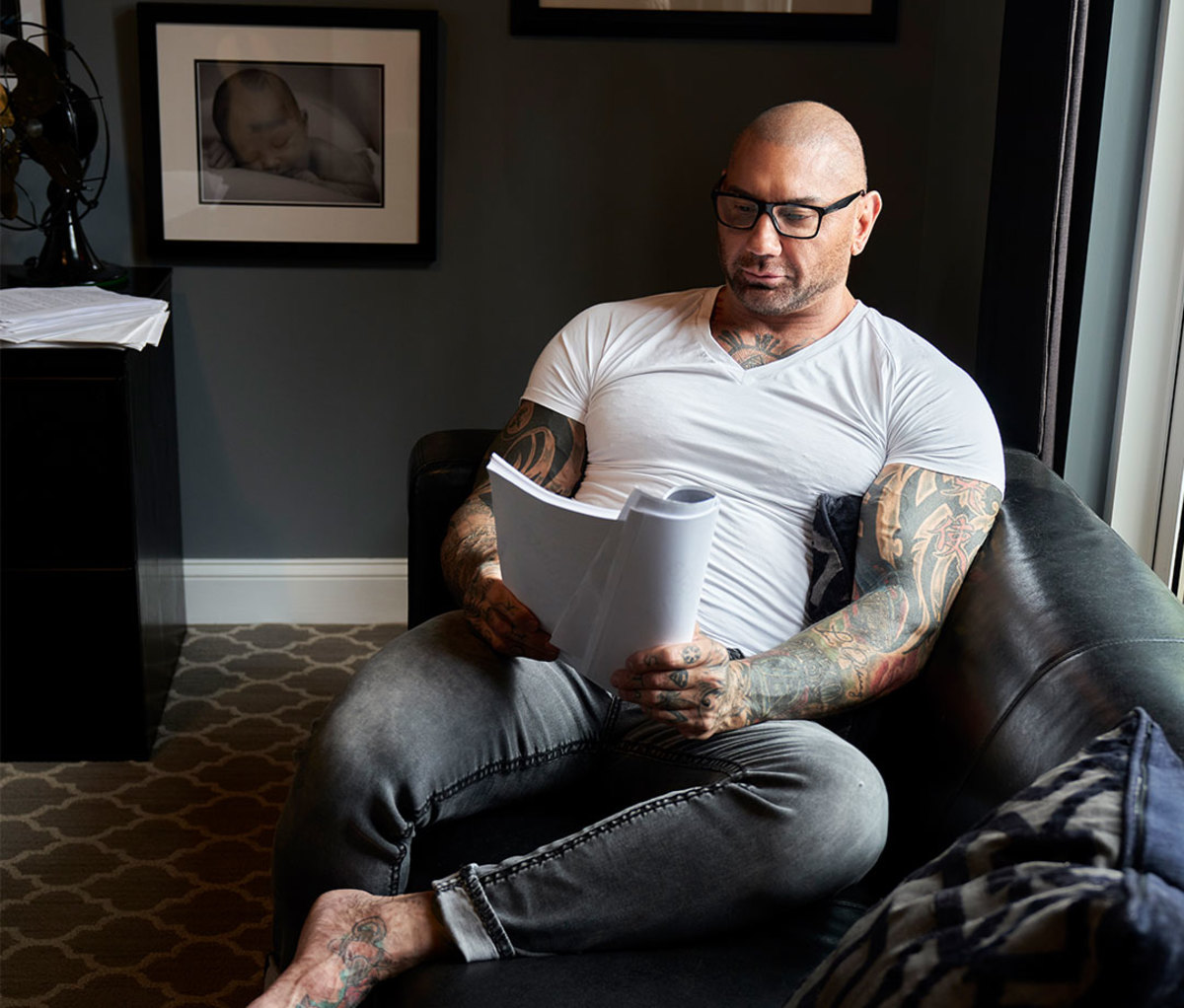 AMERICAN MUSCLE
In the late afternoon, it's time for some heavy metal: working out Bautista's 1977 Pontiac Trans Am, in Smokey and the Bandit black and gold. "It was my dream car growing up. I was obsessed with it, and I was finally able to purchase it." In 2006, Bautista found one in perfect condition in Canada. "The owner's wife made him sell it because she wanted an indoor swimming pool. He had tears in his eyes." Bautista says the car's 200-some horsepower isn't much by today's standards, and neither is its suspension, which bounces him all over. "But it makes me feel like a kid. I have an hour-long loop. I'll drive out to the bay and back. It's therapeutic."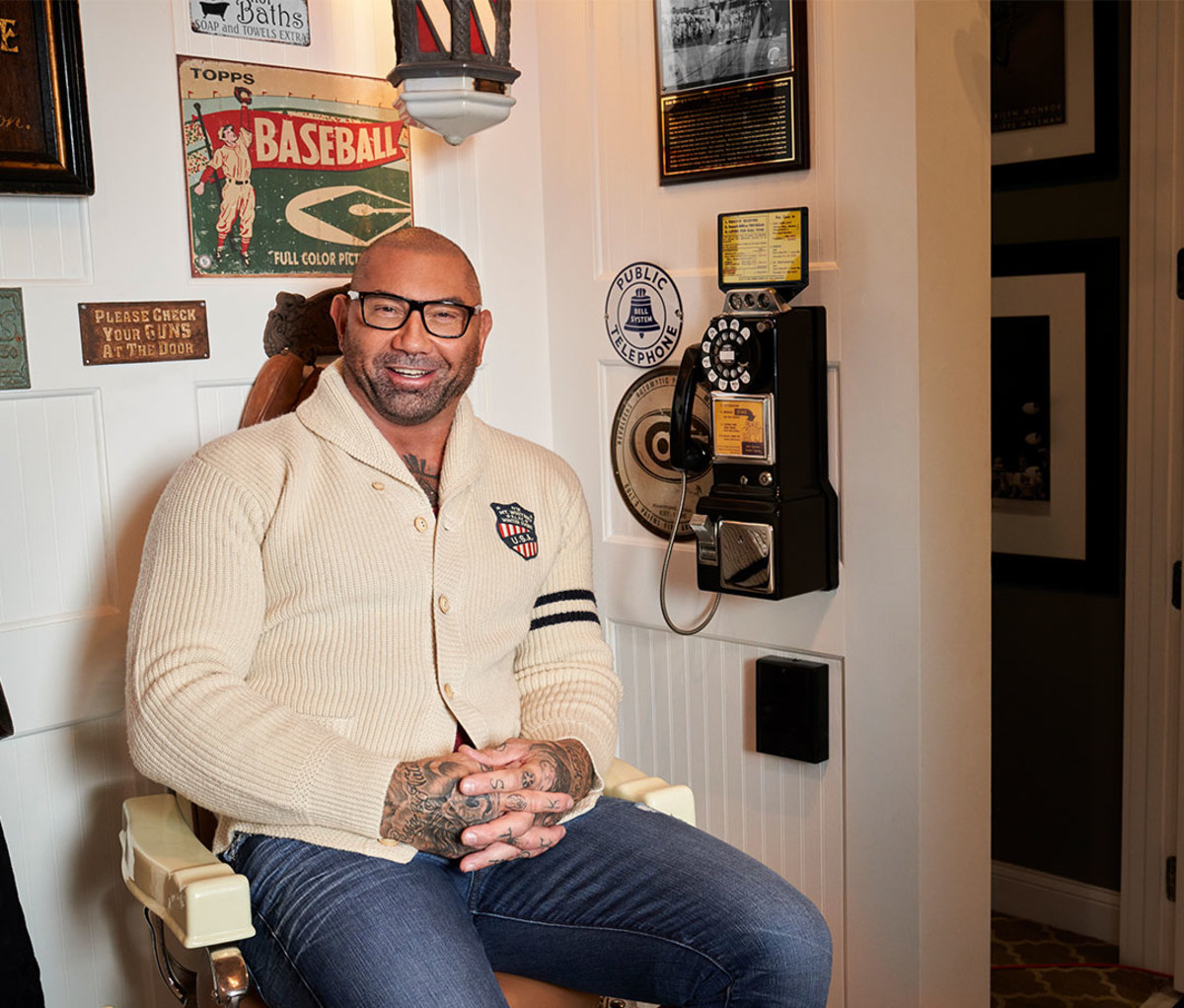 THE THUMB WAR
Like many of us, Bautista aims to spend as much time as possible off his phone—until a dull moment appears and suddenly he's typing something that inevitably riles up conservatives on Twitter (@DaveBautista, 1.3 million followers). "I've lost a lot of fans. I don't like being a political person. It's very uncomfortable. But sometimes I just can't live with myself if I don't say something. I was raised in the gay community, and I was raised in a black community. So people who are racists or bigots, I just don't get it. I can't relate at all. It's disgusting to me." At one point in the run-up to the 2020 election, Bautista—a formidable dude—felt threatened enough to call in his bodyguard to post up at his house.
A TAKEOUT KING
At dinnertime, if Bautista's not entertaining, he's ordering in. Stars—they're just like us! But instead of ordering one entrée, Bautista loads down his Uber Eats driver with extras: poke, chicken sandwiches, "all kinds of bowls," he says. Then it's on to binge-watching some premium TV. Peaky Blinders is a recent fave, as is Ozark. The other night's featured programming was Zack Snyder's recut of Justice League. "Fucking Zack, man. Four hours. I need to talk to him about that."
A LATE-NIGHT READ
Last, but not least—at around 1 or 2 a.m.—Bautista tucks into the pile of scripts that await him—and await him. "It usually depends on the urgency of the script, but in the middle of the day, my attention is in a hundred other places. So I inevitably wait until the end of it to review scripts. Which means I last all of 20 minutes before I fall asleep, which means it takes me forever to get through them." But Bautista says it never feels like work. "To pursue my passion, and to do what I do—I feel like I've Forrest Gumped my way through life. I've just been lucky."