Superstar actor Dwayne "The Rock" Johnson knows what it's like to grow up in a family of wrestlers. Johnson's father and grandfather were both wrestlers, so when he first came to find out about the life story of Saraya Bevis a.k.a. Paige, Johnson was immediately hooked in. That was the first step in bringing the new film Fighting With My Family to the big screen.
After seeing a documentary about Paige's life story while filming the Fast & Furious series in London, The Wrestlers: Fighting with My Family, Johnson felt like it was a story that should be told in feature form. Johnson, who is one of the biggest movie stars in the world, brought the idea to the leaders of his production company, Seven Bucks Productions, and put the wheels in motion.
"It had something special that resonated with me, and I thought it could be turned into a really compelling movie," Johnson said, according to the press notes for the film.
Instead of the big budget action productions that Johnson is used to, like the Fast & Furious series, Jumanji, and the upcoming Jungle Cruise, this time around it would be more of an independent production. The film even screened at the Sundance Film Festival, one of the most well-known independent film festivals in the world.
Johnson brought in Stephen Merchant (The Office, Hello Ladies) to write and direct the film after previously working together as actors on the 2010 film Tooth Fairy. Actress Florence Pugh took on the task of playing Paige, while the rest of the vast was filled out by Nick Frost, Lena Headey, Jack Lowden, Vince Vaughn, and Johnson, who played himself in the film.
My ambition was that I would lure you in with the humor and then have that emotion so you'd shed a tear by the end," Merchant said. "It's rare you find a true story built in with all the emotion this had. -Director Stephen Merchant
Since coming out, the film has earned numerous positive reviews and has a 91 percent score on Rotten Tomatoes. Not bad for an underdog story.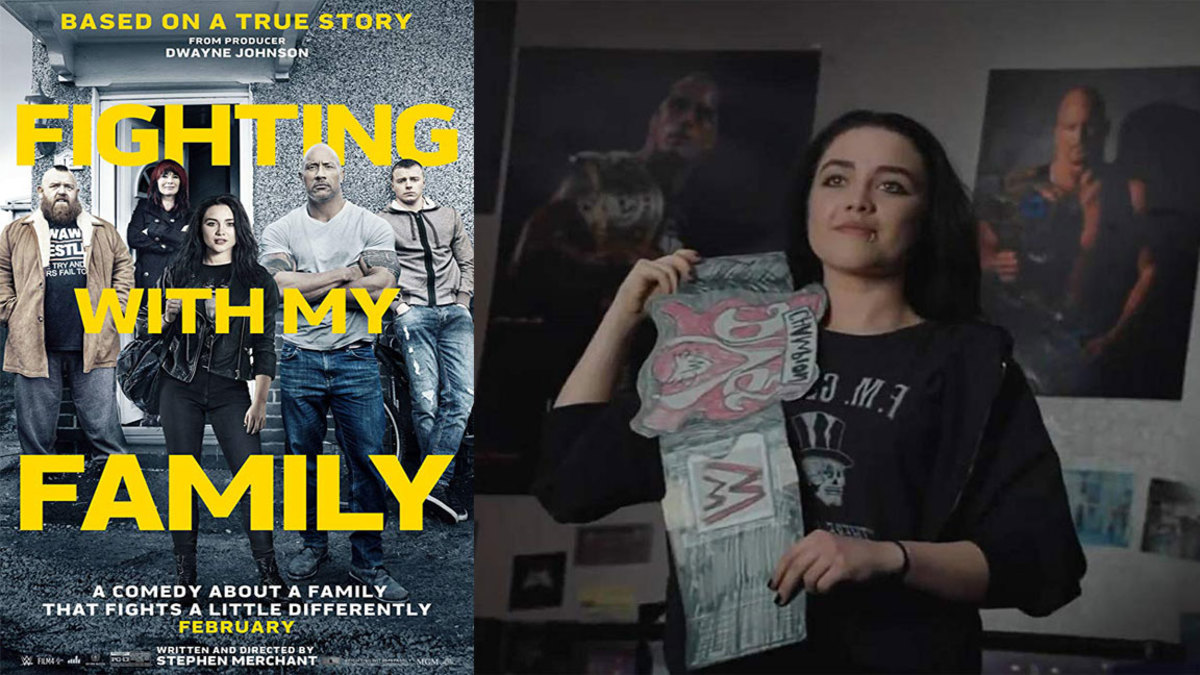 Here, the cast, including Florence Pugh, Lena Headey, Jack Lowden, and Nick Frost, as well as Merchant and Paige herself spoke with Men's Journal about making the film.
Florence Pugh – Saraya "Paige" Bevis
Taking on the role of Paige was something actress Florence Pugh was very excited about, but she also knew she had to prepare well, because, as she puts it, she "didn't know much about wrestling." By the end of the project, Pugh gained a newfound admiration and respect for everyone in the profession.
"I didn't know much at all about wrestling when I started," Pugh said. "I didn't quite realize how hard the lifestyle is and how much preparation and work goes into it. It's easy to watch and see how they move and they make it look easy, but then you get into the ring yourself and you realize how tough it is. They work all day everyday on their craft, they take hits and just keep going. I take my hat off to all the wrestlers out there."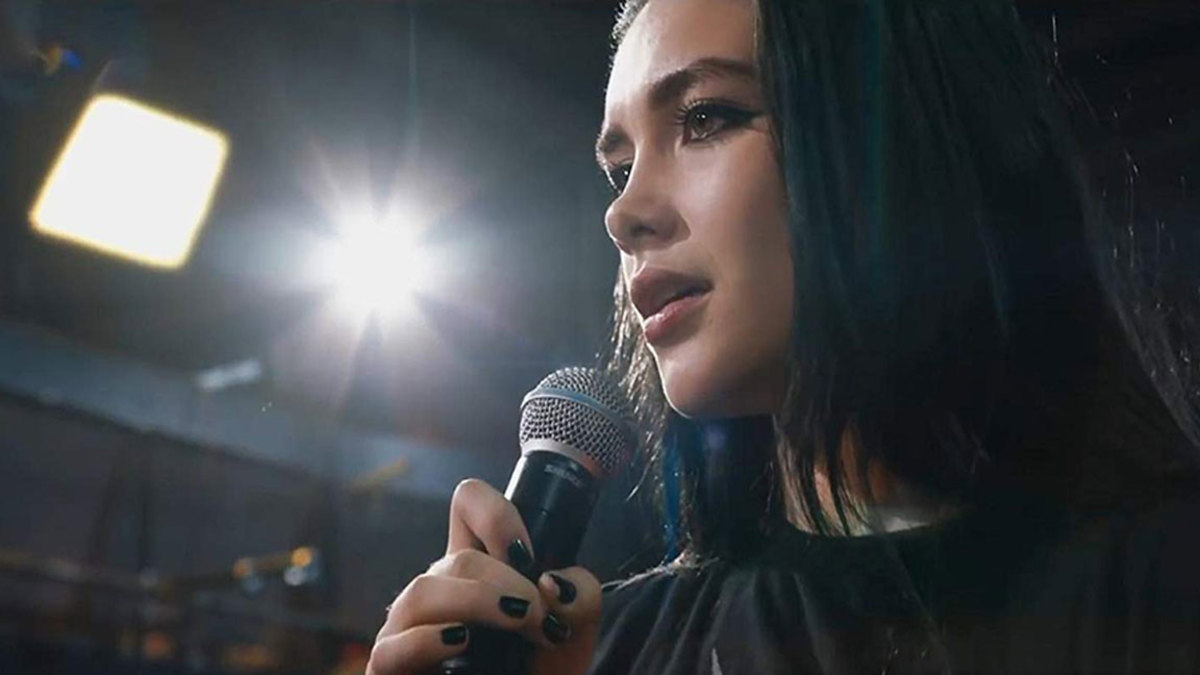 Pugh trained for weeks to get in shape for the film and learned all types of wrestling moves while preparing for the role. Some of Pugh's favorite moments of the film were getting to shoot the family scenes.
"My favorites were all those family fighting scenes," Pugh said. "When you talk to the real family, when they reminisce, you see their faces light up and you can see how happy it makes them to fight together. When we did those, it had that same feel, it was so great to film those scenes together. The film was fun to shoot, and it was important in how it shows the highs and lows of success and rejection. I hope people enjoy it and find their own lessons from it."
Stephen Merchant – Director
Even for people not interested in wrestling, Merchant found that the story was one that many people could relate to. Merchant also was excited to get to tell Zak's story alongside Paige, because his journey is also a big part of the overall story of Paige's rise.
"There's many strands to take away from Paige's own story," Merchant said. "Pursuing a dream and being true to who you are. Keeping her voice and embracing your inner self and who you are. Overall it's a very heartening and motivating and inspiring story. Also with Zak's story, it was interesting to look at what happens when your dream doesn't work out like you hoped it would, and how you can continue on that and still reach success in a different way."
#FightingWithMyFamily is "the first truly great movie of 2019." 👊 WATCH the final trailer NOW and don't miss it in theaters everywhere starting Thursday night! Get tickets: https://t.co/yJ8OCmvOD0 pic.twitter.com/DD2X20RCTn

— Fighting With My Family (@FightingWMyFam) February 18, 2019
Merchant was also excited to work alongside Johnson again after appearing in Tooth Fairy with the actor in 2010. The director-writer said that Johnson was instrumental in helping him get a feel for the story and helped give some of his experiences with the wrestling world to keep things realistic.
"He got the project off the ground, was invested creative and emotionally," Merchant said. "It was a big benefit and great resource to have. He took me to Wrestlemania, introduced me to Vince McMahon and the world of WWE. He would sit and explain the complications of the levels of reality and crafting a persona; it was great research. It was hard to write some of the scenes when Dwayne was playing Dwayne. He came back and wrote some of what you see in the movie off the cuff. In my eyes, when you have 'The Rock', you let 'The Rock' be "The Rock'."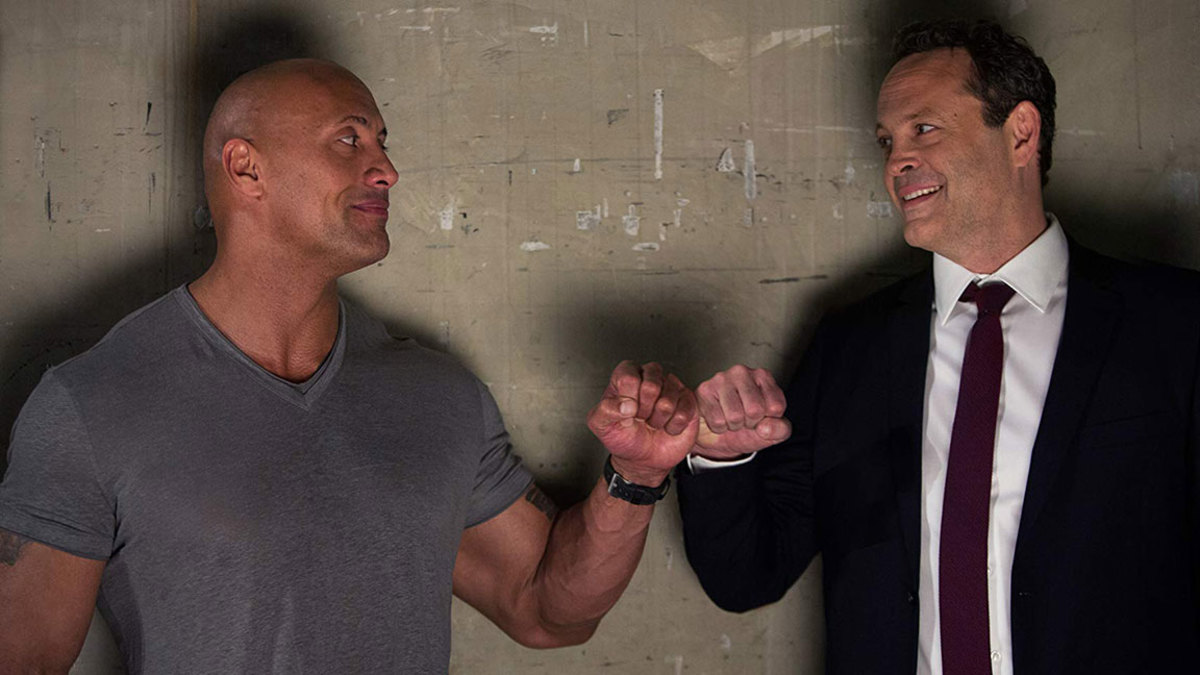 Like much of Merchant's previous work on The Office, Extras, and Hello Ladies, Fighting With My Family combines comedy and heart, which is a sensibility that Merchant was aiming for. Merchant also was excited to put a spotlight on the wrestling world and how much it meant to Paige's family and wrestling fans as a whole.
"My ambition was that I would lure you in with the humor and then have that emotion so you'd shed a tear by the end," Merchant said. "It's rare you find a true story built in with all the emotion this had, and for me, I didn't want to just make a straightforward comedy, and I didn't want to mock or satirize wrestling, I wanted everyone to care about wrestling as much as they do in the film. In my work I'm always looking for something that connects emotionally and this story had that for me: It's inspiring, the relationships and story have ups and downs and a rich tapestry. It was a wonderful experience all around."
Saraya-Jade Bevis – Paige – WWE Divas Champion
WWE superstar Paige already lived through the story told in Fighting With My Family, but seeing her life played out on the big screen for a movie was still an odd experience—but also a thrilling one.
"I've always been in front of the camera, but for it to become a movie is crazy and I never thought it would play out quite like this," Paige said. "The whole experience has been crazy and it's exciting to see the movie get good reviews and for everyone being able to relate to the story. It totally blows my mind how it happened. I was such a fan of Stephen's and with Dwayne coming in, it's surreal and I can't even really wrap my head around it [laughs]."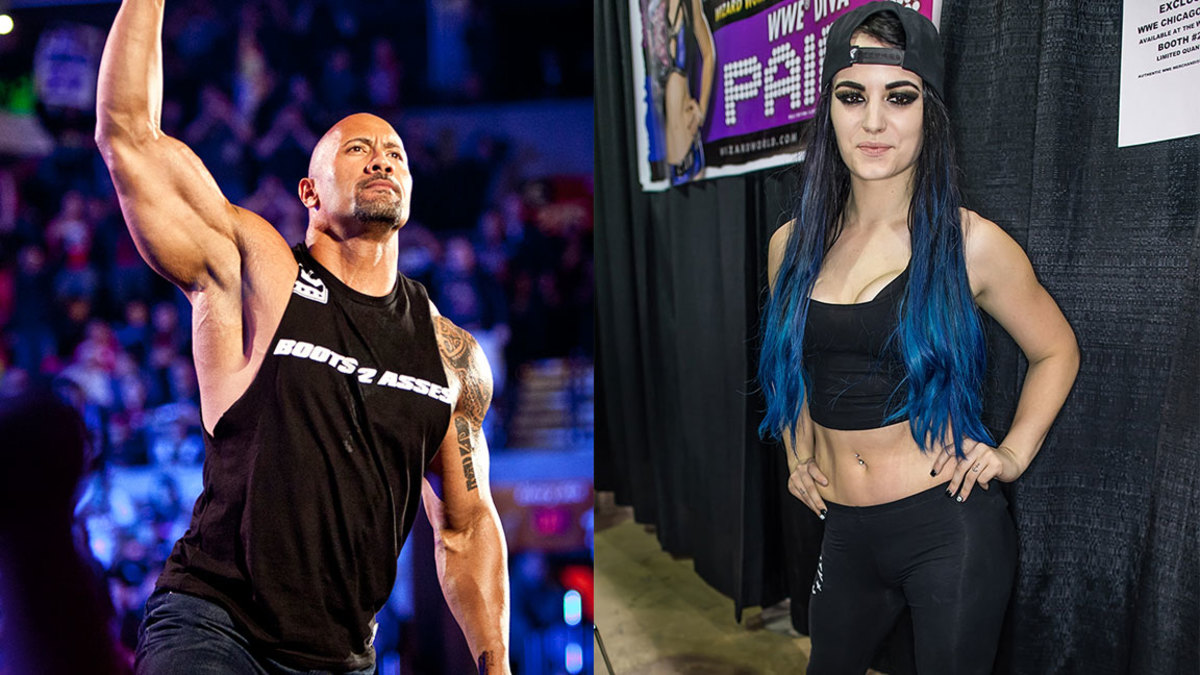 When translating real-life stories to the big screen, oftentimes things can get changed around for dramatic effect and to help with the story. There wasn't much of that for this film and Paige said the filmmakers tried their best to make things as true as possible.
"I got to speak with Stephen constantly," Paige said. "They wanted it to be as true story as possible, we got to sit down and know exactly how things happened, and he did an incredible job and so did the actors. It was wonderful sitting next to Florence and watching it—so bizarre but awesome. The first time I watched it I was such a blubbering mess."
"I just want people to be inspired and never give up on your dreams," Paige said. "If you work hard enough, be completely yourself, never change, you can do a lot. Also, when it comes to my brother, anyone's level of success shouldn't be measured by fame or cameras, it's more about the success in whatever you do, and my brother wanted to be and he is. The movie is for everyone even if you're not a wrestling fan, it's a warm, beautiful movie."
Jack Lowden – Zak "Zodiac" Bevis
To prepare for his role as Zak, Paige's brother and fellow wrestling hopeful, actor Jack Lowden trained hard alongside his co-star Florence Pugh. The two did a wide range of different kinds of workouts, including CrossFit training, and beefed up from around 175 pounds to about 200 pounds over the course of his prep.
"We were working out twice a day, early and in the afternoon, for about seven weeks," Lowden said. "We did some CrossFit training in North London, and I had never done that type of work before, so it kicked the crap out of me pretty hard. We were doing 5 meals a day, but it was all fantastic and really helped us get into the roles."
Lowden was excited to have "The Rock" in the film and he also found exploring the world of wrestling interesting and how much preparation goes into the work by the wrestlers.
"I only shot for one day with him, and it was early in the shoot for me, so I was still trying to figure out how to play the role, and he was totally invaluable in helping out and giving advice. It was amazing working with him," Lowden said. "It was also interesting to see all the prep that goes into the wrestling work, and not just the physical stuff, but things like the monologues and everything else, it really is the ultimate crossover of athlete and actor. I'm excited for people to see the film."
Nick Frost – Patrick "Rowdy Ricky Knight" Bevis
To take on the role of Paige's father in the film, actor Nick Frost did research by watching the original documentary the movie was based on. Making things a bit more familiar as well was working alongside Merchant, who Frost has known socially for many years.
"Stephen created a very open and collaborative environment on the film," Frost said. "I didn't want to do an impression of Ricky; I watched the documentary a bunch and wanted to get the essence of his character and the emotion of him and his relationship with his family. I wanted to embody him and be respectful and honest. There's always some pressure playing someone who is still alive, but Stephen created a great environment for everyone to work in. It was fantastic working with Lena and building that relationship and we got along very well."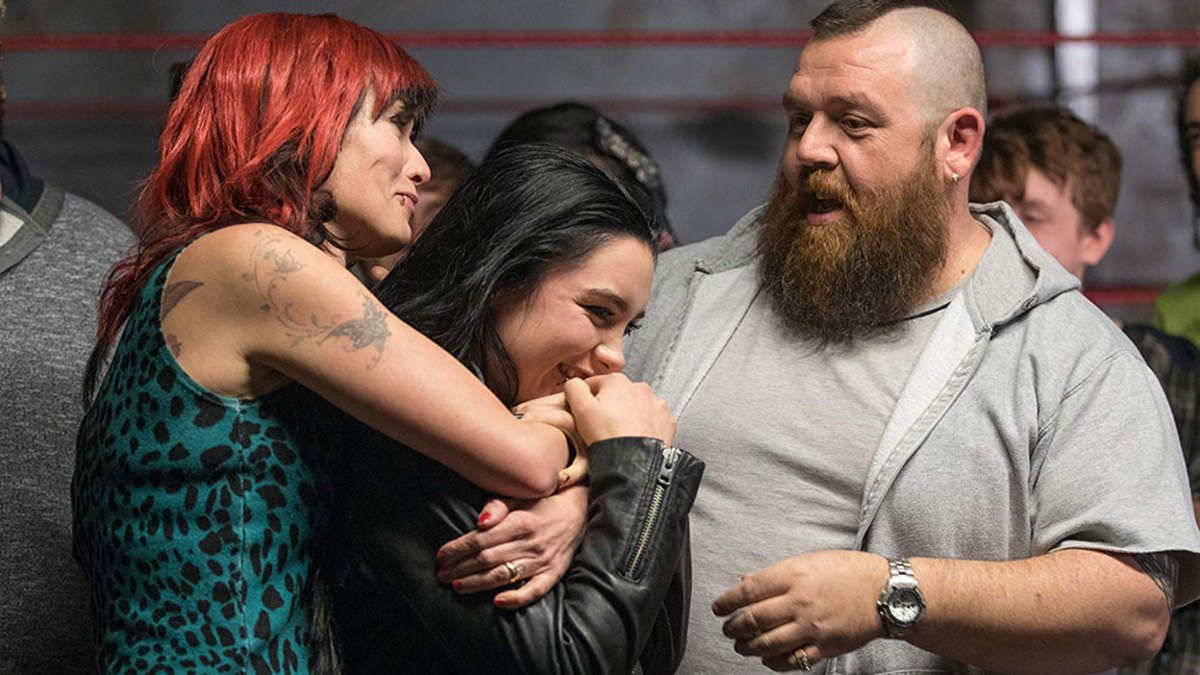 Frost has been a longtime fan of wrestling and he was excited to get to show that world on screen. He also felt the essence of the story was something that people could relate to beyond wrestling.
"With all this, I saw a family with a strong relationship and love for each other in this story," Frost said. "I always thought wrestling could be taken out of this film and the story could still be important. It's about family and the bonds there and yes Ricky has made mistakes, but he made them because he loves his family and that was the drive he had in trying to make a life for his kids and his family.
"I've always been a fan of wrestling since I was a kid, both British and American. Everyone worked hard on the film and I'm excited for people to be inspired by the story."
Lena Headey – Julia "Sweet Saraya" Bevis
Known for her role on the worldwide smash hit Game of Thrones as Cersei Lannister, actress Lena Headey was excited to take on something new—especially as a character that is basically nothing like Cersei.
"It was a real pleasure, honor, and joy to get to play her and big responsibility to not mess it up. It was also nice and I was happy for people to see I'm not an evil b**tch [laughs]," Headey said, referring to her vicious Game of Thrones character. "I love the comedy of this film and the end of it makes me cry. The relationship between Jack and Florence is so great, they're great actors and it was great working with them and Nick and everyone."
Working with "The Rock" on the film was exciting for Headey, and she also had high praise for Merchant's directing.
"It was exciting for us to have Dwayne, we all know his story and how it's similar to Paige's with his family, and having Dwayne on set is never a bad thing," Headey said. "Stephen is so brilliant—he's a great writer and a great comic, and he understood the family inside and out. The movie has drama, inspiration, emotion, and it's an undeniable story. You can't help but fall in love with her and her family."
As for what she hopes people take away from the film: "I hope people to take away that this is a story everyone can relate to and that Paige is boundary breaking and how she came from working class roots to where she is. She set her sights on something an achieved it. It's not easy to do, and we she got to that point, she still remained true to who she is."
(Fighting With My Family is currently out in theaters. Read more about the film at the official movie website.)
For access to exclusive gear videos, celebrity interviews, and more, subscribe on YouTube!