Jason Momoa has laid claim as the grizzliest man in Hollywood—and his latest film, Braven, only reinforces that title.
After facing off against the dangers of Westeros on Game of Thrones, an apocalyptic landscape in The Bad Batch, and flying villains in Justice League, Braven gives Momoa the chance to show off his brute strength as he takes on a group of ruthless drug dealers in one of the most physically demanding roles of his career.
Why was this role such a physical challenge, even for a guy as formidable as Momoa? Chalk it up to shooting in sub-zero temperatures in the Canadian wilderness, working on the edge of snow-covered cliffs, and having to fight in close quarters using a range of different weapons and martial arts disciplines. Stunt coordinator Rob Alonzo, who has done stunt work on films like Deadpool, Star Trek, Mission: Impossible – Ghost Protocol, and Netflix's Bright, got to see Momoa up close during the shoot—and he was impressed.
"Jason is such a physical specimen, he trained so hard for this role," Alonzo tells Men's Fitness. "We're shooting in snow in freezing temperatures, and Jason didn't have that much time schedule-wise to prepare after coming off of Frontier. But he was able to do everything, and while he's a gentle guy with a great personality, he also has the ability to crush things. He trains as hard as anyone—you can see it. It's really paid off for him, and it helped him with the physicality of this role."
In Braven, Momoa stars as the too-perfectly-named Joe Braven, a lumberjack who's hoping for a quiet weekend with his father (Stephen Lang)—and later, his wife and daughter, who arrive unexpectedly—at their remote hunting cabin. But when Braven discovers a huge stash of drugs hidden in the cabin, he's confronted by a group of vicious drug runners with a ruthless leader (Garret Dillahunt), forcing Braven to fight back and save his family using his survival skills, his wits, his fists, and (of course) a flaming axe.
Courtesy of Lionsgate / Braven
Since Momoa's character is a family man and lumberjack, Alonzo developed a training program and action scenes that would reflect Braven's "brawler and survivor mentality," rather than precise combat styles of an elite soldier (as in Jason Bourne) or expert assasin (John Wick). The goal was to make the action scenes feel "realistic" and natural. Momoa didn't do much kicking in his training, mainly because Alonzo felt it would be out of place for Braven's character.
"Jason's character is a lumberjack-type, so he relied more on his strength, size, and his knowledge of the territory," Alonzo says. "We worked on a lot of close-quarter combat training, and Jason trained in boxing, Filipino martial arts, and Silat, which were incorporated into the fights for the action scenes. The drills we did were used to heighten the reactive skills of the actors, so Jason could react much later, which helped minimize any anticipatory movement. It helped make the fights feel physically real."
Momoa used his fists quite a bit in Braven, but what makes his performance such a badass display is the Rambo-style arsenal he got to put together. Braven uses knives, axes, bows, and other weapons fashioned from items in the cabin—like a carved wooden stake—to fight back against the drug runners. Momoa already knew a thing or two about throwing axes (just take a look at this video of him throwing one while drinking a beer) but he became an expert for Braven.
"Jason is a really impressive athlete, and he has a ton of experience doing fight scenes with weapons," Alonzo says. "Because of his work on Conan the Barbarian and Bullet to the Head using long-range weapons, this training was more of a tune-up for him. Jason picked up the axe and bow work easily, and it came across on-screen. Some of the close-quarter combat stuff was new to him, but he's an incredibly fast learner who has great spatial awareness."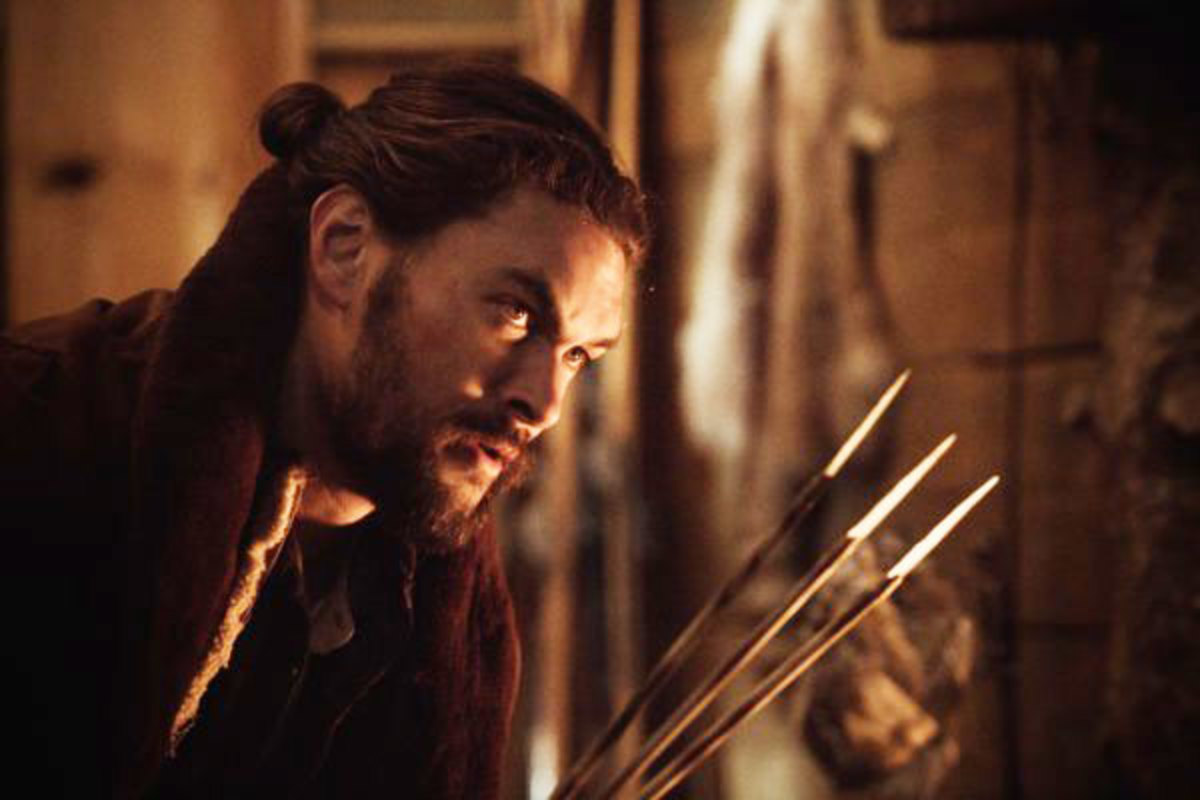 Courtesy of Lionsgate / Braven
Alonzo worked closely with the actors on the fight scenes, repeating drills and going over the choreography without weapons so the actors could get comfortable and "develop a heightened sensitivity" for how they move in the scene. Then, Alonzo asked the actors to do the same drills, but change up their timing. That way, Alonzo says, they would be more reactive, making them more present in the moment, rather than focusing on the choreography, which could make the scenes feel staged. It helped add even more realism to the brutal fights.
"These drills help develop trust between the actors like Jason and Garret, who have a big fight at the climax of the film," Alonzo says. "We designed the fights almost as if the actors were having conversational banter back and forth, but it's with fists and weapons. These drills also develop more trust and safety between the performers, and allow for more communication built on teamwork—even though the scenes they're portraying display the complete opposite, since their characters are enemies."
The most difficult part of the production for Alonzo was preparing for the climax of the film, in which Braven battles against Dillahunt's character on the side of Red Cliff in Newfoundland. (While we won't spoil exactly how it goes down, just know it involves a bear trap.) This onscreen battle was challenging for Alonzo, because until Braven, no film had previously shot at the location.
"It was so picturesque and served as a beautiful—yet dangerous—backdrop," Alzono says. "The danger there wasn't just because we were shooting fight scenes, vehicle work, wire work with cranes, and firing guns, but also because we needed to execute these scenes close to the edge of the cliff, and in sub-zero temperatures. I devised a safety plan for Jason and the crew, and everyone who was close to the edge—or off the edge—were harnessed and spotted as needed. That approach allowed the actors to work more comfortably at those heights, because the drop off the edge was a long, long way down."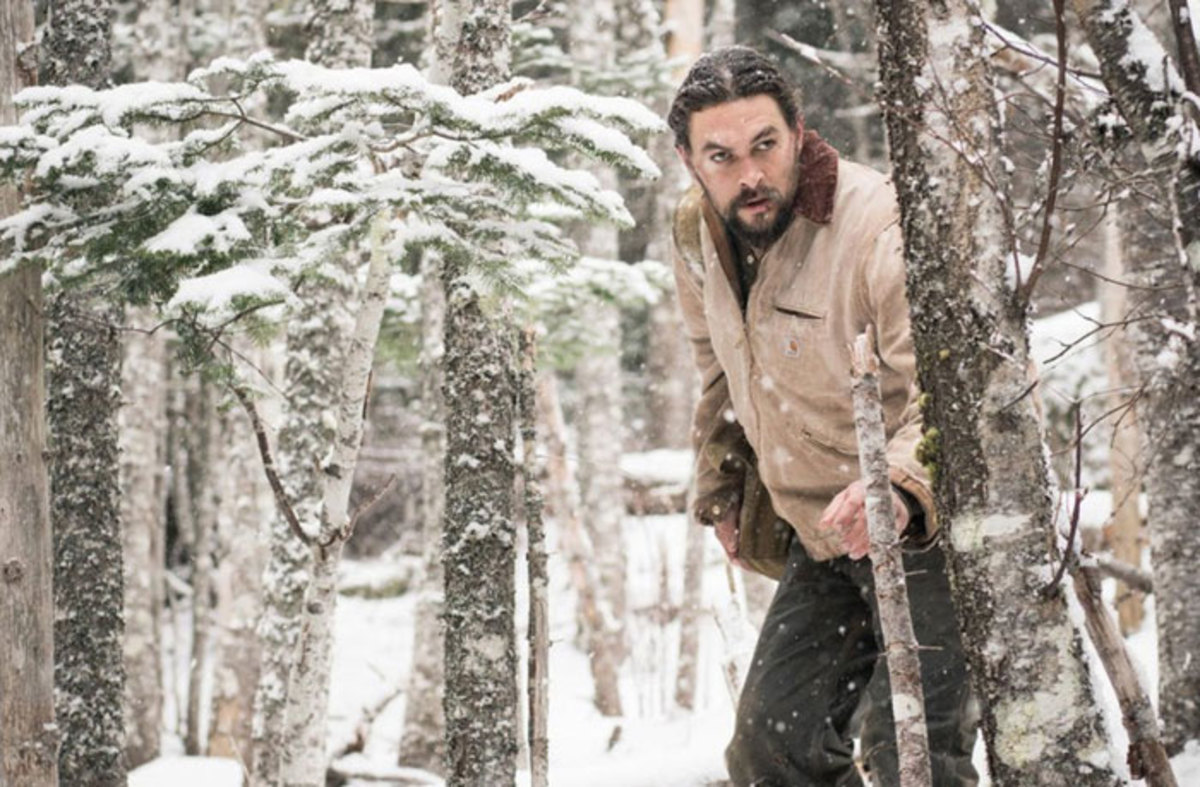 Courtesy of Lionsgate / Braven
Having previously worked on big-budget action films like Avengers: Age of Ultron and Mission: Impossible – Ghost Protocol, Alonzo enjoyed the experience of working on a smaller-scale movie. Momoa had a lot of responsibility on his shoulders being the star, but he only made things easier for Alonzo.
"One of the greatest things about working with Jason is his openness to creative ideas," Alonzo says. "He's a filmmaker in his own right and a great collaborator. I felt we all worked extremely well on Braven, knowing we had certain limitations of time and money for the budget. I look at the projects I do the same regardless of budgets, and on this one we had a fantastic group of people who were ready to work no matter how cold it was."
Alonzo also had high-praise for Momoa, Dillahunt, Lang, and the rest of the cast for their work on the film.
"The cast was fantastic," Alonzo says. "There were lots of fun moments, sprinkled with heaps of testosterone [laughs]. They're all great guys and I'd be honored to have an opportunity to work with them all again. I'm excited for people to see the film, and see the physicality and intensity that the actors brought to the fight scenes and stunts. Everyone was game, and I was impressed with how it came out."
Braven, directed by Lin Oeding, is now in theaters and available on video-on-demand services.
For access to exclusive gear videos, celebrity interviews, and more, subscribe on YouTube!