It is the most requested picture from the White House photo archives, a seemingly impossible rendezvous between two very different men of influence, taken years before the invention of Photoshop. Yes, there was an actual meeting between the Leader of the Free World, President Richard Nixon, and the king of rock 'n' roll Elvis Presley in the White House's Oval Office on December 21, 1970. Presley showed up at the gate hoping to convince Nixon into giving him a federal badge for the Bureau of the Narcotics and Dangerous Substances, and he scored the meeting thanks to some encouraging by the president's staff. Nixon's now-legendary recording system had not been installed yet, so the story presents the opportunity for an entertaining imagining of how it may have really played out.
Elvis & Nixon, which was recently announced to be the centerpiece film for the Tribeca Film Festival, stars Michael Shannon as Elvis with the very presidential Kevin Spacey playing Nixon. Directed by Liza Johnson, it is more of a stylized comedy than an adjective biopic, but that didn't stop Shannon, best known for dramas like Take Shelter and Revolutionary Road, from diving deep into the musician's historical footage.
Both the silver and the small screen have showcased interpretations by actors brave enough to don the sequined suit, like Jonathan Rhys Meyers and Don Johnson. Though it is widely believed that the best rendition to date has been by Kurt Russell, who actually met Elvis when he was a child, in a 1979 television movie and as an impersonator in 300 Miles To Graceland. "It was the biggest challenge of my career to try to capture his energy," Russell has said.
Shannon is in agreement here: "It was pretty terrifying at first, but sometimes it's good to be scared" he told Men's Journal during a conversation at New York's 21 Club. With fear as a driver, Shannon immersed himself in the life of the late singer, listening to his records, consuming his movies, and even jetting down to Presley's hometown of Memphis, Tennessee. There he strolled the grounds of Graceland, the 13.8-acre mansion-turned-museum where the rock legend died, and Sun Studio, where a young Elvis recorded "That's All Right," the single that would launch him into worldwide fame. But he found the quality time spent with the singer's longtime friend Jerry Shilling, one of the men who actually tagged along for that fateful trip to the White House, most helpful.
"Jerry was a huge help to me and the whole movie. It was great to have him helping us get a more inside look." He also provided Shannon with an unaired interview from the musical documentary Elvis on Tour, which was filmed during a 15-city tour of the United States and was the last movie that Elvis ever made.
"I would walk around the set and listen to it." The film's costume department helped him along with looking like the King, decking him in a tousled wig of hair, sideburns, and a couple spectacular outfits. Records from the White House state that he entered wearing a purple velvet suit with a huge gold belt buckle, amber sunglasses, and bearing the gift of a Colt .45 pistol, mounted in a display case. But it wasn't just about nailing the look and the quintessential drawl, Shannon also did everything he could to make sure he moved like the King, studying live concert performances and watching press conferences. "I found this one he did the same year of the meeting, from the Houston Astrodome, that I ended up watching a lot."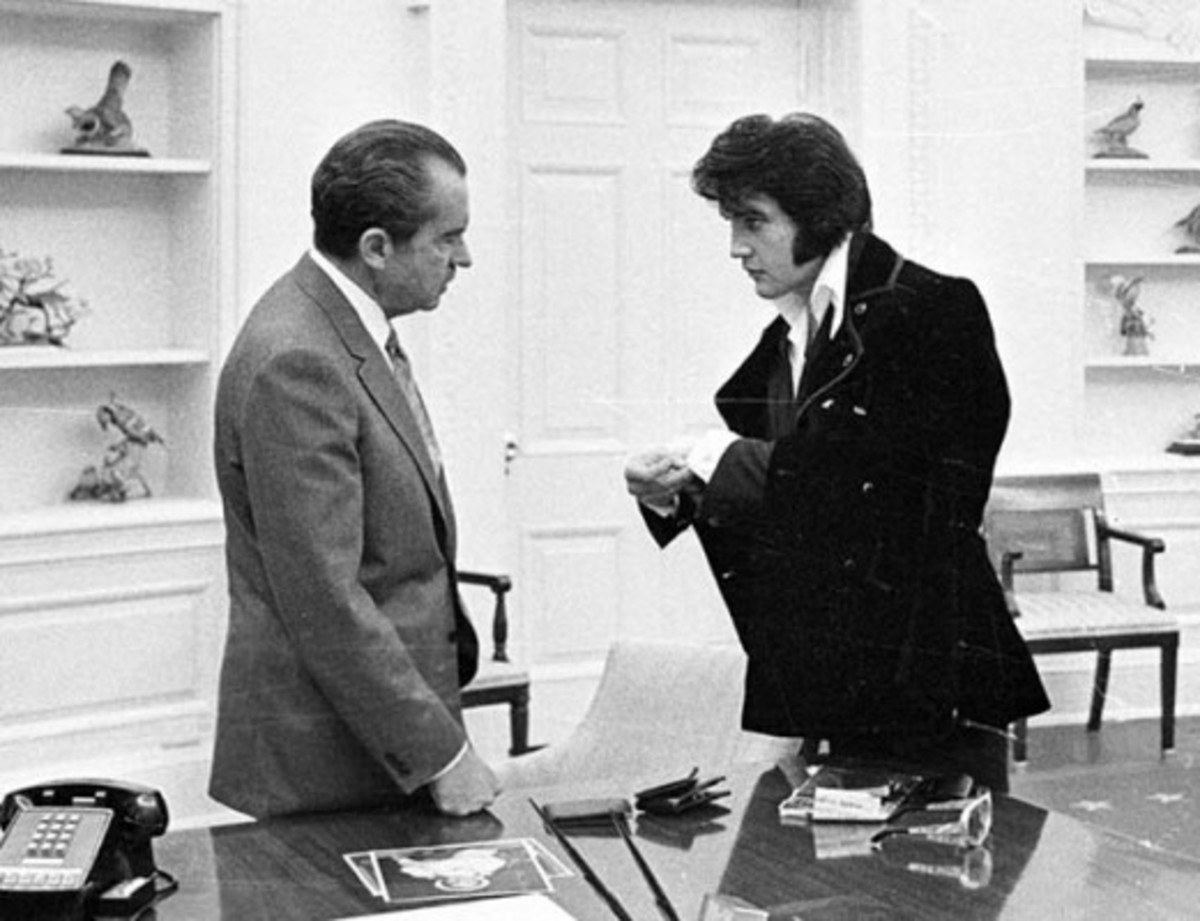 (Elvis Presley talks with President Richard Nixon in the Oval Office. Photography Courtesy The National Archives)