Simon Baker, best known for his work on The Mentalist, has been getting sent scripts for surf movies his entire career. But for Baker, who grew up riding some of the best waves in the world, none of those projects rang true to his experience. But then someone sent him Tim Winton's novel Breath.
"There were moments and feelings in the book that felt pulled from my own life," says Baker, who decided to make the book's film adaptation his directorial debut. "I couldn't turn away from the opportunity. I knew that I would rather die trying than not try at all."
The story about two young aspiring surfers who are taken under the wing of an aged pro, played by Baker, was even set on the beaches of his homeland Australia. In order to keep that authenticity he loved on the page, Baker road-tripped on the country's western coast for sets, brought on a water cinematographer, and cast surfers who had never acted before as the leads.
The result: a nuanced coming-of-age drama complete with rides that are stunningly cinematic. Men's Journal spoke with Baker about his love for the sport and bringing it to the big screen.
How did you first fall in love with surfing?
The first time I saw those waves and people on them I was mesmerized. I remember just thinking, "What is that?" At that time we were living in the suburbs outside of Sydney. I was too far from the beach. But then I was fortunate that my family moved to this town Ballina in New South Wales. My friends and I would go up to Lennox Head to get to the waves there.
How much was it a part of your life?
It was everything. I was a kid collecting bottles, selling on the street corner to tourists, and doing odd jobs so that I could raise the money to get a surfboard. Our whole days were spent out there. I lived a block away from the school. My parents would go to work. I would hear the first bell ring, and that is when I would get out of bed and get my stuff together. One of my best friends had an old, beat-up Land Rover. I would run inside the school, be there for the beginning of class, say "Present," then I would walk through to the other side of school and jump in his car. We would surf until it was time to go back to school for roll call at the end of the day.
What did being out there teach you?
The sea helped me develop as a person. The ocean is powerful and always changing. It helped me get strong. There is always the possibility that you are going to find yourself in trouble. When you do, it is just your own instincts and strength that are going to get you out.
How often do you still get out on the water?
I get out in some way every single day. I live in Sydney now, and I can walk to the water in three minutes. The beaches around the city are just amazing. I look out at it often. It has this effect on me. If I'm not able to make it out on the waves, I will jump in for a swim. I miss it when I'm away for too long. I think there is some sort of chemical connection that I have built up.
Do you take a lot of surfing trips?
I just got back from a surf trip in Fiji that was pretty incredible. I have a property that I bought by where I grew up, so I will take trips up there to surf on the waves I grew up on. It has changed quite a bit. There are so many girls out there, which is amazing. That was never the case when I was growing up. Surfing is pretty great these days. The boards and the gear that they have now is better in my opinion, because for a while, it was all starting to look the same. Now people are embracing the other ages.
Did you have any surf movies that you liked when you were growing up that you thought of when making Breath?
Not really. I remember my friends and I had Big Wednesday on VHS that we watched. That is all we had. It was a great movie, but it took place in Malibu and it was really about the Vietnam War and friendship. It was about an American experience. It wasn't really a surf movie that we could relate to easily.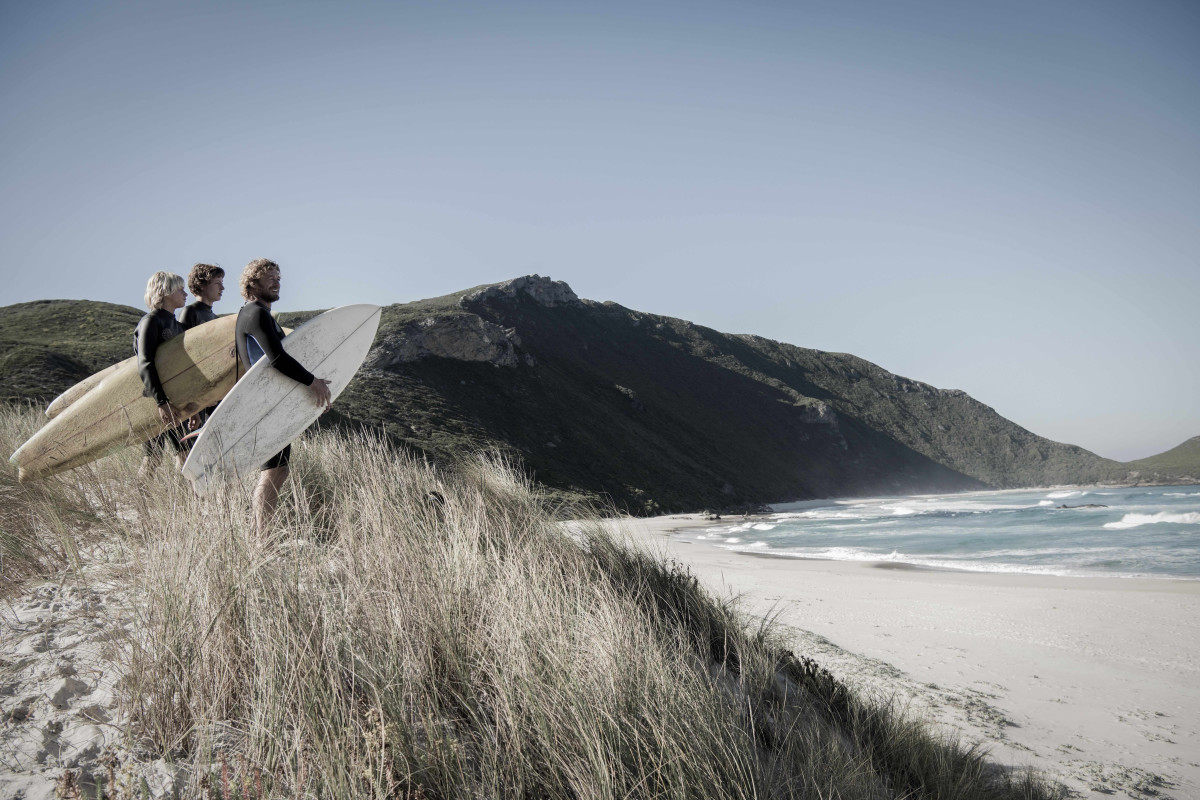 How did you go about making the surf movie that you wanted?
I found actual surfers to play the kids. I cast non-actors. I wanted the viewer to be close to us in the water. I didn't want any green screen, so the location was key. The place mentioned in the book is fictitious, though it is set in Western Australia. So I went along the coastline stopping everywhere along the way, until I found this place, Denmark, this small seaside town with only one restaurant. It was just perfect.
What made it perfect?
Everything that we needed was there, and the town became a part of the filmmaking process. This awesome VW truck that we used in the movie was for sale on the side of the road, and the boat that we used, too. We bought the school bus, and the kids were all locals. The dog in the movie was this search-and-rescue canine that worked in the town. Not to mention that sea there is beautiful, wild, and untamed.
You made a tremendous surfing movie. How does it feel?
I am really happy with what we did. I think that we have made one of the best surf movies ever with this. Not just because it is my baby, but I think it is the most authentic look at what we really experience. I made this because there was a version of being a surfer that I hadn't seen yet.
Breath opens in theaters June 1.
For access to exclusive gear videos, celebrity interviews, and more, subscribe on YouTube!