Entertainment
Ready for Takeoff: How Zachary Levi Went From Hollywood Outsider to Big-Screen Superhero
Mar 28, 2019
ZACHARY LEVI IS STANDING on the tarmac alongside a 1970s-era de Havilland DHC-6 that's been painted to resemble a great white shark, its teeth bared and cartoonish. He's changed out of the dark denim and button-down he showed up in, and squeezed his 6'4″ frame into a snug red flight suit—"like something Britney Spears would wear in a music video," the actor quips. It's a bright late-January morning at the Perris Valley Airport, a quiet airstrip about 90 miles east of Los Angeles, and the surrounding landscape is stunning—the San Jacinto mountains are parked to one side, the snowcapped San Bernardinos are chilling in the distance, and the sun is almost pink.
In just a few moments, Levi intends to fling himself out of that plane—which makes some kind of sense. After all, this month the actor makes his action-hero debut in Shazam!—why not really soar like a superhero? Soon, a couple of instructors give us the thumbs-up, and we climb inside, strapping ourselves onto a bench along the aircraft's wall. "Ever since I was a kid, I had a fascination with skydiving," Levi shouts as we take off. "Not just the actual physics and how crazy awesome that is. But also the iconography pumped into my eyeholes growing up watching Point Break. I wanted to be Bodhi."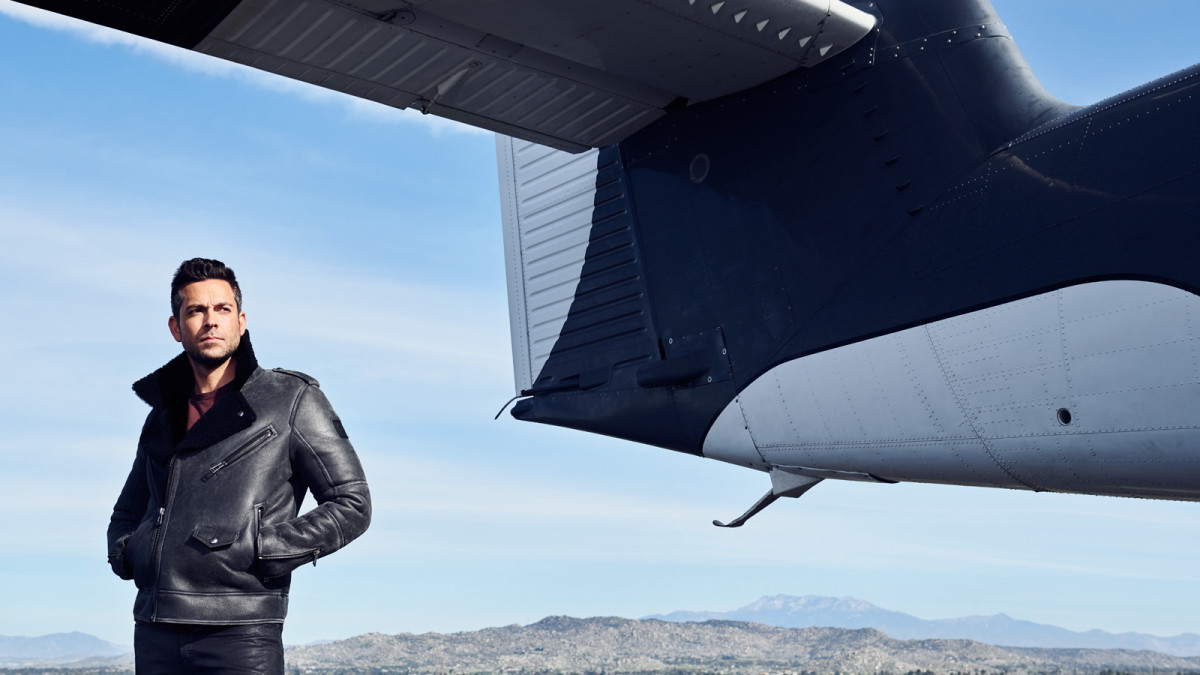 Levi's first jump was 17 years ago, when he was 21 and in Las Vegas filming a comedy. The second time: "It was with Paris Hilton."
Excuse me?
He barely knew the socialite, he tells me, staring down at Lake Perris. But a friend invited him to her birthday party in Vegas and he figured: Why not? "It was a super, crazy, fun party," he says. "Mini Kiss was playing—the little person cover band of Kiss? That night, as we're all carousing and having drinks, I mentioned that I'd skydoved. Sky-diven? [Grammar jokes!] Everyone was like, 'Fuck yeah! We gotta do that!'"
It was already 3 in the morning. Surely no one would remember this conversation, right? "Well, at 8 in the morning, knock knock knock on the door. The van was waiting downstairs. I'm like, 'Oh God, I kind of instigated this. I can't not go.' We get in a van and drive out to the airfield. We got into a plane, and we all jumped. It was surreal."
Was it some lifelong bonding experience? He laughs: "I don't think I've seen Paris since."
With that, one of the instructors rolls up the plane's door. Suddenly, it's very windy inside. The instructor tells Levi to sit on his lap, and they strap themselves together for a tandem jump. Moving awkwardly, the two edge toward the open door. They double- and triple-check the ripcord. My ears pop. Levi turns to the photographer and cracks: "Let's take some photos before I turn this red suit brown." Then it's as simple as 1-2-3 goooooooooooo!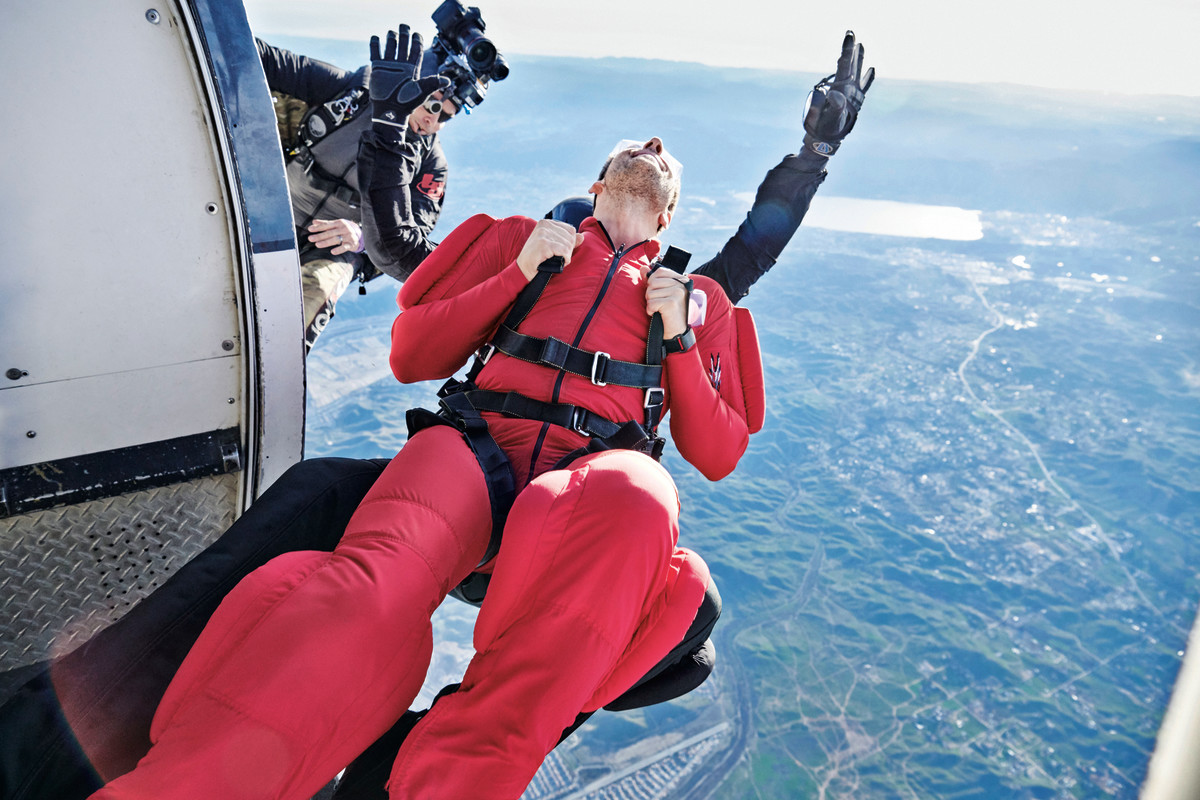 "WHAT DO THEY SAY, it takes 20 years for an overnight success."
It's now a few minutes later, and we're safely back on Earth, seated at a table in the Bombshelter Bar & Grill, an après-jump watering hole with a pool table, framed aircraft memorabilia on the walls, and a menu packed with deep-fried foods. Levi's pulse is slow and steady; he seems as though he's just woken up from a nap, not parachuted from 12,000 feet to the ground with a photo crew documenting every second of the experience. We'll get to the lesson he gleaned from the leap—his fifth-ever tandem jump—but first: tequila. He asks for a double on the rocks with soda, the order rolling off his tongue.
Levi is game and well prepared for all of the typical press-tour questions—eager, even. What did it feel like to put on the Shazam suit for the first time? ("I'm still registering it.") What superpower would you like to have? ("Teleportation is number one.") What's it like to have your own action figure? ("I was a little kid playing with these things, and now I am one of these things.") But this moment is particularly sweet because, by his own admission, he never thought it would happen. Throughout two decades in Hollywood, he always felt like "an outsider looking in," he once said. He's not fronting. His most notable project heretofore, the NBC comedy Chuck, about a computer whiz who becomes a superspy overnight, ran for five seasons and gave him serious nerd cred. But the show was always on the verge of cancellation; it finally was axed in 2012. He starred in a 2016 Broadway revival of She Loves Me and appeared in the second season of Amazon's golden goose, The Marvelous Mrs. Maisel—playing a handsome if elusive bachelor—but he's always been stuck at a specific level of fame. The kind that gets you invited to play in the NBA Celebrity All-Star Game alongside Justin Bieber. But not an offer to carry a major action-hero franchise. Until now.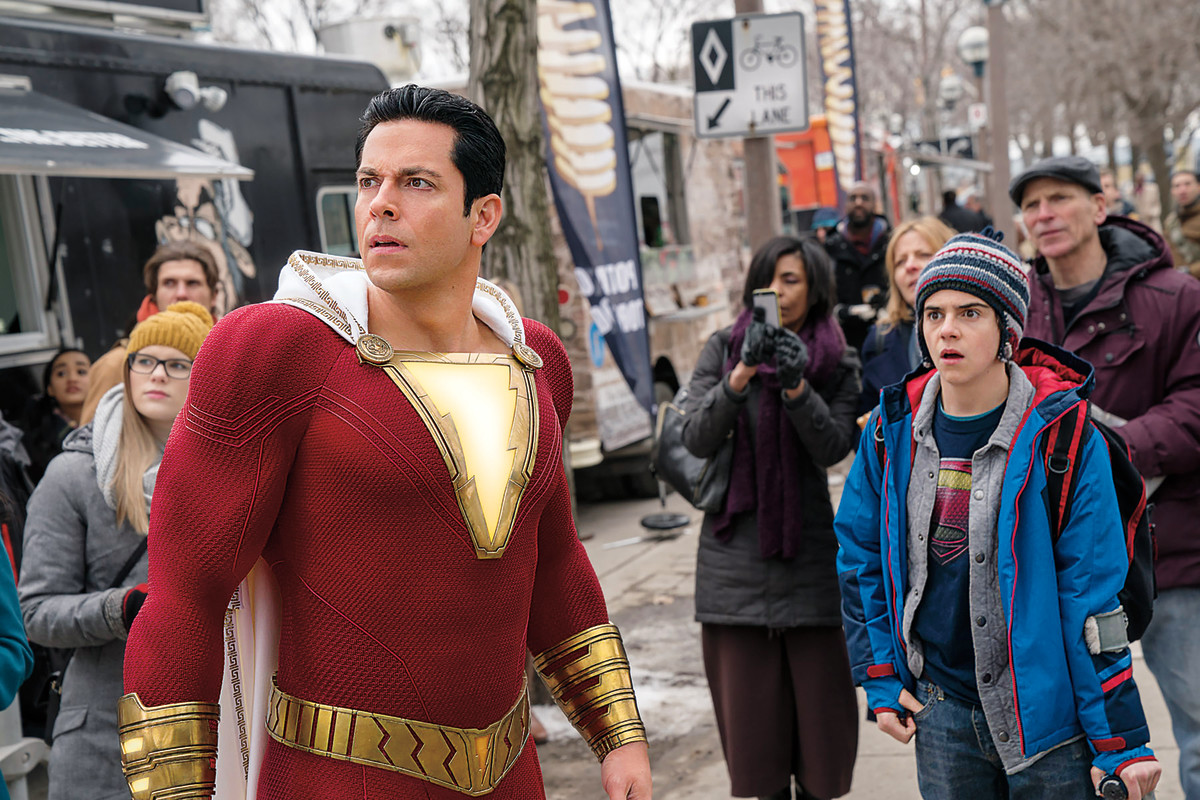 Shazam! is a comic book flick about a troubled foster child who is granted the wisdom of Solomon, the strength of Hercules, the stamina of Atlas, the power of Zeus, and so on. The movie has been described as Big meets Superman, and the comparison is spot-on: Whenever 14-year-old Billy Batson says "Shazam!" he turns into a 6'4″ superhero who can shoot lightning bolts out of his fingers. This is Levi's biggest role to date and a massive bet for DC, which hopes to build off the momentum of Aquaman and Wonder Woman (and make us forget that dour Superman reboot and Ben Affleck's ho-hum Batman).
When Levi, 38, was first asked to audition for a supporting role in Shazam! he actually declined the offer. "I was like, 'This must be a mistake,' " he says. "Aren't they looking for superjacked guys? Or someone way more famous than me?" He told his agents, respectfully: "I don't want to waste anyone's time." Later, when the first photos of him in the spandex costume leaked, internet trolls basically agreed with him, accusing Levi of wearing fake muscles. Hollywood picked this guy? When the rumors wouldn't stop, his trainer encouraged him to post a shirt-less selfie from the gym, which he did, albeit with a very Zachary Levi caption: "It's like the old saying goes, 'Hard work, over time, plus chicken & broccoli, minus carbs, divided by whey protein, in which 'X' represents the amount of supplements and 'Y' represents the sentiment of 'WHY the hell am I doing this to myself?!', multiplied by shameless selfies whilst staring into nowhere…carryyy theee ooone…equals results."
JUMPING OUT OF A PLANE, IT MAKES YOU REALIZE HOW  SMALL YOU ARE. WE'RE ALL SO TEENY AND SO CLOSE AND SO CONNECTED.
Comic book heroes often begin their journeys as orphans or misfits cast off by society. When Shazam! opens, Billy is about to move in with yet another family, the well-meaning Vazquezes and their five foster children. Levi's own backstory—call it his origin story—is nearly as cinematic. Normally we'd ease into the personal, probing questions, but he's raring to go, even before the first tequila appears. "My publicist is going to be…" he says, finishing the sentence with a laugh.
Levi grew up in Ventura, California. His mother was an alcoholic, self-medicating with booze and, later, pills. His parents split when he was 6, and his father soon left for a job on the East Coast. Later, Levi's mother and stepfather moved him and his two sisters to Washington State for a spell, then back to Ventura. He was always the new kid, always running his mouth. "When I was around 4, I figured out a simple thing: If I made someone laugh, they smiled, and that made me feel good," he says. "I wanted to do it all the time. And I wouldn't shut the fuck up. I would lose friends just as fast as I made them."
He found his identity in the arts, performing in community theater productions as a child before graduating from high school and moving to L.A. to break into the business. There were TV pilots and a starring role in Disney's animated Tangled. He performed at the Oscars with Mandy Moore in 2011 and played Fandral, a swashbuckling friend of Thor in the massive 2013 Marvel franchise. He was nearly cast as Star-Lord in Guardians of the Galaxy but lost out to Chris Pratt in the final moments.
The rejection stung, a situation worsened when Pratt's mug grew ubiquitous on billboards and magazine covers. "It's part of what drove me into darkness," Levi says. "My unhealthy take on what that meant to my own worth." He had struggled with bouts of depression and self-doubt in the past, but this was something new, and newly frightening. At night, he'd struggle to sleep, unsure of what it all added up to. It didn't help that in 2016, when he flew to Australia to film Thor: Rag­narok, he had just a few lines in the film—and they were cut. He appears onscreen only long enough for Cate Blanchett to casually impale him with a couple of flying swords.
Levi's life soon began to unravel. He had quietly married his on-again-off-again girlfriend, Rookie Blue actress Missy Peregrym, in 2015 only to get divorced 10 months later. Then his mother passed away. "It was a gnarly, gnarly, gnarly time," he says. "I'd gone through all kinds of shit in my life, things that I was aware of, things that I was not aware of. I felt very beat up by Hollywood. I was at a place in my life where I didn't really understand why I wanted to live anymore."
This, of course, is not exactly a standard action-hero talking point. So I ask him to clarify. His happy-go-lucky skydive vibe turns down to a simmer. He never attempted suicide, he says, but he was in a dark place. "When it comes to physical illness, our pride doesn't fuck with us in the same way," he says. "If we have a cavity, we go to the dentist. If our body hurts, we go to the doctor. But for so long, when you put 'illness' after 'mental,' the catchall is, 'Oh, he's crazy—put him in a straitjacket in a rubber room.' But the reality is, we're all walking around with a cavity or two in our heads. Some people are walking around with full-blown root canals. It's OK to admit that; it's OK to seek help. That's fucking courageous—that's brave."
And that's what Levi did. When he got a second call to audition for Shazam! he was nearing the end of a three-week mental health retreat at an undisclosed location in Connecticut—the kind of intensive, all-hands-on-deck program initially designed for Fortune 500 CEOs facing burnout. "I told them, 'Look, I want the full deal. I want to know who I am and why I'm feeling this way,' " he says. He saw a psychotherapist and a dialectical behavioral therapist. He did art therapy, meditated, and worked with a nutritionist. He hit the gym four days a week, did Pilates twice a week, and yoga, too. "It was an incredible one-on-one therapeutic, healing, spiritual deep dive into figuring out the pain and sadness."
He learned that he needed to reprogram his own brain. One of the therapists told him, "You wouldn't talk to your friends the way you talk to yourself. So knock it off." "One of the things I learned was how to forgive my mom," Levi says. "To look at her as the 5-year-old girl who was getting abused by her mom. This is generational. My mom thought she was doing the best things for us when we were kids. We're all trying to do our best." These days, he also has regular contact with his biological father.
Levi doesn't mince words: The program, he says, "saved my life."
Newly hopeful, he filmed his audition for Shazam! in Connecticut on his iPhone and e-mailed it in. His agent called that same night. The director, he said, had watched the tape and freaked out. Levi's young-at-heart energy was exactly what he'd been looking for. A week later, the studio signed off and Levi was in a costume fitting for the custom suit.
Shazam was a difficult role to cast, director David F. Sandberg explains. In broad strokes, Billy Batson is a foster kid who is granted insane powers by an intergalactic wizard, and he's tasked with fighting evil. And after he says "Shazam," he needs to look like a superhero. (Levi is not only tall but also has Superman's hairline.) But he's still a 14-year-old kid on the inside. Think Tom Hanks in Big jumping on a trampoline in his Manhattan loft. "When a lot of actors try to play young, they play it dumb," Sandberg says. "But what sets kids apart from an adult is mostly excitement about life. We looked at over 100 people, then Levi's tape came in. Immediately it was like, this is the guy. He has this enthusiasm and excitement about things that feels very much like a kid."
An actor seizes his dream role after learning to believe in himself? This was basically the original story of the comic book Shazam! To transform from a boy into a superhero, Billy is told to say "Shazam!" But for the spell to work, he has to believe the words first. "You must say it with purpose," he's told, "with belief, with good intentions. With thoughts of your parents and your family, say it and you will be transformed into your greatest potential. Say 'Shazam!'"
I ask Levi about the eerie way the whole thing unfolded for him. "Dude," he says, "the timing gives me fucking goose bumps."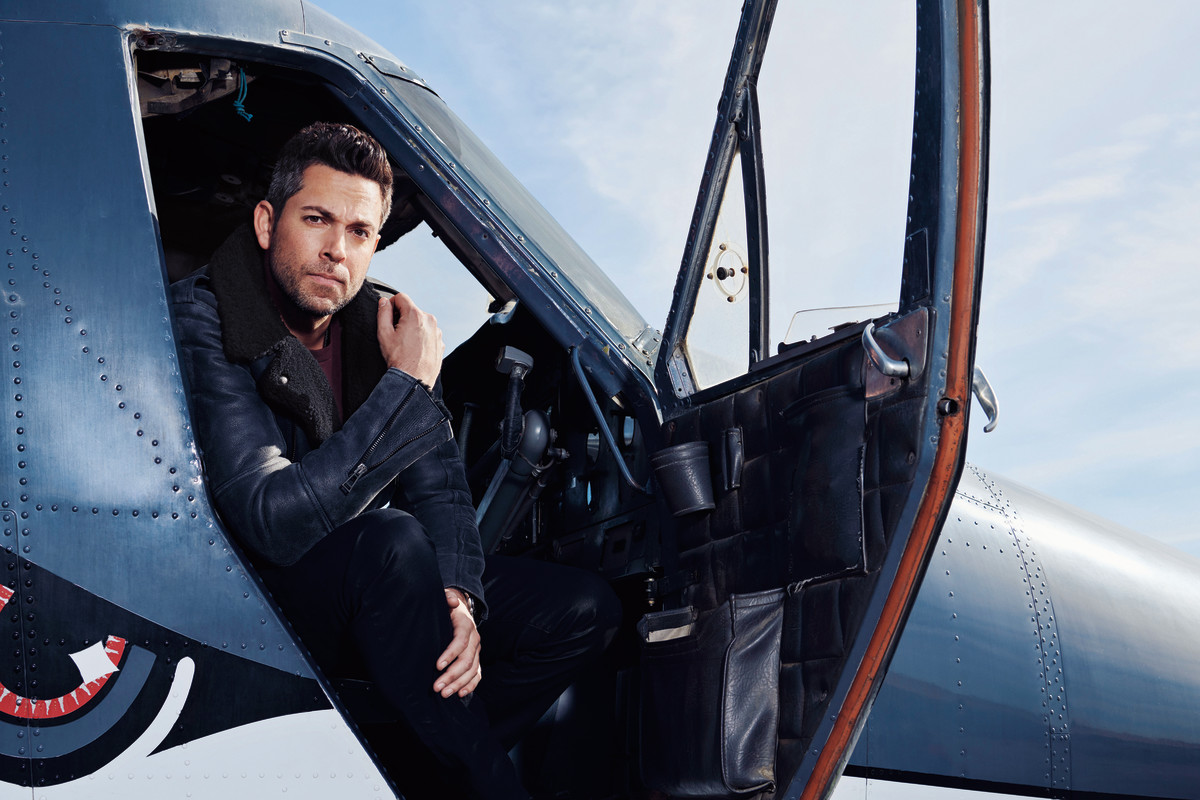 NOW THAT THE INK was dry on the contract, Levi had to do the work, which meant getting into superhero shape in just eight weeks. "I've hovered around a 200-pound dad bod," Levi says. "Maybe an athletic dad bod."
Warner Bros. brought in L.A.-based trainer Grant Roberts. Levi worked out with him at Granite Gym, lifting six days a week, sometimes twice a day—intense sessions that Roberts describes as "beyond-failure training." They did a 3-D scan of Levi's body to show what his muscles looked like as he transformed into superhero shape as fast as possible. Roberts, who memorably turned Hilary Swank into a convincing fighter for Million Dollar Baby, understood the assignment. "Zach comes from a nerdish background," he says. "Much like I thought with Hilary, my reputation was on the line." What was Levi like in the gym? Says Roberts: "He tells jokes, he's very vocal. He sings all the time as he trains. Luckily, I'm in a private facility where he's not annoying anyone else."
To get lean, Levi was put on a strict diet of 3,000 to 4,000 calories daily—35 percent protein, 55 percent fat, and 10 percent carbs, with a tablespoon of fish oil for dessert. Soon enough, he filled out the costume.
But his comedy chops might be the most memorable thing about the film. Levi often ad-libbed on set. Early in the story, Shazam busts up a convenience-store robbery. But he's still testing his powers, unaware of what he can actually do. When he realizes he's bulletproof, Levi turns to the criminals, affects his deepest, grown-up voice, and announces: "You're dead."
Says Sandberg: "I'd be there sitting at the monitor laughing. No two takes would ever be the same."
But Levi is not just playing at being a big kid—he's very much one offscreen as well. He's got a custom Harley-Davidson Dyna Super Glide, and a Ducati Monster, plus four gas-powered Jet Surf boards. He speaks fluent Xbox and carries a small Bluetooth speaker everywhere he goes.
The man-child thing isn't an act. In 2017, Levi sold his Studio City home (with hot tub and fire pit) for $1.4 million and bought a 75-acre cattle ranch outside Austin, Texas. The decision was simple. He hadn't actually worked much in Los Angeles since Chuck ended. And a potentially crazy dream had taken hold. In Texas, he planned to build a compound, part film studio, part playground—in his words, "a really dope place to live and play" with zip lines and water slides, like "Warner Bros. meets Google Headquarters meets Disneyland." He put all of his stuff in storage, and for the first three months, he lived in a Tommy Bahama Airstream parked on the property. He's currently renovating the barn, turning it into a massive clubhouse. He's also learning to surf—at an indoor wave park in Austin.
If I had a friend who put all of his belongings in storage, drove across the country, and moved into a trailer, I'd be concerned, I tell him. "It didn't surprise anyone," Levi says. "I think my friends know I'm just a little crazy—in a good way."
After a second double tequila-and-soda, I pay the check. But I cannot stop thinking about how Levi looked on the ground, mere moments after jumping out of that '70s-era plane painted like a shark. He was so calm, almost sedate. There was no whooping, no high-fiving. He just seemed content, ready to wax philosophical about the experience. Maybe it was his vape pen kicking in. Of the jump, he says: "All it does is make you realize how small you are. There are so many other things going on, you're just a part of that flow. Jumping out of the plane, you're up there—we're all so teeny and so close and so connected."
OK, but my dude! How did it feel to fall from 12,000 feet strapped to a stranger while a photographer was taking your picture like a midflight paparazzo? Did your blood pressure move at all? He thinks for a second, then smiles, answering with something more subtle: appreciation. "It's a super-intense flash, and then you're on the other side," he says. "I'm here, I'm alive, everything is still connected."
For access to exclusive gear videos, celebrity interviews, and more, subscribe on YouTube!