Entertainment
Idris Elba Is Just Hitting His Prime
A few months ago, Idris Elba, the 33rd annual Sexiest Man Alive, was about to have some sex.
"I was trying not to ever bring this story up," Elba says with a laugh, "but I was shooting in Limpopo, South Africa. My wife was there and we were going to have some fun in the shower. Some morning romance, you know? She got in, then I followed her and closed the door.
"But then I looked down, and clinging for life to the inside shower door handle was this bat. A tiny, wet bat. I hate bats. It was freaky as fuck. I jumped out of that shower so fast. My wife makes fun of me about it to this day: 'You left me  in the shower with a bat.'
"I've been telling her: 'Babe, I just had to get out of there so I could get the bat for you!' "
Over the phone, Elba tells me he developed the chiroptophobia years before, while shooting a film in Australia.
"These big fruit bats would soar by the place I was staying every evening at around five. They were huge and long. Horrifying. Not like the one in the shower. That guy was tiny. But still."
Turning 50 in September, Idris Elba has proven he's got the chops to play any role—from a cutthroat drug kingpin's lieutenant in The Wire to Nelson Mandela in Long Walk to Freedom to a commander of child soldiers in Beasts of No Nation. And, of course, the voice of Knuckles in Sonic the Hedgehog 2. There isn't a role Elba can't do.
Except, maybe, play Batman.
KEEPING IT REAL
This month, Idris Elba has animal problems far bigger than a tiny, wet house bat. About 500 pounds bigger. His latest project, Beast, arrives in theaters on Aug. 19. In the thriller, a massive, marauding lion stalks Elba's character, Dr. Nate Daniels, while he's on a trip to a South African game reserve. Think Jaws on the savannah, or Cujo with a really, really big cat.
Elba says that he isn't nearly as scared of lions as he is of bats. But he was nervous nonetheless.
"I didn't want anyone to demonize lions. I have 'Lion Heart' tattooed above my heart. Lions don't typically hunt humans. But in the story, this one is caught between prides because of the manipulation of poachers."
Icelandic director Baltasar Kormákur, known for gritty survival films (Everest, Adrift, The Sea), wanted to create a monster film that would rely on VFX and CGI only when absolutely necessary. So instead of shooting in front of a green screen in Atlanta, Elba spent months in the bush—hence, the bat. The resulting footage is experiential, first-person, taut.
"We wanted the environment that we were in to be as real as possible," says producer Will Packer. "And Idris was 100 percent into that. So it was not the easiest shoot. It definitely tested his mental and physical stamina." While Elba's character tries to stay alive, he's also working through a fraught relationship with his daughters.
"The project's courageousness drew me in," says Elba. "In my palette of films—and I've done quite a few—there's nothing like it."
The British actor has been busy. He has another outlier arriving in theaters just a few weeks later. In Three Thousand Years of Longing, legendary director George Miller's first flick since Mad Max: Fury Road, Elba plays a genie in a bottle opposite Tilda Swinton. And later this year, Netflix will release a Luther feature film, based on Elba's hit BBC detective series.
Beast director Kormákur says that the breadth and diversity of Elba's filmography comes from the fact that when you get down to it, Elba is the rare superstar still capable of sinking into a role. "You don't just see a superstar playing a character on screen—you see the character."
THE PROJECT'S COURAGEOUSNESS DREW ME IN. IN MY PALETTE OF FILMS, THERE'S NOTHING LIKE IT.
THE NEW PERFECT AGE?
Elba is a superstar, sure, but he still has dad duty. It's a Thursday afternoon in South London, and Elba is en route to pick up Winston, his 8-year-old son, from school. Though the actor once clocked a British land speed record in a souped-up Bentley Continental, today Elba's piloting a Sprinter van. More days than not, Elba finds himself picking up the keys to this people hauler. "It's my favorite vehicle."
With good reason. Elba is a family man. Aside from his son, who he had with ex-girlfriend Naiyana Garth, Elba has a 20-year-old daughter, Isan, from his first wife, Hanne Nørgaard. Since 2019, he's been married to Sabrina Dhowre, a Somalian-American model. You might have seen her aside Elba in a memorable video the actor posted in the earliest days of Covid-19, when he tested positive and the future looked incredibly uncertain.
Elba says that the pandemic was a chance to refocus on family. "I had been working nonstop for 20 years. All of a sudden I got to recalibrate my senses. I didn't have to transition from going from one character to another. I was just a dad and a husband."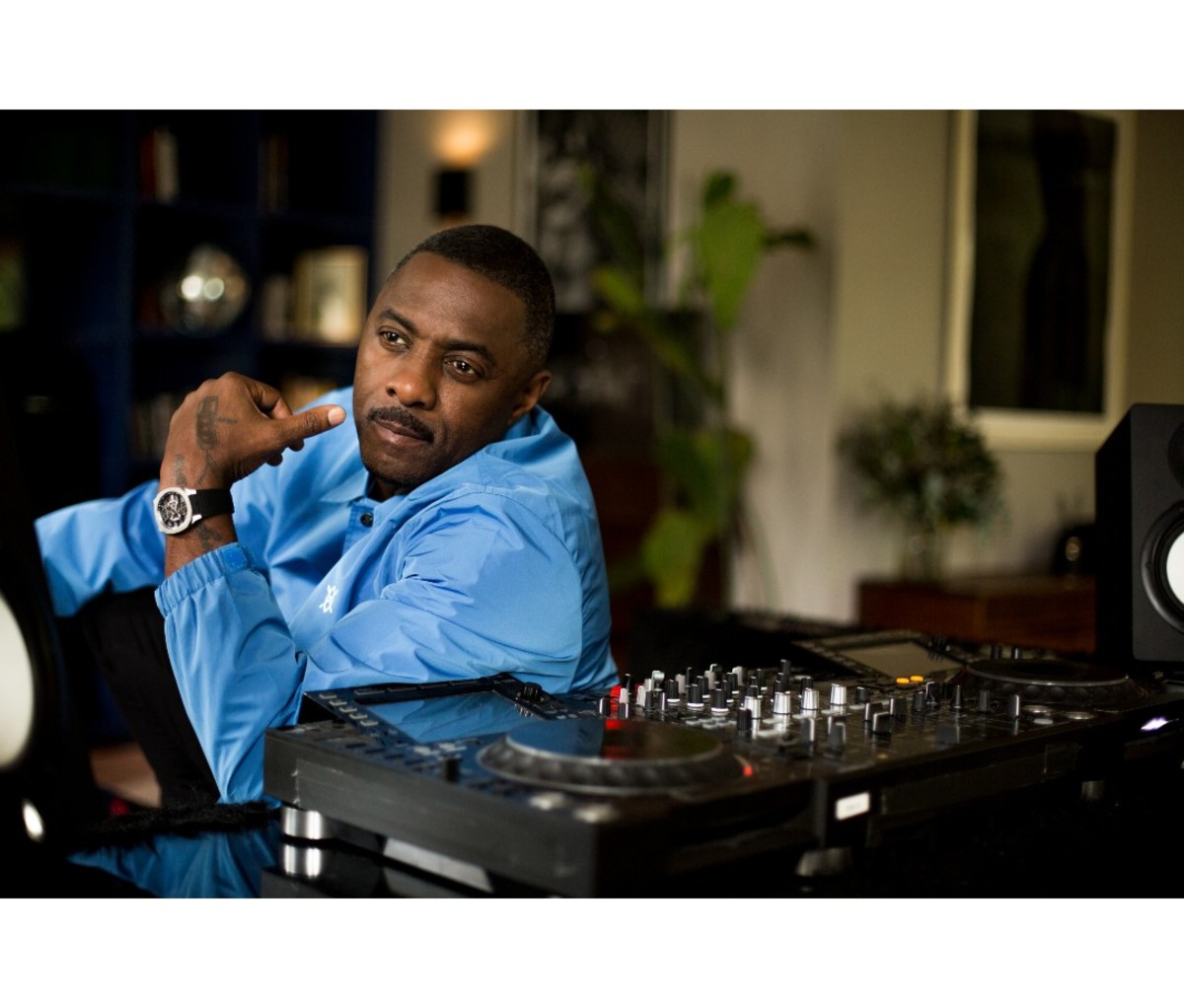 You might share more in common with Idris Elba than you thought. When he races these days, it's because he's late for pickup. He's got an affinity for dad jokes. He spent the pandemic learning to play the guitar.
Yet there are traits that Idris Elba does not share with most middle-aged fathers: the lack of a dad bod, for one. Credit an obsession with boxing and kickboxing for keeping the actor fit. In 2016, Elba trained for a professional kickboxing match—and won. His training, and his defeat of a more experienced opponent, were captured for the Discovery show Idris Elba: Fighter.
"I loved it because it got me the most in touch I've ever been—physically," says Elba. "I learned so much about my anatomy and my genetic makeup. It made me understand the things I shouldn't have put in my body. It was a real wake-up call."
In the recent series Idris Elba's Fight School, the actor, along with a few professionals, spreads his knowledge to underprivileged youths.
"I'm a firm believer that your adrenal glands are there for a reason," he says. "I like to get mine going, whether it's from boxing or kickboxing or racing cars. Adrenaline gets you in this space where you're not just on automatic, and your instincts are heightened."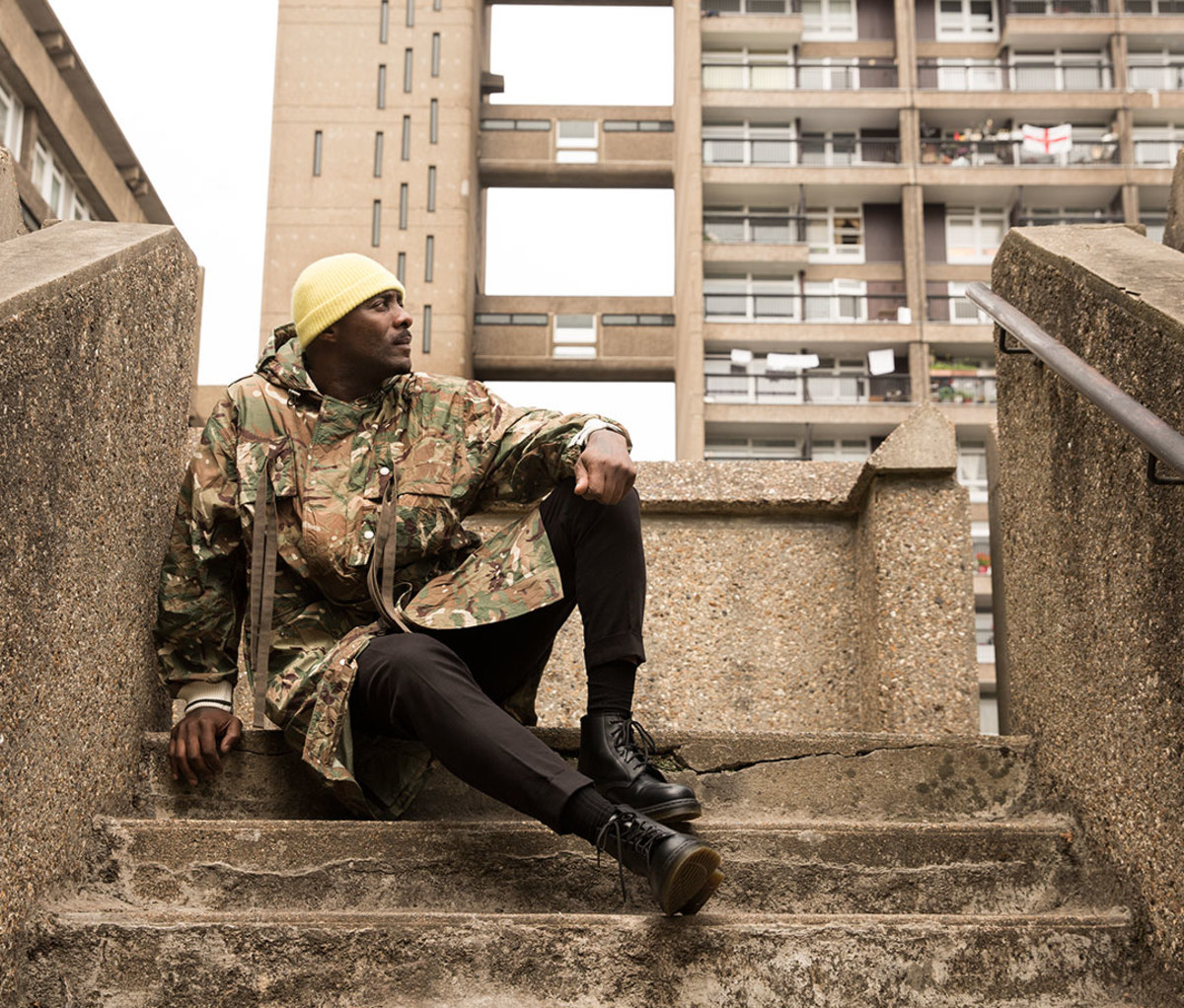 It's also a way to stay young in spirit, adds Elba. In September, the actor will hit the half-century mark. Elba says he's fine with aging. It's happening. "My wife likes salt-and-pepper hair. But I'm way past salt-and-pepper, if you know what I mean. I'm not dying it for a job. It's all salt. Look, it's a sign of my age now. Men of 50 tend to have gray hair. I'm not trying to pretend to be younger."
It's hard to believe, but Elba's breakthrough role as Stringer Bell in The Wire aired 20 years ago. Much has changed. Elba says that in the time since, opportunities for actors of color have expanded exponentially.
"I'm part of a generation of Black actors where we could probably count on two hands those who were working regularly, or at least making a name for themselves. And now there's a real even spread, from directors to producers to actors. It's a great thing."
Will that expansion of roles come to include a Black James Bond? Elba has been asked about being cast in the role since 2009. It's a Hollywood story that has persisted for 13 years, and lives into 2022. Daniel Craig departed from the role in last year's No Time to Die, and a few months ago, Barbara Broccoli, one of that movie's producers, called Elba a magnificent actor and acknowledged that he has been "part of the conversation" about the role going forward.
"I gotta stop talking about it, to be honest with you," says Elba. "If I don't, it ends up being the last question in every single interview I do. It's an absolute whirlwind and ecosystem, this question of Bond. And by saying anything about it, I just fuel it."
As his friend Will Packer points out, the role sounds like a dream gig, but it could also be professionally limiting.
"So many people love Bond, it feels like, wow, wouldn't that be amazing? But I like him having the ability to do a wide variety of roles. Bond is such an amazing brand. But it's so all-encompassing. When you're Bond, you're Bond for a while."
Whatever happens, Elba is set to forge a second—or third—act that's as dynamic as the first.
"Eight years ago, my father passed, and it had a profound effect on me. I realized that trying to predict your trajectory is good for planning and logistics. But you never really know what's gonna happen. Enjoy today, because tomorrow is never promised, right?"
For access to exclusive gear videos, celebrity interviews, and more, subscribe on YouTube!