In 1823, deep in South Dakota, a fur trader named Hugh Glass is mauled by a grizzly bear and left for dead. His companions half-bury him, then make off with his loot. But when Glass miraculously awakes, propelled by visions of the young son his compatriots killed while escaping, he travels 200 miles by foot to exact revenge.
Pretty badass, especially since it was inspired by a true story. Alejandro G. Iñárritu, the Oscar winner behind last year's Birdman, has been working on bringing Michael Punke's book about the tale, The Revenant, to the big screen for five years. It finally arrives in December, with Leonardo DiCaprio as Glass, and Tom Hardy, Domh­nall Gleeson, and upstart Will Poulter as the bad guys.
It wasn't an easy road. Production began in September 2014 and was supposed to wrap the following March. In August, cameras were still rolling. Among the challenges: Iñárritu and his longtime cinematographer, Oscar-winner Emmanuel "Chivo" Lubezki, chose to shoot only in natural light to heighten the raw sense of extreme wilderness — always a challenging prospect, but even more so in the dead of winter, when the sun barely shines. The film's price tag ballooned from $95 million to a reported $135 million. And as temperatures dropped, tempers flared, with one crew member describing it as "a living hell." It may well turn out to be a beautifully shot mess, but it could also be a masterpiece, bringing DiCaprio his first best actor Oscar. Here's the behind-the-scenes story of the 12-month saga, as told by the people who survived it.
19th-Century Boot Camp
One of the first hires was Clay Landry, a historian for the Museum of the Mountain Man in Pinedale, Wyoming, who set up a sort of 1820s finishing school for the actors in the mountains just west of Calgary, Alberta. The course work: throwing tomahawks, shooting flintlock rifles, and skinning beavers.
"Alejandro said, 'I want these guys to look like they've been handling these rifles all their lives,' " says Landry. Easy, right? Not quite. A flintlock rifle is a temperamental instrument, and it won't fire unless loaded properly and primed just right. When operated correctly, the gun makes a whoosh-boom sound. If not, you look "like a clumsy fucker," says Gleeson, who plays Andrew Henry, the fur trader who founded the Rocky Mountain Fur Company. Throwing tomahawks proved easier, and this brought out the competitiveness in the actors. "Leo, Dom, and the others got a little $20 bet going," says Landry. "Leo took their money."
"I had a head start," DiCaprio admits. "I did a little bit of that on Gangs of New York. The key is getting the right distance from the log — it's gotta be like clockwork."
(Inarritu shot the film only in natural light.)
Reality Bites
The enormity of this challenge, and the extreme conditions, set in almost immediately. Poulter, the greenhorn on set, recalls the first day: "I was like, 'This is about as cold as it gets, right?' and the lady who picked me up from the airport kind of  laughed. She said, 'Baby, you have no idea.'"
The cast and crew were installed at the Sheraton Eau Claire in Calgary, a two-hour drive from the set on unpaved mountain roads. Production designer Jack Fisk, who'd worked on epics like There Will Be Blood, remembers one of his first meetings with Iñárritu. "From the beginning Alejandro wanted the locations to be kind of wild and scary," he says. "At one of the production meetings he said, 'It's the story of spiritual enlightenment through spiritual suffering,' so I knew we were in trouble."
A standard Hollywood craft-services table was set up inside metal cages so bears wouldn't steal off with the food. Says Poulter: "A lot of us had roles that required us to be on weight-loss diets, so food wasn't of particular interest anyway."
Shooting chronologically with natural light posed significant challenges almost no major film production has to endure. The actors would travel to set, rehearse, wait for the perfect light — and then pounce. If they didn't get a shot, the footage often had to be scrapped. "The sun hits only where you need it to be for about 20 minutes a day," says Gleeson. "If you don't get the shot during that 20 minutes, then you're back the next day. We had one absolutely nutty scene that involved running in and out of water and getting onto a boat, and a lot of guys on horses coming toward us, and arrows and guns going off. That was all in one shot. Your nerves are absolutely shredded," he says.
Cinematographer Lubezki, who won Oscars for Birdman and Gravity, calls The Revenant "the most complicated movie I've ever done."
Iñárritu defends his methods. "I wanted to show how those guys lived, what they went through," he says. "It's 1823! Wild conditions, eating animals, wearing animals. There was no fucking GPS. People got lost. They didn't know what was there. How can I get audiences to experience that?" How? By immersing his actors in the wild and letting the camera roll. "It was the only way that we could have nailed what the script really demands," says Iñárritu. "We have just one moment. If we fail, we fail. It was not a choice." He laughs, adding: "Don't misunderstand me. Of course I'm crazy. But it's a condition to be crazy."
Ice Chunks and Blue Lips
The first snowfall came on September 3 and there was a monster snowfall on November 28, before a pivotal scene in which the actors cross a river while under attack from Native Americans. "Everybody was freezing," says production designer Fisk. "Parts of the river were freezing over as we were shooting, and suddenly big chunks of ice were coming up over the set." It was –30 degrees.
DiCaprio was forced to get in and out of the river repeatedly, all while draped in a bearskin coat. "It absorbed about 50 pounds of water, and then it immediately froze," says DiCaprio. "Every day was a battle for myself and a lot of other people not to get hypothermia."
Iñárritu admits that it got too risky at one point. "The producers wanted to evacuate us, the actors couldn't move their lips, and I was pretending everything was all right," he says. But in a way this was the very experience Iñárritu was craving when he signed on five years earlier. "When you think about it, we have become such pussies," he says. "We are complaining because we don't have WiFi in a plane 10,000 feet from the ground. Or the coffee is cold. These guys, they found a way of living with tough conditions. Hugh Glass, surviving 200 miles after a bear attack — people can feel it's a fantasy, but it's a real thing."
Says DiCaprio: "We were supposed to do a scene with my son as he's praying for me. And it hit 40 below zero. At that point we couldn't really open our eyes. And our fingers locked together and the camera gear locked together, and I just looked at Alejandro and said, 'I'm all for enduring realism, but there comes a point when nothing is operable.' " The production was forced to break on November 29, and cameras wouldn't roll again until January 19.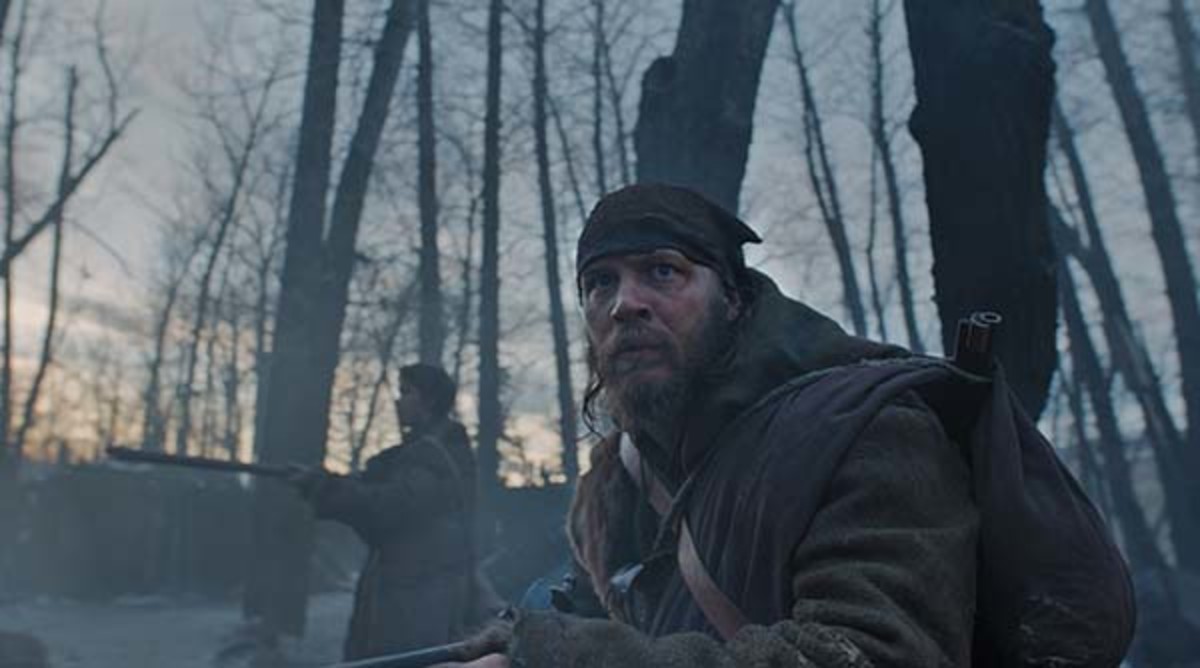 (Hardy and the rest of the cast had to be perfect: The ideal conditions often lasted just 20 minutes.)
Everything Goes South
When the cast returned to Calgary in late January, Mother Nature bitch-slapped them again. Now that they actually needed the snow for their scenes, it had all but melted. "The natives were stunned," Iñárritu says. "It was one of the hottest winters registered in Canada's history." The production team brought in machines to make snow, but it was too warm even for that. A decision was made: The entire production would move to the Southern Hemisphere to chase the snow. "Our needs were pretty specific, and they sent scouts around the world," says Fisk, the production designer. "They narrowed it down to, like, three places, and the one in Argentina worked out."
Having to move stung, Iñárritu says, because "nature is really a character that represents Glass's state of mind. But as Kubrick used to say, 'To make a film like this is like trying to write a poem in a roller coaster.' "
Tempers Flare
Iñárritu's actors universally praise him and basically walk to the ends of the earth for his films. But he's also known to have a temper. Reports from the set were troubling. Word leaked that during one scene a 22-year-old actor had been dragged naked through mud. Equipment broke. A veteran producer was allegedly barred from the set after Iñárritu was mistakenly taken by helicopter deep into the woods, only to find the sunlight was wrong and a shoot day was lost. Iñárritu later told The Hollywood Reporter of the dismissal: "If I identify a violin that is out of tune, I have to take it from the orchestra."
"I knew that he would get frustrated," says Fisk of Iñárritu. "The clock was ticking, and the pressure was so high."
Iñárritu's quest for verisimilitude was more than just typical Hollywood posturing, and the actors went all in on his vision. "Leo amazed me," Fisk says. "He's vegetarian, but he was supposed to be sharing this dead buffalo with a Native American. We made him a fake liver, and people didn't think it looked real. They had the prop man bring in a real cow's liver to show him the difference. And Leo said, 'Well, let's just use this one.' "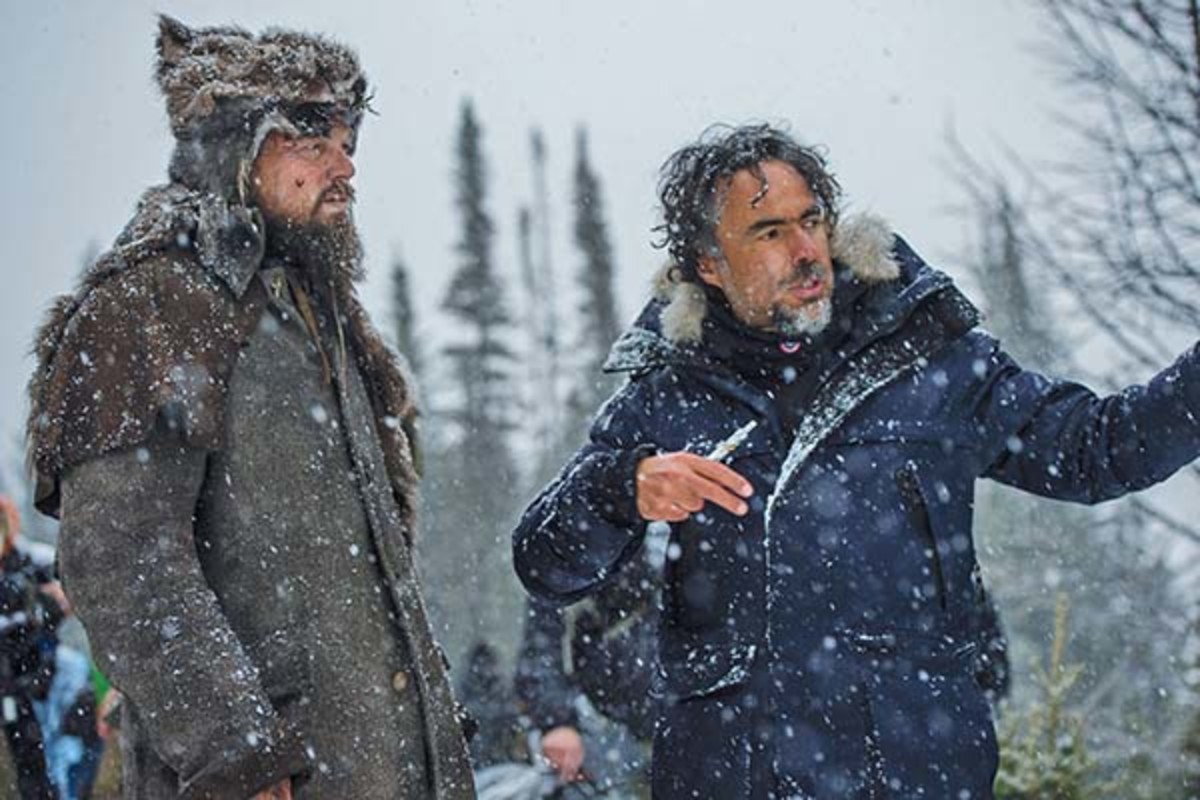 (Inarritu, right, was uncompromising in his vision: "Of course I'm crazy. But it's a condition to be crazy.")
"The gelatin one didn't look right to me," says DiCaprio. "It wasn't bleeding the right way when I was biting into it." He laughs, adding: "He threw me the real one, and you'll see my reaction in the film; Alejandro kept it in."
The Reckoning
Looking back on the 12-month shoot, the cast said the toughest scenes weren't the ones they'd expected. It wasn't the scene where a mule needed to get on a boat. (The production team looked at 44 head to find four animals that would walk a plank on command.) Nor was it the scene with a hundred extras charging through a river and shooting arrows at a boat. Says Iñárritu: "Sometimes an intimate dialogue, or to capture true emotion between two guys in hard conditions, can be even harder if your mouth is trembling because it's cold or your eyes are closing."
Lubezki shot the movie with wide-angle lenses, and for the profile shots he often came within inches of DiCaprio's face, including one emotional scene with DiCaprio and his son. "The camera starts to move in gently as he is going through all these feelings," says Lubezki. "And the camera probably ends at half an inch from his face, and he's breathing and the lens starts to get foggy, and you feel it's almost like Glass's last breath. These are the moments you cannot light. These are the moments you cannot rehearse."
When it was all over, DiCaprio says, he felt incredible relief. "I had to let this story and this adventure take me where they needed to go," he says. "I'm not complaining about the difficulty of it, but it took us all somewhere that we never imagined."
As for what drove Iñárritu to dedicate five years of his life to Glass's story, he says: "For me, it's a survival adventure story." It's also, he says, a metaphor. It's a love story between a father and his son. It's a story about the roots of capitalism and a need to understand our environmental footprint. And of his actors, of this experience he guided them through, Iñárritu says, "I found so much love in pain, so much beauty in their grief." The way he says it, it almost sounds like an acceptance speech.
For access to exclusive gear videos, celebrity interviews, and more, subscribe on YouTube!