Entertainment
James McAvoy Is the Hero With a Thousand Faces
AN EARLY WINTER AFTERNOON in London: gray clouds, flat light, a bite in the air, the last leaves clinging to nearly naked trees. James McAvoy is entertaining mortal thoughts. "As somebody who's always thought I'd be happy making it to 70 years of age and then die, I think: I've got 31 years left," he says, apropos of seemingly nothing, while driving his red Audi home through the tight streets of North London. "It's important to do what I want to do, instead of what I should do."
McAvoy will be 40 years old in April. It's not unusual for men of his age to start reconsidering their priorities. But something about McAvoy's frank appraisal of his own impermanence is jolting. It's partly that he still looks so young, even with his somewhat unconvincing beard, and partly the fact that I remember him best from the roles he played as a 20-something. This confessional moment comes near the start of a long, barely interrupted, and often hilarious monologue of thoughts, reflections, impressions, and bonsmots, all delivered in a quicksilver Glaswegian burr, and it's hard to process the words as he says them. All I can think as I sit in the passenger seat is: Why is James McAvoy telling me about his sudden urge to outrun time? It seems a strange intimacy to share with a stranger. As the monologue roller-coasters through the X-Men franchise, worker's rights, clean carbs, Scottish independence, the strange performance art of celebrity, class struggle, Brexit, fatherhood, and Swedish personal trainers, a thought nags at me. What is behind that remark?
Eventually, after a drive, and a cup of tea, a story tumbles out that might begin to explain it. Last April, McAvoy says, he went to a hospital, and very nearly died.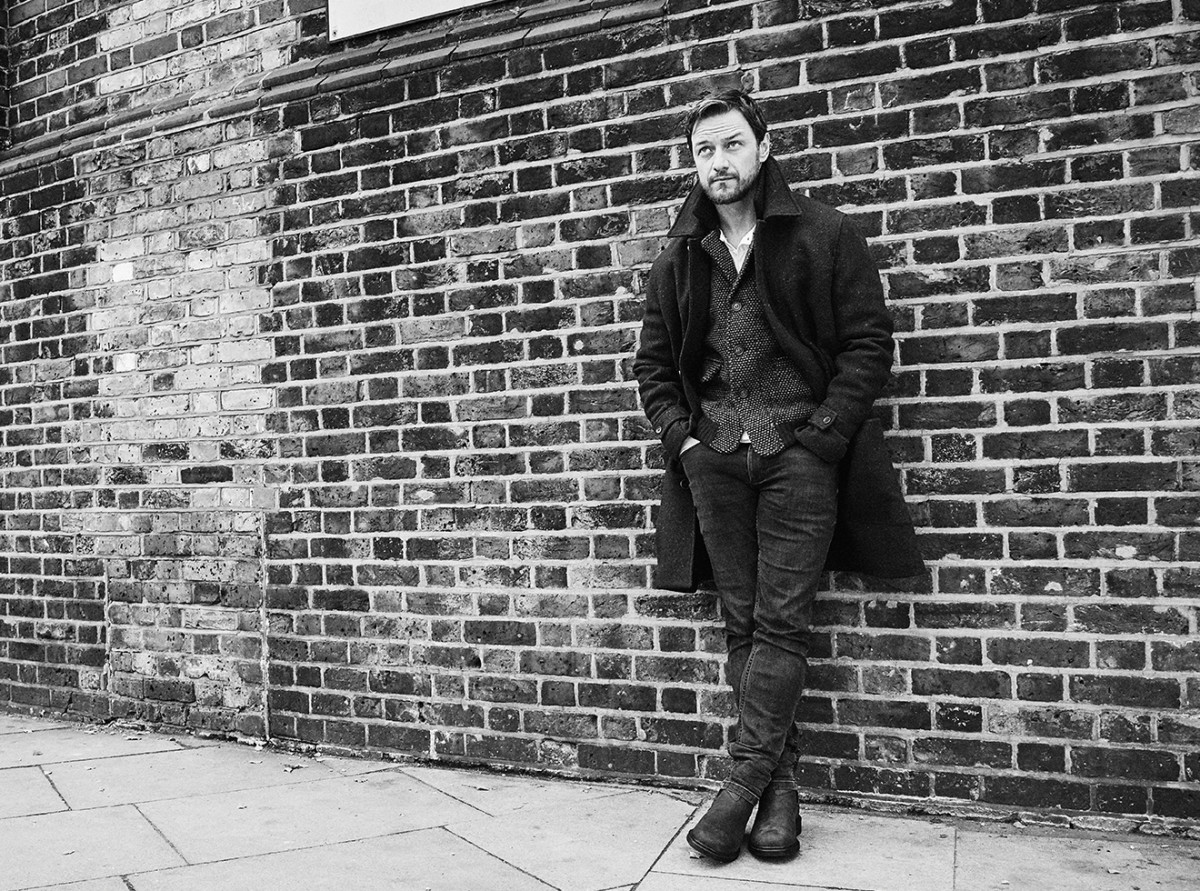 MCAVOY HAS SPENT the morning being James McAvoy, Movie Star. He has had his photograph taken many hundreds of times, on location in an artfully bedraggled Camden pub and on the picturesque cobbled streets of Hampstead: film-set London. He has bantered with the dozen or so creative professionals and assistants who follow him from one place to the next. (One joke, taken wildly out of context: "No! Armie Hammer is my bitch.") Periodically, people have asked him strange things, like whether he wants to change his trousers for the next shot, or whether he needs a touch-up of the makeup on his chest. At considerable cost, a Winnebago has idled near a possible shoot location on Hampstead Heath, just in case James McAvoy, Movie Star, requires somewhere pleasant to change. As it happens, the driver spends the morning drinking coffee from the Winnebago's coffee machine and watching talk shows on its flat-screen television, waiting for a celebrity who never arrives.
Now, with the shoot over, McAvoy has ditched the outfits and the makeup and the RV and has reverted to being James McAvoy, Suburban Dad. We're driving around the north side of Hampstead Heath, the ancient park in the heart of North London, in his Audi. The remnants of his 8-year-old son's recently discarded snack litters the footwell, the fuel gauge is nearing empty, and the rear left tire needs some air. We drive past the Billionaire's Row of Bishop's Avenue, with its vast, empty, oligarch-owned houses, up to the old village of Highgate, one of London's most affluent boroughs. Away to our right is the pub where the 18th-century bandit Dick Turpin used to hide out, and opposite is the street where the Romantic poet Samuel Taylor Coleridge once lived in a house owned several generations later by the writer J.B. Priestley, and now by the model Kate Moss—an urban landscape, I have always felt, so loaded with history it appears designed to make you consider the passing of time.
As he drives, McAvoy unfurls. He is a Hollywood leading man now. Since those first major roles in Atonement and The Last King of Scotland garnered excellent reviews more than 10 years ago, McAvoy had developed into a versatile, unusual actor: as happy playing the Professor in the billion-dollar X-Men prequels as he is playing a dissolute, foul-mouthed Edinburgh cop in the Irvine Welsh adaptation, Filth. During the time I spend with him, and from the reports of friends I know from his neighborhood—who sometimes spot him at the local gym or on his way to play soccer—McAvoy appears to be remarkably unaffected by the trappings of fame.
I wonder what he made of the morning's photo-shoot circus. Is he inured to the attention? "I mean, everything gets normalized after a while," he says. "But what you've got to do as it's getting normalized is to remember that everybody just has their role to play. And even though I was the focal point this morning, that's just my role. It's not like I deserve it. And by the way, nobody else who was there is fucking thinking to themselves: 'Wow, what a guy!'"
Actually, I think that is what people think when they're dealing with a movie star.
"Nah, it's just because they've got you for such a small length of time," he says. "I think they think of you as sort of a flighty horse, almost. If you don't treat it with fucking kid gloves, it's going to buck and run away and you'll never tame it. Because they've got a very finite amount of time to get a lot of content out of you. There's a lot of internet to be filled up. Do you know what I mean?"
McAvoy breaks into laughter at the thought of him having what he calls a "starry fucking ego." He tells me the best cure for any sense of ego is to actually work as a film actor. "Sometimes, when I'm acting on set," he says, "I feel like I bare my soul and fucking reveal the deepest darkest truths of my upbringing, and I do what I think should be a nominated performance, and then they shout 'cut,' and I'm like, 'Uh?' You look at the crew, and everybody's picking their nose or scratching their balls at that moment."
In other words, says McAvoy, being a movie star is just a job. A well-paid job—very well paid, in his case—but a job nonetheless. You should take all of it seriously, and none of it personally. Having me in his car is simply another part of the gig.
We're talking because McAvoy has a new movie out: Glass, a spin-off that combines the storylines and characters from two other successful M. Night Shyamalan films: Unbreakable, which starred Bruce Willis as a train-wreck survivor who discovers he has superhuman powers; and Split, in which McAvoy played a psychopath with 23 personalities. "I happen to like a bit of old-fashioned superhero codswallop," McAvoy says.
He's not kidding. To play the role of Kevin Wendell Crumb in Glass, McAvoy got huge. He worked with a personal trainer named Magnus Lygdback—a "Swede who looks like a Viking…who looks like he's about to pillage your village"—who watched him power-lift weights five or six days a week, and encouraged him to eat five or six meals a day. Before he knew it, McAvoy was ready to pillage some villages of his own. To those of us who remember him as the skinny, boyish leading man of Atonement, the Viking version is barely recognizable.
"I was astonished when he started playing the part of what he was capable of," says Shyamalan. "The physicality, the drama, the emotion, the humor, the pathos." Plus, Shyamalan says, McAvoy worked his ass off in the gym, sometimes fitting in a full weightlifting session before filming started early in the morning. "In the third act of our movie, he has his shirt off the whole time," Shyamalan tells me. "There was no way around it…. He whipped himself into shape."
DESPITE HIS EARLY PORTRAYALS of sensitive young men in the flush of youth, McAvoy is perhaps best known for his work in the X-Men prequels. But even as he works in the franchise "big crash-bang-wallops," as McAvoy calls them, he has continued to act in smaller films and do work onstage that suggests it might be his natural home. In particular, McAvoy's furious Macbeth, in 2013, in the West End of London, was extraordinary.
"I'm so, so proud of it," he tells me. It's the only time in our interview where his unwillingness to show any sign of "starry" behavior gives way to straightforward professional satisfaction. (He soon cures the mood by telling a story, complete with a dead-on Ian McKellen impression, about how McKellen—himself a very famous Macbeth—told McAvoy that his performance "was not for me" before faintly praising McAvoy's "tomorrow, and tomorrow, and tomorrow" speech.)
I wonder if McAvoy wishes he could do more in the theater. "Absolutely, I do want to. I want to see where that takes me," he says, before adding that at some point in the future he's agreed to play Cyrano de Bergerac, with Jamie Lloyd, who directed McAvoy onstage not only in Macbeth but in Three Days of Rain and The Ruling Class, both of which garnered similarly enthusiastic reviews.
McAvoy is so lit up at the prospect, he misses his turn. Or maybe he's just a day-dreamy driver. We pass the rusted memorial to the 17th-century metaphysical poet Andrew Marvell. ("But always at my back I hear/Time's wingèd chariot coming near.")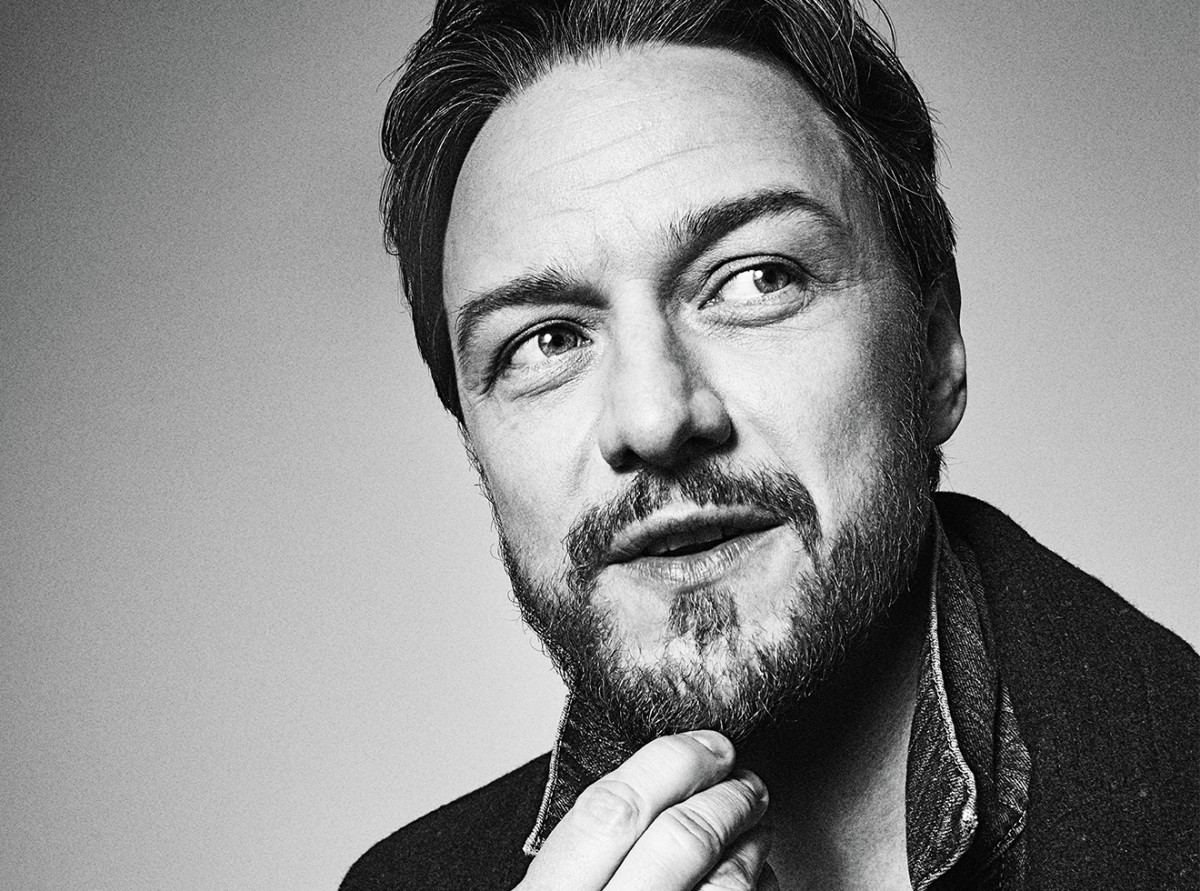 We're heading, in a roundabout way, toward Crouch End, or "Crouchy" as McAvoy calls it—the boho-middle-class suburb where he lives. It's far, in every sense, from where McAvoy grew up, in a scrappy housing project on the outskirts of Glasgow called Drumchapel. After his parents split when he was 7, McAvoy lived in "the Drum" with his grandparents. He has always told reporters he had a happy childhood. Still, the area was working-class, with high levels of unemployment, and a life expectancy four to five years shorter than the rest of Glasgow. In short, not many movie stars come out of the Drum.
McAvoy tells me that a lot of what's prompted his recent reappraisal of how he picks projects is straightforward: He's rich now, and he doesn't need the money. The X-Men movies paid him well. He also got a back-end share of the profits on Split, which took in nearly $300 million worldwide and cost very little to make. "I'm lucky. I really don't have to worry about money now," he says. "It would be all right if I didn't work for a long time."
Despite his material comfort, McAvoy has not lost his class consciousness. He is aware that his opportunity to become an actor came from a meeting at his school with the Scottish actor and director David Hayman, who was impressed with McAvoy and offered him a tiny role in the 1995 British TV drama The Near Room, which catalyzed his career. Had Hayman not dropped in on St. Thomas Aquinas High School that day, it's probable nobody would ever have heard of James McAvoy. "You just know when somebody walks through the door if they've got something or not," Hayman once said.
After that initial break, it took another working-class writer and producer, Paul Abbott, to give McAvoy his first noticeable roles on television. Abbott cast the young Scot in the political thriller State of Play and then in his landmark British TV show about life in the Manchester projects, Shameless, in the space of two years. "I know people can say things when someone's been successful, but this isn't a retrofit: He just shone," Abbott told me. "Most people as handsome as him don't play beyond their nose. James was good-looking but didn't give a shit about it. There was an honesty there." McAvoy was already moving beyond television while he was working on Shameless, winning small roles in big films, like The Chronicles of Narnia, and subsequently winning the part of the young Scottish doctor Nicholas Garrigan, in The Last King of Scotland, co-starring Forest Whitaker.
"Most people as handsome as him don't play beyond their nose," one director says. "James was good-looking but didn't give a shit about it. There was an honesty there."
All movie stars rely on luck. But McAvoy believes that other kids, from different backgrounds, seem to get more chances to be lucky. He has been outspoken on the high percentage of "posh" English film actors, from exclusive schools and the best universities, who make it in the industry. This kind of privileged background is shared by three of the most successful British film actors of McAvoy's generation—Benedict Cumberbatch, Eddie Redmayne, and Tom Hiddleston—although McAvoy doesn't call them out by name. "I don't really mind that we have a lot of posh actors, because most of those actors are really fucking good," he says. "But it is a symptom of a bigger problem."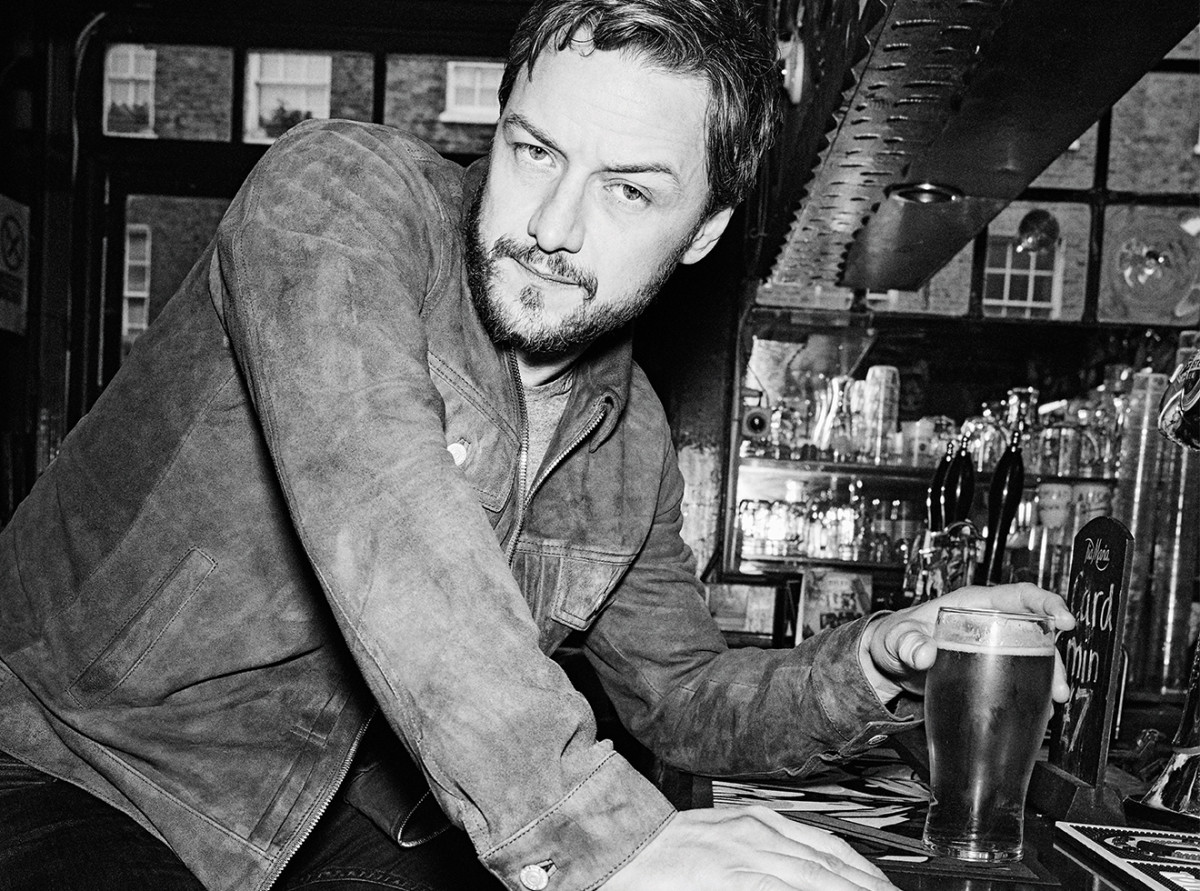 McAvoy talks about the gap in opportunities between rich and poor kids in Britain that is widening because of cuts to arts funding. He has funded a scholarship for high-school-age kids in Glasgow to give them access to drama. But as McAvoy sees it, the problem goes way beyond drama.
"While you're developing as a human being, and while your eyes are being opened or kept closed to the rest of the world, there's a certain group of people that are getting mind-expanding arts education and a bunch of people that aren't," he says. "Whether you become an actor or not, or a painter or whatever—it doesn't necessarily matter. Because what it can give you is to make you a more rounded and more confident person."
In this exchange, you get a sense of McAvoy not as someone who feels like he was predestined for success—if you're raised Catholic in Glasgow, you tend not to go big on predestination—but as someone with talent who was given an opportunity. There are other people from Drumchapel whose lives do not turn out as well. (For instance: McAvoy's half-brother, Donald, whom he has never met, was jailed last year for beating up a man over a drug debt.) It's only now, at 39, with financial security, that McAvoy can afford to think about choosing roles with total freedom.
WHICH BRINGS US to that near-death experience.
Last April, McAvoy went in for a physical, for no other reason than he was nearly 40, and a parent, and it seemed like a good idea. The doctors found a shadow on the X-ray of his lung and did a biopsy. It turned out to be nothing, but the wound from the surgery became infected, and the infection became serious. A one-day procedure became a nearly three-week ordeal in a hospital bed.
"It nearly killed me," he says, momentarily earnest. "It was very scary. A terrifying fucking thing to go through."
McAvoy, I notice, seemingly has a sincerity alarm that goes off in his head any time he thinks he's revealing too much of himself. The sirens are ringing hard now. He quickly plays this story of his near-death experience for laughs. He tells me that the doctors wouldn't give him straight answers, even after he recovered. When McAvoy told them that one of his abdominal muscles appeared to have gone missing after the surgery, he couldn't wrestle a response out of them.
McAvoy mimics the evasive, polished responses of the English doctor: "Hmm, are you sure it was there before the surgery?"
It would be too neat to say that McAvoy has reengineered his outlook because of one close call. Human beings aren't such simple creatures. His recent past has been punctuated by other momentous life events—a divorce from the actor Anne-Marie Duff in 2016, whom he met on the set of Shameless; the death of his mother in 2018—and any number of other factors about which I can and should know nothing. I met the guy on one chilly November day, and we spoke for a while: I don't pretend to have a window into his soul. But McAvoy admits readily that his illness shook him up. And it came at a time when he might already have been wondering how many more five-month film shoots he wanted to do, while his 8-year-old son missed his father at home.
"Don't get me wrong, I'm not slagging off my industry," he says. "I love my job. Love it…. But there's got to be more balance."
What does "balance" mean? McAvoy has a clear idea. It means more British movies. It means directing. It means only working with directors who possess a field marshal's sense of what they want to achieve. It means never abusing his own, or anybody's else's, time. And it means, whenever possible, picking his kid up from school, which he is about to do as we conclude our conversation, promptly, politely, and right on schedule, like a man with not a second to waste.
For access to exclusive gear videos, celebrity interviews, and more, subscribe on YouTube!