What's the best place to live like Indiana Jones? How about the best modernist hotel on a beach, or the best undiscovered island chain? You'll find them in our new February issue, on stands this week.
For the first Men's Journal Travel Awards, we picked the 35 Best Trips in the World, along with must-download apps, expert hacks, and travel tips, including where to go if you want an epic view of the stars (it's in Chile!).
This month's cover star, James McAvoy, is already having a big 2019, starring in M. Night Shyamalan's latest thriller, Glass. In our story, "The Hero With a Thousand Faces," writer Ed Caesar caught up with McAvoy to talk about what it took to transform into his character, Kevin Wendell Crumb. "I happen to like a bit of old-fashioned super-hero codswallop," McAvoy told us.
"I was astonished when he started playing the part of what he was capable of," Shyamalan told Men's Journal. "The physicality, the drama, the emotion, the humor, the pathos."
While he showed off his versatility in the role, McAvoy took his training to the next level, dedicating around five days each week with a trainer, along with upping the amount of meals he'd eat every day.
"In the third act of our movie, he has his shirt off the whole time," Shyamalan says. "There was no way around it…. He whipped himself into shape."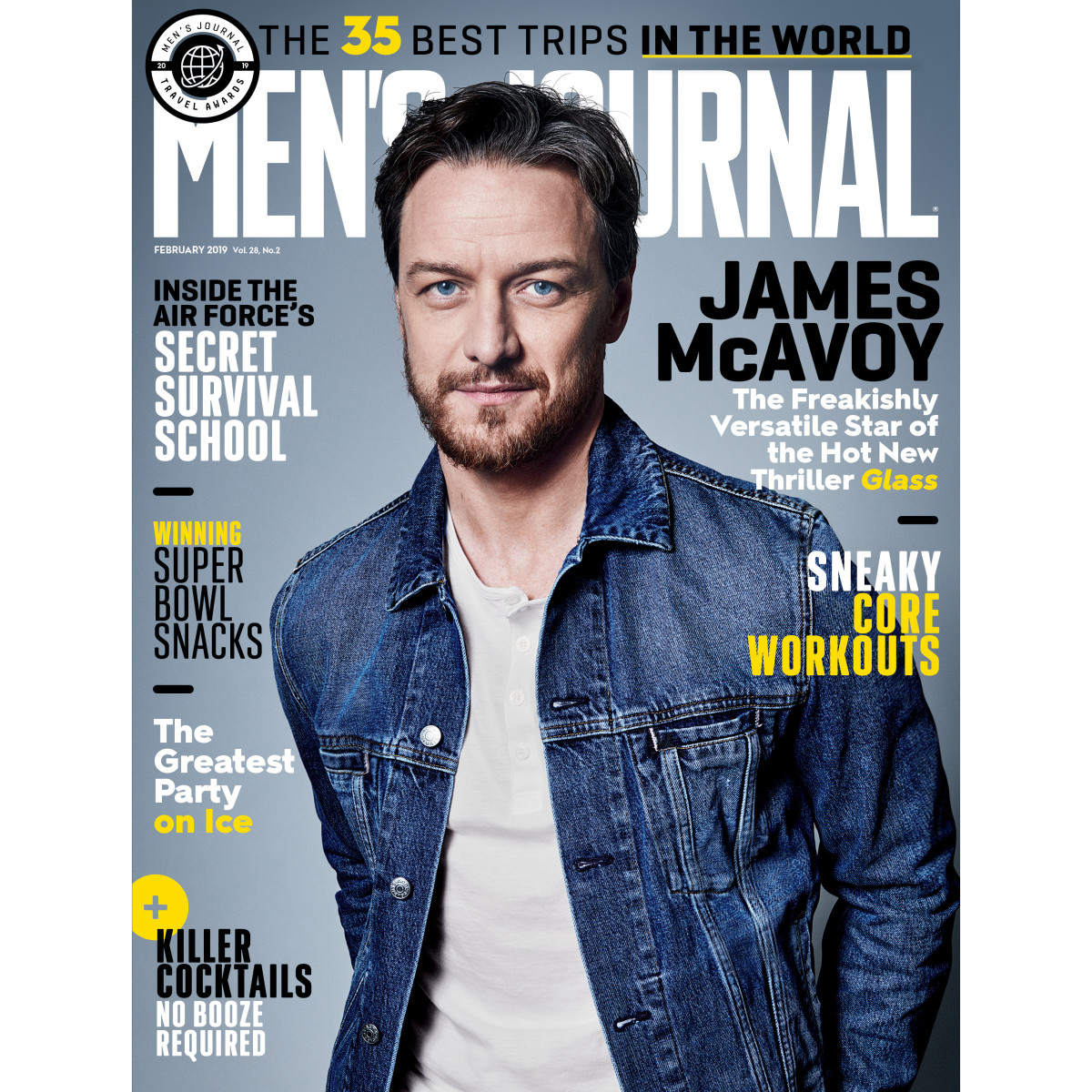 Kicking off February with a Super Bowl party? We already know what we're cooking: the best chicken wings recipes—sweet, dry, or spicy—you'll want to make well after one of the teams gets another ring. They're so good you'll want to rip out the pages and stick them to your fridge—just don't go crazy on the sauce this year.
This month's GearLab will put you to sleep—hopefully: Our testers selected the best mattresses you can get shipped directly to your door, including recommendations if you sleep on your side, get hot at night, or you're on a budget. Once you've taken your sleep to a deeper level, check out some of our favorite new rock climbing essentials, along with the best new high-tech tools for any weekend project. Plus, we even took a group of noise-canceling headphones up in the air to hear which performed best (just in time for all your upcoming travel plans).
Finally, now that you've set your fitness goals for the year, it's time to try something new with the Workout of the Month, a.k.a., the "Sneaky Core Circuit." It's a six-move full-body routine created by strength coach Matt Pudvah. The best part: We'll never ask you to do a single crunch.
Get all these stories and more from our February issue—out this Friday, January 25.
And check back here for more behind-the-scenes videos and exclusive interviews from McAvoy's Men's Journal cover shoot.
For access to exclusive gear videos, celebrity interviews, and more, subscribe on YouTube!