Over his 30-year career, Jamie Foxx has proved again and again he's one of the most versatile actors in Hollywood with performances in smash hits like Ray (in which he won an Academy Award for Best Actor) and Baby Driver. He's also found plenty of success on television, stand-up comedy, radio, and music.
Now, he's tapping into that breadth of knowledge and first-hand experience for the Grey Goose-produced digital series, Off Script. In it, Foxx interviews fellow A-list stars like Dwayne "The Rock" Johnson, Chadwick Boseman, Jeremy Renner, Vince Vaughn, and Benicio Del Toro. Foxx finished off the first season by interviewing two-time Oscar winner Denzel Washington.
"This show is something I've been thinking about doing for a while," Foxx told Men's Journal. "I've been having people at my house and on my radio show for years, like Jay-Z, Quincy Jones, and Puff [Daddy]. I brought Denzel to my house and had him speak with the young actors out there and give advice. I come at it from the perspective of being a fan; it gives me an opportunity to learn something from them, but also helps people understand them better."
Along with Off Script (you can watch all of Foxx's interviews here), Foxx has been keeping himself plenty busy. He hosts the show Beat Shazam on Fox; in November he'll be starring in Robin Hood alongside Taron Egerton; and he was just cast in the new version of Spawn.
Foxx spoke with Men's Journal about what he's learned while interviewing Hollywood's top stars, training for his role in Robin Hood, and why Jeremy Renner is a total badass.
Men's Journal: Usually you're the one being interviewed. What do you enjoy about being the interviewer?
Jamie Foxx: These people are all just so talented and interesting to me. I've been on the other side for a long time. We had a radio show called Foxxhole Radio and I interviewed  actors and hip-hop stars. That muscle has been flexed for a long time. It's a comfortable situation to sit down and speak like this, and if they need a little leading, I know how to take them through that. I just wanted to share a sliver of what they do in their everyday lives. We live in a world now where everything is a hit job. I wanted to give them a safe place to come and speak about their lives and careers.
What's been your favorite part? What do you enjoy most? 
I love all our interviews. But being able to interview The Rock—I'm a huge wrestling fan—and to see him come from 'Can you smell what The Rock is cooking?' to where he is now is amazing; and to hear his incredible story of being homeless, then getting all this success was incredible. Those are the types of things that go a long way for our audience and people who want to find out more about the celebrities they admire. Then you have Benny, my man Benicio Del Toro, who's an absolute badass—but he's also really funny. You find out all these different things about these stars you might not expect. Sitting with Vince Vaughn and see him turn it on and hear how serious he takes the craft.
I was really excited about being able to interview some of the people I consider badasses. Jeremy Renner is a badass. I just look at him and I'm like, 'Wow this guy is incredible at what he does.' Sarah Silverman, the way she cuts in her standup is just some of the dopest stuff out there. Gabrielle Union, just incredible. A woman who's fearless, who I've known for a long time, but then to even find out more about her was great. Melissa McCarthy—speaking to her about her comedic journey and to see the humbleness, the soft side of her. Then of course, Chadwick Boseman. It was amazing to sit down with him after everything blew up with Blank Panther.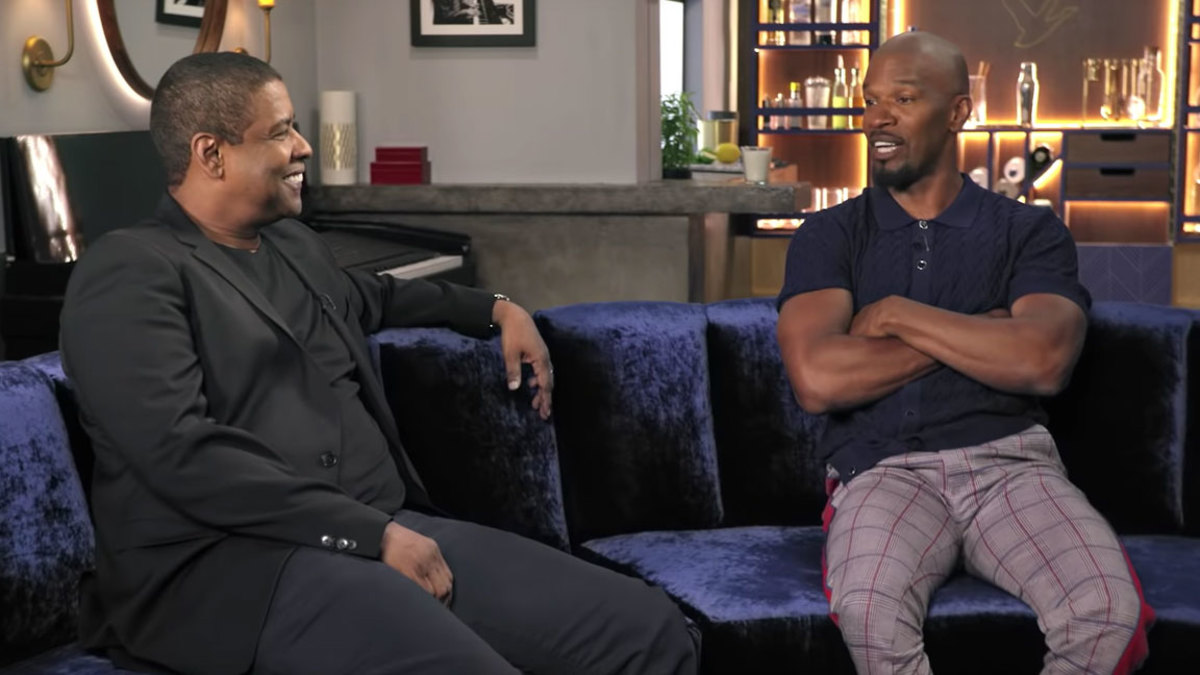 For your final interview, you sat down with Denzel Washington. Why did you want to save that for the season finale?
Oh man, Denzel, he's a god, of course. He's King Kong. I brought Denzel to my house and had him speak with the young actors out there and give advice. I felt if we were able to land the interview with Denzel, it would be key. He's the pinnacle. I'm always caught off guard with him because he's hella fun; he's a real guy. You don't get the feeling that you're talking to a big star when you're talking to him. You feel like you're talking to a guy from money earnin' Mount Vernon, and that's what makes him so great. I tried to talk about this in the interview and I don't know if we got to it, but I remember watching Denzel on St. Elsewhere back in the day. I thought, 'Wow, straight up and down. Looks good. Almost square." Denzel you feel that there's a realness to the character he plays. He's really that guy no matter who he's playing. Even Leonardo DiCaprio talked about it with me. He's a producer on Robin Hood. He said, 'Hey pal. You know Denzel scares me.' I said. 'Why?' And Leo says, 'He just looks like he could rip your throat out if he wanted to.' [laughs].
As an actor you get to travel the world. What's the craziest adventure or trip you've been on?
I don't know if this is the craziest, but it's a wild one. I love getting out on the water and doing stuff like that. I really love snorkeling. One time, I went to Aruba, and we're snorkeling, and I kept telling the driver on this boat, 'Black people don't float, bro. I need a vest or something." He says "No, you're fine, you'll float.' I said, 'Man, no, I'm tellin' you, brothers don't float.' But he just pushed me out. So we started snorkeling out to this sunken ship and, no joke, this huge barracuda just comes by with crazy teeth. And I'm like, 'Daaaaaaaaaaammn—I'm gonna be the first black dude eaten by some shit in the ocean.' We get back in the boat and I said, 'Man, those are some big barracuda.' He said, "You're lucky you get to see barracuda. When you wanna go out next?' I said, 'Nah, I'm good—my pool is righteous [laughs].'
What are some of your favorite places to travel?
Aruba and the beach, Montana, France—I go out during breaks when I have them. Even when I'm working, I still enjoy being away and traveling. I like going to the South of France on a boat. It's crazy.
Any places you're really hoping to travel to in the future?
I want to go to Russia and Iceland for those lagoons. I like being hot when it's so cold.
What's the best life advice you have for guys out there?
Listen, the best advice I get and give—that I'm telling people right now: Don't concentrate on everybody else's light and forget about your own shine. Everybody is so concentrated on what everybody else is doing—'Oh, look at him doing this and look at that'—that they forget about what they're doing themselves. Another piece is: Don't blame other people for your lack of success. People can become anything. I'm from a little town of 12,000 people in Terrell, Texas, and now I'm here at this hotel looking out at this city in New York. Anything is possible. But sometimes people can't take that out of their brain.
I used to listen to Diddy talk and Diddy is like, really motivational. Diddy would drop real dimes on how to hustle and get things right. He would say, 'Concentrate on yourself.' There's literally nothing keeping us from doing what we want to do. We live in America, I mean, what can't you do? You know what I'm saying? So any of the excuses, get rid of the excuses. And I even have to tell myself that a lot of times. Just don't worry about anybody else's thing. Do your own thing, and do the best you can.
You have Robin Hood coming up in November. How did you train for it?
I'm excited to have a movie that's good [laughs]. Taron Egerton as Robin Hood is just amazing. He epitomizes the part, and his jawline is just perfect. I looked at him and said, 'You have that Robin Hood jawline.' We worked hard—a lot of fight training and weapons training. Leonardo DiCaprio is in there as a producer and Otto Bathurst as director; they were both great. It was a tough task, and I think we pulled it off. We were in Budapest and Croatia—places that look authentic. Ben Mendelsohn is the villain, and man, wow, he's one of the greatest guys working out there. He scares the shit out of you on- and off-camera. He comes with the force. Heroes are defined by the villains they have to fight. It's a different take on it. It's flashy. It's not Men in Tights—not your father's Robin Hood. It has some bite to it. I'm really excited for it.
For access to exclusive gear videos, celebrity interviews, and more, subscribe on YouTube!