Entertainment
Reborn on the Bayou: Joel Kinnaman's Long, Strange Trip to Hollywood Glory
A FEW INTERESTING biological traits of the species Procambarus clarkii, otherwise known as the red swamp crayfish: Originally a native of North America, the small, red crustaceans typically grow to a length of two to four inches. They boast a hard, protective carapace, two powerful claws, a talent for burrowing, and an unusual ability to adapt to different aquatic environments: warm, cold, saline, even periodically dry. All of which helps explain why they thrive in waterways across a vast swath of the globe, and why eating them—because one more important trait is an inordinately delicious tail—is a deeply ingrained part of the culture of two wildly different parts of that sphere: Sweden and southern Louisiana.
Which brings us, one recent spring afternoon, to Frankie & Johnny's, a classic New Orleans neighborhood bar and restaurant, walls covered with Saints and Jazz Fest memorabilia. Joel Kinnaman, in town shooting an upcoming feature film, walks in, squinting in the transition from Louisiana sunshine to the bar's dim lighting, to taste his first Cajun-style crawfish. Kinnaman was born and raised in Stockholm, and he looks it: 6'2″, blond-haired, and muscled like a Viking wagyu steer. He is familiar with our friend Procambarus clarkii from the annual ritual of Swedish crayfish parties, in which the critters are boiled in beer, sugar, and dill flower, then served cold. The parties are raucous affairs, to be sure, complete with funny hats and copious amounts of aquavit, but that's still a long way from the unhinged carnage of a Louisiana boil, which resembles something you might see on one of your more lurid nature programs. In Sweden, there is a tradition of taking the removed head of each crayfish and placing it in a tidy stack—vaguely menacing, à la Colonel Kurtz, but still something of which Martha Stewart might approve. In Louisiana, the aftermath is more reminiscent of a zombie attack.
I've brought along a bottle of aquavit to ease Kinnaman's introduction—"How dare you!" he says, jokingly, when he sees it's a Danish brand instead of Swedish—but still. Our waitress brings over a round tray piled with bright red, steaming crawfish. Hearing that Kinnaman is a first-timer, she demonstrates the proper technique: Twist off head; press exposed cavity to mouth for a quick intake of spicy, crawfish-brain-scented brine; break the uppermost ring of tail shell and then pinch the bottom so that…she holds the exposed finger of tail meat toward Kinnaman. Without hesitation, he lunges forward, grabs it between his teeth, and gobbles it down. For the next hour, as we talk, I gape as he makes his way through the pile in front of him.
Indeed I can report this about Joel Kinnaman, at least as it pertains to crawfish eating: The man is an animal. A wood chipper. A veritable otter.
But perhaps that shouldn't come as a surprise to anybody who has watched Kinnaman onscreen. In films and TV shows from his noirish Swedish breakthrough Easy Money to AMC's chilly detective procedural The Killing to Hanna, the recent Amazon adaptation of the film about a teenage girl genetically engineered by the CIA, he has specialized in roles in which his naturally cool exterior hides a barely contained vein of savagery. It's part of a layered charisma that has fueled the 39-year-old actor's steady march to Hollywood stardom—a depth beneath the shell of his leading man good looks. "The defining thing about Joel's acting is curiosity," says Mireille Enos, who starred opposite Kinnaman in The Killing and Hanna. "He brings that to whatever he's doing, and it allows the audience to be surprised and curious with you."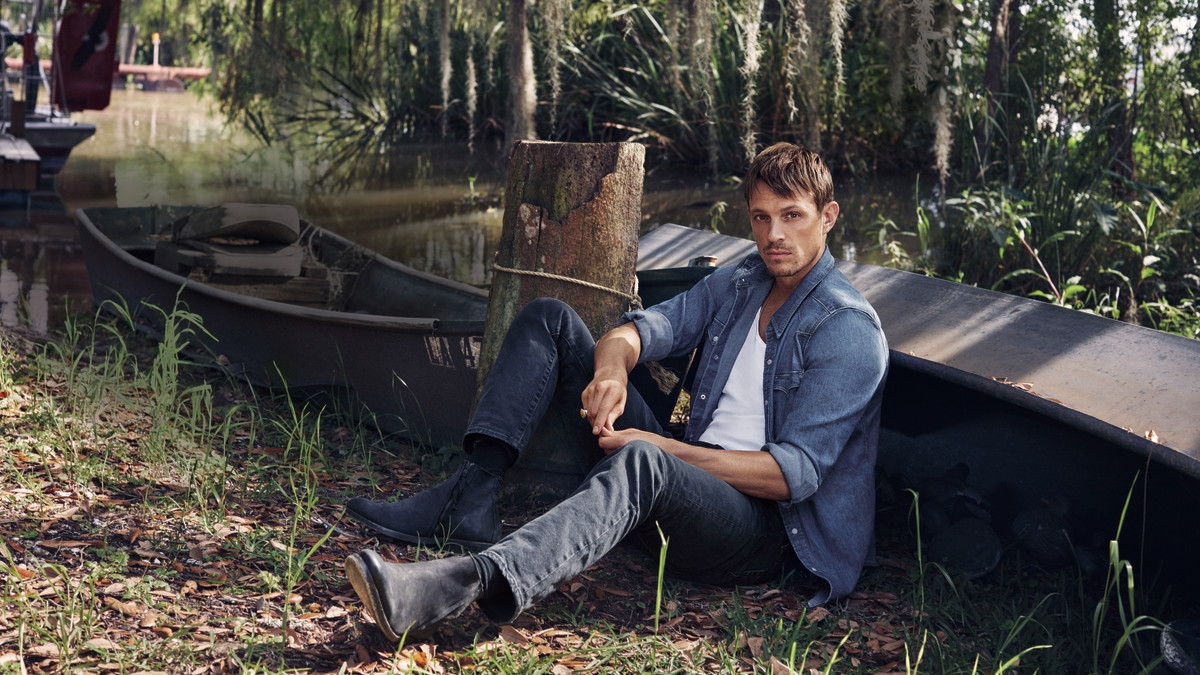 Such nuance was precisely what Ben Nedivi and Matt Wolpert say they needed for the main character of For All Mankind, the series they executive produced for Apple's new streaming service alongside Ronald D. Moore of Battlestar Galactica and Outlander fame. The show is anchored by the character of Edward Baldwin, a taciturn, square-jawed astronaut and test pilot. "Joel has a classic, Gary Cooper–like movie star quality," says Wolpert. "But there's also these other layers of depth that he can access that make him feel modern and classic at the same time."
Adds Nedivi: "It's rare in leading men right now. There's a powerful silence in him, a strength without saying anything."
IN PERSON, KINNAMAN ACTUALLY HAS plenty to say—at least when not demolishing crawfish. He's an engaging and funny storyteller, though it helps, obviously, that he's got a good story to tell. There are many paths to stardom, but not many as picaresque as Kinnaman's.
We begin before his birth, at a wedding in Laos while the Vietnam War slogs on nearby. Steve Kinnaman, Joel's father, is an American GI stationed in Bangkok. He has snuck away on a three-day pass to witness the marriage of a friend to a woman who is half-Laotian, half-Vietnamese. It is his first contact with the people his government has been fighting, and the love-filled ceremony confirms some of the niggling doubts he has already been starting to feel about the war. When he returns to base, to the news that his unit is about to be deployed, he decides to go in a different direction. Steve burns his passport, hitchhikes north, and lives on the run in Laos for five years, centered at the Blind Eye, a Vientiane bar that plays host to a Casablanca-like cast of hippies, journalists, drug dealers, CIA agents, and other assorted expats.
It would all make an incredible movie, and in fact Kinnaman and his father, now 74, have been discussing making one. "I've been toying with the idea of playing my father," Kinnaman says. "But I'm getting a little too old, so I might just direct. It's really a young man's story." The tale is still emotionally fraught in the family, too. Steve neglected to tell his family back home where he had gone until two years after eventually fleeing to Sweden, which offered asylum to deserters from the war. The wound lingers still—which is another motivation for maybe making a film, Kinnaman says.
"I see it as a sort of reconciliation project, too," he says. "Even though I don't live there"—he moved to Los Angeles 10 years ago—"everything I do is to create a base of both economic security for my family and also arenas where they can all come together."
Each of Kinnaman's arms is covered with elaborate set-piece tattoos. On the left is a chiaroscuro of women's faces, flowers, and vines. It is, he explains, a cover-up of an older piece of ink. "I walked into a parlor in the 1990s and literally thought this exact sentence: 'Obviously I'm getting a tribal tattoo because they are definitely never going out of style,'" he says, wryly.
A similar spirit of jovial self-mockery is evident on his other biceps, where the last line from The Tempest, written in Swedish, has been crossed out and replaced. "It was supposed to say sleep but it said dream," he shrugs. Beneath the corrected quote is a stylized tableau of Sodermalm, the Stockholm neighborhood where Steve Kinnaman ended up after decamping to Sweden and where the younger Kinnaman was raised. Now one of the city's most gentrified districts, it was, in those days, a working class neighborhood and bohemian stronghold. Family life there was complicated and colorful. Kinnaman sat in the middle of five sisters from various mothers, often moving around from house to house. "My family's a mess," he says. "But it's a beautiful mess."
He describes it as a happy childhood, but nevertheless, from an early age, he was attracted to more dangerous company. By 10, he was hanging out with a rough group of friends, robbing people, stealing cars, dealing low-level drugs, and engaging in the ritualized group violence of soccer hooliganism, in which bands of supporters of opposing teams would meet in hand-to hand combat on the streets. "It was an incredible, powerful group dynamic," he says. "Being in a group and just rushing toward another group."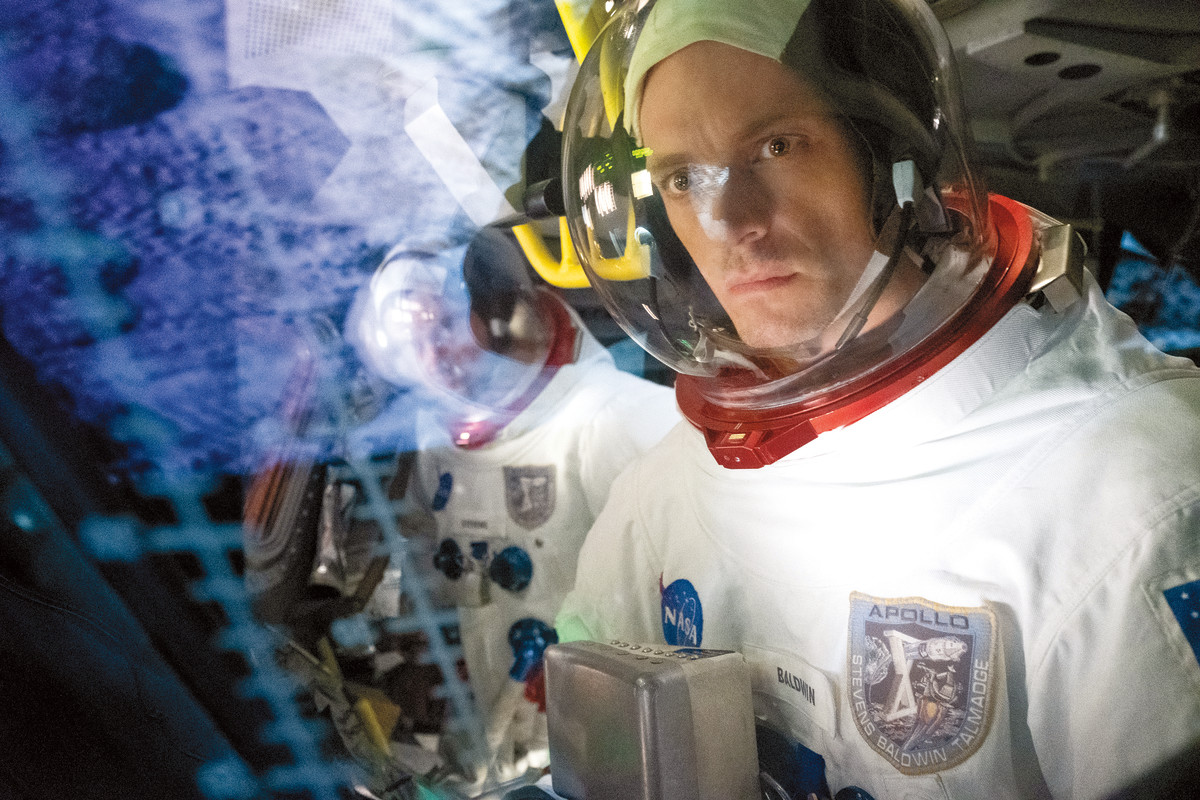 First Look: For All Mankind
One of the most anticipated shows on the Apple TV+ streaming service is Kinnaman's For All Mankind. The series, from Battlestar Galactica creator Ronald D. Moore, imagines a world where the space race never ended and the space program—astronauts, engineers, administrators, and their families—remain at the center of the nation's imagination and aspirations. Season 1 takes place in Houston but also journeys into space and beyond. "It's like nothing I've ever seen before," says Kinnaman, who plays a daredevil astronaut caught in the tumult of the creators' alternative history.
One memorable incident, when Kinnaman was about 14, took place at an away game for his team, Hammarby. He and about 75 of his fellow visiting hooligans were released from the stadium early, the better to disperse before the home fans got out. Instead, they looped around through a residential neighborhood, behind the lines of police meant to prevent fighting, and stood in front of the gates as they opened. When they did, 3,000 enemy fans were waiting. Everybody paused. "Some idiot started running toward them and then I was right in the middle, screaming like a little idiot myself," Kinnaman says. "I had the gnawing feeling that 'this is a really bad idea.'"
Kinnaman stumbled and fell. A policeman rushed over, and, rather than help him up, grasped his baton like a baseball bat and smashed Kinnaman's forehead. The cop pressed a knee into his chest, cutting off his breath, and may have been ready to do worse when, instead, he looked around at the approaching opposition, smiled, and left Kinnaman to his fate. "I thought I was going to get killed," he says, though somehow he managed to limp away.
Looking back, Kinnaman is generous to his childhood self and his motivations. "I think I needed to feel power when I was younger," he says. "I had the need to feel strong. So I was drawn to groups and guys I perceived as powerful. I was deeply insecure, and this was a way to combat this feeling."
Still, soon after the stadium adventure, he decided to extricate himself from the social group he'd been running with. As with most gangs, this was easier said than done. Kinnaman's old compatriots had a brilliantly diabolical way of expressing their displeasure with his defection. If they spotted him with new friends, they would jump and beat the new friends up, leaving Kinnaman ostentatiously untouched. "After a while those guys would be like, 'We like hanging out with you, but…sorry.' So it was a lonely few years," he says. "And then I went to Texas."
Texas! The geographical twist you never saw coming!
Desperate to break out of the rut he'd found himself in, Kinnaman signed up for a cultural exchange program during his junior year of high school and ended up in Del Valle, a smallish town outside of Austin. There, in addition to the normal strains of culture shock, he found himself the captive guest of an exceedingly strange couple.
"The guy was tiny, less than five-foot, and wore this huge cowboy hat," he says. "He'd have one beer, get obliterated, and then drive me around, telling stories and swerving all over the road." The couple had said that they had a son Kinnaman's age, but there was no sign of such a child. There were, however, 11 dogs. One time, the wife—who was equally tiny—asked if he wanted to watch a movie. "Go on over there and look through that cupboard for any movie you like," Kinnaman imitates, in a pitch-perfect Texas accent. Kinnaman opened the doors and found a closet filled with children's cartoons.
I thought you were going to say it was porn, I tell him.
"I wish it had been porn," he says.
In retrospect, this seminal American experience may have been the perfect training for the surreality of a Hollywood career.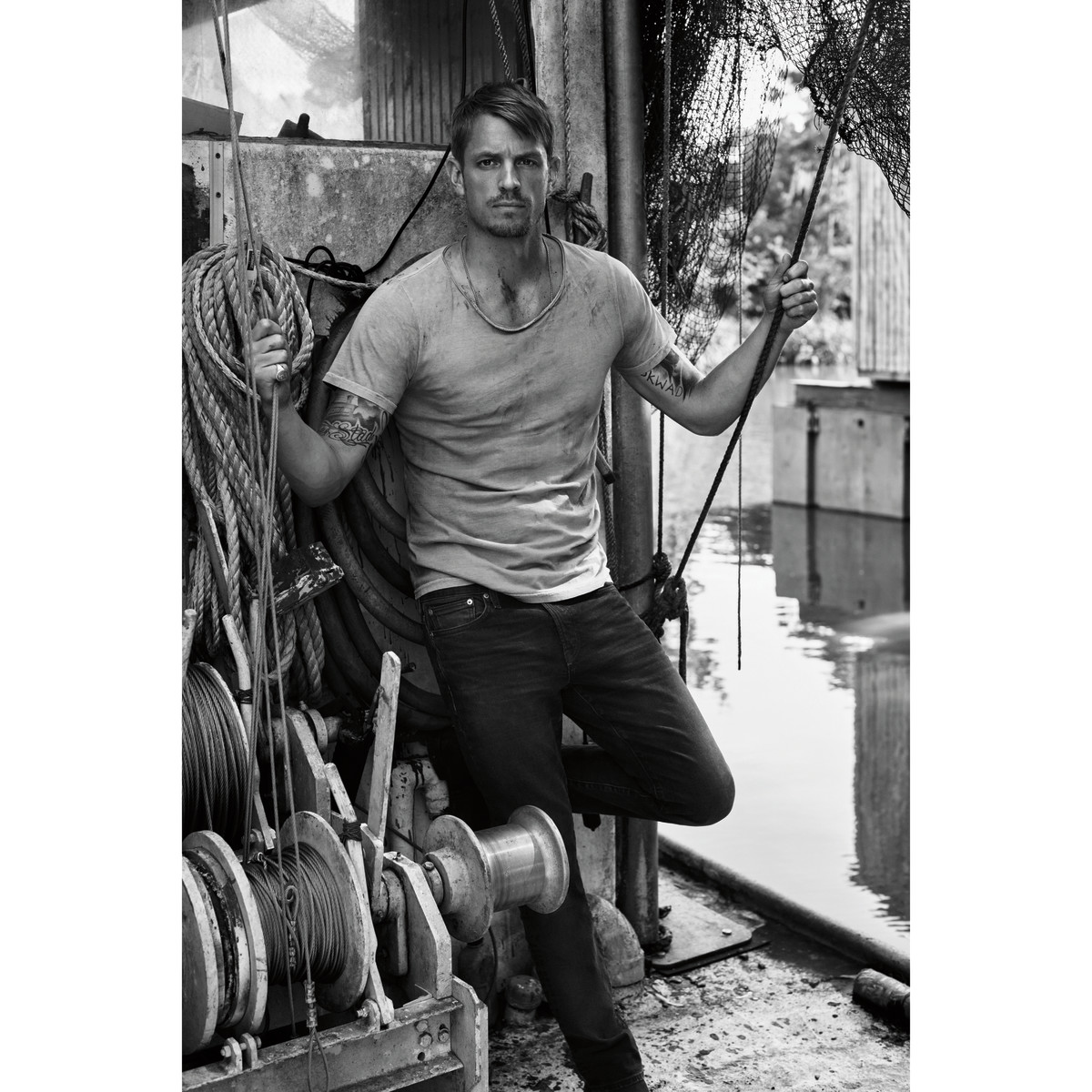 BACK AT FRANKIE & JOHNNY'S, OUR TWO female servers have been circling closer and closer to the conversation, sensing the presence of stardom but unable to put their fingers on its source.
"OK, so what have you played in?" the older one, whose name is Terrie, finally asks. She's seen her share of celebrities, she says: Channing Tatum, Jon Bon Jovi, Rick Springfield, President Reagan.
"He's a male stripper," Kelsey, the other server, jokes.
"Who the hell are you? I'm nosy," says Terrie.
"You're going to have to figure it out yourself," says Kinnaman.
"What have you played in that I've seen?"
"Maybe House of Cards?" Kinnaman suggests. He spent two seasons on that show, playing a Republican rival of Kevin Spacey's
Frank Underwood.
"OK…" says Terrie, unconvinced.
"RoboCop?"
She departs, presumably to Google.
A few minutes l later, a young woman from a nearby table approaches: "Are you Joel Kinnaman," she says, with an excited giggle. "I loved you in Suicide Squad."
This is the seesaw shadowland of fame that Kinnaman occupies in America at this moment. The actor seems equally unphased by either extreme. Whatever his profile in the United States, he has the unusual perspective of knowing what it's like to be enormously famous back in Sweden. There, he has trouble walking down the street without being recognized and approached. His breakthrough film, 2010's Easy Money (in Swedish, the much cooler Snabba Cash), was the highest-grossing movie in Sweden's history and garnered Kinnaman the local equivalent of an Academy Award.
Acting had always been in the air for Kinnaman. As a child, he had served a brief stint on a Swedish soap opera. His eldest sister, Melinda Kinnaman, is an acclaimed actor who has worked with Ingmar Bergman and other giants. He was friends, too, with Gustaf Skarsgård, whose family—including his father, Stellan, and brother, Alexander—is the first family of Swedish thespians. After a few post-high school years spent traveling, Kinnaman decided to give acting a try. He was admitted to the National Theatre Academy. "It was the first time I had a positive identity," he says, "the first time I had done something that I suspected I might be good at."
There was just one problem: "Every time I would have to go on stage—as soon as I heard the audience murmur—I would throw up." Kinnaman's stage fright got so bad that he would carry a bucket with him before performances. It culminated in every actor's literal nightmare: a full-blown panic attack while on stage. "I blacked out," he says. "I literally didn't have a thought in my head."
It was a turning point. "I thought, 'Maybe this is my body telling me that I can't do this,'" he says. "But the idea of quitting was just so depressing. I mean, everybody around me said I had changed since I found this path. It made me come alive as a person. It was everything."
Kinnaman decided to do the opposite of quitting. For an upcoming student showcase, he chose the most demanding monologue he could find—an elaborate 80-minute piece in which he played 16 characters, each with its own voice and physicality. It was the stage-fright equivalent of running headlong into a mob of opposing soccer fans, except, this time, it worked. "I went into it obsessed, like my life was dependent on it," he says. "I did it for five shows, didn't stumble on a word. It's that moment that I was able to overcome that demon."
From there, it was a rocket-ship ride. He was cast as Rashkolnikov in a blockbuster adaptation of Crime and Punishment that opened a new national theater. Then came the movies—at one point an astonishing eight leading roles in the span of 16 months. Their culmination was Snabba Cash, in which Kinnaman played a talented working-class business student whose aspirations lead him down a ruinous path into the criminal underground. With its frank portrayal of class anxiety and a multicultural Sweden, the film struck a chord. "It got really intense," Kinnaman remembers. "It's a small country—only 10 million people—so when somebody breaks through…I needed to figure a lot of things out about how to deal with that."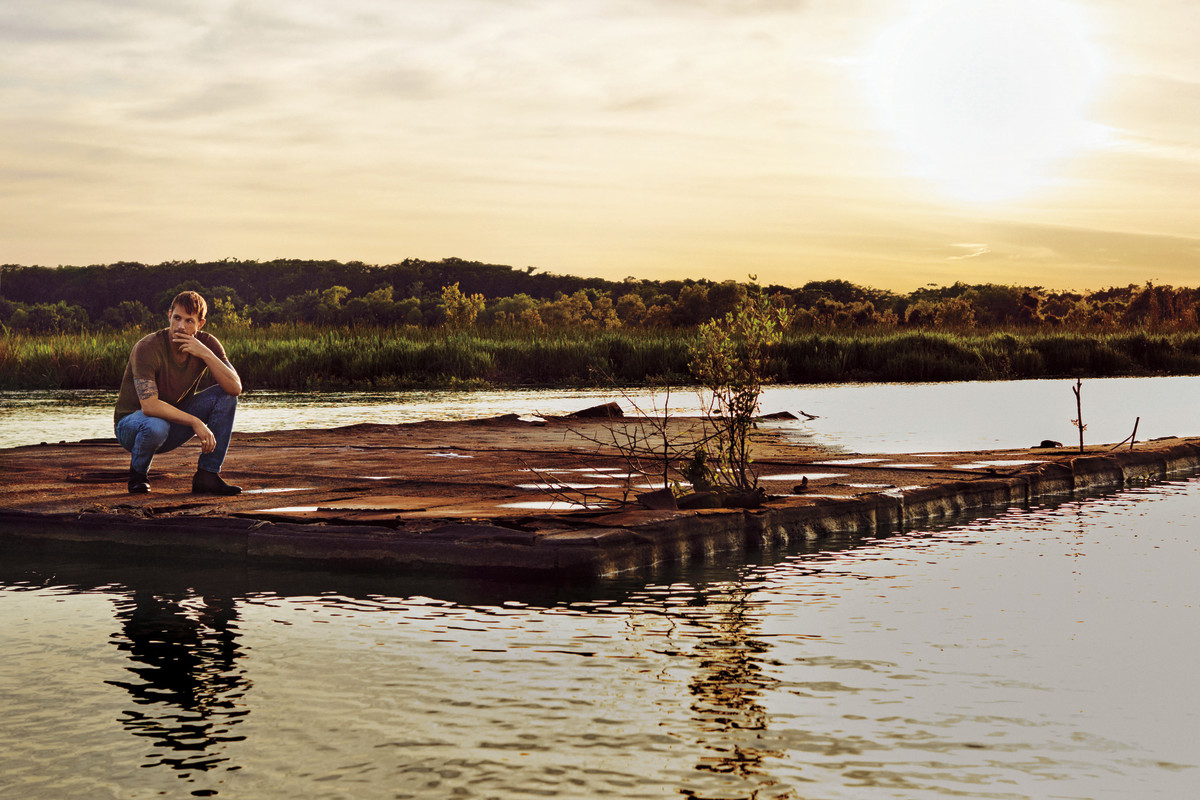 It helped that he had already decamped for Los Angeles, where he was still mostly just another good-looking actor in search of a break. "Something was telling me that it wasn't good to be in Sweden while I was getting so famous there," he says. "In my business, you have to be confident. You need to be able to project your innermost feelings and know that a million people are going to see it. So you have to nurture your confidence. But if you build your confidence on ego boosts, you're in trouble. You're going to become dependent on them and you're going to have a terrible life and be a shitty person."
Kinnaman's march to stateside fame has been less pyrotechnic but just as steadily forward. First there was the dour, scruffy, and conflicted detective Stephen Holder on The Killing. Then RoboCop, a remake of the 1987 classic, and Suicide Squad. Most recently, he starred in Netflix's dystopian sci-fi series Altered Carbon—where his acting chops may have been outshone by his bulked-up, and oft-bared, physique—and as a rogue agent protecting and training his daughter in Hanna. This month, he stars in the thriller The Informer, as a detective sent reluctantly undercover into prison to break up a drug ring.
To each of them, even in the noisiest, most action-packed surroundings, Kinnaman has brought a surprising amount of subtlety and shading. It's true though, that the range of roles is a bit narrow. To sit with him, smiling, joking, discoursing on post-hurricane New Orleans and the economics of disaster capitalism, is to wish one would get a chance to see him do a little more of all that onscreen. "I would love to do a comedy sometime," he says.
While hardly a comedy, Kinnaman's role in For All Mankind promises to reveal new sides of the actor. The series is a period piece, a space drama, and an alternative history, taking as its starting point the question of what would have happened if the Soviet Union, instead of the United States, had been the first to put a man on the moon. "At the height of the space race, more than 4 percent of the U.S. budget was delegated to NASA. It was this hotbed of innovation: GPS, cell phones, the internet," Kinnaman says. "All of that happened during this time. And then the U.S. landed a man on the moon, and it all ended. The whole trajectory of history was diverted. The show creates an alternate reality where that doesn't happen, where the race continues and we go deeper and deeper."
This sociohistorical context is fascinating, but it was the character of Edward Baldwin that most excited Kinnaman. An astronaut and daredevil in the Chuck Yeager mold—"aviator sunglasses, fast Corvette, and a complete and total belief in his own abilities," as Apple's press materials have it—he is nevertheless, says Kinnaman, no cartoon. "He's an all-American character, a little bit conservative, who goes through an absolutely transformational event. That's really what drew me to the role: How does that kind of personality deal with something like tragedy? That's really interesting," he says. "And I feel like I was able to break new emotional ground. I reached an emotional desperation I'd never achieved on camera before."
For now, Kinnaman's most notable achievement may be impressing the Frankie & Johnny's servers. "I thought you'd never done this before," Kelsey says, as she clears the mess of shells. Kinnaman accepts the praise with the air of a man accustomed to exceeding expectations. The ladies insist on flanking him for a photo, destined to take its place among those of other movie stars, musicians, and athletes who have passed through over the years. Kinnaman should feel right at home there: a fighter, with a tough carapace but surprisingly tender underbelly, at home all over the world, claws raised in exuberance, but just canny enough not to get boiled.
For access to exclusive gear videos, celebrity interviews, and more, subscribe on YouTube!