Ever since he was a kid, comedian Jon Glaser has loved gear. Now, he's picking up where he left off with his TruTV show Jon Glaser Loves Gear. The series follows a fictionalized version of Glaser as he tests out gear, gets into wild situations, and talks to gear experts who know the ins and outs of everything Glaser uses.
After trying out a wide range of gear in episodes like "Camping", "Cycling", "Dogs", "Fishing", and "Surfing" in Season 1, Glaser is kicking it up a notch for Season 2. This time around, Glaser will be testing out gear in episodes like "Survival", "Tennis", "Road Trip", "Golf", and "Skydiving". The episodes can take some wild turns, with scripted, narrative elements driving the storylines alongside reality-based moments, like in Season 1 when his real-life wife refuses to be in the show, so Glaser auditions models to play his spouse. But at the end of the day, no matter how absurd some of the storylines get, it all comes down to the same thing: Glaser's love of gear.
"The gear element is genuine, I love it; it's always been there for me, even when I was younger," says Glaser. "I really enjoy getting to do these activities and trying the gear out, and being able to bring in the comedic element of our team has been fun to do. Plus, we get to try out all this cool stuff."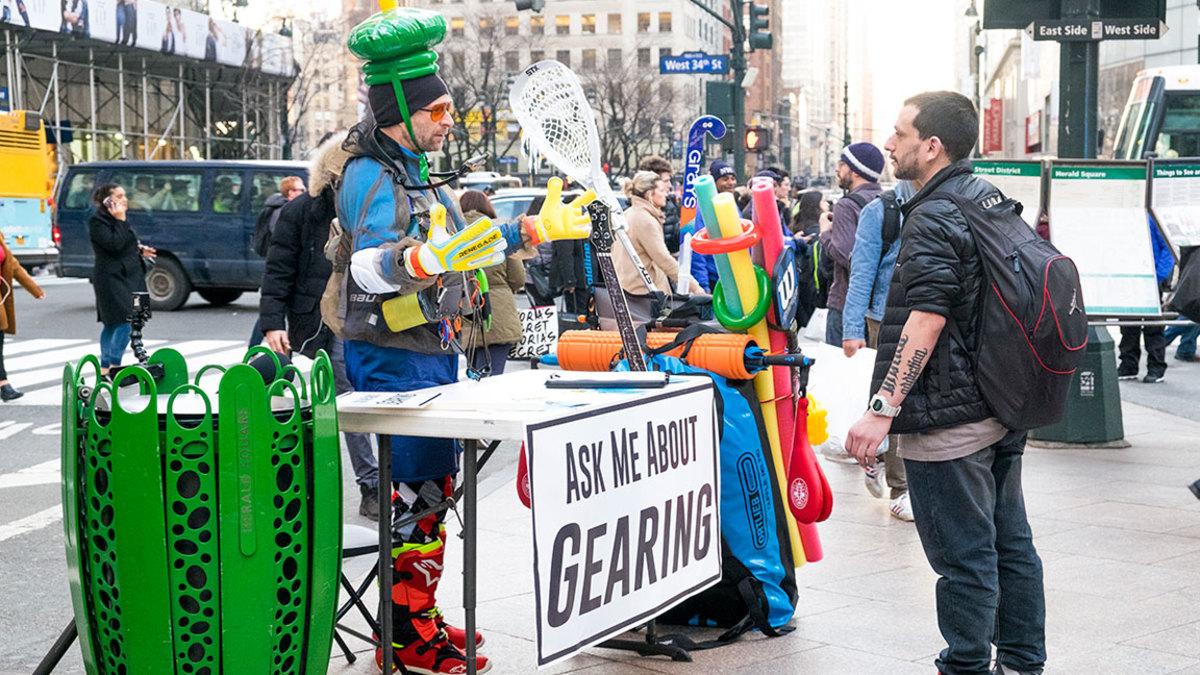 Jon Glaser Loves Gear premieres on January 9 and airs on TruTV on Wednesday nights at 10:30 p.m. ET
Glaser spoke with Men's Journal ahead of Season 2 about his love of gear, yelling at fellow dog owners in the park, and what he's testing now.
Men's Journal: How did the original idea for the show come up? Was it always a combination of reality and scripted elements?
Jon Glaser: When I first had the idea, I really thought it would be much more reality-based than what it became. I didn't even consider pitching it to comedy networks like Comedy Central or even Netflix. Even with TruTV, while they were doing more reality-based stuff, I thought I'd pitch it to National Geographic or Discovery. At first, the thought was we would nerd out, have some fun, and get to try some gear, and then a comedy component would be secondary that we'd figure out later. When I pitched it to TruTV it still was in this kind of vague, not fully formed idea, but they just really responded. As we made the pilot and then when it got picked up to series, it just kept evolving and getting way more scripted to the point now where it's mostly scripted, and it has those reality moments in it. They've been very supportive of us.
Where did your love of gear come from?
It really goes back to childhood for me. It was always something I liked and wanted to explore. I remember when I was younger I just kind of enjoyed pint glasses—the different shapes and sizes and all the elements of it. One thing I've always loved about gear generally is that it doesn't just mean sports gear or athletic stuff—gear can be your phone, it's tech, it's utensils, it's adventure equipment. As a kid, I was athletic and played a lot of sports, and I remember trying to convince my mom that I couldn't just have one pair of cleats. I needed one for baseball and one for soccer, and I loved how the cleat patterns were different and how they were made specifically for each sport. Like when you're a kid you want the coolest shoes or cleats for your sport, but for me, it genuinely came from noticing the different styles of cleats and why each one worked for each sport. So I was into looking at the gear even back then.
How do you come up with the ideas for each episode for the show?
It's really fun to try and come up with the different gear ideas. We first came up with as many topics as we could, and then I started to think about what interested me the most, the things I genuinely liked already, and also what I wanted to try and test out the most. For example, it was also fun to try and find things that I don't do as much, like camping. I like camping and I like all the gear, but I don't have much time to actually do it. So once we pick an idea, we start thinking of scenes and larger stories for the episodes and how we can tie the gear into that.
A lot of our stories come from real life moments and things that really happened. For example, in the Dogs episode, in real life, I actually had a situation where I saw people in the park and they let their dogs off-leash, and then immediately the dog starts taking a shit. So I yelled out, "Excuse me, you know your dog took a shit, maybe pick it up?" And they did the pretend thing where they acted like they did, and I knew they didn't pick it up [laughs]. So a lot comes from real-life experiences. Overall, we also try and make sure it has variety, so it's not all sports and not all athletic. We have episodes like tennis and soccer, but there's also camping, cycling, and fishing.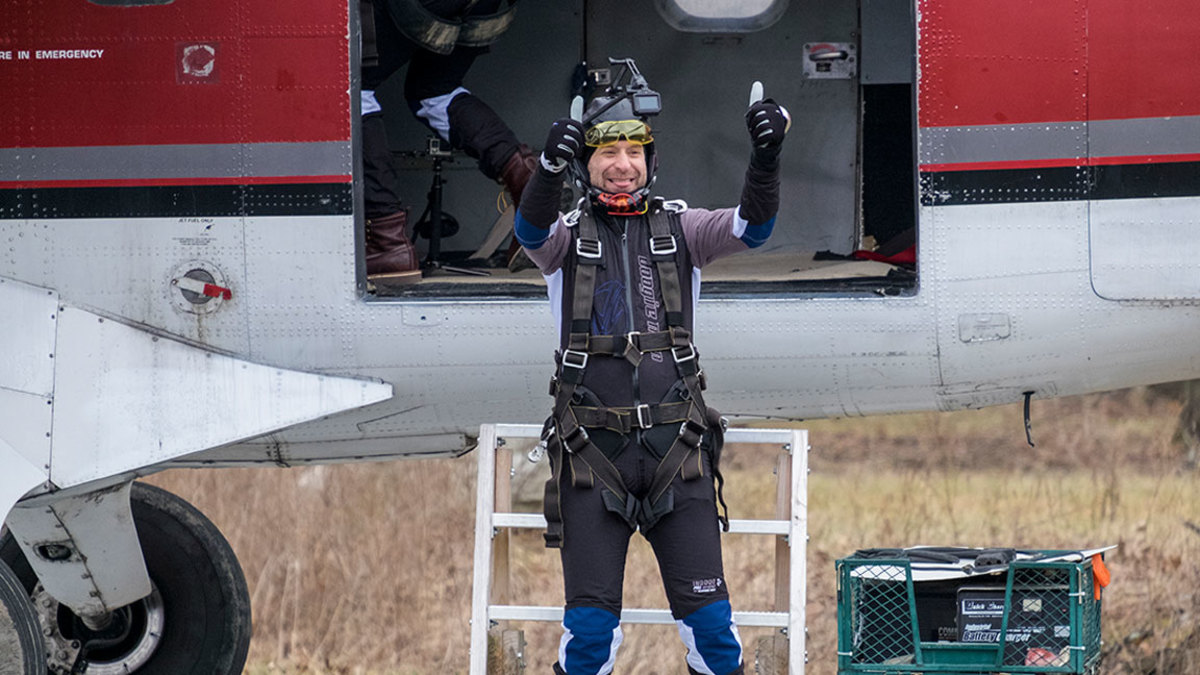 What are some gear areas that were the most fun to explore?
The "Cycling" one was really fun, getting to try out all that type of gear like the helmets, the bikes themselves, the shoes, and so on. The "Fishing" one was great, too; that one was more of a fictional-dream-type episode but was very cool to put together. I also really enjoyed "Hockey" and "Baseball"; the"Baseball" one is something I think everyone can relate to.
One thing I always want to make clear for everyone is that I don't want to sound like I'm just plugging brands, because I'm not getting paid by any of these brands and neither is the show.
What episode are you most excited for people to see in Season 2?
The "Survival" episode I think will be one people enjoy. It's called that for a specific reason, and I'm excited for people to see that one and what we get into. Overall, and it's with Season 1 too, but with Season 2, all of this comes down to genuinely enjoying getting to do this show, work with this group, and get to play with this gear. John Lee, one of the guys I work with on the show, he said the show should be subtitled: "Hey 9-year-old, you're getting to play dress-up!" And that's kind of half the fun with gear anyway, if you're into all those gadgets, it's about getting to put all the stuff on and do it. It's fun to do the show, and the comedy and the gear element has been creatively satisfying and it comes from a place of something real since I do love the gear and trying it all. Season 2 is going to have some really fun stuff.
What's your favorite piece of gear you're using right now?
I really like trail running and I found that I really like the Ultimate Direction Ultra Vest 4.0 piece. It has a great fit, it's comfortable, it looks great, and it has great storage space. It has two water bottle pockets, so it's very functional, and the design is good. I had tried another couple other packs and I didn't like the aesthetic, and sometimes you look good, you feel better and perform better. I hate giving into that, but it sometimes can make a difference. The design element and aesthetic element is a big part of the gear. Sometimes the straps just aren't in the right spots, and when you find that it fits great and is comfortable—and you like how it looks, it's the best combination.
Also, one thing I always want to make clear for everyone is that I don't want to sound like I'm just plugging brands, because I'm not getting paid by any of these brands and neither is the show. With the show, we're fair usage to all brands and we don't get anything from anyone. It's just stuff we want to try and use and check out that we genuinely want to use. I think people watch the show thinking we're making all this money from it, and we're making zero. Maybe it's stupid to do it that way [laughs], but I feel like you can't have this show without doing it the right way. And in real life, there are multiple things that I use and like, so the only way to do it is, to be honest about all of it and try those out.
For access to exclusive gear videos, celebrity interviews, and more, subscribe on YouTube!