Josh Brolin knew the stakes were higher once he read the script for the highly anticipated sequel to Sicario. "This film changes the rules," he tells Men's Journal. "In the first, my character was invincible. You couldn't imagine him not winning. This movie we start to see him losing control."
Sicario: Day of the Soldado, penned by Taylor Sheridan, is centered on a joint mission between Brolin's Matt Graver, a CIA operative combatting Mexican drug cartels, and Benicio del Toro's Alejandro, a hitman seeking vengeance for his family. Things go awry and allegiances are challenged, all within the framework of war.
In order to give the action sequences a visceral intensity, director Stefano Sollima brought in seasoned military technical advisor James Dever.
"I think Stefano really enjoyed where I was looking to go with everything," says Dever. "I choreographed all the battles and chases with the stunt coordinator Doug Coleman. Stefano let us take the reins for those elements in the movie."
Before consulting Hollywood on projects like American Sniper and Flags Of Our Fathers, Dever spent much of his 25-year career in the Marine Corps instructing personnel and training with elite units. So there are few more qualified to bring realistic combat action to the big screen. And the stunts and action were intimately felt by the actors, too.
"We were in those fights, and living in those moments," says Jeffrey Donovan, who returns as DEA agent Steve Forsing. His character played a pivotal role in the first film's gripping drive through Juarez. He returns as a task force member and Graver's right-hand man. "These scenes take ahold of you and don't let go. It was like shooting Sicario on steroids. As an actor, I was able to bring that intensity to my performance, because of how the engagements were set up."
Brolin was also determined for his performance to look as realistic as possible.
"I know a lot of military guys, and I've been really lucky with the ones I've gotten to work with in this franchise," he says. "On the first movie I also worked with a former Navy SEAL who ended up giving me a patch that Chris Kyle had given him. You really realize how important it is to get it right."
As for Del Toro, much like Brolin, this is far from his first rodeo.
"I've been doing this for a long time," he says coolly. "You always have to take it seriously."
Here's an inside look at some off Soldado's most intense sequences.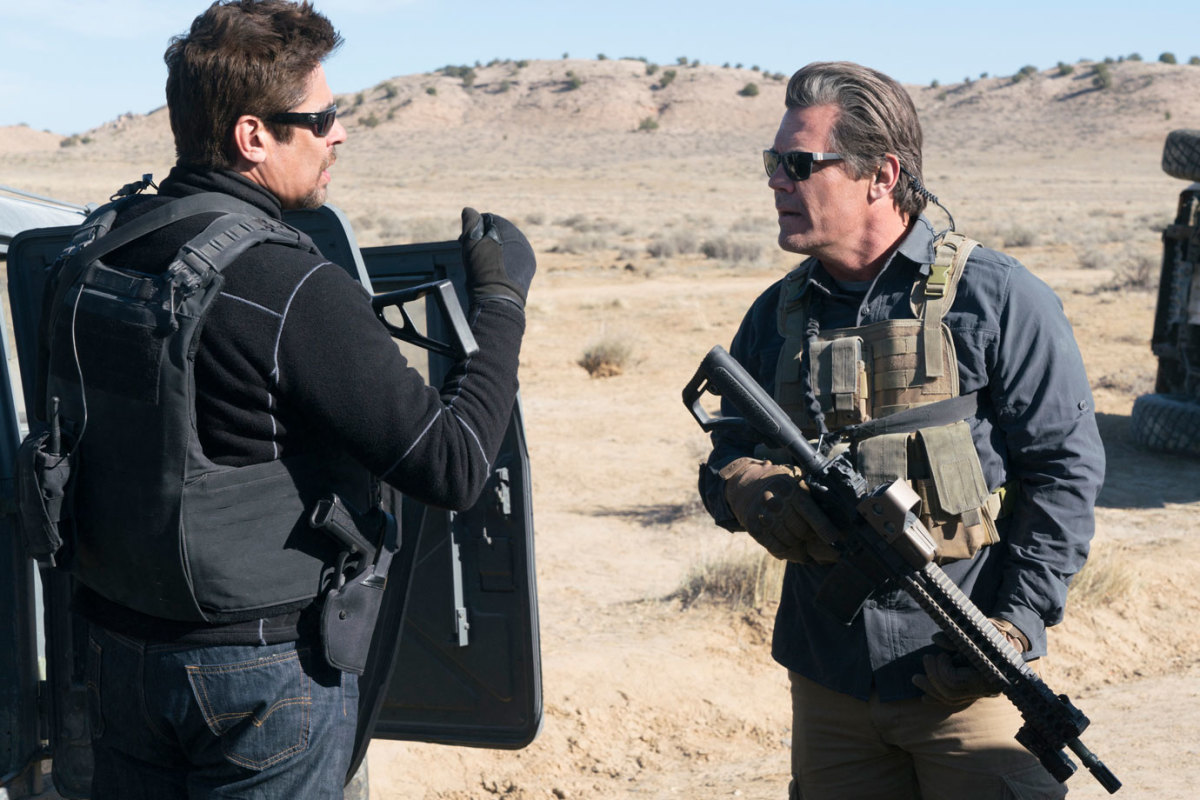 The Hit
One of the first operations we see—after the war on the cartels is set in motion—is the hit of a high-level lawyer from one of the organizations. It's done in public, out in the streets of Mexico, by Alejandro.
Dever and crew were able to shut down part of Mexico City so they could shoot the scene undisturbed. Del Toro, who grew up with guns, is more comfortable than most acting with a firearm in his hands, and commands the task as Alejandro. Local actors were brought in to fill out the background and coached by Dever, so they could pull off the attack properly.
Right before the execution, Alejandro pulls off his ski mask to reveal his face, then empties the clip by "bump-firing" his pistol, which was Del Toro's idea. The technique involves using your other hand's index finger to utilize the gun's recoil for a higher rate of rounds. It's been used by gang members for the intimidation factor and could be seen as a way for Alejandro to make the hit look "sloppy," which was their goal. The gun was an unmodified Berretta 9mm.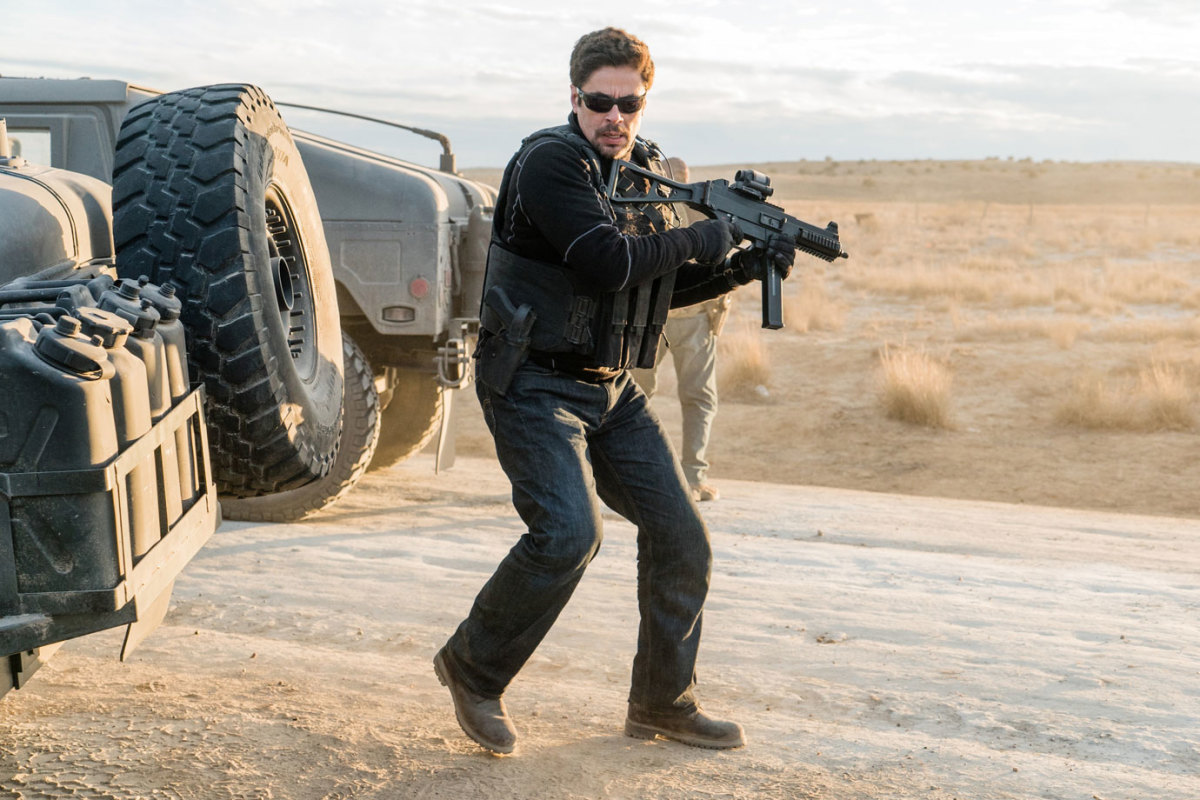 The Caravan Attack
The tension during the armored vehicle caravan toward the border to drop off a cartel head's daughter is about as intense as it gets—especially when the paved part of the road ends and it turns to gravel.
"Dirt roads make me nervous," Graver says in the scene.
Not to spoil anything, but his apprehension was warranted (you can see in the trailer above).
The attack took about a week to film. Graver's crew is outfitted with customary contractor gear, M4s, and FN SCARs—all shooting 5.56. Alejandro, being the wild card that he is, uses an H&K sub-machine gun.
"I had them all outfitted with single point slings so that they could move their weapons easily," says Dever. "They were able to jump in and out of their vehicles."
The Humvees were authentic, brought in from Army Truck Inc., a company that supplies productions with everything from M1 Abrams tanks to MRAPs. Being in a legit army transport heightened the scene for Donovan.
"They were just these huge metal buckets on four wheels," he says. "I can't begin to imagine what it is to be really pinned down in a situation like that, because it was pretty gnarly doing the fake version."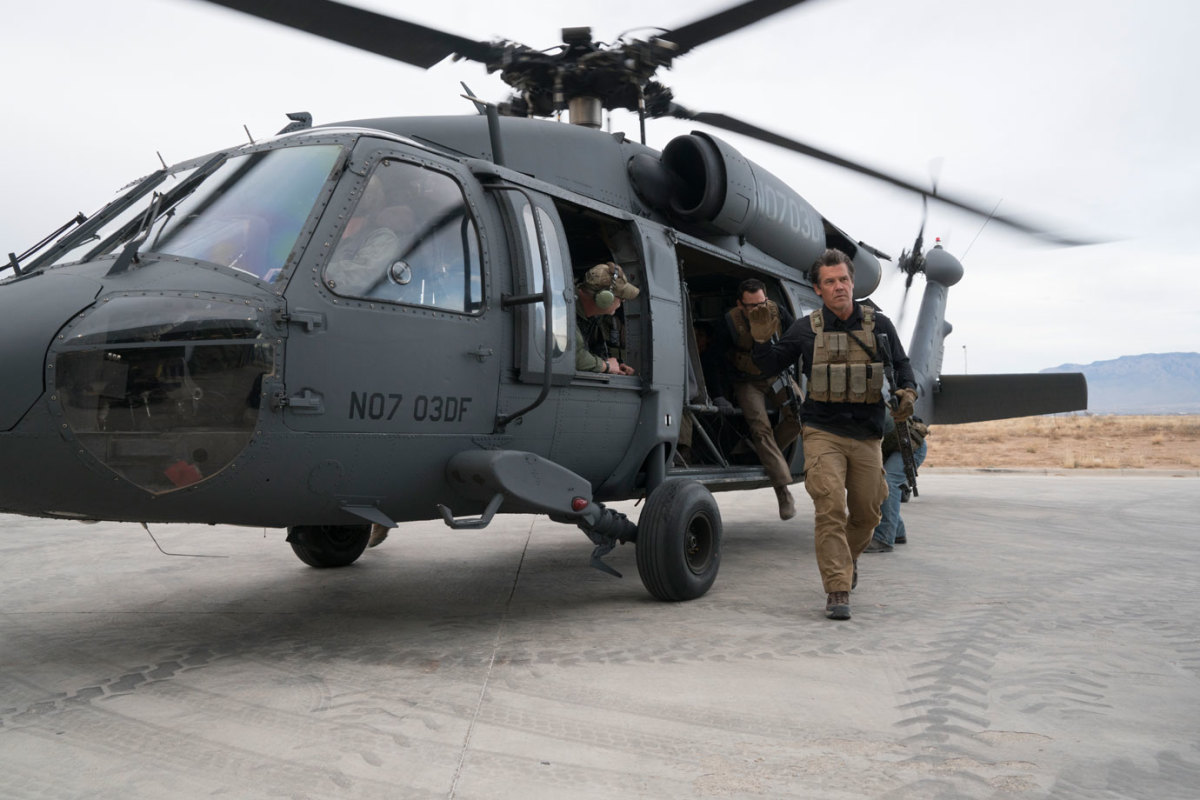 The Blackhawk Takedown
One of the final sequences involves Graver going into a revenge spiral that involves a pair of Blackhawk helicopters chasing down vehicles (driven by murderous human traffickers nonetheless). Aerial coordinator Fred North, who started his career flying over desert rally car races, and his crew, piloted the aircraft.
During the pursuit, the Blackhawks were filled with the actual cast, not stunt doubles, according to Donovan. "It was about the eighth or ninth take when Josh and I realized they weren't planning on bringing anyone else in," he says. "It was pretty cool."
Brolin admits he enjoyed exploring this world and pulling off the epic action, so he doesn't rule out gearing up as Graver for a third installment.
"I'm 50 man, I love it," he says. "I think I appreciate doing this kind of action now more than I ever would have back in the day."
Sicario: Day of the Soldado is now playing in theaters.
For access to exclusive gear videos, celebrity interviews, and more, subscribe on YouTube!