It's an early spring afternoon at the Santa Monica Pier, and Josh Brolin is dangling 130 feet in the air. For the last 90 minutes or so, we've been stuck atop the iconic pier's Ferris wheel—the one you've seen in everything from Forrest Gump to Three's Company—swinging back and forth (and back and forth and back and forth) in a tiny fiberglass cabin, which had been attached to the hulking metal carnival wheel but now seems perilously close to snapping off. Brolin stares down at the ground where the local fire department is racing to pull out that giant, for-emergencies-only trampoline.
"We're not gonna die," Brolin tells me, then launches into a story about the time he did almost die—on a street in Costa Rica five years ago, nearly to the day. He and his now wife, Kathryn, were staying in a dodgy area of San José on their way back from a surf trip. A buddy had warned them not to leave the hotel after midnight. But Brolin, being Brolin, wanted a burger.
"I was still drinking, and we'd tied one on," he says. "There was a McDonald's around the corner. I guess the guys clocked us the minute we left the hotel." The restaurant turned out to be closed, and Brolin's girl wanted to get back to the hotel. "But I'm kind of looking down the street…" he says. "I see a Subway sign flickering; she's pissed off, and she starts to go back. And I'm deciding, 'Do I want Subway more than I want to protect her?' "
Long story short—and it is a long story—a dude with shaky eyes came out of nowhere and asked Brolin for a cigarette, then for some money. When Brolin replied that he did not have either, the man stabbed him in the stomach. "Run!" Brolin shouted when a second guy appeared. Luckily some passersby began screaming, and the criminals ran off. Brolin soon found himself in the back seat of an ambulance, calling his kids to say he loved them. Ten days later, he was on the set of Inherent Vice. "The knife went in about six centimeters," Brolin says. "It miraculously didn't hit any vitals. The doctor said, on a lucky scale, I was about a 9.5 out of 10. If he'd stabbed me an inch below, I wouldn't have survived."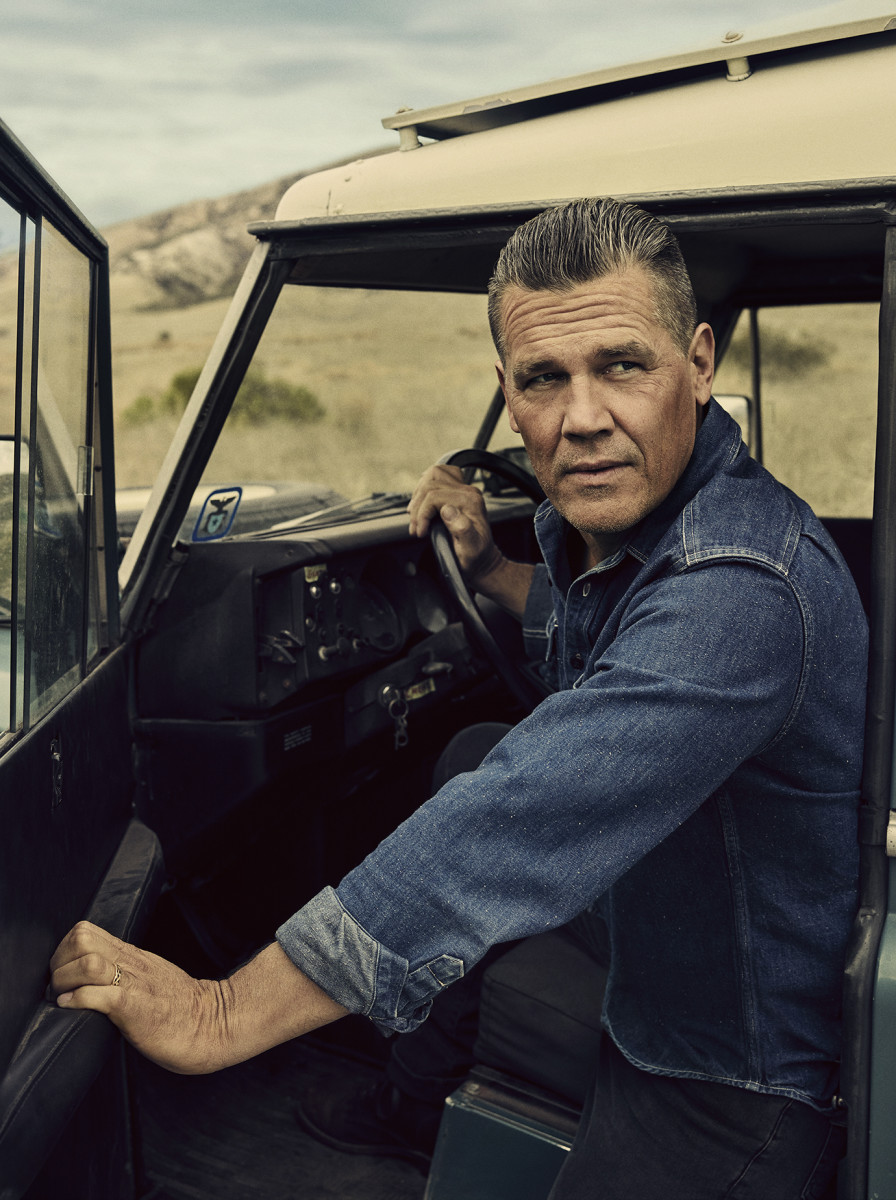 Truth time. Brolin really did get stabbed in Costa Rica, exactly as he told me. He stands up in his living room, a block from the beach in Santa Monica, and lifts up his shirt to demonstrate how the knife went into his belly button. Our plan had been to go for a drive, or at least get out of the house. But Brolin is exhausted, and a tad ornery, and refuses to budge. "Make it up!" he says. "Say we went to the pier and got stuck at the top of the Ferris wheel for two-and-a-half hours. And got rescued by the fire department!"
Brolin is wearing a black tank top, his hair slicked back, and while he looks nothing like someone who just turned 50, he is momentarily feeling his age. I can't blame him. The guy just shot five films back-to-back. In case you missed it, this is the Summer of Brolin. First, he stars as the supervillain Thanos in Avengers: Infinity War; then he's the time-traveling vigilante Cable in Deadpool 2; then, finally, a shady CIA operative in Sicario: Day of the Soldado, a sequel to the 2015 crime drama. And he'll be busy for the foreseeable future, too—Brolin's signed on to play Cable at least three more times.
Meantime, just days before our interview, Brolin was forced to go to Vancouver for last-minute reshoots for Deadpool 2, which required last-minute retraining, and his body is feeling it—when he rotates his shoulder near my ear, it sounds like he's shuffling a deck of cards. It's easy to see why he might just want to chill.
Still, it's a nice problem to have, Brolin concedes, considering how familiar he is with the alternative. "For 22 years," he says, "the phone never rang."
On paper, Josh Brolin could be considered Hollywood royalty. His father, James Brolin, appeared in more movies and TV series (including Marcus Welby, M.D.) than you can count, and famously later married Barbra Streisand. Josh's mother, Jane Cameron Agee, was a casting director. But Brolin has always been an outsider. He was raised on a ranch in Paso Robles, way up in central California, where cash was sometimes tight. He ran around with a skate-surf gang called the Cito Rats, whose ranks were decimated by drug abuse. Brolin tried heroin once; it didn't take.
At 17, he moved to a squat in Venice, back when Venice was still dirty. Brolin felt like he was paying his dues, reading Shakespeare plays on the beach, skateboarding, auditioning for acting gigs. He had a starring role in Goonies, became something of a teen heartthrob, and at one point went to Europe for six months, where he got mugged on a train and wound up in an Italian hospital.
Considering the trouble he seems to get into, maybe it's smart to stay in? Perhaps, but that would mean denying Brolin's essential nature, which can be described as curiosity above common sense.
Brolin's beating heart is evident to any of his 700,000-plus Instagram followers. His Insta­gram feed—maybe my favorite thing about him—is a mix of motivational workout videos, tongue-in-cheek self-promotion, and abstract, and surprisingly beautiful, prose poems in which he rhapsodizes about his love for his wife, the great outdoors, finding the beauty in the mundane. "There are ceramics all over the house, my mother collected through the years, that moved today," he wrote in March. "They lay on the floor broken into silly mosaics that look like the end of a war, and only bring back those memories of how splintered she was." In a post on International Women's Day, Brolin wrote of his wife: "How a lifetime can be lived in the fingerprint of a moment, a touch of celebration in everything you do together."
The Instagram posts—heartfelt without being maudlin—are so counter to everything we've come to expect from a movie star. But seated across from him beneath a William Eggleston portrait, I realize this is the truest reflection of himself. Ryan Reynolds, star of the Deadpool films, agrees. "I followed Josh on Instagram before he was Cable," Reynolds says. "My wife is the one who recommended it. I love that he can go into these kinds of Sam Shepard–like trances. And then he can post something that's just utterly pithy and silly and fun. It feels like it's just for him."
Brolin's wisdom, such as it is, was hard-earned. His 20s and 30s followed a consistent path—disappointment, excitement, crash, repeat. He had two kids with an actress he met on a short-lived TV show that was supposed to make him a star, got divorced, and basically took whatever work he could get. For a while, he paid the rent as a day trader, waking up at five in the morning to read the market's tea leaves before the opening bell.
But Brolin couldn't get arrested. Actually, he was arrested—for spousal battery in 2004. (Then-wife Diane Lane subsequently recanted her story, and charges were never filed.) But he could not seem to land the roles he wanted. On the set of the forgettable Into the Blue, Jessica Alba actually turned to him and said with genuine surprise, "You have chops!" Finally, in 2006, the Coen brothers were looking to cast someone in No Country for Old Men who could convincingly play a Texas welder dumb enough to think he could make off with $2 million in cash from a crime scene. Brolin was desperate to get in the room. He submitted a Hail Mary audition tape, but the Coens passed on the kid from Goonies. His agents were able to get him a courtesy meeting, which he miraculously turned into an offer.
Brolin was a revelation in the film: a square-jawed country boy and a true leading man—a unicorn basically in a town overrun by pretty boys. Brolin was like the prodigal son returning home. He then landed an Oscar nomination for Milk in 2009, and—for the first time in his adult life—choices. But he's still that kid from Paso Robles, the Cito Rat made good.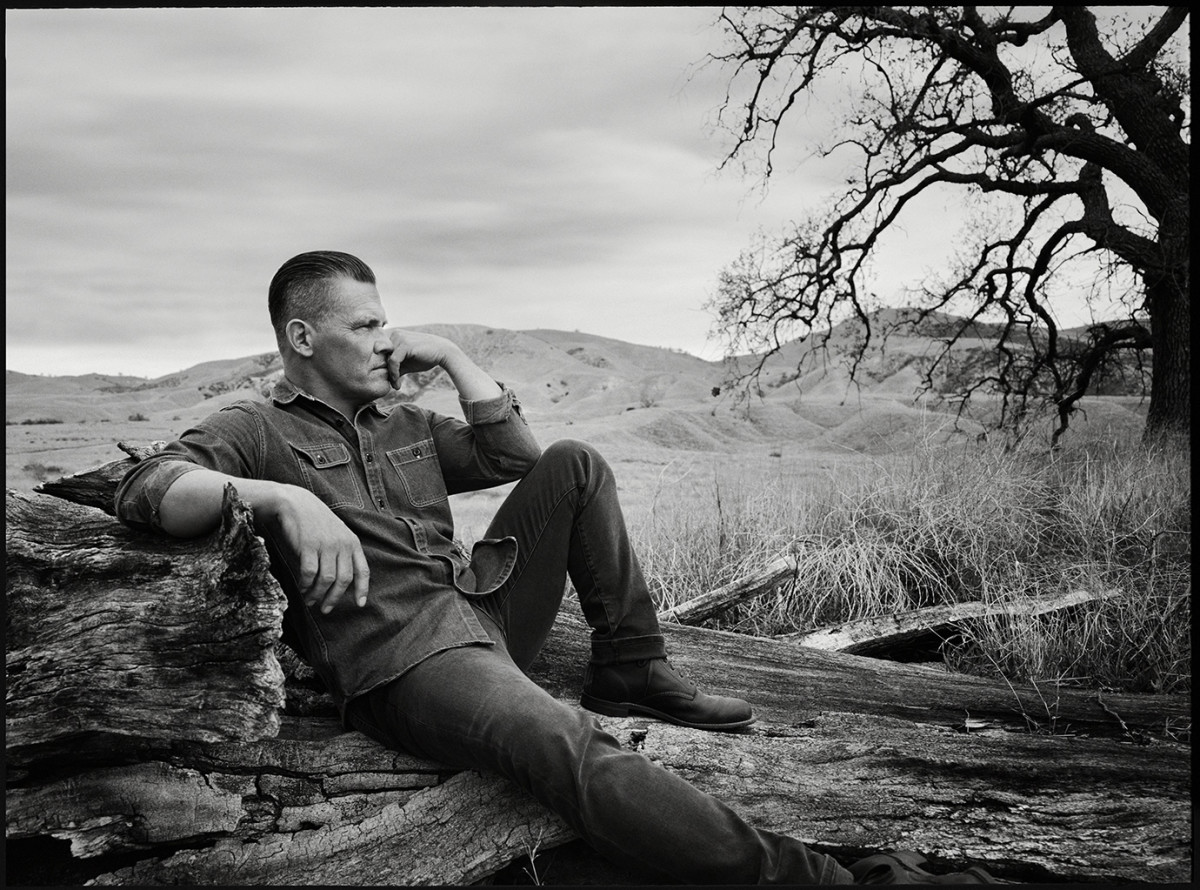 Brolin's Santa Monica house is a kind of grown-up surf shack, a modest spot a spit from the beach, with white walls and tons of natural light and unopened mail and framed artwork that still needs to be hanged. At 1,400 square feet, the space is hardly an A-list star's pad. Plus, it's a rental. Brolin may be a movie star, but he takes pride in the fact that he can still hear his neighbor snoring through the walls.
Brolin and his wife, Kathryn—an entrepreneur and model roughly 20 years his junior—got married in 2016 and had planned on moving to Malibu. The rental would serve as Brolin's office, and the couple would move up the coast where they'd build a fuck-you mansion.
Then Brolin had second thoughts about the project. "We realized, 'Why are we doing that? Why do we need a big house? You get your wing, I get my wing…" Maybe they'd momentarily got caught up in that Hollywood thing.
He's mocking himself, mocking his peers: "I have more followers now. Aren't we supposed to have a bigger house! Aren't you supposed to have security! Aren't you supposed to have a fence! It's all so dumb."
Instead of tearing down the old house they bought in Malibu, they renovated the thing, but it still didn't take. At Kathryn's urging, the two moved back to the surf shack, and he was relieved. "I'm a Dogtown guy!" he said, invoking the 1970s skateboard scene in Venice. For now anyway, the Malibu house is like a very expensive storage unit.
I wondered aloud if the rental keeps him grounded. "It's so pretentious to say that," Brolin says.
Josh Brolin's assistant gently interrupts. We've been talking for almost two hours and I'm determined not to leave without addressing the fact that Brolin's stepmother, Barbra Streisand, was recently in the news for cloning her beloved, deceased dog, a 14-year-old Coton du Tulear named Samantha. Actually, she cloned the dog twice. Has he met the twins, I asked?
"Of course! She's so proud of those dogs!" Brolin says, launching into an odd story about the funeral of his friend, Soundgarden frontman Chris Cornell. "Listen, man. This is morbid. This is probably not OK for me to say. But I spoke at his funeral. Afterward, a few close people went out to a restaurant. On the way, I got a call. I said to Vicky—Cornell's widow—'I have to leave.' She was like, 'You're leaving because your stepmother's dog just died?' I said, 'Yes. I'm sorry.' Kathryn and I get in the truck. It takes forever to get there. Now we're in the hills of Malibu. We go down. [Barbra's] sitting there so sweetly with her friend and assistant, and they're both bawling. Sammie's been buried. It was as tragic as what I just came from. So when she talked about cloning, I got it. She was that close to that dog."
I am about to start laughing, but Brolin stops me.
"Don't smile!" he says.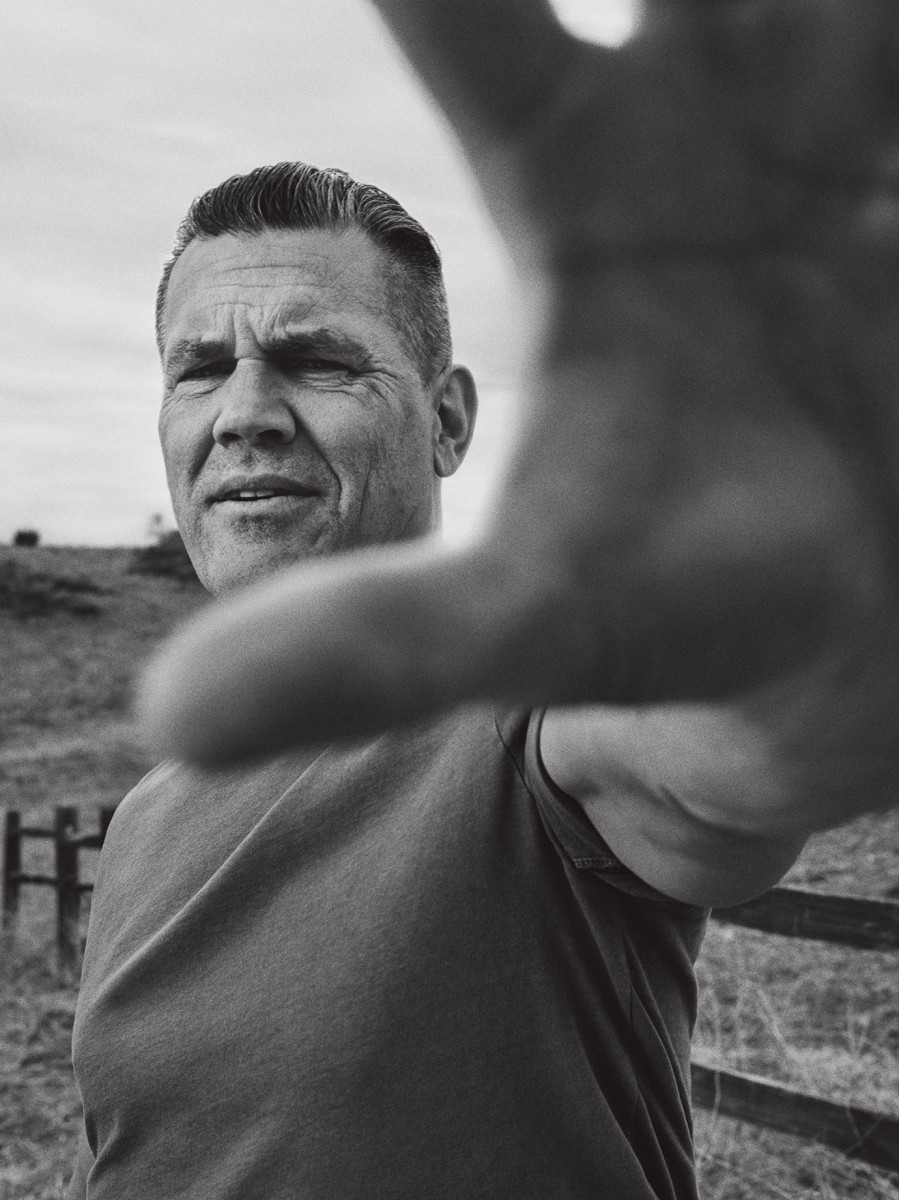 Brolin has a great sense of humor, about most things but especially about himself. He feels things deeply, but he's also a goofball, which was on full display while filming Avengers: Infinity War. Brolin plays the ubervillain Thanos; all 672 previous Marvel movies have been building to this very confrontation, and the two-part finale, Infinity War, is reportedly the most expensive movie ever made, budgeted at a $1 billion. You can see that cash all over the screen. But Brolin says working on the film felt more like doing "experimental theater."
He was in a warehouse for a year, basically, standing in front of a green screen, playing dress up with the world's most famous actors. The costume department put a prosthetic chest on him, and with his "short arms" sticking out, he says, "I looked like a T. rex. I've got this voice, it's almost like old English, and Chris Hemsworth is sitting there with an ax—but it's really just a stick—and he's jumping off apple boxes and tripping. Loki is up on a ladder. It was like taking acid! I was like, 'I wanna do this forever!'"
Of casting Brolin as the big bad guy, Marvel mastermind Kevin Feige explains: "He had the pathos and the relatability that we were looking for. I love the relish with which he instantly dove into the character. We thrust him onstage at ComicCon soon after casting him. I have a memory of Robert Downey passing out red roses to everyone in the audience—he then hands Josh a purple rose, and Josh proceeded to eat it."
The phone is ringing again and Brolin has to take this call. His team wants to discuss what he's doing next, which is a giant question mark hanging over his head right now. "God doesn't want me to do anything inauthentic right now," he says. "That's the overwhelming whisper in my ear."
I get it. He's 50 now, sober since 2013, and he's possibly thinking about having another kid. He might go shoot a George Jones/Tammy Wynette biopic with Jessica Chastain. But for years now he's also been toying with the idea for a self-referential TV series that has something to do with sobriety and celebrity—an idea he characterizes as potentially "career-ending." But if you're going to try to sell your weird, experimental TV passion project, maybe there's no better time than right now, in the midst of the Summer of Brolin.
He's itching to take more risks. Perhaps Deadpool is an insurance policy, a way to stay in the public eye while rolling the dice elsewhere. He'd been in the mix to play Batman a few years ago, which he won't address specifically, but he did admit: "I turned down a lot of those big movies, not proudly," he says. "I didn't have the interest at the time. I remember Ewan McGregor—I was close with him, he was doing Star Wars, he was doing his third movie or whatever and he's, like, dying. He's like, 'I hate this.' I heard that whisper from the past."
So what changed? Brolin had to know these action-film roles would wreak havoc on his body. Ryan Reynolds recalls the beating Brolin took on set: "We'd be talking after these violent fight scenes, like, 'Oh my God, everything hurts.' It was like behind the scenes at Cocoon. I'm lucky. I'm in a mask. For some of the really intense stunts, my stunt guy is in there. Whereas Josh had to go do that stuff himself."
Before shooting, Brolin spent 12 weeks doing two-a-days at the gym to get into superhero shape. "I did it naturally," he says. "No steroids. I had guys coming up to me at the gym like"—he whispers—"Half the effort, twice the result. Then they'd walk away. But I had this thing in my head. What if I actually ate clean, worked my ass off… I wonder if I could actually get there?"
And perhaps that's exactly the reason he did it. After all, name a better challenge than playing a young man's game at 50—and smoking them all.
For access to exclusive gear videos, celebrity interviews, and more, subscribe on YouTube!