Entertainment
Kevin Hart Is Redefining Happiness by Hustling Harder Than Ever Before
After a brush with death, the hottest comic in the world is finding happiness on new stages and new boardrooms. But will he ever return to the stadium?
A few minutes after he enters the Zoom, Kevin Hart breaks off on a tangent. The world's top-grossing comic is work-shopping a bit in an empty L.A. soundstage—imagining what it would be like to address a full arena again for the first time since 2019. The 42-year-old Hart reclines on a tan leather couch in a white T-shirt, hand wrapped around a desktop mic. He dials up that high, kinetic voice. The one that's made tens of millions of people lose their shit since his 2008 breakout.
"How's everyone feelin'? Vaccinations? No vaccinations? Delta? No Delta? Masks? No masks? Hey, guys! Guys!! Take your masks off!! I mean, put 'em back on!! Wait—what side am I on? Oh, do y'all want me to put this on?? I will!"
"My next special's gonna be called Confused as Fuck," riffs Hart. "Because that's what I am."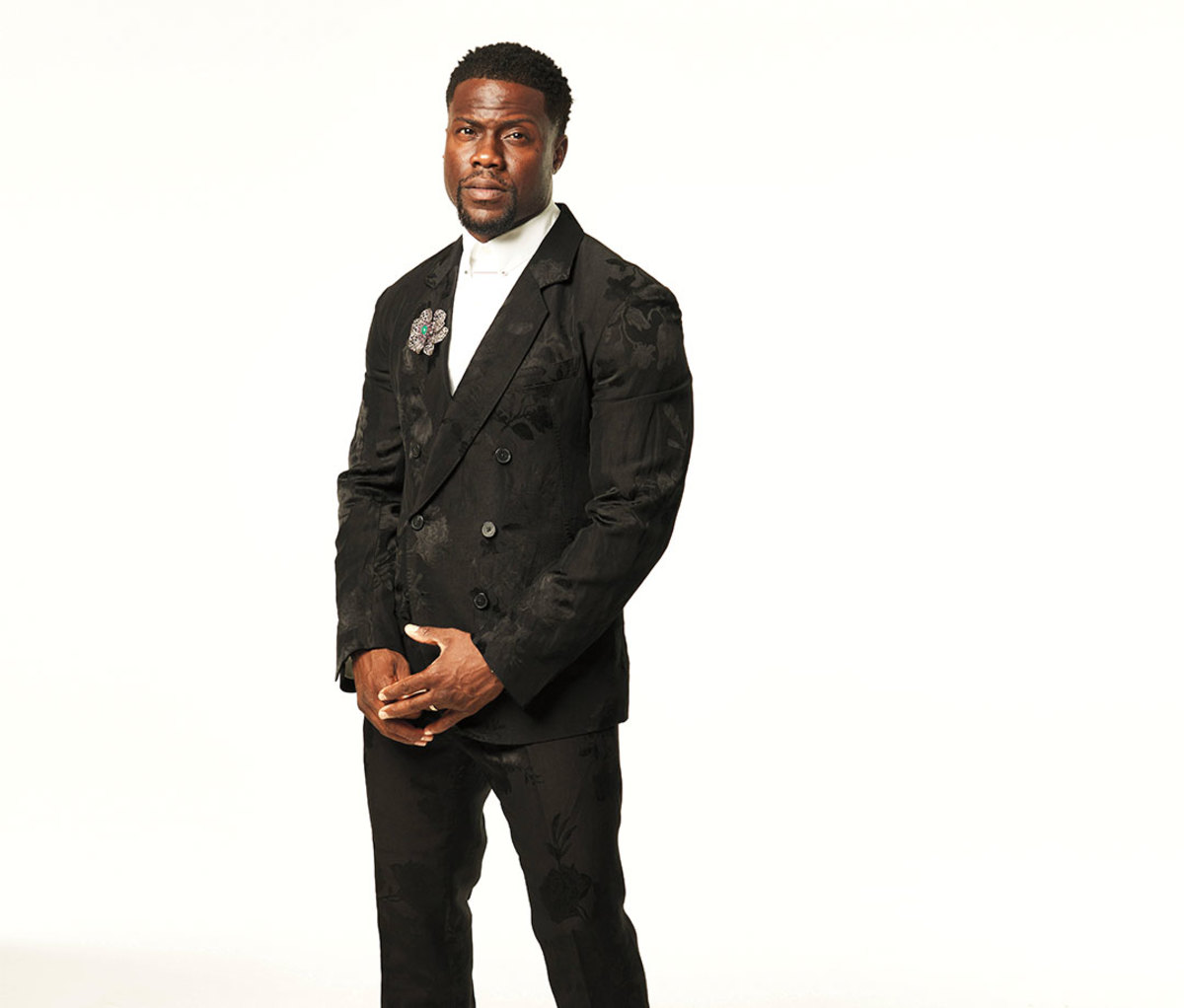 PREVAILING WITH PURPOSE
Hart may have some bewilderment at the future of doing stand-up in front of tens of thousands, but the man has no confusion as to the trajectory of his empire. It's blowing up. ("Like Ramses the Second," one Hollywood exec tells me.) Just this year, Hart shot three feature-length movies slated for release in 2022, alongside actors like Woody Harrelson and Cate Blanchett; starred in Fatherhood, a drama viewed in 90 million households on Netflix; signed a four-movie contract with the same streamer; produced TV shows like Dave and Celebrity Game Face; published a middle-grade novel and released a motivational audiobook; launched a reality show about muscle cars for Motor Trend; anchored a celebrity interview TV show called Hart to Heart; premiered Comedy Gold Minds, a top-ranked podcast; and oversaw his own businesses: HartBeat, a production company that specializes in film and television, and Laugh Out Loud, a comedic entertainment entity and satellite radio channel.
That's just 2021, and this list is abbreviated. The scope of it all is wide enough to make other actors and comedians—and you and me—seem hopelessly lazy.
"I've got a lot going on, but I'm still young and kicking," says Hart, speaking in front of an abstract painting in fiery red and orange. He pushes back at the notion that he might be overcommitted.
"If it's not something that's going to be a good time or create passion, I say no. It's not for me. I need the energy."
Though broad, Hart's approach isn't scattershot. Over the course of the pandemic, HartBeat and LOL expanded rapidly. Both companies doubled their employee base as the race for streaming services to put out new content—from creators of color, especially—heated up. Chief operating officer Thai Randolph says that HartBeat and LOL "have been a part of an 'inclusion revolution' in the entertainment industry," where audiences of color show up in droves and dollars follow. "I've never worked with someone as funny as Kevin," says Randolph, "but he's as focused as any executive I've ever reported to."
"WHAT'S THE VERSION OF YOUR LIFE WHERE YOU'VE BEEN PUSHED TOO FAR? WHERE IS THE EDGE?"
Hart has a knack for dreaming up viral fodder. Take his and Snoop Dogg's hilarious and profane Olympic Highlights show for the streaming network Peacock, produced by LOL. You might have seen a clip: As an Olympic equestrian rider has a horse make stilted lateral steps in a competition, Snoop notes that the horse looks like it's Crip Walking—a 1970s street dance move from Compton—and says, "I gotta get this m—f-er in a video." Hart turns from the camera, keeling over. It's the antithesis of staid Olympic commentary.
Earlier this year, it was a tossed-off idea—Hart playing the straight sports announcer to Snoop. Of course the half-baked concept landed as cleanly as Suni Lee off the balance beam.
"I'm really falling in love with the business of the business," says Hart.
If you were to peer at his current schedule, you'd see a lack of empty space. Actually, this is kind of a constant since Hart's youth. He grew up in a one-bedroom apartment in North Philadelphia, and was raised by his mother, Nancy Hart, who kicked out his father, Robert Witherspoon (battling addiction), when Kevin was 8. His brother, Robert, dealt drugs, was in a gang, got caught snatching a purse (his mom took him to court and got him off ). To avoid Kevin sharing the same fate, Nancy packed his after-school life with extracurriculars. Swimming, bowling, anything to keep him off the street. Hart's mother died in 2007 and never got to see him take the stage, but her plan worked. The packed calendar stays.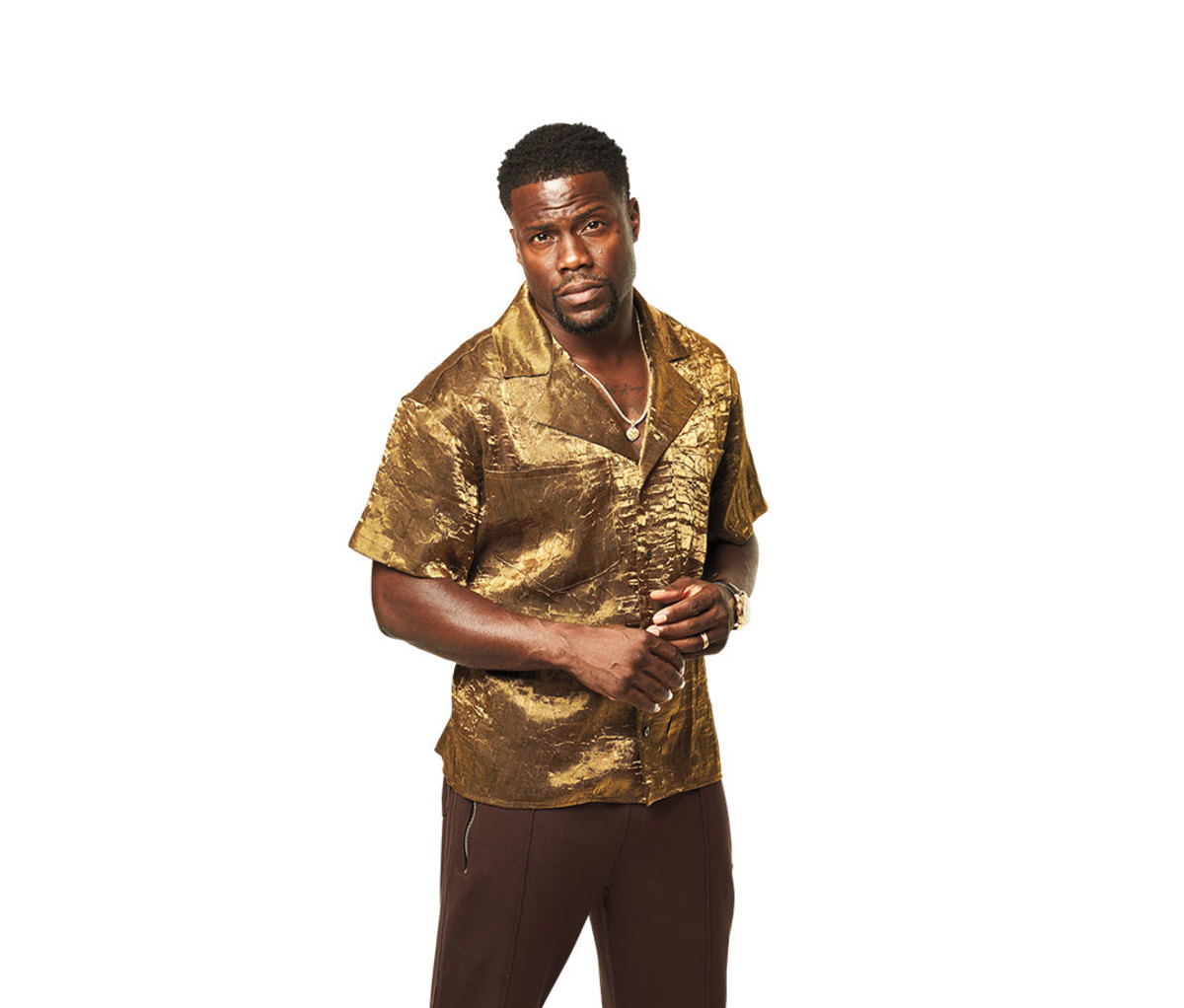 HART TRANSPLANT
Hart's backstory forms the backdrop of his latest project, True Story, a seven-episode limited series on Netflix premiering Nov. 24. It's a drama about a superstar comic named Kid who returns to his hometown of Philly to kick off an arena tour. While reconnecting with his semi-estranged brother Carlton, a night goes terribly wrong.
"I saw it as an opportunity to create a mindfuck atmosphere," says Hart. "Is that Kevin? Is that not Kevin? What the hell is going on?"
Hart, of course, plays Kid, wrestling with the sociopathy of superstardom—while Wesley Snipes is utterly believable as the world-weary Carlton. Other elements of the series also mirror stories ripped from Hart's own pages. There's an extortion attempt after a sexual escapade (2017), a fistfight with a personal trainer (2019) and  the portrayal of a superstar comedian who doesn't think he's gotten his due respect (ongoing). Onscreen, these stories take violent turns that didn't occur in real life.
"I love the idea of a good person pushed to the space of becoming a bad one," says Hart. "What's the version of your life where you've just been pushed too far? Where is the edge? What does that rebuttal look like?"
Producer Eric Newman (Narcos; Narcos: Mexico) created the Kid character with Hart after the actor pitched him a work-in-progress called Crazy Kevin.
"I wasn't that interested in Kevin as a kind of Dexter or avenging angel," says Newman. "So we came up with this water-water-everywhere-but-not-a-drop-to-drink idea where this megastar is surrounded by people at his beck and call, none of whom he can tell the truth to about the acts that he's done. He has to rely on this wayward brother."
I tell Hart that it's an interesting choice to fictionalize your life story yet purposefully explore the "wrong" paths. "As a writer, I think there's a lot of meat on that bone," says Hart. "Dark roads can sometimes lead to discovery."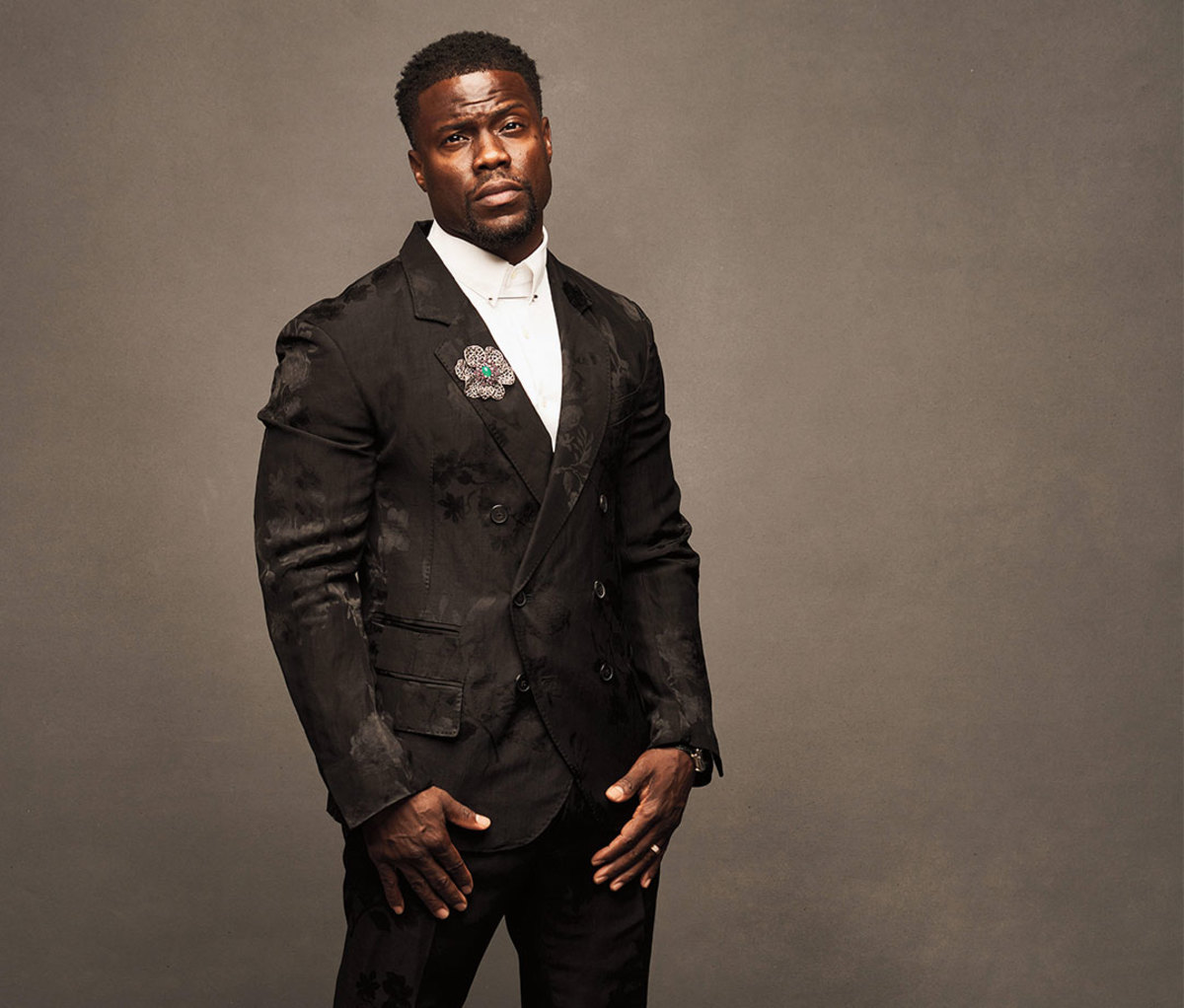 DEFENDING YOUR LIFE
Hart gets a call on FaceTime. "Hold up—it's my best friend, Nick Cannon…. Nick, I'm doing a Zoom interview but I had to stop 'cause I figured you had on a turtleneck or suit I needed to see."
Hart cracks up, teases Cannon for a bit, then I ask him about the challenge of putting out a stand-up special every other year. Most of them were recorded near the end of a run of 150-plus tour dates. (2020's Zero F**ks Given, filmed in his Calabasas mansion over six weeks during Covid, was the exception.)
"The conversation of stand-up is tough. I truly do love stand-up comedy. That's my drug. That's my reason for sitting in this chair. But me going on tour for a year? I think that's done."
It's more than a scheduling problem. As a CEO, a chairman and advisor, there are over a hundred people now depending financially on Hart—and comedy can be a reckless act.
"The one thing I did that acted as freedom was stand-up comedy. Well, I don't have as much freedom in that space as I once did, because of the times. One slipup that I didn't see as a slipup that the world sees is a slipup creates a conversation—and in the corporate place that becomes a, y'know, clusterfuck."
Hart is referring to what he himself calls the "Oscars debacle"—where he withdrew as the host of the Academy Awards ceremony in 2018 after years-old antigay jokes resurfaced.
"In my apology and my recognizing the reality of what I didn't see, I found a solution—I did my part," says Hart. "Beyond that, I can't control what happens. So now I'm gonna move forward and be happy in knowing that I'm better than I was at that stage, right? If I sat and focused on that time, well then that's my life I'm truly fucking up."
"DARK ROADS CAN SOMETIMES LEAD TO DISCOVERY. THERE'S A LOT OF MEAT ON THAT BONE."
The comic says he doesn't have a chip on his shoulder, but is confounded why people are so comfortable slinging chronic vitriol. With 127 million followers on Instagram, and 36 million followers on Twitter, he's faced the whole litany: e.g., Your movies suck! ("Well, I'm having a good time," says Hart.); Your stand-up sucks! ("Well, I've been doing it for over 20 years. I like it."); You don't see your kids enough! ("Well, I feel like we've got a pretty good thing going—everybody's happy here."); How did your wife take you back? ("I don't know, but she did. We good. Why y'all mad at that?") Etc.
"Whenever obstacles present themselves, I've had to find the solution," says Hart. "Once I find the solution, I find happiness. That cycle repeats. Work to find the solution, find happiness. Let it all go. There's nothing else you can do."
WHAT MAKES US STRONGER
The thing is, the growth and happiness of Hart's last two years almost didn't happen. On Sept. 1, 2019, at around 12:45 a.m., Hart's 1970 Plymouth Barracuda barreled off Mulholland Highway and into a culvert, crushing its baby blue roof like a candy wrapper. Hart was a passenger. Jared Black, the fiancé of Hart's wife's personal trainer, was at the wheel—losing control of the heavily modified 720-horsepower machine on a turn less than a mile from Hart's Calabasas home. Black, who suffered major back injuries, and fiancé Rebecca Broxterman were airlifted from the scene. Hart was able to crawl out and was taken to the hospital hours later. All three recovered within months. No charges by any party have been filed.
"When I opened my eyes in the hospital I said, 'Oh, God…Thank God I'm alive.' You get one life—and I'm fortunate to still have mine."
Hart suffered spinal fractures in his lumbar and thoracic areas. Surgeons fused the vertebrae. The injuries, doctors told him, were millimeters away from paralyzing him. Hart expands on the experience of recovering in the hospital in Zero F**ks Given: "[In the hospital] I thought about a lot. Because I thought about a lot, I can now ask you things that I know you haven't thought about. Question number one is, do you have an ass-wiper in your life? You don't think you need it until you need it."
In the special, Hart then describes his rock bottom: During his ninth day in the hospital, he needs to use the toilet, but can't move. He presses a button and a male nurse arrives, physically picking Hart up to sit on the bedside loo. When Hart realizes that he needs this stranger to wipe, he sobs. He asks God why his legs and arms are numb, yet he still has feeling—elsewhere. "Why not numb that up, too? At the lowest point of my life, why let me feel José wiping my ass?"
Things would get better for Hart—with work, of course, which he's good at. Through extensive rehab, Hart was walking within weeks. Trainer Ron Everline spent months with Hart helping to rebuild his physique from scratch, starting with four-pound dumbbells.
"The toughest thing was slowing his rush, getting him to throttle back," says Everline. "We talked a lot about how other people have gotten through this, and he could get through this too—that he didn't need to be a superhero."
While some might see the accident as a message from upstairs to ease up on the high-horsepower heavy metal, Hart doubled down, upping his collection of vintage cars—and filming a show about it. "Honestly, I think I'm just built a little different," he says. "I mean, they don't call accidents accidents for no reason. They're not called purposes."
NO LIMITS
And in the end, what is Hart's purpose? He says that it's not, as some have posited, to become a billionaire. "Though there's about to be one," he says. "That number isn't a goal, but it presents an opportunity to break a narrative. There aren't many black men in that group."
So Hart grinds on.
"There's a reason behind the march. A reason behind the run. There's a reason behind the reach, or the jump, y'know what I mean? It's not until that's complete that I'll stop," he says. "I come from North Philadelphia. I come from a place of financial illiteracy, of no college, of where you're not supposed to make it. I just want the younger generation coming up in the same place to know that we aren't necessarily just where we are from."