Mind Over Matter
Mark Wahlberg Is a Master at Playing the Long Game
The Beverly Park mansion is something to behold. It's part family home, part playground and part mission control, situated in a gated community high above the hazy expanse of Los Angeles. Mark Wahlberg and his wife, Rhea, bought the land back in 2009 for $8 million and, at the time, planned to develop and flip the property. "We built the house and then things just kept working out, so we moved in for good," says Wahlberg.
Yeah, things worked out all right. The house is 28,000 square feet of hotel-size proportions and fronts a massive swimming pool, full-size basketball court, world-class gym and skate park.
There's even a hilltop driving range overlooking a putting green. If you squint you can see Wahlberg's intrepid target, the cameraman for his Wahl Street docuseries on HBO Max, which chronicles his ever-expanding business empire. Wahlberg cracks a joke before sending the ball some 100 yards out. The shot is damn good, missing the cameraman by only a few feet. People who know the avid golfer know exactly what he's thinking: There's room for improvement!
GRINDING IT OUT
He may be at the top of his game, but Wahlberg has a lot on his mind. A lot of things to figure out, professionally and personally. After being delayed for almost two years due to the Covid pandemic, the highly anticipated Uncharted is finally hitting theaters. Check that. The movie has actually been in the works for more than a decade, stuck in the kind of development hell that garners its own Wiki page.
"I first signed on right after I did The Fighter. [Director] David O. Russell and I were going to do it together. He did a pass on the script but the studio wasn't into it. So, I waited for another filmmaker to come and then another."
Uncharted is a prequel to and an origin story of the wildly popular video game, chronicling the adventures of treasure hunter Nathan Drake and his mentor, Victor "Sully" Sullivan.
"Finally, I get a call and they're like, 'We're ready to make Uncharted.' And I'm like, 'Cool, who else are we going to get—it was always a two-hander—and they say, 'Tom Holland.' "
Yep, in the 10 years that passed since first signing on, Wahlberg had aged out of the younger Nathan role and thus was cast as "the old guy."
The news turned out to be good. All those action flicks that require Wahlberg to put on pounds of muscle and be subjected to NFL-level stunt trauma have taken a toll on his body. "Being cast as Sully, I realized Holland can do the drowning and falling out of airplanes scenes and I can do the mastermind thing, barking orders from a helicopter." It's art imitating life as the 50-year-old has taken on the role of Boss Man IRL.
"I got the bug, you know? I got the bug for business," Wahlberg says with a sly smile in the trailer of Wahl Street, which debuted last April. Throughout the six episodes, viewers ride shotgun with the entrepreneur and his orbiting entourage of business associates as they attempt to get several wobbly ventures off the ground. The show doesn't have the same level of action as Lone Survivor or the laughs of The Other Guys, but it is entertaining to have a backstage pass into the struggles and successes of Wahlberg's life.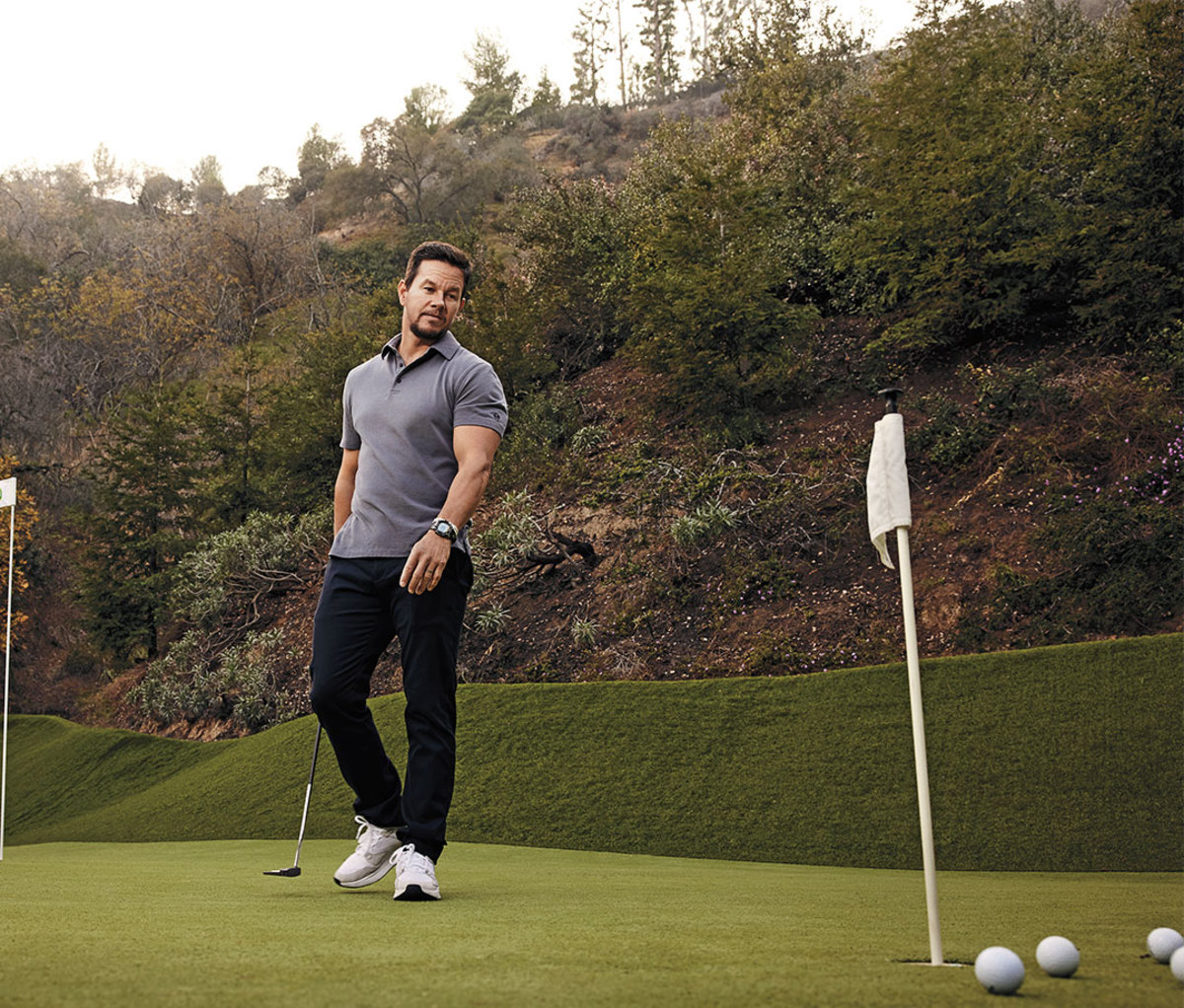 The headaches and challenges are numerous. Wahlburgers, the burger chain he runs with brothers Paul and Donnie, has staffing, service and quality control issues. He dismisses the first batch of samples for his apparel company, Municipal, like so many Kohl's rejects. And even though he's lent his considerable endorsement power to the fitness chain F45 Training, the corporate office is yanking his chain. As you watch Wahlberg navigate crisis after crisis with equanimity, you start half-wondering when badass Mark is gonna show up and start busting heads. Then the pandemic hits and all his businesses go on life support. Which endeavors fail and which survive? Season 2 comes out this summer, but spoiler alert: Wahlberg is no dummy when it comes to making money.
"I have always been a car guy. The first year I was able, I put myself through driver's ed, got my license, bought a car and had it registered and insured all in the same day. I got that car for $200 and sold it for $250, bought another car and then sold that for $300 and on and on. I had 18 cars the first year I had my license," says Wahlberg. "I ended up with a BMW. A beat-up, old BMW, but still." That helps explain one of his more successful, and seemingly random, businesses—a string of car dealerships in Ohio. Er, Ohio?
"Real estate taxes," Wahlberg explains. "If you're looking at a dealership in L.A., unless you own the real estate or get assistance from the automakers, you can't be profitable."
Wahlberg adheres to a simple rule of thumb when selecting investment projects: "Anytime you get involved for the wrong reason, it's going to be a disaster. I'm only involved in things I believe in, that I'm passionate about." And as anyone who hasn't been living on the moon for the past 30 years knows, the former Calvin Klein underwear model is down with physical fitness. The dude wakes up every morning at 4 a.m. to work out. It's the kind of single-minded commitment that's as commendable as it is wait-what?!
Anytime you get involved for the wrong reason, it's going to be a disaster.
So when Wahlberg met Tom Dowd, at the time the chief marketing officer of GNC, it didn't take long before they partnered to start their own sport nutrition line, Performance Inspired. "That was one of my first ventures," says Wahlberg. "Tom knew everything about manufacturing, distribution, sourcing materials and ingredients. We wanted to create a really good product and help educate people with their fitness goals." Products hit shelves in 2017 and the company has been growing 28 percent year-over-year since.
LONG WAY TO THE TOP
Of course, Wahlberg's most successful business is sprinkled with stardust, being that rare actor who delivers big-time at the box office, be it action, drama or comedy. His movies have made a combined $5 billion worldwide. And that's just with his pretty face. As a producer, he's put up another 10 digits. He earned an Oscar nomination for Best Supporting Actor for The Departed. In 2004 he produced the hit show Entourage, which was loosely based on the heady days of his bachelor life in Hollywood. He's got a million credits to his name and has worked with half the big names on both sides of the lens. But none of that came easily.
The Six Million Dollar Man fans will no doubt recall the two-part "Death Probe" episode, in which an errant Soviet tank-thingy destined for Venus crash-lands in Wyoming and proceeds to spaz out like a vengeful Roomba. "It's on hold right now," Wahlberg says of the adjusted-for-inflation The Six Billion Dollar Man film, which had an original release date of 2017, the year he was the highest-paid actor on the planet. It seems all too often in Hollywood, even when someone like Wahlberg is cast as Col. Steve Austin, the industry can show up from outer space and wreak havoc.
"We had a filmmaker, a great script, strong characters and all those things people would want to see a human being be able to do but in a believable way…but it just didn't happen. I got Lee Majors constantly calling me asking what's going on."
However, if there's one thing Wahlberg believes, it's that hard work eventually pays off. In addition to the 10 years it took to make Uncharted, it took six to get what he describes as his "favorite movie" made. Father Stu is based on the incredible life story of Father Stuart Long, a boxer who ended up with a clerical collar. In fact, Wahlberg was so passionate about making the film that he stepped up and financed the project himself: "It's a true story about a guy from Helena, Montana. His family experienced a tragedy when he was young. He becomes a boxer…gets hurt…can't find a job…moves to L.A….falls in love…gets into a confrontation that nearly costs him his life…has an epiphany and decides he wants to become a priest…gets diagnosed with a rare muscular degenerative disease…eventually becomes ordained and is so good at what he does that he has a five-hour line of people wanting to see him on Sundays."
In other words, it's an epic journey of personal growth and perseverance. And you don't have to squint to realize it's also Mark Wahlberg's life story. But now entering middle age, this 300 Million Dollar Man's mission is increasingly focused on his family and togetherness.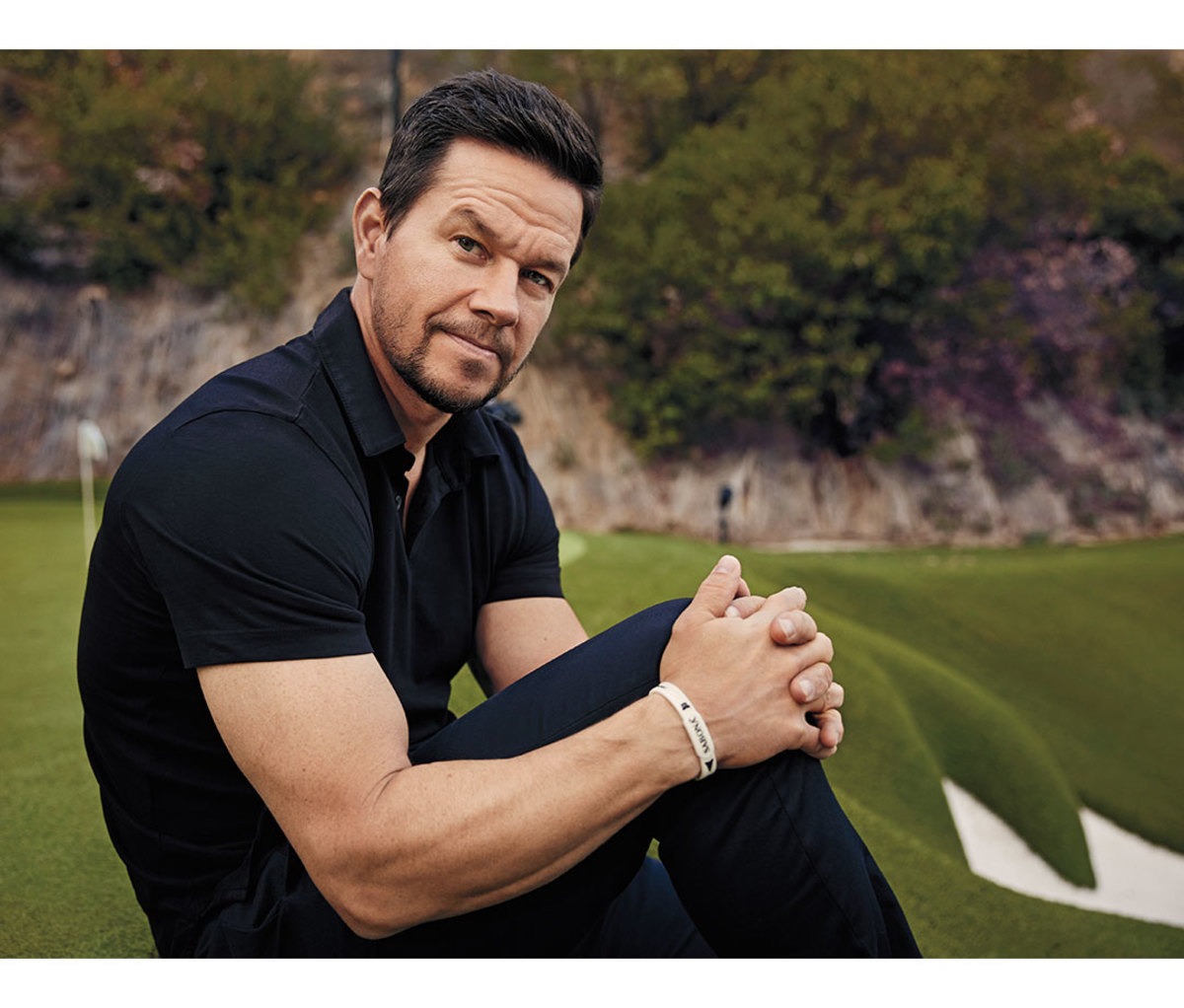 DADDY'S HOME
"The first time I was ever on a plane, I was 14 with my mom and my grandmother. We were flying on TWA to Florida to visit my uncle and all three of us are in the smoking section, smoking," says Wahlberg. "This lady looks at me and then looks at my mother like she was crazy. But my mother didn't know any better."
Wahlberg, the youngest of nine children and raised in Boston, regrets the many mistakes and poor decisions he made as a youth and is determined to set his four kids—18, 15, 13 and 11—on a smarter path. "I'm not shy to share my past, and all the things that led me down the wrong road had to do with drugs, alcohol and bad influences," he confesses. Like most parents these days, he and his wife have had to deal with the usual challenges: reigning in video games, staying on top of grades, managing sleepovers, monitoring social media and helping their kids navigate the ever-changing complexities of teen life in America. "My daughter had a rough period and we really went and addressed it and now she's doing great," says Wahlberg. "She was talking about not giving a shit, not wanting to go to school, but is now talking about whether she wants to go to Brown or the University of Alabama."
He also cites a bad environment for his early brushes with the law. Wahlberg grew up in the rough 'n' tumble neighborhood of Dorchester, but knows that just as many dangers ensnare kids in the rarefied world of wealth and celebrity. "Last night I had a two-hour conversation with my 15-year-old," he says. "We talked about the importance of being serious right now and being disciplined. He's old enough and I tell him how once I stopped doing the right thing, nothing but bad things happened, and those things will stay with you forever." But what about when you screw up in your youth but survive to tell the tale and drip a Bombardier Global 7500 private jet? "I also tell them all the other stories of friends who I grew up with and are no longer here."
On any given day, there can be a dozen-plus cars parked in Wahlberg's circular driveway. Half are his, half are those that come and go in the normal 9-to-5 at Wahlberg Inc.—agents, trainers, camera crews, house staff, doctors, business partners, people seeking investments and stylists wait their turn to get a little face time with the international movie star. It's where the many versions of the actor his fans know and love are naturally on display, like the Take-Charge Guy or the Guy Who Cares.
Yet always constant is the dad who knows how to keep the Hollywood carnival in perspective. "If something were to go wrong with your family," says Wahlberg, "everything else doesn't mean shit."
For access to exclusive gear videos, celebrity interviews, and more, subscribe on YouTube!