Entertainment
Matt Damon on Working With Christian Bale in 'Ford v. Ferrari' and Fighting the Global Water Crisis
Over his lengthy career, actor Matt Damon has battled against spies, bad guys, and even the harsh terrain of Mars on the big screen. Off-screen, he's been taking on something much bigger: the global water crisis.
Since co-founding Water.org with philanthropist Gary White in 2009, Damon has made it one of his main priorities to support programs that help bring access to safe drinking water and sanitation to developing countries.
"We've reached 16 million people," Damon tells Men's Journal. "It's all worked better than we could have hoped, and we want to get even bigger."
To keep things going in that direction, Damon and Water.org have partnered with Stella Artois for the "Pour it Forward" campaign, an initiative to raise money and awareness with the end goal of helping the organization provide safe water to people in need. For every six-pack, 12-pack, or bottle of Stella you buy at the bar, you'll be contributing months of clean water for one person in the developing world.
Damon spoke with us about how he got involved in fighting the global water crisis, the best advice he's ever received, and what Christian Bale told him about losing weight on their new film Ford v. Ferrari. We also spoke with Water.org co-founder Gary White.
Men's Journal: What's the best advice you've ever received? 
Matt Damon: Ben [Affleck] and I had this really incredible drama and English teacher in high school who really changed the trajectory of our lives. Our teacher, Gerry Speca, was just a phenomenal influence on us. Something he said that still rings in my ear was just five words: "Just do your work, kid." It was simple, but it was a work ethic he instilled in us, and there was never an excuse to get outworked by anybody. I think that's the best advice I got. When in doubt, just work harder, and something good will come of it.
What made you want to help combat the global water crisis?
Damon: It's something that affects millions of people around the world. It's so important for people to have access to clean water. Gary had this incredible insight years ago. He spent his entire adult life in these communities and observed that sometimes the poorest of the poor were paying more than the middle or upper class for water. He knew if you could give those communities the chance to build their infrastructure, it could solve the problem. So he took the concept of microfinance and applied it to water, and we joined forces. By 2012, we hit our first million people, and now we're hitting over a million people per quarter.
White: Over the last decade of working together, Matt has gone from someone who cared about this and was willing to speak out of it, to now being one of the experts about it now. We get the chance to connect with people in many industries, and telling the story myself and with Matt, and it gives us the chance to bring what we're doing around the world. We've really tried to find innovate solutions to work on this problem that affects so many people around the world. This is not just another water organization, it's one that wants to drive systematic change and help solve this problem within our lifetime.
What are some ways people can get involved? What's it been like partnering with Stella Artois for Water.org?
Damon: It's so easy for people to participate in this effort and get involved. When you're going to a Super Bowl party, think about grabbing a 12-pack of Stella. By doing it, you're giving someone clean water in the developing world for a year. It's just incredible the impact you can have. Of course you can also donate at Water.org. We're in our fifth year, and we've already reached over 1.6 million people just with this partnership, and by 2020 we're on track to hit over 3.5 million. What's been great is, you attach yourself to this rocket like Stella, they have these great ways to activate things and get people involved.
White: The interesting thing to me about how the partnership has evolved, from what we did with the Stella chalices to now with this campaign. I had a personal experience with all this already. I was with some people to watch the Chiefs playoff game, and my brother brought a six-pack of Stella, and it had the Water.org logo on it, and it sparked a conversation with everyone. It creates a whole conversation around Water.org and what we're trying to do, and people want to know what it's about and what they can do to help.
What adventure has had the greatest impact on you?
Damon: A trip to Zambia inspired me to get involved in the global water crisis. Whether it's a trip to the developing world or somewhere else, you're always seeing and learning new things when you're abroad. I'm affected every time I travel somewhere. With Water.org, Gary and I have been to many different countries together. We've had the chance to talk to people and interview them about their experiences—to better understand the kind of impact we're having and what we can keep doing to help. Those are always special because you can really see the impact on a personal level. The work is very energizing.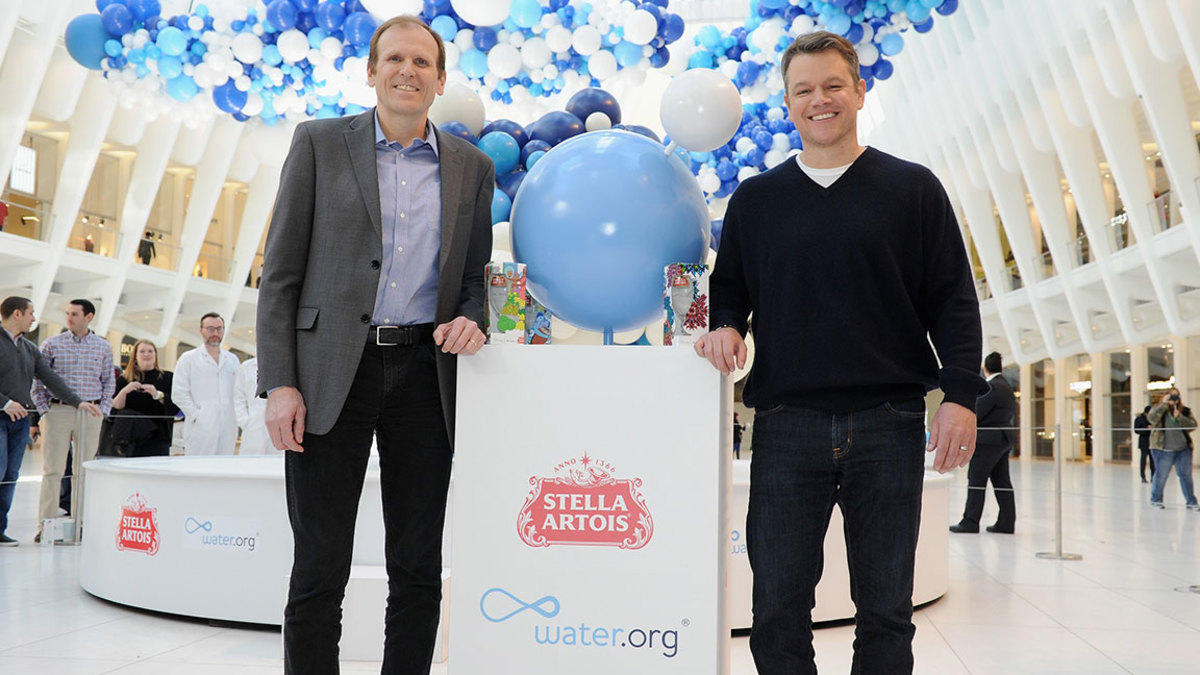 What are some of the challenges you've had to overcome in building Water.org?
Damon: A big part of it is going out into the field and consulting with our partners. A few years ago we went out and asked them that same question, wanting to know what the biggest bottleneck that you're encountering. They said the biggest problem was access to affordable capital. So we went back to our microfinance partners, and said the demand is there. But we need to get more money into the system. It's a constant search for the next barrier and finding ways to knock that down. The numbers and the feedback we've gotten has been great, and we want to keep finding ways to support the system and keep working on fighting the problem and how to keep scaling.
White: We hit a big milestone this year with a billion dollars in capital mobilized for the microloans, and I think that speaks to that we're not just this this large charity that's out there drilling wells, but we're changing the face of this issue by access to finance. When you can start putting billions in the numbers that really shows that we are getting great traction.
Pivoting to acting, was that something you always wanted to do?
Damon: I really became serious about it around 13. In my college essay, the first line was something like: "For as long as I can remember, I wanted to be an actor." I think that's the reason I got into college because I was so clear about what I wanted. If I tried on just academic merit alone, I'm not sure how that would have turned out [laughs].
What can you tell us about your upcoming movie Ford v. Ferrari?
Damon: I'm really excited for people to see that. It's about Ford trying to take down Ferrari at the Le Mans race. James Mangold directed it and Christian Bale is in it with me. It was surreal to work with Christian because I'm one of his bigger fans. He was coming off Vice—and from the time we decided to do the movie to the time we started shooting, he dropped 70 pounds. The first day on set, I asked him: "How did you do that?" I've lost weight and gained weight for parts, and there are lots of theories on how to do it. And he just looked at me and said: "I didn't eat." That guy is cut from a different cloth. He has a monk-like discipline that's just really impressive to see.
You originally were going to direct Manchester By the Sea. Do you still have an interest in getting behind the camera?
Damon: John Krasinski and I originally commissioned Kenny [Lonergan] to write Manchester By the Sea, because I was going to direct it. When I read the script, I went to Kenny and said: "You have to direct it. This is a Kenny Lonergan movie." So I was going to play the main role, but The Martian was starting, and I just couldn't get it in. So Casey took over, and that turned out okay. With directing, it's still something I'm interested in. I'm just looking for the perfect project to do it.
For access to exclusive gear videos, celebrity interviews, and more, subscribe on YouTube!