Entertainment
Matthew McConaughey Is Reinventing Himself—Again
Sep 19, 2018
I am shirtless and Matthew McConaughey is not.
It's a sweltering day in the midst of the hottest May ever recorded in Austin, Texas, and the clothing-averse actor is wearing a wifebeater and backward ball cap, the very portrait of Texas decorum as we post up on stools at Ski Shores, a waterside burger-beer-and-taco joint, an impromptu stop on a four-hour-plus paddleboarding circuit of Lake Austin. When we pushed off from his boathouse in the morning, I didn't see him tuck a shirt away in the waistband of his Just Keep Livin' boardshorts. Hours later, as we drag our boards up onto the restaurant's dock, he pulls out the shirt and slings it on. Now everybody in the place, other than me, is properly attired.
I ask McConaughey how much of a problem this is.
"Zeeee—ro," the actor says, in that signature south Texas drawl. The o syllable has a long tail, trailing off reassuringly.
A problem? Ha. Such a thing is granted no quarter in the realm of McConaughey. An extended hang with the guy turns out to be exactly as weird and meandering as you might imagine. A brief paddle and Q&A session has evolved into something else entirely: part endurance test, part vision quest, and an opportunity to, the actor tells a guy named Rowdy, sitting at the bar next to us, "explore a bit, get some tans, get some tacos, make a Wednesday feel like a Saturday."
He's right about the shirt. No one pays attention to the near-naked reporter with a recorder. Everyone wants a piece of McConaughey, the local hero, sitting here with his wraparound shades on the counter, his roman nose flecked with high-SPF sunscreen. The bystanders chip in from the conversational rough.
Rowdy asks McConaughey about his current roster of Airstreams. (He's been collecting them for years and now owns four.) A businessman playing hooky inquires about an appearance the actor made on the Golf Channel. A British woman apologizes for the interruption, then introduces her small, scruffy dog. She asks for a picture.
"No, no, no," McConaughey says. "I'm local," pointing across the lake. "You'll see me again." A man with arms and hands covered in white paint approaches from the back of the bar.
"Whoa!" He stops in his tracks.
"Yeah!" McConaughey says.
"Whoa."
"Yeah, man."
He says his name is Glenn Washington. New in town from Detroit. Has a gig painting a house down the road. Says he's buddies with NFL players back home, but he's never been this starstruck.
"Man. Oh dude. You gotta say one thing for me."
McConaughey has a half smile; he knows what's coming; he's just waiting for it, hit me.
"You got a joint?" Washington says.
"Be a lot cooler if you diiiid," McConaughey retorts.
Fist bump. Laughter.
"Oh man. Oh dude," Washington says. "This is crazy. Mind blown."
Washington makes the "exploding" hand motion at both of his temples, then staggers back and does it again. "Craziest moment in my life," he says, walking away.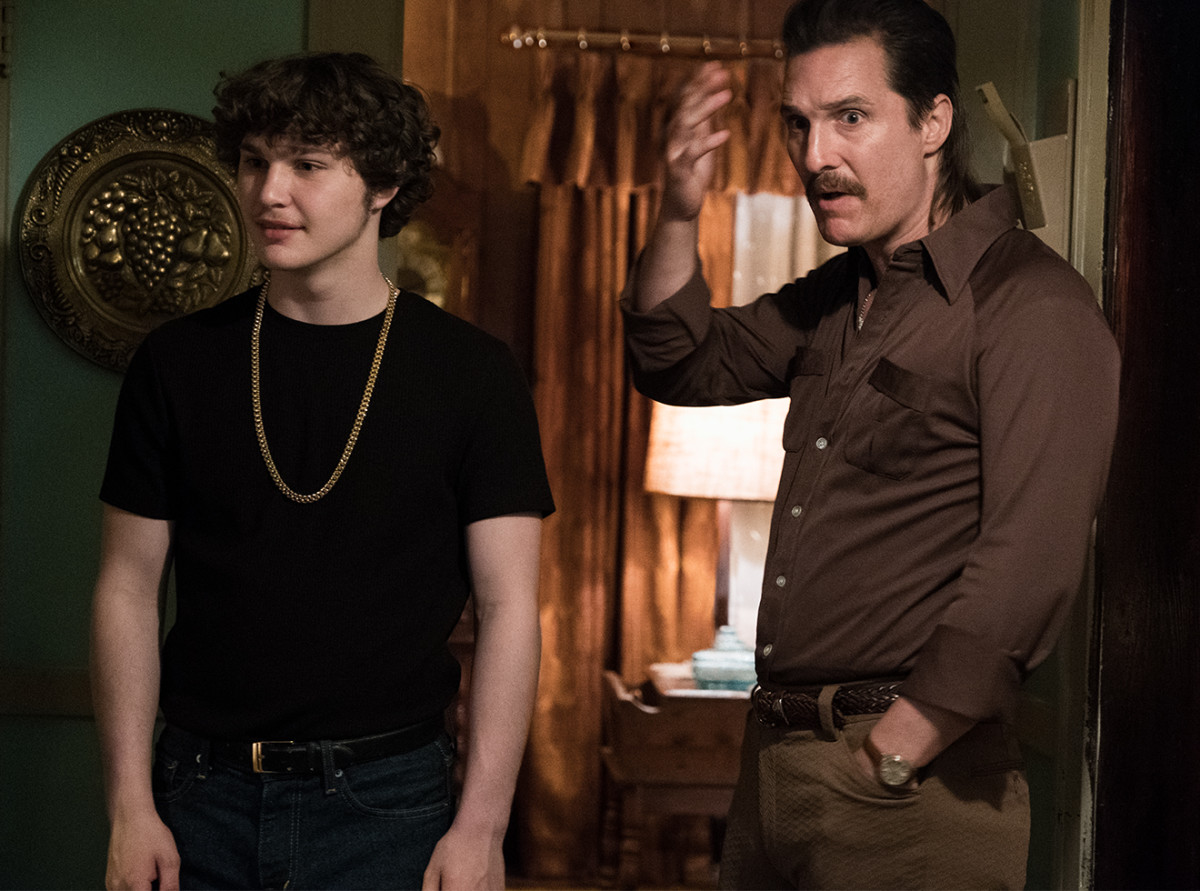 This kind of encounter is nothing new to McConaughey. He's been repeating it for exactly 25 years, since Dazed and Confused hit theaters in the summer of 1993 and his character, David Wooderson, the hanger-on townie, the stoned philosopher-poet of the parking lot, uttered the actor's most famous lines— "be a lot cooler if you did," "just keep livin'," "all right, all right, all right"—most of which he improvised.
I ask McConaughey if it's fatiguing when fans shout out, or ask him to repeat, Wooderson's lines from Dazed.
"No," he says. "Look, 'all right, all right, all right' has become a national sort of moniker. People say it all the time, and they want me to say it. I've got no trouble giving it back to them. For me, it's original and genuine because they're the first three words I ever said in a job that I got, that hell, I didn't know if it was gonna be a hobby. It could have been my only gig. It ended up being a careeeeer."
Fifty feature films later, that career exhibits the twists and turns of a live oak, from early breakouts like A Time to Kill to the rom-com era and its quintet of big-paycheck films like How to Lose a Guy in 10 Days to the turn toward serious fare known as the "McConnaissance," the pinnacle of which was a best actor Oscar for Dallas Buyers Club. A trio of upcoming films represents yet another departure, a reinvention of sorts.
The actor has roles in White Boy Rick (September 14), Serenity (October 19), and The Beach Bum (TBA). Now that they're all in the can, McConaughey, 48, a husband and a father of three, is taking a breather, spending the longest stretch of time in the Lone Star State since his Hollywood career began.
"Is there any place on the planet you'd rather be?" he asks, standing on his bright yellow Laird Hamilton paddleboard, a gift from surfer Strider Wasilewski. He swings a carbon-fiber paddle, and his cadence is steady; when I ask a question, he answers in full paragraphs without stopping to take a breath.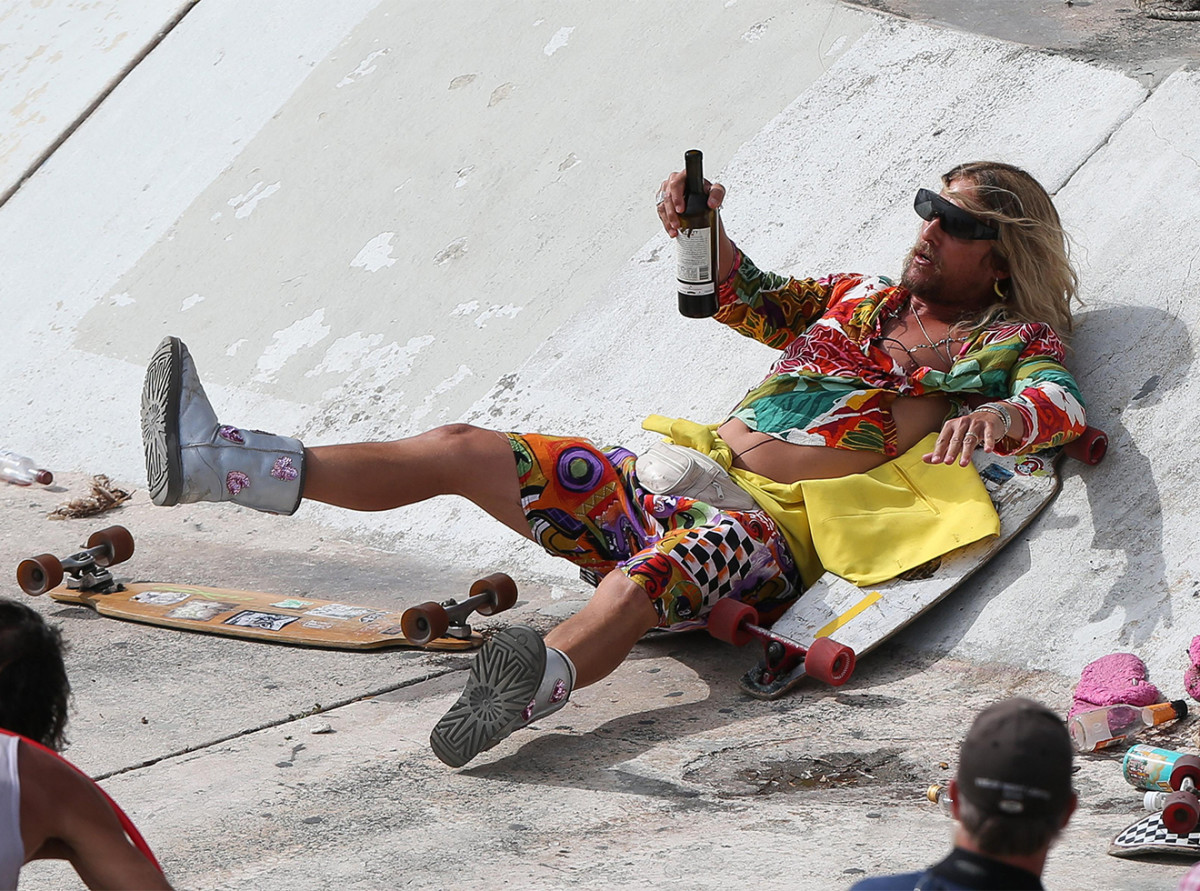 It's a Wednesday morning, and the dusty turquoise water of Lake Austin is free from boat wake and, for the most part, people. Hidden up on a cedar-shrouded hillside sits the McConaughey manse. The actor married Brazilian model and entrepreneur Camila Alves there in 2012 in front of children Levi, then 3, and Vida, then 2. (Livingston would arrive later that year.) John Mellencamp sang psalms. The actor and his family split their time between Austin and Point Dume, a ritzy enclave in Malibu; by the time the heat and bugs turn Austin truly hellish, he'll pack the family into one of their Airstreams and head back to the California coast.
But today it's clear that Texas is his element. When we float past the few people on the shore, McConaughey shouts a "How-de-hay" or whistles. When he says or hears something he finds amusing, he breaks into a high cackle. He's not wearing a watch and didn't bring his phone. McConaughey is off duty, living moment to moment.
"I've made everything a swing-by here," he says. "Nothing is an appointment. It's been cruisey as all get-out, man. I'm a clock-watcher, but I've been 10, 15 minutes late to things recently, which I usually never am. Nobody seems to give a shit here, nobody seems to care, nothing's a big deal. It's relaxing. Spending time with my kids, my wife, following through on 3 a.m. ideas. Writing, poetry, music. Stuff I just don't have time for when I'm working."
"I love people on the fringes, who define their own personal codes, who just can't see anything but getting away with it."
We paddle past a park, scattered with barbecue grills and fronted by a sandy beach that's vacant, despite the day's perfection. As I ask McConaughey about his past—pick a period—I realize that he inevitably reveals some magic-realist moment where some truth was revealed to him.
Take the move to Texas. Why'd he decide to come back? Simple. A stoplight turned green. In 2011, McConaughey and Alves were visiting Kay, the wild-ass outlaw matriarch of the McConaughey clan, who lives in nearby Georgetown. At the time, she was having some health issues. (She's since recovered.)
"I hadn't thought about moving," McConaughey says. "I didn't know it was coming. I was driving, we were at a stoplight, and Camila said, 'We're moving back here, aren't we?' There was a second of silence, and the stoplight turned green, and I said yes. That was that."
How did he decide to become an actor? He picked up a random paperback. McConaughey was drawing stellar grades but getting bored as a sophomore studying law at the University of Texas. During a break while cramming for finals, he scooped the book off a frat-house floor that would change his life: The Greatest Salesman in the World, a self-help tome from the '70s. In the story, a rich trader credits his prosperity to some old scrolls bearing principles: "I will persist until I succeed." "I will greet this day with love in my heart." "I will laugh at the world." "Today I begin a new life."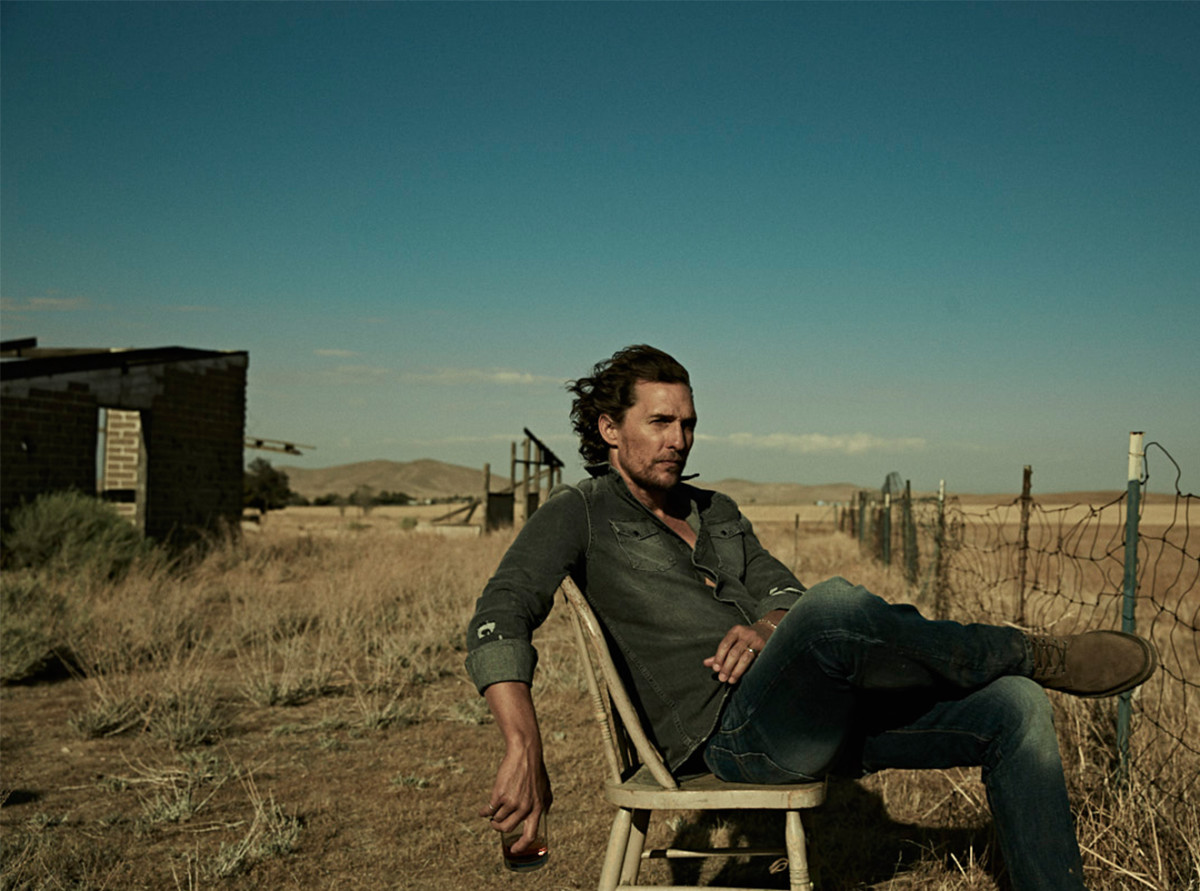 McConaughey heeded its advice. That night, he called his parents and told them he wanted to change majors: He wanted be an actor. After a beat, his father, Big Jim, replied, simply: "Don't half-ass it."
See, the McConaugheys know a thing or two about mavericks. Kay was a kindergarten schoolteacher who bluffed her way through a 39-year career without ever obtaining a teaching certificate; Big Jim, a Green Bay Packers draftee, owned a gas station, and later caught a piece of the Texas oil boom, selling pipe. He was known to party with his shirt off, his cockatiel close by. The pair wrote their own love story, getting divorced twice and marrying three times. During one separation, when he was about 10, McConaughey spent the summer with his father in a trailer park, not knowing the two had split: "I just thought Mom was in Florida on vacation."
A few days before filming ended on Dazed and Confused, Big Jim, then 64, died on a Monday morning, while making love to Kay.
McConaughey's ad-lib for his character in Dazed, "Just keep livin'" was a phrase that the actor had been uttering to himself in the days that followed his father's death, as a way of dealing with the loss. (It's now the name of McConaughey's foundation, a wellness and service curriculum for at-risk high schoolers across five states and D.C.)
I had read about an Irish wake that the family held in Longview, Texas, and asked McConaughey what he said at it. He paused for a minute.
"I said, 'There's people in this room that owe my dad money. Just 'cause he's moved on, don't think you're not paying him back. You're paying my mom back.'"
They paid.
I ask if he's raising his own children to be similarly independent and free-thinking.
"I realize I have 18 years to shepherd," he says. "And I use the word shepherd—they are who they are. I'm not trying to make them into me, but there are some values I can teach them. Then they're gonna be who they are."
Chief among the values McConaughey is trying to instill in his kids: the concept of delayed gratification. So far, he thinks it's working. About two years ago, he tells me, Levi pointed to his father's Oscar statue.
"He said, 'What'd you get that trophy for?' And I said, 'Remember when we were in Louisiana, and how skinny dad was, and when you woke up, I had already gone to work—and we would only play on Saturdays? Well, the work I was doing then, my industry deemed excellent.'"
"I think there was this cool 'ding-ding' for him," McConaughey says. "What you do today can line up for what you get tomorrow."
Delayed gratification is something familiar to McConaughey: The Oscar for Dallas Buyers Club was a culmination of a career reboot that had been years in the making. By 2006, the actor had spent the better part of a decade taking home reported $8 million paychecks for forgettable charmers like The Wedding Planner, How to Lose a Guy in 10 Days, Failure to Launch, Fool's Gold, and Ghosts of Girlfriends Past. But after a period of soul-searching, McConaughey decided to "unbrand"—passing on the big rom-com checks to search out more serious roles. For a few years, the phone didn't ring. In 2011, a strong performance in The Lincoln Lawyer provided a clue of what was to come in the subsequent three-year McConnaissance: stellar turns in Magic Mike, The Wolf of Wall Street, True Detective, and, of course, Dallas Buyers Club.
"That [Dallas] was a hustle, dude," says McConaughey, laughing as if he's still surprised, years later. "I was attached, and nobody wanted to make it," he says. "It was dangerous material, and some directors passed because they didn't want to do it with me; they were still seeing me as the rom-com, action guy."
Five months before the movie was slated to begin filming, McConaughey started losing the first of the 38 pounds he'd drop to play Ron Woodruff, an AIDS patient at death's door. It was a gamble—the movie still wasn't funded. Just days before filming, a Texas feed shop put up the last million of the movie's $7 million budget.
Lance Armstrong, a longtime friend and neighbor in Austin, witnessed firsthand McConaughey's transformation for the role.
"To watch somebody do that was absolutely fucking mind-blowing," Armstrong says. "After he had already lost the weight, they ran into budget problems. I was worried about him. And he just doubled down, kept going, just transformed; and oddly enough, the delay made him even better."
Armstrong points to a change that he started seeing in McConaughey around the actor's late-2000s hiatus.
"If he does anything, if it's a role, if it's a commercial, if it's an appearance, if it's a charity event, if it's a dinner with somebody, he is extremely thoughtful about whether or not he can fully commit. There is absolutely zero bullshit to him. He's all in, or if there's a sliver of doubt, he's out, and he'll tell you why. Few people I've ever encountered have that kind of discipline."
After paddling past McMansion monstrosities, we get to a stretch of lakeside lots dotted with modest, one-story, mid-century houses, and start talking about the strange thing that happened after McConaughey won the Oscar: His movies started bombing.
Aside from the Christopher Nolan time-travel epic Interstellar, which was already in the can at the time of the Academy Awards, and two animated films the actor lent his voice to, McConaughey-anchored projects have struggled to find audiences. The actor doesn't bristle at discussing the cold streak. He grows animated as I rattle off a few of the titles.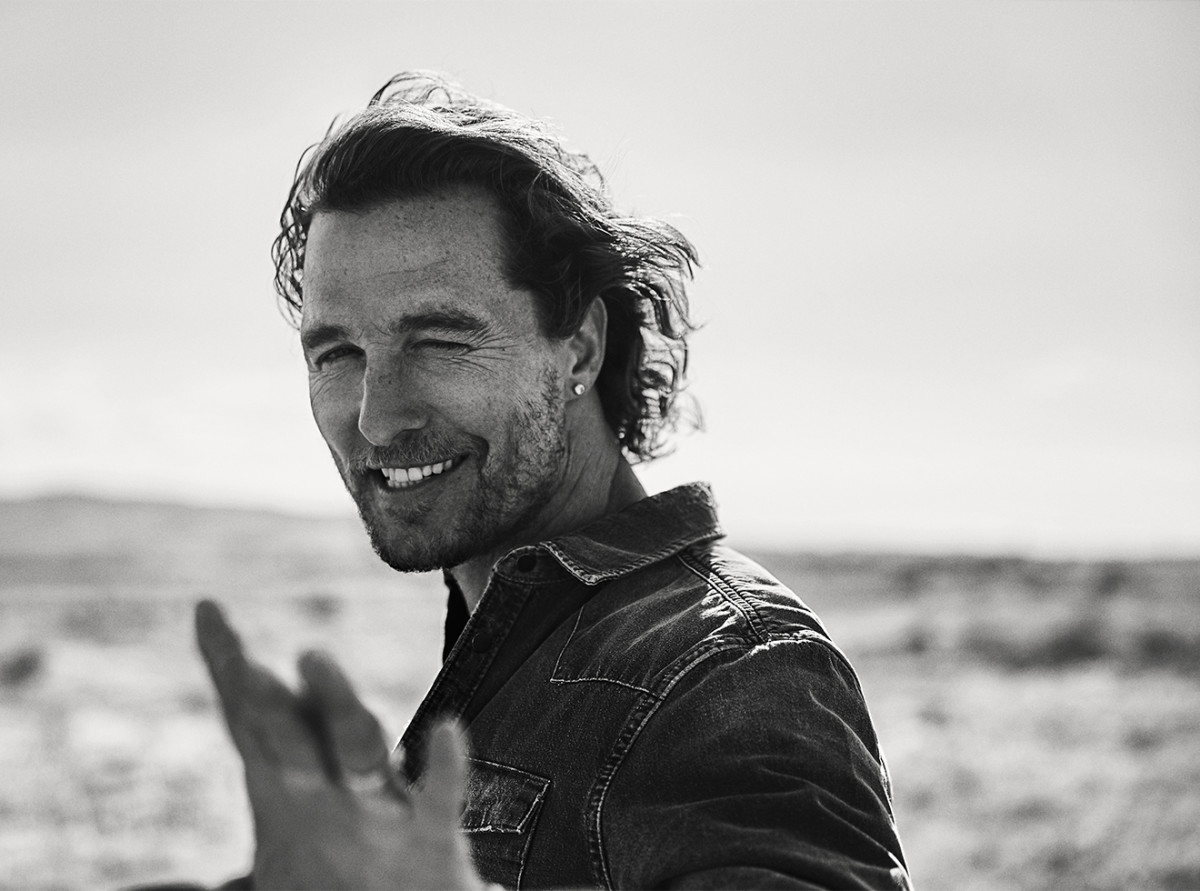 I ask about Gus Van Sant's 2015 Sea of Trees: "It was a beautiful script, a haiku," McConaughey says. "I ended up liking the script more than the finished product." The Civil War period piece Free State of Jones: "It was a great character—but another [film] that didn't do jack." And then, the one that hurt: 2016's Gold. Critics lauded McConaughey's lusty portrayal of a Kenny Wells, a paunchy, balding prospector looking for the big strike, but faulted the slack run time. Audiences stayed away.
"Dude, that didn't even see the light of day," he says. "It came and went. Boom. Bye-bye."
He paddles onward.
"Do I want people to see the movies I'm in? You're damn right," he says. "I mean, you spend that amount of time on something, you want it to translate. You want people to see it. It doesn't always happen. But I've learned not to be so completely invested in the outcome that I need it to provide me with a sense of significance."
Whatever his box-office results of the last few years, McConaughey's next act—the three films that will come out over the coming year—offers plenty of promise. He won't call it a "departure" or even a left turn. But the roles sure as hell are interesting.
"Sometimes they're singing about you, sometimes they're singing to you, and sometimes you're like, 'You've been reading my mail, man.'"
The first of the lot, White Boy Rick, is a fast-paced adaptation of the life story of Rick Wershe Jr., who at 14 was the youngest-ever FBI informant, a teenage drug dealer, and, later, the longest-serving juvenile nonviolent offender in Michigan history. The story is a knotty tale of police corruption, 1980s gangs, and a failing war on drugs, with a backdrop of Detroit in decline. McConaughey plays Wershe's father, Rick Wershe Sr. After the promise of the Detroit auto industry and its job-for-life dies, Wershe Sr. survives as a gun dealer, fighting abject poverty while inadvertently walking his son backward into a life of crime. McConaughey calls the role his "first country song, my first got-out-of-jail- and-momma-got-hit-by-a-train song."
It makes sense, as Wershe Sr. is something of a loser, a hands-in-his-pockets guy.
"He's a bad dad," McConaughey says. "Not a good father. He tried, and his heart's in the right place. But he can't toe the line."
That said, Wershe Sr. possesses a trait McConaughey finds irresistible: He's a hustler.
"I love the people on the fringes," he says, "who define their own personal codes, and are right in the slipstream, right in the gut—and just can't see anything but getting away with it."
The film's director, Frenchman Yann Demange ('71, HBO's upcoming Lovecraft Country), says the performance is a departure for McConaughey—and not only because it's a supporting role.
"He was looking for something that had a lot of humanity, that he could get lost in," Demange says, "not a movie with Matthew McConaughey in it."
To keep the movie from becoming some "Hollywood thing," Demange cast Richie Merritt, an unknown 15-year-old from Baltimore, as Wershe Jr.
"By putting [McConaughey] in front of somebody who's never done it before, Matthew had to come and meet him halfway," Demange says. "He couldn't give a heightened performance. That excited him."
On the heels of White Boy Rick comes Serenity, out in October, similarly from left field. It's a smart neo-noir in which McConaughey plays a boat captain in the Caribbean. Anne Hathaway, who starred opposite the actor in Interstellar, plays his ex-wife, who's looking for revenge on her abusive current husband. Directed by Steven Knight (Dirty Pretty Things, Locke), the film has the marks of a beguiling thriller—central to its plot, another father-son relationship.
The third of the trio is a true wild card: A stoner comedy from Harmony Korine (Spring Breakers) called The Beach Bum. In the film, set for next summer, McConaughey stars as a free-wheeling poet named Moondog; Snoop Dog and Zac Efron play characters named Lingerie and Flicker, respectively.
Says McConaughey, "[Korine] wrote this anarchic, wild script, and I hadn't read anything like it. This was the first role I've had where it's all rhyme, no reason, man. It was just, find the music and go and stay in the music the entire time."
In his trademark ethereal mode, McConaughey describes Moondog's "hazy, buoyant dance through life." You can't help but think that he's describing something of himself.
We float up to an abandoned dock and sit down. Hawks fly overhead; the heads of turtles break the water surface every few minutes. McConaughey is still riffing on music, how he uses it to find the character he's playing.
It started way back in 1992. Richard Linklater, in preparation to shoot Dazed, handed out a mixed cassette tape to set the mood. On it was a Ted Nugent track, "Stranglehold," which McConaughey played and replayed until it infected his being, until he found Wooderson's posture. For Magic Mike's Dallas, the song was Kiss' "Calling Dr. Love." In True Detective, the Black Angels' "Young Man Dead" served as "the Vietnam march" that would get McConaughey into the head of detective Rust Cohle.
And for the stoner-poet in The Beach Bum? For that, along with some yacht rock and early Dylan, McConaughey homed in on the weirdness of Peggy Lee's 1969 hit "Is That All There Is?"—a maudlin catalog of life's disappointments. The chorus: "If that's all there is my friends, then let's keep dancing/Let's break out the booze and have a ball/If that's all there is."
McConaughey, laughing, tells me he even got the song placed in the movie: In one scene, it plays on a boom box strung around his neck. "See," he says, "sometimes they're singing about you, and sometimes they're singing to you, and sometimes you're like, 'You've been reading my mail, man.'"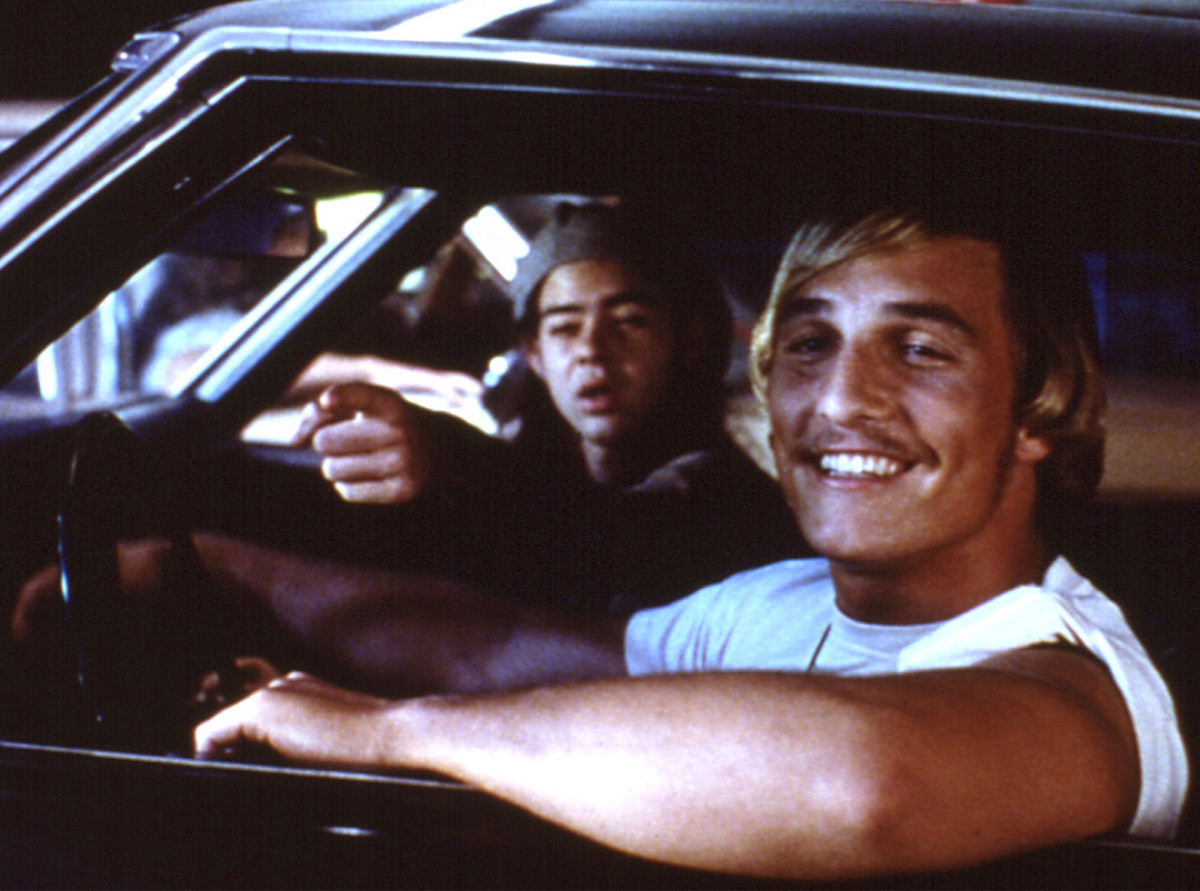 I ask him, aside from music, what he does when he's struggling to find his way into a character. The answer is satisfyingly expansive: "You look at the script when you have a different energy. Read it after having a few glasses. Read it Saturday night at midnight. Laminate pages and read it in the shower. Read it at six in the morning on Tuesday when the world is stone-cold silent. Take it to church, read it in the pew. Read it over at the restaurant, alone. Pitch the story to your kids, to your mother. Get to the bloodline, the DNA of your man. That's how you uncover his hu-man-ity."
Hours later, somewhat sunburned, we paddle up to McConaughey's dock, and my balled-up T-shirt. He sits down, flips his board up onto the landing, then walks over and opens the door of a closet. Inside, monitors show live footage of the boathouse from four or five angles. He rifles about, then turns around with two tumblers and a bottle of the actor's most recent nonfilm-related project—Longbranch, a Wild Turkey bourbon McConaughey developed in his post as creative director for Wild Turkey.
"How 'bout a sunshine sip," he says, then pours a few fingers of the stuff, hands it to me, and explains how the bourbon came to be. It's aged, like all Wild Turkey spirits, in Kentucky, but mellowed with oak and Texas mesquite charcoal.
"It still goes poof," McConaughey says, "but doesn't bang ya on the back note."
His signature bourbon is appropriately mellow.
As we drink, the conversation turns to other celebrity-branded vices—Bob Dylan, as it happens, has his own bourbon coming out, too—and I ask if McConaughey's ever tried his good buddy Willie Nelson's brand of weed, Willie's Reserve.
"Oh yeah," he says. "Just once. I got so high that I was paranoid my steaks were burning on the grill, only to run off and find out that I hadn't even put them on the grill yet."
As it turns out, the two men saw each other only a few weeks ago. Nelson had a big bash at his Luck, Texas, ranch with his band of Texas brothers. He, McConaughey, and Woody Harrelson—the "last wild man," McConaughey calls him—played cards until four in the morning. (Speaking from his tour bus, Nelson later tells me that neither he nor McConaughey are especially good at playing cards. "We both talk better than we play," Nelson says.)
McConaughey swallows the last bit of bourbon, takes a breath, then slams his glass down. "We get a little younger the more time we spend together." Almost as if he's channeling Wooderson. Then he locks the gate, says goodbye, and, still barefoot, leaves in a Lincoln sedan, a booster seat in the back.
For access to exclusive gear videos, celebrity interviews, and more, subscribe on YouTube!