I have two kids, ages 9 and 3, and a career, and I try to stay healthy. If it appears from the outside that I'm getting it all done, inside I'm not so sure. It's exhausting. My goal this year is finding balance. Family comes first, but to be the best version of myself with them requires making health and fitness a big part of my life. It's also part of being a responsible employee. On my television show, I've got to maintain continuity from week to week. You don't want to say, "Dave from The Neighborhood has gained 75 pounds and it hasn't been addressed on the show."
Terrible Twos
The second kid was a wake-up call, in terms of time management and keeping on top of everything. I realized what may have worked in the past is not working in the present. Our son has led me to having a lot less time and being deeply exhausted for most of the time.
Group Activity
I used to take classes at Brick CrossFit in L.A. It was so fun to attack whatever new, fresh workout they designed. But these days, a lot of my workouts are solo. I incorporate different movements: kettlebell deadlifts, dumbbell work, weighted lunges, goblet squats—and I live on the TrueForm Runner. It's great for interval work and a few miles at a time. Because the treadmill is powered by your body alone, it's challenging and forces you to run with good form. I love to run, but going out on the road beats you up and I'm not looking to get beat up anymore.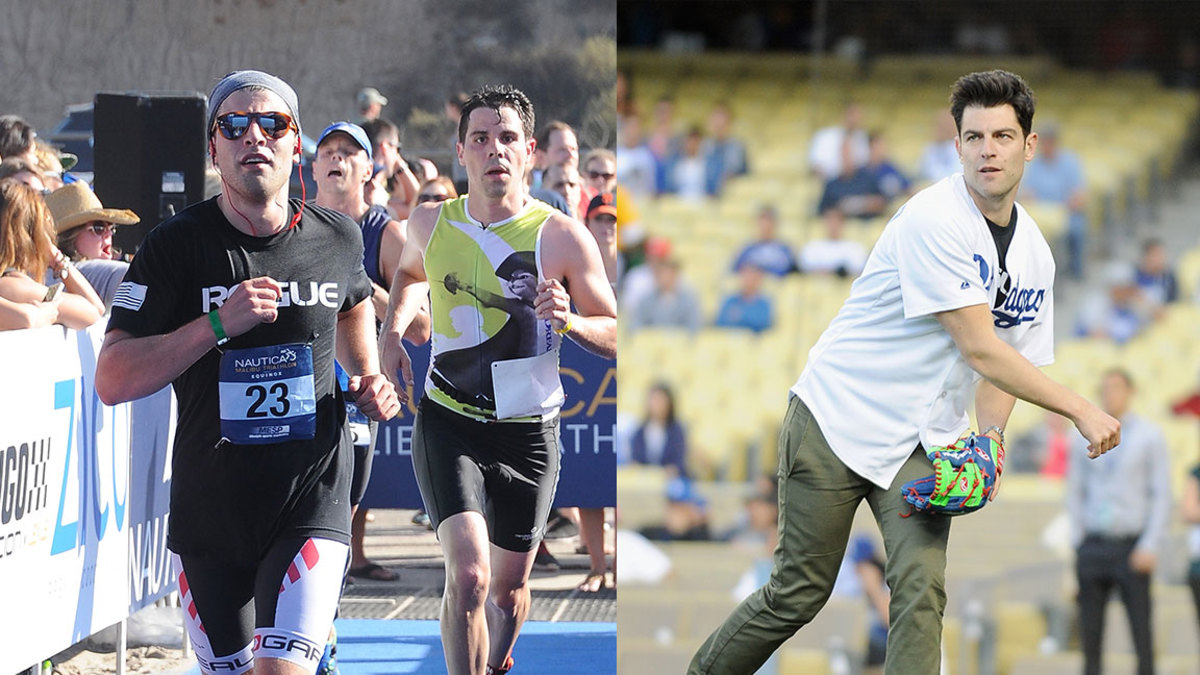 Gunning It
The other thing I've added to my life is the Hypervolt. It's a percussive massage tool that's a total game changer. I have tight IT bands, so after a workout I switch it on, and vrrrmmm—get into those areas with the 'volt. If you stay on top of recovery, you won't get tight after a workout. For me, I have to be agile to move with the kids. I never want to say, "We maxed out on front squats yesterday, and I can't move my ass."
Get Smart
My diet consists of a lot of veg and coffee—no red meat. At the beginning of the year, I tried to eat really clean, but it ended up hurting me. I spent so much time thinking about it, worrying about whether there was something for me to eat, that it was giving me anxiety. I realized I've just got to make smart choices. It's fine to eat a little of something—you'll be OK.
The Music Man
Because I have a lot of stuff going on, I try to keep my head in a good space. I talk to people I trust—or professionals. Last year on my TV show, I had to play guitar for two seconds. I'd never really touched one in my life. Gordy, the head of our prop department, is a phenomenal player and taught me enough for the scene. Now I'm hooked. Learning guitar has been an amazing discovery for me. I'm so bad, but it's a wonderful meditation. If I have a few minutes between scenes or at home, I'm playing shitty guitar and making weird noises. I learned the first three chords of "I Fought the Law" during my son's nap. I've been trying to get my older kid to sing with me. I think she feels we don't sync up stylistically. Really, she thinks her singing is superior to my guitar playing. She's probably not wrong.
Crush Your Goals
I try not to think about the future. So many things have happened to me that I couldn't have possibly anticipated. I've overachieved in ways that have been mind-blowing to me. In the past, any time I've tried to set a goal, or think I'm moving in a certain direction, I have been proved wrong, been taken in a different direction, and have been better for it. The healthiest thing for me is to stay as present as possible. Plus, the landscape changes every day. Look where we were seven or eight years ago. It's like a different world. To focus on something too far ahead when everything around you is changing so much seems really nonproductive to me.
As told to Marjorie Korn.
For access to exclusive gear videos, celebrity interviews, and more, subscribe on YouTube!