Michael B. Jordan is having a big year. After starring as the villain Erik Killmonger in Marvel's megahit Black Panther in February 2018, the actor got back into the ring to play Adonis Creed for the second time in Creed II. The record-breaking success of both films at the box office has pushed Jordan into a new stratosphere as one of the top young actors in Hollywood.
Creed II made over $55 million during Thanksgiving, the most a live-action film has ever garnered during the holiday window, while Black Panther earned over $1.3 billion while breaking numerous box office records.
Jordan was excited to strap on the gloves again in Creed II following the first film, which helped spinoff the Rocky franchise with Jordan as its centerpiece. The sequel also marked an important milestone for Jordan in his career.
"This is the first chance I've ever had to come back and do a sequel to any movie that I've done," Jordan told Men's Journal. "It was exciting to play Adonis again, and I already had built the character and had that locked away in me. So it was special to build on what we already had done, and evolve those relationships with Rocky and the other characters."
Creed II also marked a new challenge for Jordan, as his character would be going head-to-head with Viktor Drago (played by pro boxer Florian Munteanu), the son of the iconic Ivan Drago (Dolph Lundgren), who killed Adonis' father Apollo Creed back in Rocky IV. The blast from the past gave Creed a new target, and it also required some intense training for Jordan, who worked with his longtime trainer Corey Calliet (who shared Jordan's workouts here) to get the physicality he needed for the sequel.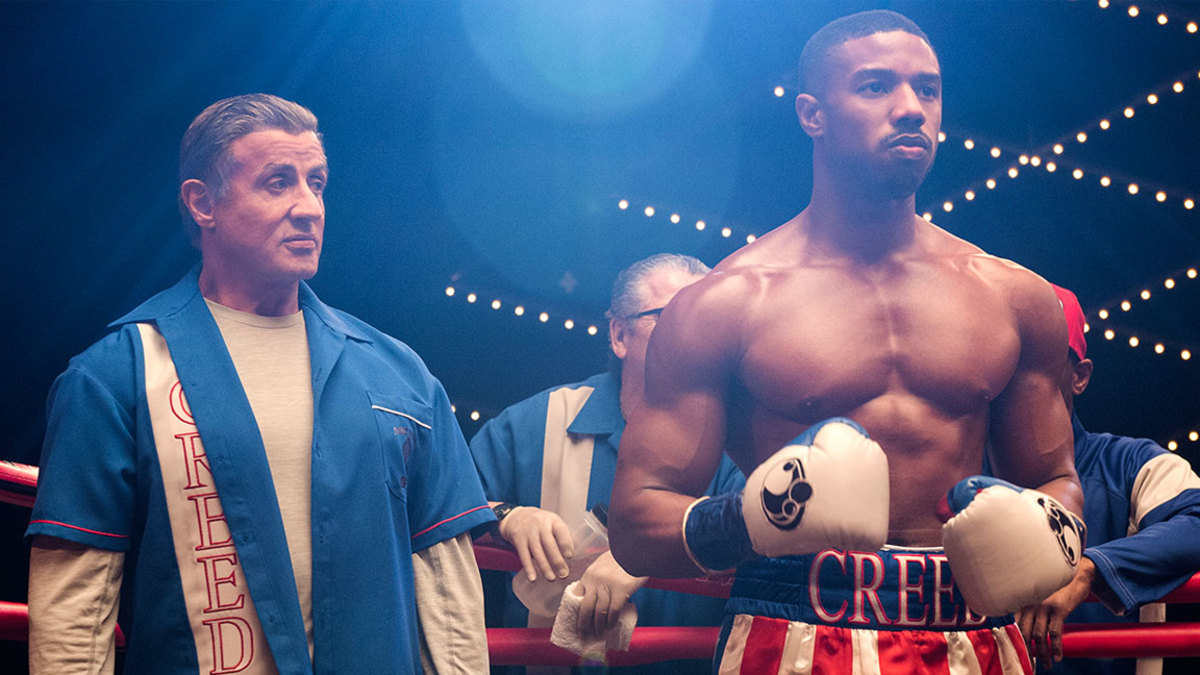 "I wanted to get bigger for this movie. I was looking at Florian, and he's a pretty big guy, and so I was thinking, 'What do I have to work on a bit just to make this a little more fair?' Jordan says with a laugh. "I already kind of laid that foundation down on my body for Black Panther, so I just kind of built on top of that and shredded up a little bit. I basically did them back-to-back."
Following his big 2018, Jordan isn't slowing down. Jordan will play social justice activist and renowned lawyer Bryan Stevenson in the 2020 film Just Mercy, and he's collaborating again with Coogler on the drama Wrong Answer, which will tell the story of the 2006 standardized test cheating scandal in the Atlanta public school system. On top of that, Jordan will portray the iconic Tom Clancy character John Clark in a new action franchise, based on the books Rainbow Six and Without Remorse. Plus, with the box office success of Creed II, it's likely Jordan will be back for a third round as Adonis Creed—although nothing is official yet.
"I'm excited about what's coming next," Jordan says. "I love producing and working that side of the business. Working with great people and helping young actors find great roles. And I'd be excited to play Adonis again for sure."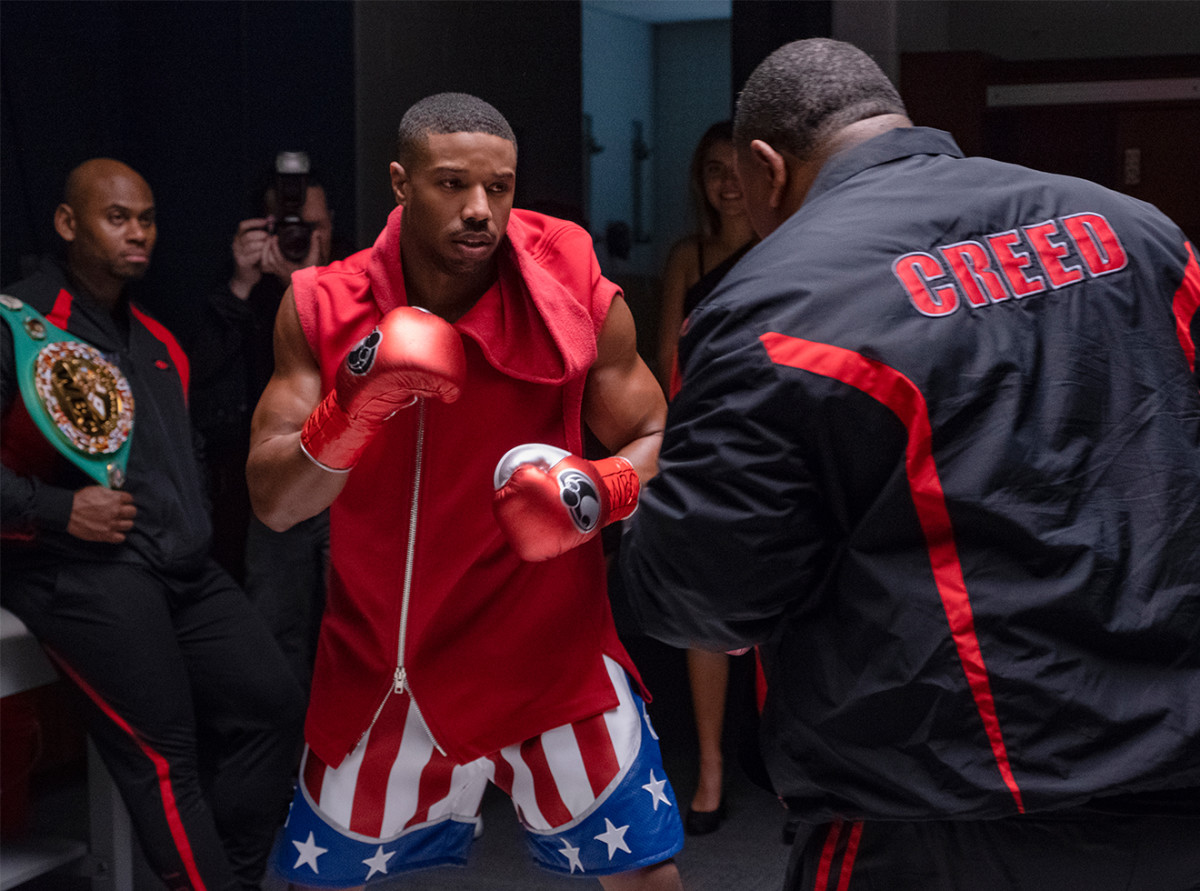 We spoke with Jordan about how he trained to get even bigger for Creed II, taking punches from a pro boxer, and what it's like being in the awards conversation for Black Panther.
Men's Journal: What was your process and inspiration for Adonis in Creed II?
Michael B. Jordan: I really wanted to come back and see him go someplace different. We wanted to give Adonis some challenges. Fatherhood, I'm sure, has its ups and downs for a young father, but he was really looking forward to it, and I feel like it made him mature as a man inside the ring and out.
Fatherhood plays a big role in this movie, with Adonis and Apollo, Ivan Drago and Viktor Drago. How did that impact things?
I think with Adonis, he's had some growing pains and never fully dealt with the death of his father and the way it happened—the way it went down. I think it brings up some bad blood, and it turns into a revenge match at first because he's an emotional guy, and Adonis has a lot of pain. I think we took major strides in the first one, but I think he still hasn't fully healed, so this was his opportunity to do that. I think he found his way.
How else did you train—besides boxing—to prepare for the movie? Was anything different compared to Creed?
Swimming and a lot of work on the bike. I did a lot of pullups and back work. I knew how they'd want to shoot and cover some of those scenes from behind me in the ring, so I wanted my back to look good. I wanted to get bigger for this movie. Basically all that was different was I got older. I think my muscles matured in a way, so this time around it just got better. All the hard work, it was the same amount of hard work and dedication we put into it, it just seems to come off better this time around because I had been through it before and had just built it up.
What's the relationship like among you and the cast?
I think it's a family. For Rocky and Creed, they've been through training, choreography, and a couple fights. You spend that time together. All in all, it's a group effort to make these movies, and we've got really smart actors and actresses who contribute so much to the characters. We all rely on each other to bring something to the table. That's why we get so close.
What's it like being in the ring filming those fight scenes? What do you enjoy most?
It's fun. It's like a competition or game day. You show up, and this is what you've been training for for all these months. You have to make it look good, because you're putting on a show. You have an audience full of 10,000 people, cameras everywhere, and the lights going. You're trying to replicate 'Fight Night' in every take. It's a cool feeling. You feel like a professional fighter. You have your trunks on and the mouthpiece in. Your hands are taped up, your gloves are on, and then you get in the ring. The audience is reacting to what's going on. So when you're taking a punch, the crowd gets loud and you're hearing it. It's getting you amped up, too. It makes you sell it a little harder, or it makes you throw that punch a little harder. There's really nothing to describe it. It's incredible working on those scenes. It feels real.
How did you develop Adonis' fighting style?
There wasn't any one person I tried to pull from. Boxing-wise, we looked at Timothy Bradley, and we looked at Charles "Sweet Pea" Whitaker, who was an older fighter. I tried to emulate their styles and make it into something new and unique for Adonis.
Black Panther has been getting Oscar buzz for Best Picture, along with your performance as Killmonger for Best Supporting Actor. What's that experience been like for you?
Working with Ryan [Coogler] again was amazing. The whole cast, Chadwick [Boseman] and everyone else, worked so hard and put a lot of love into it. It's humbling and exciting to be in the awards conversation. Building that character was tough. He stayed with me a long time and I had some dark, lonely moments with him. But seeing the reaction to the character and the movie has been really special, and it means a lot to be in the mix.
For access to exclusive gear videos, celebrity interviews, and more, subscribe on YouTube!