Michael B. Jordan is back for another round as Adonis Creed in Creed II. The actor got himself into great shape back in 2015 for the first Creed, and this time around he's back to face off against someone with a major connection to his past: Ivan Drago's son Viktor Drago.
Jordan enjoyed the chance to play Creed again, and was excited to see the progression and evolution of the characters from the first movie to the sequel.
"This is the first chance I've ever got to come back and do a sequel to any movie that I've done before," Jordan says. "It was an exciting experience. We're building the characters and the relationshipa—Adonis and Bianca, Adonis and Rocky, Adonis and his daughter."
Jordan has also been working with the Honey Nut Cheerios Good Rewards program, joining actress Lucy Hale and Patriots star Rob Gronkowski as the team captains. Each of the teams is working to collect 'Buzzcoin' and at the end of the contest, the team that earns the most Buzzcoin will win $100,000 for their charity, while the 2nd place winner will receive a $50,000 donation, and the 3rd place winner will receive $25,000. Jordan is working with Feeding America as his charity.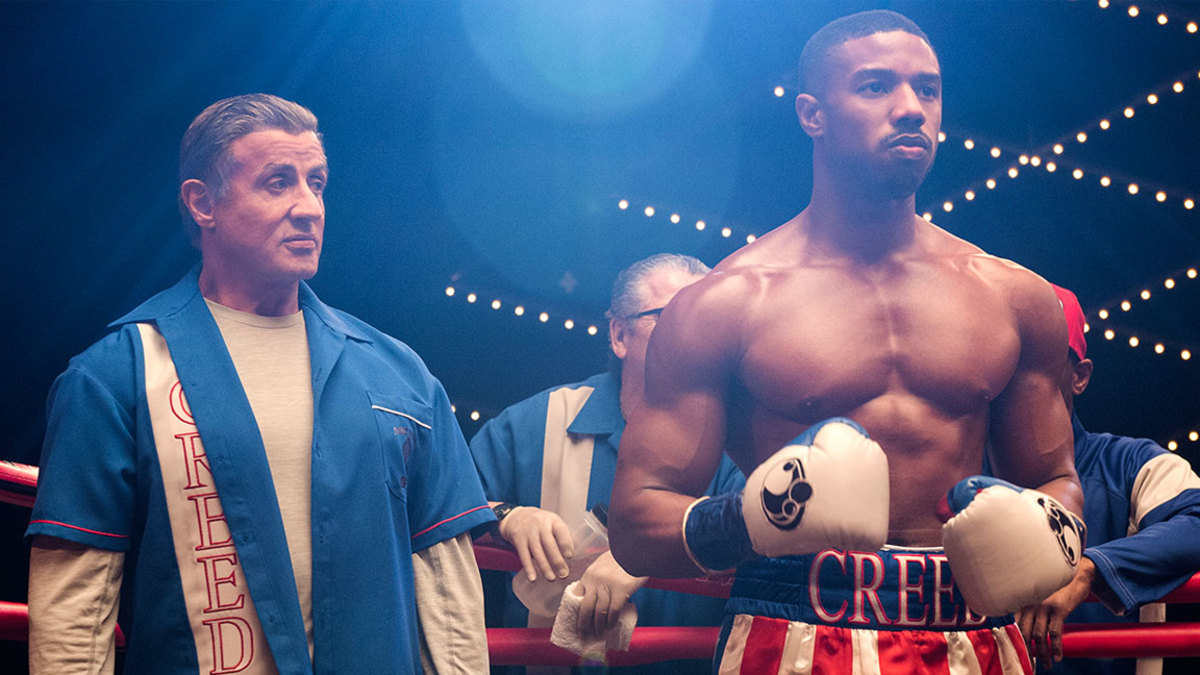 Jordan spoke with Men's Journal about how he trained to play Adonis Creed in Creed 2, working with Sylvester Stallone, and competing with Rob Gronkowski for charity.
You're teamed up with Honey Nut Cheerios for a charity program. Tell us more about working with Honey Nut Cheerios for this program, and who you're competing to raise money for?
Giving back is important for me. For me, the Good Rewards program is the perfect vehicle to me to be able to give back. My dad worked at a food bank, he's been involved in a food bank a lot as I was growing up, so I saw the importance of food and nutrition and just the ability to help people. So, the fact that I could be part of an organization that could help Feeding America potentially get $100,000—which is a big deal—it's important to me. As part of the program, people can scan the Buzzcoin symbol on the box. The goal is to collect Buzzcoins, and if I get the most, I win $100,000 for my charity. And it's fun for everyone too, because people can unlock games and other prizes as part of it.
Participants can also unlock exclusive games and have a chance to win cool prizes like gift cards and tech – or even the grand prize which is $10,000 for themselves and $10,000 for the charity of their choice – just by scanning Buzzcoin for their team. I think we all grew up on Honey Nut Cheerios, that was kind of like my go-to growing up. It all ties back together. It's fun to compete with Gronk and Lucy, and I hope people will check out BeeGoodRewards.com, check out where they can collect buzz coins, and be able to donate towards my team.
You had a screening of 'Creed II' in Newark, your hometown. What was it like to bring that back for you?
It felt great, honestly, to be able to take the work that you travel all over the world for, and be able to take it, bring it back to your hometown where your roots are, where you all started. It feels like everything comes full circle. So, to have the community come out and support me and get that love, it just makes you feel welcomed and loved. It was a good feeling. It again tied back to the food bank and for me it's an important thing and that's why I'm doing it for Feeding America.
What was your process and inspiration for your performance as Adonis in Creed II?
For Adonis, I really wanted to come back and see him go someplace different. We wanted to give Adonis some challenges. This is the first chance I've ever got to come back and do a sequel to any movie that I've done before. So, the fact that I kind of have Adonis locked away in me, I can build on top of that and keep it moving forward. It was a great experience. We're elevating the characters, we're building on those relationships. Adonis and Bianca, Adonis and Rocky, Adonis and his daughter. Fatherhood, I'm sure has its ups and downs and challenges for a young father, but he was really looking forward to it, and I feel like it made him mature as a man inside the ring and out.
Fatherhood and fathers play a big part in this movie, with Adonis and Apollo, Ivan Drago (Dolph Lundgren) and Viktor Drago (Florian Munteanu). For you, how did that impact things?
I think with Adonis, he's had some growing pains and never really fully dealt with the death of his father the way it happened, the way it went down. So, I think it brings up some bad blood, and it turns into a little grudge match, a little revenge match at first. Because he's an emotional guy, and Adonis has a lot of pain. He hasn't really fully healed, yet.I think we took major strides in the first one, but I think he still hasn't fully healed, so this was his opportunity to do that. I think he found his way to it.
What are some of the workouts besides boxing that you did to prepare for the movie?
Swimming, a lot on the bike. Pull-ups, did a lot of pull-ups, little dips. A lot of back work, I wanted my back to be right. I knew how we'd want to shoot and cover some of those scenes, and I also was looking at Florian like, "Okay. What do I have to work on a little bit just to look a little more fair?" Try to look fair, because he's big [laughs].
For access to exclusive gear videos, celebrity interviews, and more, subscribe on YouTube!