It's hour 19 of Michael Strahan's day, and he sits on a folding chair in the bowels of MetLife Stadium, in New Jersey. Strahan never played here; he broke bodies as a New York Giants defensive end at Giants Stadium, about 50 yards away. Stadiums, like football careers, are transitory, and the killing field where Strahan buried Brett Favre and Donovan McNabb is now a parking lot filled with piss-drunk Giants fans tossing errant footballs that bounce off the windshields of their SUVs. Tonight, Strahan receives his Hall of Fame ring in a halftime ceremony that might be the highlight of a desultory Giants season. • Right now all Strahan wants are his shoulder pads. Later there will be interactions with football's loosest cannon, Lawrence Taylor, a bro hug from Matthew McConaughey, and tears from a Bette Midler backup singer, but now there are logistics to conquer. He sits in a windowless office with a Giants official, going over the halftime ceremony, as his 20-year-old son, Michael Jr., waits nearby. The Giants guy explains that Strahan will run through a gauntlet of 35 former Giants, while an animated feature — Strahan as Superman — will play on the JumboTron. When he enters the field, two screaming towers of fireworks will be unleashed.
"Make sure you tell the guys," Strahan says with a grin. "The neighborhoods where some of them come from, they hear the pops and they're going to hit the deck."
Strahan is known to freestyle rap, doesn't mind playing dress-up on TV, and admits that during his years with the Giants, he often talked to his socks about which foot they should go on. He's a little bit of a nut. But tonight he's in jeans and a sweater, a relaxed change from the $2,000 suits he has to wear on the three different TV shows he hosts. He's nervous about what he'll say tonight. More important, though, he thinks he's made a sartorial error.
"Why can't I come out in my Giants outfit?" Strahan asks. "Trust me, I thought about it."
The Giants official's face turns pale.
"You know, we should have thought of that. Now you're making me think that's an amazing idea.
Strahan breaks into his familiar gappy smile.
"A lot of guys don't do it because they couldn't fit in it."
The moment of reflection quickly passes, and Strahan turns to Michael Jr. to discuss some logistics, namely the importance of golf-carting his parents down onto the field as soon as possible. They joke about how slowly Grandpa Strahan moves these days.
"If I ever move that slow, please, please leave me," says Strahan.
His son laughs.
"Yeah, you knock on his door now and you can hear his feet sliding, and it takes forever."
The Giants guy circles back around to one last question.
"So . . . will you run out with your arms up like Superman?
Strahan smiles like a little boy.
"You'll just have to wait and see. I may run home and get my jersey."
(Strahan tackles Eagles quarterback Mike McMahon in Philadelphia in 2005. Photograph by Hunter Martin / NFL Photo Library / Getty Images)
Michael Strahan is the NFL's all-time single-season sack leader and is widely considered one of the top 100 players who ever played the game. This summer he was inducted into the Pro Football Hall of Fame in Canton, Ohio. He now appears on live television more than eight hours a week — Fox NFL Sunday, Good Morning America, and Live with Kelly and Michael — on two coasts and collects checks from three different shows. Roughly 14 million folks a week see him, but he would be the first to tell you that the rush of live television is mere methadone to football's heroin.
"There's nothing you can do to match it," says Strahan, drinking a Moscow Mule at a Manhattan restaurant on a Wednesday about halfway through another week of multiple chitchats. "The sooner you realize it, the better you'll be for it. There's nothing in life you can do. You can go jump out of planes all you want. You're not going to replace it."
Still, Strahan is trying his damnedest: Every hour of his day is choreographed with meetings, workouts, and celeb grip-and-grins. Part of it may be Strahan's love of the spontaneity of live TV, and part of it may be because he feels so good, and that comes as a bit of a shock. Strahan wrote a memoir of sorts in 2007, while he was still playing. The word pain appears 92 times. He wrote frankly about the price football would take on his body: "Ten years from now my wounds won't be honorable, they will just suck."
But it didn't happen that way. With the exception of fingers that bend unnaturally and a back that occasionally flares up, Strahan's body shows little of the shred and tear of 216 NFL games. He's never had to make the choice between pain and painkillers as he feared he would in his book.
"Back then it was OK to think when you're done with football, you're supposed to feel this way," says Strahan, who works out twice a day and no longer puts fast food, a.k.a. "trash," into his body. He weighs about the same as he did during his playing days, but the weight has been redistributed from his gut to his upper body. "But I don't feel pain. It makes me go, 'Why am I the lucky one? How is it possible? What did I do to deserve this?' I don't know if I have survivor's remorse."
Strahan has paid for his fame in other ways. He's twice divorced, with the second one ending in a spectacular tabloid wreck, his finances opened to the world and his ex-wife accusing him of every manly sin short of invading Poland in 1939. He has just ended a five-year engagement to Nicole Murphy, Eddie's ex, with the New York Post reporting he put a tracking device on her car. But in stark contrast to ex-teammate Tiki Barber, whose post-Giants TV career flamed out amid a divorce and ill-timed attacks on his former team, Strahan has flourished, beloved by the Giants and women between the ages of 25 and 54. "I know only three people who have a smile like Michael's, that just changes a room when he enters," says Kelly and Michael co-host Kelly Ripa.
Cynics might suggest Strahan's bicoastal, seven-day-a-week life — Sunday football in L.A., Kelly and Michael from Monday through Friday, and Good Morning America on Tuesdays and Thursdays — indicates he's dancing as fast as he can so that there won't be time to contemplate either his physical or emotional pain. There hasn't been any downtime. He was hired by Fox immediately after retiring and has added shows in the seven years since, like a kid acquiring video games. Even now he's considering a fourth gig, a game show, but he isn't sure if it's a good idea.
"I don't know," Strahan says. "Four things might get me close to jumping the shark."
Ripa is concerned. Years ago she did their syndicated show with original host–grand pooh-bah Regis Philbin while also shooting a sitcom, and remembers how it almost did her in. "He's definitely addicted to work," Ripa tells me. "I worry about it and tell him all the time. But do I think he'll burn out? No. He's good at gauging his own exhaustion level."
That's a good thing, because here's how Strahan's day went before heading out to MetLife Stadium: Sometime after midnight, his private plane crossed into New York City airspace as Strahan returned from Los Angeles, where he co-hosts Fox NFL Sunday. He hit his Manhattan apartment around 3 am and skimmed through his notes for the morning's live broadcast of Kelly and Michael, one of the top-rated morning talk shows in the country. There was a three-hour lie-down, an alarm, a shower, and then a ride to the uptown WABC studio, where the audience comprised tourists, housewives, and a few dozen former New York Giants teammates in town to watch his ring ceremony. The show began with a shout-out to New York City marathoners in the crowd, with Strahan quipping that you don't see a lot of black people in marathons. "If you see me running more than 300 yards, call the cops."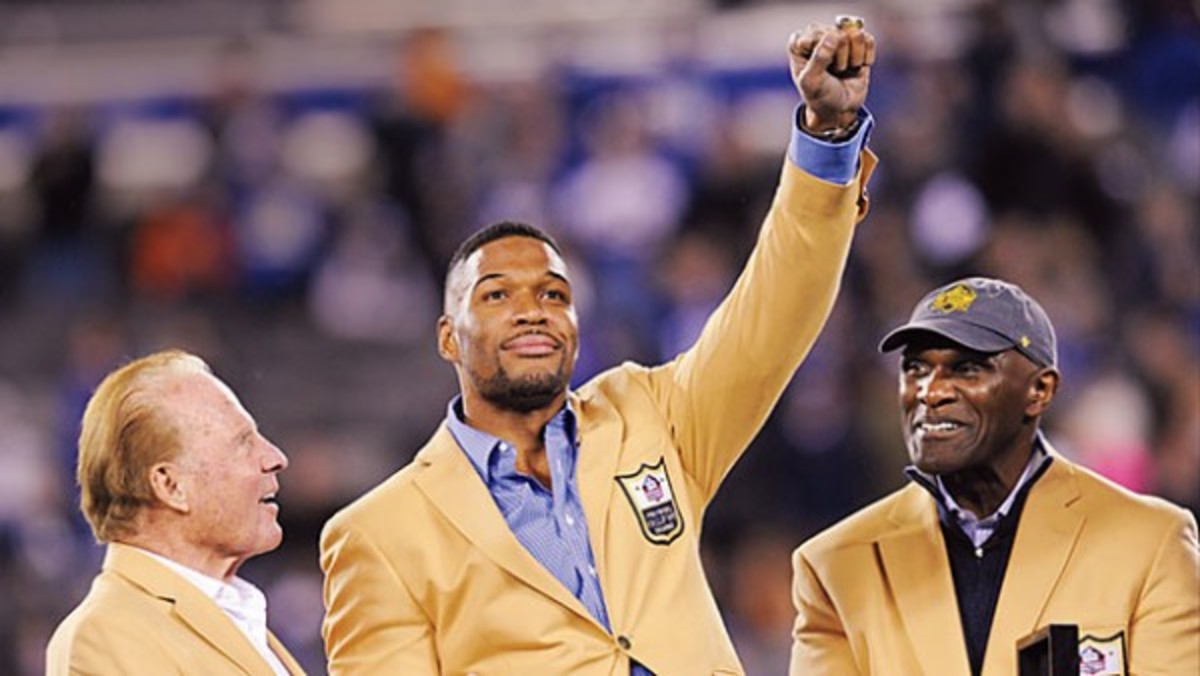 (Receiving his Hall of Fame ring along side Frank Gifford, left, and Harry Carson in New Jersey in November. Bill Kostroun / AP)
In the audience were Strahan's parents, Gene and Louise, in from Houston, and Michael Jr. (He also has a 23-year-old daughter and twin 10-year-old girls.) During a break, Ripa, a comically inappropriate blonde, walked toward Michael Jr. and said, "When I was cute and young, I would have had the worst crush on you." Michael Jr. stared at his shoes, but Ripa didn't stop. "Right now he's saying, 'Dad, make that old lady stop,' " said Ripa with a giggle. Papa Strahan just offered his gap-toothed smile. "Son, you're on your own."
After the show, Strahan posed for pictures, squinting to recognize some of his ex-teammates, some who looked good, some who looked like apparitions decades older than their chronological ages. Strahan spotted former center Brian Williams and started rubbing a scar partially hidden beneath his goatee.
"Remember when you came up with your helmet under my chin strap and split my chin open? How ya doin'?"
Strahan posed for another dozen photos but had to go back to the studio while some of the ex-Giants headed down to Ground Zero to pay their respects. (Many of the guys had played during the tumultuous 2001 season, and Strahan is one of the Giants who had urged then NFL commissioner Paul Tagliabue to cancel games as a tribute to the dead.) Then he did some phone interviews and was forced by his handlers to take a short nap before heading to the stadium.
And here's where the madness really begins. Strahan walks through the tunnel, onto the field, and Giants fans chant, "Michael! Michael!" and beg for signatures on their No. 92 jerseys. In the visitors' end zone, Colts quarterback Andrew Luck and backup Matt Hasselbeck interrupt their warm-ups to come over for hugs. Hasselbeck, who battled with Strahan as a Seattle Seahawk, resumes his throws and shouts over his shoulder, "I still don't feel comfortable with you behind me when I'm trying to pass."
There's no crowd control, and Strahan, 6-foot-5, 240 pounds, is surrounded by a glob of humanity that includes a selfie-seeking Shepard Smith, a lost-looking Frank Gifford, two ruddy-faced Catholic priests, and at least one Make-A-Wish kid.
Then a man gets in Strahan's face — Lawrence Taylor, a.k.a. LT, Strahan's immediate predecessor as a New York Giants crusher of human vertebrae. Taylor is wearing Jesus sandals, poufy black pants, and his gold Hall of Fame blazer, which is sprinkled with cigar ash. Strahan's smile widens with recognition and trepidation as the genial lunatic–sex offender Taylor (he unknowingly slept with an underage prostitute in 2010) brings him in cheek to cheek. Taylor's exact words of congratulations can't be deciphered, but they go something like this: "My man, motherfucker, motherfucking bitch."
Just then, Strahan's friend, fellow Good Morning America host Robin Roberts, appears. Taylor's red eyes light up.
"You look fine," LT tells her. "If I were into women over 30, I'd be into . . . "
There are gasps. Strahan's face goes slack. He tries to remind Taylor there are kids around, and he steps between Taylor and Roberts. But Robin, an out lesbian who has battled cancer, is more than capable of defending herself.
"Well, if I was into men, it wouldn't be you."
Taylor cackles, and the flood of Giants humanity pushes Strahan onward and away from LT. He glances back just for a second, to get a last glimpse of Taylor holding court, maybe thinking of the dark road he didn't take. I ask LT what he could say about his fellow Hall of Famer. "I could tell you a lot of shit, but I won't. I don't know," shouts Taylor, dropping ash on my shoulder. "But he could go, go, go. Every play, go, go, go."
Not much has changed for Strahan. There is little rest, and that's the way he likes it. "I have a hard time sitting still, it's just my nature," Strahan tells me later.
Finally it's halftime. Strahan listens to the cheers and watches the scoreboard presentation. The fireworks go off and a few players flinch, but no one hits the deck. Strahan strikes a Superman pose. The crowd explodes. He sprints out slapping hands and jumps on the podium with fellow Giants Hall of Famers Gifford, Taylor, and the stately Harry Carson. The crowd chants his name, Taylor gives him a hug and whispers something in his ear, and Strahan gives him a "that's nasty" look. But then he smiles the TV smile that conjures impure thoughts in empty-nesters across America. His speech is mostly swallowed up by the 80,000, but everyone can hear him shout, "We are the New York Giants!" at the end as he waves and trots off the field. He hugs his parents, poses for a picture or two, and disappears up the tunnel.
The next day he has only one real regret.
"I should have worn my uniform. Just one last time."
Alas, Michael Strahan is not actually Superman. He left toward the end of the third quarter as his beloved Giants were drawn and quartered 40–24. It was only Monday, after all, and he needed to be on the set of Good Morning America in seven hours, followed by another Kelly and Michael taping.
And there he is, sitting across from the former Clinton senior adviser and current GMA host George Stephanopoulos as tourists gawk through the window of ABC's Times Square studio. Strahan isn't exactly splitting the atom — he's there to intro a couple of soft features and crack some jokes with the panelists — but he's into it.
"It blows my mind," Strahan tells me. "Blows my mind. I'll be there and I'm thinking, 'Oh, my gosh, that is George Stephanopoulos.' And this is when I'm on air." The feeling is mutual. Stephanopoulos, who once plotted American domestic policy, watches highlights of Strahan's Giants ceremony and grins like a fanboy as other GMA personalities wave strahan 92 towels.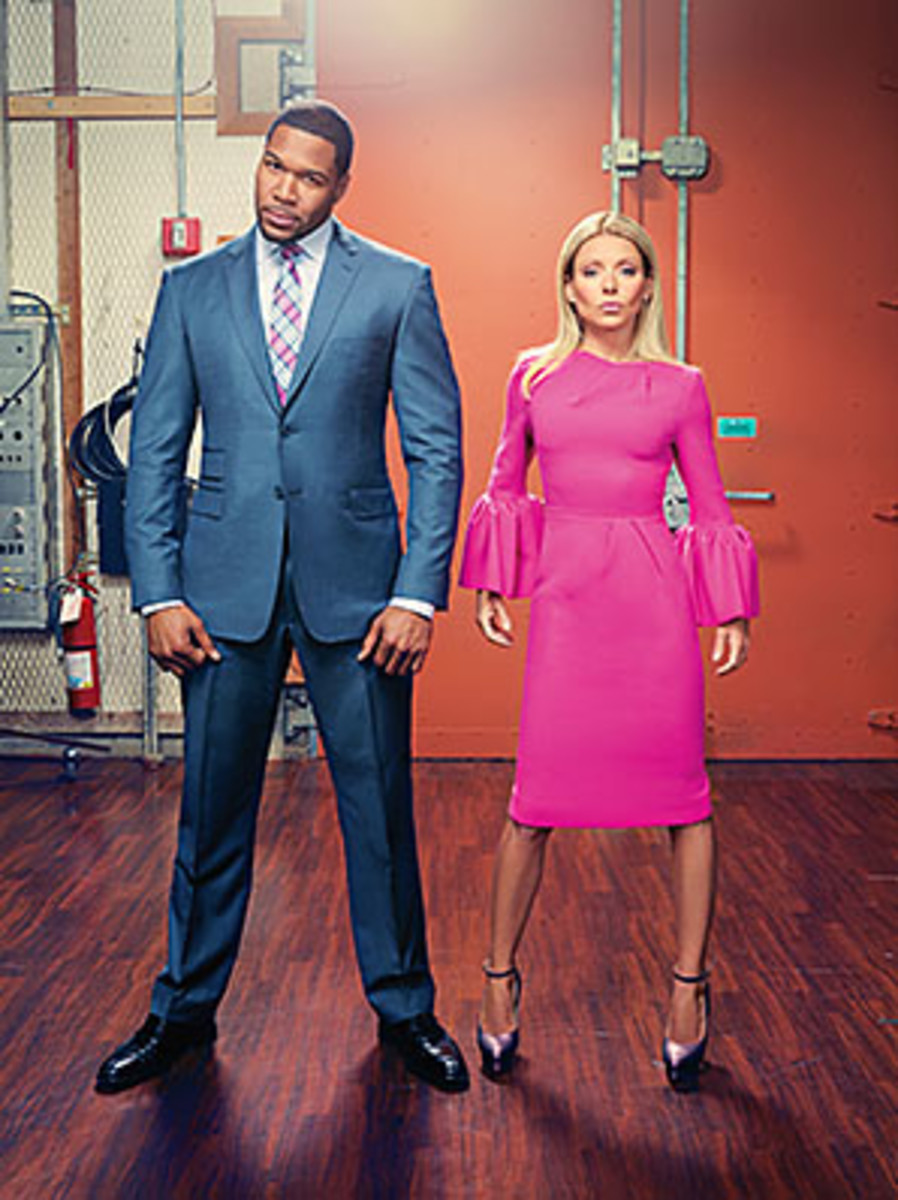 (Strahan hosts top-rated Live with Kelly and Michael with Kelly Ripa five days a week. Photograph by Miller Mobley / Redux)
"It helps to have that extra testosterone," jokes Stephanopoulos, who was the only guy left on the GMA dais until Strahan joined in 2014. "He gives all of us a jolt of energy. He's just so funny and curious and has a different perspective than any of us."
From there it's a quick ride up to the Kelly and Michael studio, and Strahan admits he's a little bushed. But whatever fatigue he has disappears when the day's guest, Matthew McConaughey, who's pushing Interstellar, stops in to congratulate him on last night. The subject quickly changes to Strahan's appearance in a small role he shot as a stripper in the upcoming Magic Mike XXL, the sequel to the original that starred McConaughey. In a way, Magic Mike got Strahan the Kelly job. He was one of 59 guest hosts after Regis Philbin announced his retirement, and even though Strahan had done more than 20 appearances, it wasn't until Magic Mike star Channing Tatum appeared on the show and Strahan did a striptease with tear-away pants — without Ripa's knowledge — that Strahan's position as permanent host was cemented. After the show, he and McConaughey talk about taking off their clothes.
"At first it was scary and humiliating," says Strahan.
McConaughey laughs.
"Yeah," he says, "but after you did that first take, you wanted to go again and again."
Strahan smiles. "Oh, yeah, I wanted to perform."
This is a bit strange, since Strahan insists he grew up a quiet kid. The youngest of six, Strahan was raised in Mannheim, Germany, where his father was stationed as an Army major. His dad had been an enlisted man who got out of the Army to earn his degree and re-entered as an officer, providing a specific example of the rewards of hard work. The Strahans loved Europe, packing up an RV and camping across the Continent and staying in Germany after Major Strahan retired.
It made Michael very adaptable. "I don't get panicked by a situation," says Strahan, speaking of the lessons he learned as an expat. "Nothing really makes me panic. I just adapt. I don't get excited, I just figure it out."
While Strahan played some Pee Wee football in Fort Bragg, North Carolina before the family moved to Germany, he mostly dropped it overseas. As a boy, Strahan kept his mouth shut and endured his siblings' ripping him for his big "booty," so he started working out with his dad and sometimes on his own to Jane Fonda tapes. When he was a high school senior, his father shipped him off to Houston to live with his uncle Arthur, an NFL journeyman, with the hope Strahan might score a scholarship based on his size and quickness. The gambit worked, and he earned a full ride to Texas Southern University, a powerful, historically black college. But he felt out of place in Houston and returned to Germany on Christmas break his freshman year, with no intention of going back.
"I just felt steps behind on everything," remembers Strahan. "I felt I was a step behind on a joke. I was a step behind on what was cool. Everybody had references I never got."
December passed into January, and Strahan's dad started asking his son when he was heading back to Houston. Eventually he told his father he was staying. His dad asked him what he was going to do, and he mumbled something about getting a job. But his dad was persistent.
"But what are you going to do?"
That was a turning point. "That was the first time I realized I had to do things on my own, had to make things happen. No one was going to do it for me."
Strahan returned to Houston, made Black College All-American at Texas Southern, and was drafted in the second round by the Giants in 1993. As he did when he was a boy and in college, he kept quiet initially. But under the tutelage of legendary defensive line coach Earl Leggett, Strahan developed a speed rush never before seen in the game. He spent hours watching film, looking for his opponents' weaknesses. Strahan's confidence grew with each Pro Bowl, and his talks to his teammates and chatter on the field became a staple of NFL Films. One of the most jarring aspects of Strahan's presence as a charismatic TV host is its distance from his on-field bloodlust. Early in his career, he got into a fight with a Giants offensive lineman, ripped off his helmet, and started whaling on him, which is aeons away from what Strahan does now, dressing up as Oprah on Kelly and Michael.
"It's like a version of prison," says Strahan of his initiation into the NFL. "If a guy messes with you one time and gets away with it, you're in trouble. So my rookie year, I got into two or three fights. You just can't back down. I don't care if you were scared or not. I don't care who it was, you don't let anybody disrespect you and you don't back down."
I rarely saw Strahan more gleeful than when he was talking about crushing an opponent. "You hit a quarterback and land on him and hear the breath leave his body or a moan," Strahan says, doing a little bunny hop in his seat. "It makes me so freaking happy. It's awesome. It's animal. It's gladiator. It's you or me. There's no in-between."
Strahan retired in 2008, one of the few players to go out on top, with a Super Bowl victory over the 18–0 New England Patriots, during which he could be heard on the sideline chanting "17–14, 17–14" late in the fourth quarter, exactly predicting the game's final score. Strahan was always a player whose impact was as great in the locker room as it was on the field. A constant refrain in his Hall of Fame speech was never letting his teammates down.
"It's easy to forget what a great football player he was," says fellow Hall of Famer and Fox co-host Howie Long. "It's one aspect of his persona that people don't talk about. It's hard to be a great individual, but to carry along a team emotionally like he did is an extraordinary burden."
Now Strahan works for Fox, and he's become football management of sorts. The rhetoric of his book — the boredom of pointless meetings, the asshole coaches, the needles, and the hurt being so bad he once collapsed on the shower room floor and needed a trainer to help his naked body up — is now burnished into heroic warrior talk. He blames many of the NFL's concussion issues on poor tackling techniques, a.k.a. leading with your head. But even for the concussion sufferers, he proclaims no regrets.
"My friends who've had concussions and other major issues . . . you ask, Would they change anything, and they say no," says Strahan in a quiet voice. "It's hard to explain if you've never done it, especially on a professional level, to know how special it is. It's more than just playing a game. There's camaraderie, the friendships."
Now sometimes he wonders if that was a different person wearing the big 92. (Strahan admitted in his Hall of Fame speech that, as a rookie, he injured his foot doing a sack dance, a buffoonish move he'd probably mock a current player for on Fox.) He insists he's still the quiet kid he used to be back in Germany, but he's just learned to perform on television like he did on the football field.
"I've learned to compartmentalize," says Strahan. "At Fox I have to compartmentalize and think about football and stats. At GMA I have to think more on a different angle than I think on Live, so it's just more compartmentalizing."
The compartmentalizing still stuns him on occasion. At the Hall of Fame celebration, Strahan was talking with former Giant Jason Sehorn about the vicious hits of their former profession.
"Man, I don't know how these guys do it," Strahan told the handsome ex–defensive back. "I see guys get hit, and now in my mind I can't see how I lived to do that." Sehorn looked at Strahan and reminded his old teammate that it was Strahan doing most of the hitting.
There are other, less visceral downsides to Strahan's accelerated life that aren't related to jet lag or fingers that point the wrong way. As LT said, Strahan is all go, go, go. That's hard to explain to his 10-year-old twins. After the McConaughey show, Strahan paces in his small dressing room as he talks on speakerphone with his ex-wife Jean about making a trip to North Carolina to see his girls perform in a talent show.
It would take even more jet time than usual: Fly from New York to North Carolina after Friday's show, spend the day with the girls, and then fly through the night to land in L.A. on Saturday morning to begin prep for Sunday's NFL show. Strahan and Jean have moved past the days when she accused him of everything from beating her to spying on her sister, charges that were never proved. Still, she looms large in his life.
"If you could be in the car and pick them up," Jean says, "that would be a great surprise for them, their dad in the car pool line."
Strahan pauses before responding.
"OK, I'll try and get up there. What time do they get out?"
"At 2:30. They want you to meet their friends so they feel like they have a father like all the other kids."
Strahan grimaces. I can see him biting his tongue and metaphorically counting to 10.
"They know they have a father because every time I come up there, I'm signing things for their friends."
"She's killing me," Strahan tells me later, half laughing. Still, he insists that he's tried to lose the rage from his early divorce days, when the couple's dirty laundry was on display daily on the back pages of the tabloids.
"My ex had a lot to say, and trust me, I wanted to defend myself," says Strahan with a sigh. "But I'm also looking at it two different ways. The most important way was I had kids. I had my two older kids and I had my twins. All of them were young and in school. Everybody knew who her daddy was . . . I don't want them looking at Daddy, asking why he said that about Mom. So I never did that. I just took it. I let her say whatever she wanted to say, and I took it as a man. Now, looking back, it's one of the best things. It taught me to let it roll off my back."
Today Strahan says he's forgiven her. "Of course you've got to forgive, man. I was eating myself up, for what? It took a while, but now I hold no ill will. It is what it is. She acted the way she acted. Maybe she felt justified doing it, and now, as long as we get along and our girls see we have a good relationship, then that's what's important."
He says his kids understand his absences. "They'll be like, 'Daddy, you have to go here? Why do you have to do that?' I'll explain, 'You like toys. How do you get these? You need money. How do you get money? You have to work.' They get it now. They have no problem with it."
Strahan says it like he almost believes it. Now he's single again. The insecurity of an out-of-place military kid is still there.
"For me, with women right now, it's very difficult, because what are they attracted to?" Strahan tells me one day in Manhattan. "I don't know. You may say it's me, but how do I know that? Before, I was just a big gap-toothed football player. Now all of a sudden I'm handsome. Which one is it?"
Sunday at dawn, Michael Strahan is in Los Angeles for gig number three. He is wearing a dapper, checked three-piece suit, looking fresh, as if he has just inhaled two ammonia caps, as he sometimes did as a player to jack himself up before a game. He did make it to North Carolina for his kids' talent show. On Friday he picked them up, met their teachers, and left during recess, so he even dodged the junior autograph-seekers. That night he sat nervously as the MC, the local mayor, took his time announcing his kids.
"I was so nervous and impatient, thinking, 'Just let them sing,' " Strahan says as he sips coffee. "Then they sang that song from The Sound of Music." He pauses for a second, trying to remember the tune. "You know, 'Raindrops on roses and whiskers on kittens.' " He snaps his fingers. " 'My Favorite Things.' They were great." (In a not-shocking coincidence, the performance was turned into fodder for Strahan's TV life, providing the opener to Monday's Live with Kelly and Michael show.)
Not surprisingly, Fox NFL Sunday is Strahan's most comfortable gig. The show itself is an hour-long preview of the organized mayhem to come, but Terry Bradshaw, Howie Long, and Jimmy Johnson have done the show together for two decades — Strahan for the last seven years — and there's a darling, randy band-of-brothers feel to the show. They enjoy one another's company.
The guys film an interview for the TV show Extra with co-host Charissa Thompson that begins with the foursome talking about their private planes. Strahan slips in, "My plane is bigger and has longer range," and everyone titters. The segment moves along to a trivia contest in which the cast is asked to name all the Kardashian women, and Johnson, who often seems lost in his own snow globe of NFL obsession, chimes in like a startled grandpa, "Bruce Jenner." The whole set breaks into naughty laughter. Strahan shoots Johnson a "you so crazy" look.
Afterward, Long strides over to pump up his TV teammate in terms usually reserved for messiahs. "He's a great combination of Will Smith likability and Ali charisma," says Long, another player who made a seamless transition from football hit man to congenial TV guy. He knows how hard Strahan has worked at his transformation. "Guys struggle post-football — you go from here to here," Long says, raising and dropping his hand. "The crowd is gone, the sense of team is gone, what do you do? For Michael, football is something he's proud of, but it doesn't define him, and he's moved on."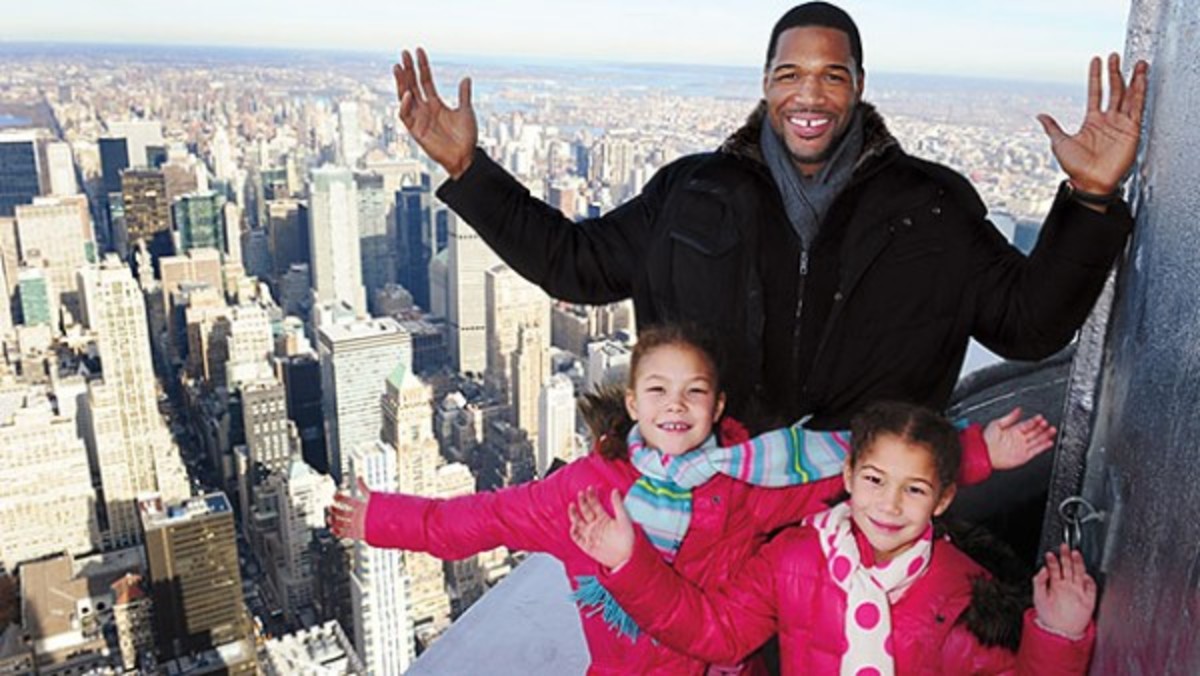 (Strahan with his twin daughters atop the Empire State Building in 2012. Photograph by Brian Smith / Zuma Press)
But Strahan hasn't completely moved on, and that's not a bad thing. As he watches six games live in the studio, I hear a spark in his voice I haven't noticed before: "There goes Calvin Johnson!" he yells at one of the screens on the bank in front of him. "Michael, why did you pick against the Lions? Look, that guy got run down by the Jack! [Footballese for the rushing linebacker.] Where's the safety help? Where's the safety?!"
During a break, I mention that Strahan seems stoked just to watch the games. He looks at me as if to say, "Duh, of course." "I'd be watching these games at home. Everything came out of football. Football will always be my first love," he says.
The more he talks, the more he sounds like a defensive end trying to fire up his teammates. All Michael Strahan is missing is a jersey. But by 4:30 pm the games are over. Strahan changes into jeans and jumps into a car and heads to the airport. By the time the sun rises in the east, it will be time to do it all again. The game never ends.
For access to exclusive gear videos, celebrity interviews, and more, subscribe on YouTube!