Entertainment
How Milo Ventimiglia Keeps His Cool
Oct 22, 2018
THE STAR OF THE HOTTEST show on television lives in the hottest house—circa 1983. Kidding aside, this can't be Milo Ventimiglia's place, right? We expect our stars to live in sleek glass boxes with infinity pools and ocean views. Not in a three-bedroom ranch on a side street in—what is this neighborhood, exactly?—a modest suburb in west Los Angeles.
Ventimiglia bought the house 16 years ago, when he was a young actor fresh off a short-lived WB network series you never saw and a Mountain Dew commercial you probably did. (He wrestled a cheetah.) It's a hot and lazy Sunday afternoon, and Ventimiglia, who just began working on Season 3 of NBC's This Is Us, has returned from a nearby farmers market with a bounty of fresh pasta and heirloom tomatoes. The house is certainly nicer than mine, with a Viking range and a pretty awesome framed photo of the Clash in his office. But still. This Is Us is huge, a prime-time network hit watched by 16 million viewers a week, a massive number by 2018 standards. And much of the success is due to Ventimiglia's star power. Hasn't he thought about moving, maybe spending some of that big network TV money on something less modest?
"I don't know if it's big network TV money," Ventimiglia says with a laugh. The dude is said to make $85,000 an episode, but the cast is reportedly renegotiating right now. And they've got serious leverage: This Is Us is the only network show nominated for a best drama Emmy Award this year, and Ventimiglia is the show's moral center. This Is Us was an out-of-the-box hit in the truest sense: A three-minute trailer for the show did Star Wars traffic when it was posted online in 2016.
When asked why viewers connect so strongly with the show, Ventimiglia talks about family dynamics and how we're all alike despite our differences, blah blah blah. But the show's creator, Dan Fogelman, has another theory: "Milo's nudity." No joke: In the trailer—and in the pilot—Ventimiglia's bare ass is basically the first thing you see.
"My ass actually precedes my face," he tells me. Still, he was nominated for lead actor in a drama series—twice—competing against Ed Harris in Westworld and Jason Bateman from Ozark, among others. Says Ventimiglia, laughing again: "I think my ass got nominated for the Emmy."
IT MUST BE SAID: The dude is built like a Major League prospect, as if his biceps are actively trying to escape from beneath a snug black T-shirt. When he moved to this area in 2002, he fit right in. It was a sleepy, surf community then for people who couldn't afford Santa Monica. Now it's part of a booming tech corridor—Silicon Beach. He actually tried to buy the plot next door but got outbid by a developer paying in cash. "Google, Yahoo, all the tech companies from up north in Silicon Valley are moving down here. And all these kids—younger than us— have money to spend on whatever they think is fucking cool."
He's right. But that's not why I'm laughing. I'm laughing because he basically sounds like Clint Eastwood in Gran Torino, shouting: "Get off my lawn!"
He may not be so grizzled, but at 41, Ventimiglia's already a veteran; he got his start playing the bad boy on Gilmore Girls. The left side of his mouth is famously pinched, due to dead nerves in his lip, but it's the kind of perfect imperfection that made him memorable. And for years he paid his bills playing teenage heartthrobs in leather jackets. He actually got his motorcycle license while filming a TV show called American Dreams because—for insurance purposes—he wasn't allowed to put the lead actress onto the back of a bike without a license. Now he's got three custom Harley-Davidson bikes in his garage plus a classic, mint condition '67 Chevy Chevelle that he rebuilt himself. The car looks like it just came from the showroom. He calls her "Evelyn," maybe because of the vroom her engine made, he said, but really because she just felt like an Evelyn.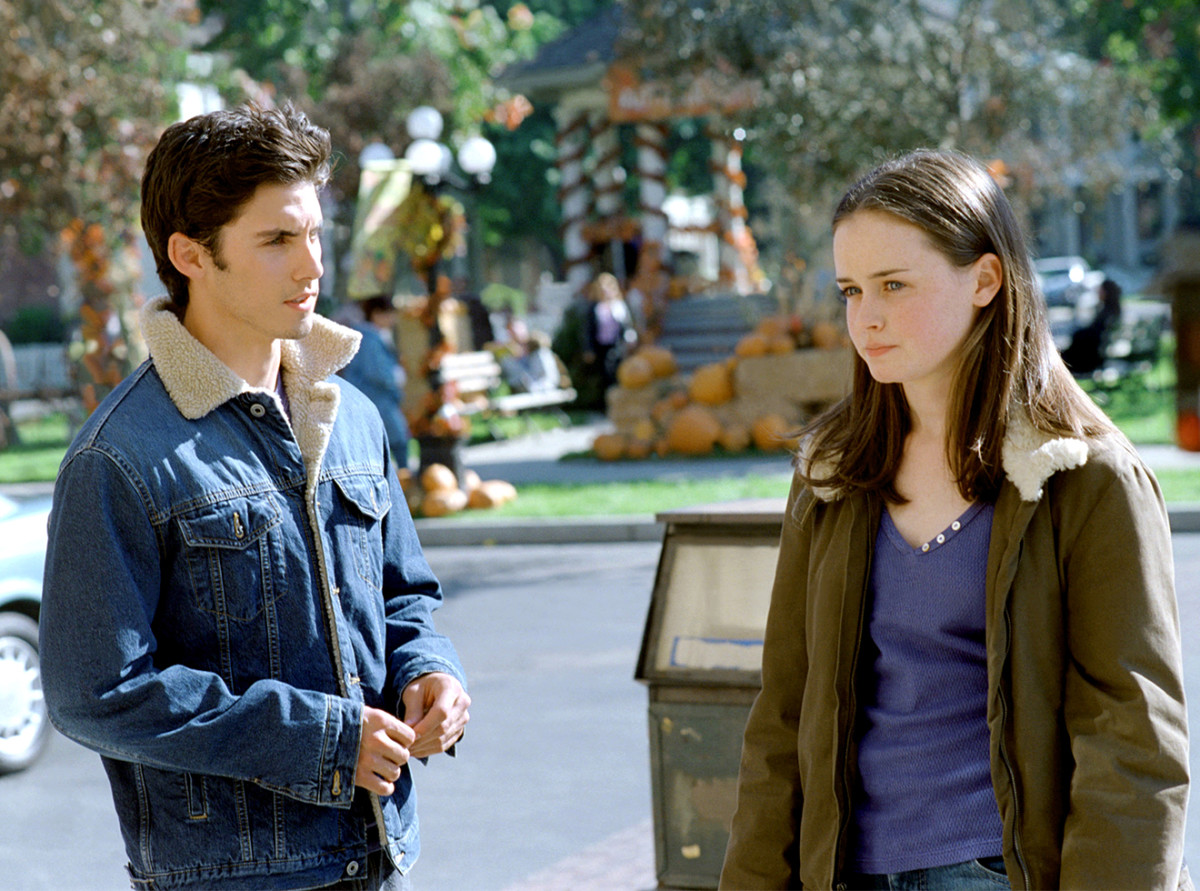 He's telling me this story while he's doing laundry in his garage. In front of our eyes— or our screens anyway—he has seamlessly transitioned from the rebel without a cause to America's Dad, or maybe America's DILF.
This Is Us tells the story of the Pearson family and their three children, and it plays out Rashomon-style, with frequent time jumps from the 1970s to the present day. Ventimiglia plays Jack, a Vietnam vet and dutiful father who isn't afraid to cry, a man struggling with alcohol addiction and marital woes as well as lingering ghosts from an abusive childhood. Jack makes mistakes, but he's also a ride-or-die No. 1 Dad mug carrier, a picture of human decency at a time when Americans are wondering if there are any good men left at all. "I'm a huge fan," says Jennifer Lopez, who stars alongside Ventimiglia in Second Act, a romantic comedy out this fall. "I think it resonates with so many people because it's really a story about family, about love and the things that matter."
That's led some to call This Is Us housewife porn. But Ventimiglia isn't complaining. His main ride is a Harley-Davidson, but there's an Audi SUV sitting in the driveway because, he explains, Audi sent one over. "They were like, 'We want to give you a car for a while. You OK with that?' My friends were like, 'Dude, no way.'"
Ventimiglia comes by his humble, generous bona fides naturally. He grew up outside Anaheim, where his dad worked in the printing business and his mother toiled as a teacher. The family lived 10 minutes from Disneyland, which is where Ventimiglia spent most of his teenage weekends. "Everyone would congregate around Tomorrowland," he says. "There was this dance floor; every hour, a live band would pop up and play covers. That's where you'd go to get in trouble, meet up with girls, things like that. You'd go surfing in the morning and go to Disneyland at night. It wasn't bad, man."
He started acting at a young age, spending summers in class at South Coast Repertory and later studying at the prestigious American Conservatory Theater, in San Francisco. After high school he briefly enrolled at UCLA but dropped out once he started booking jobs. The work wasn't flashy—a bit part in an episode of The Fresh Prince of Bel-Air, a commercial for Chrysler's PT Cruiser. If he wasn't a star yet, he could pay his bills in Venice—you know, the old Venice.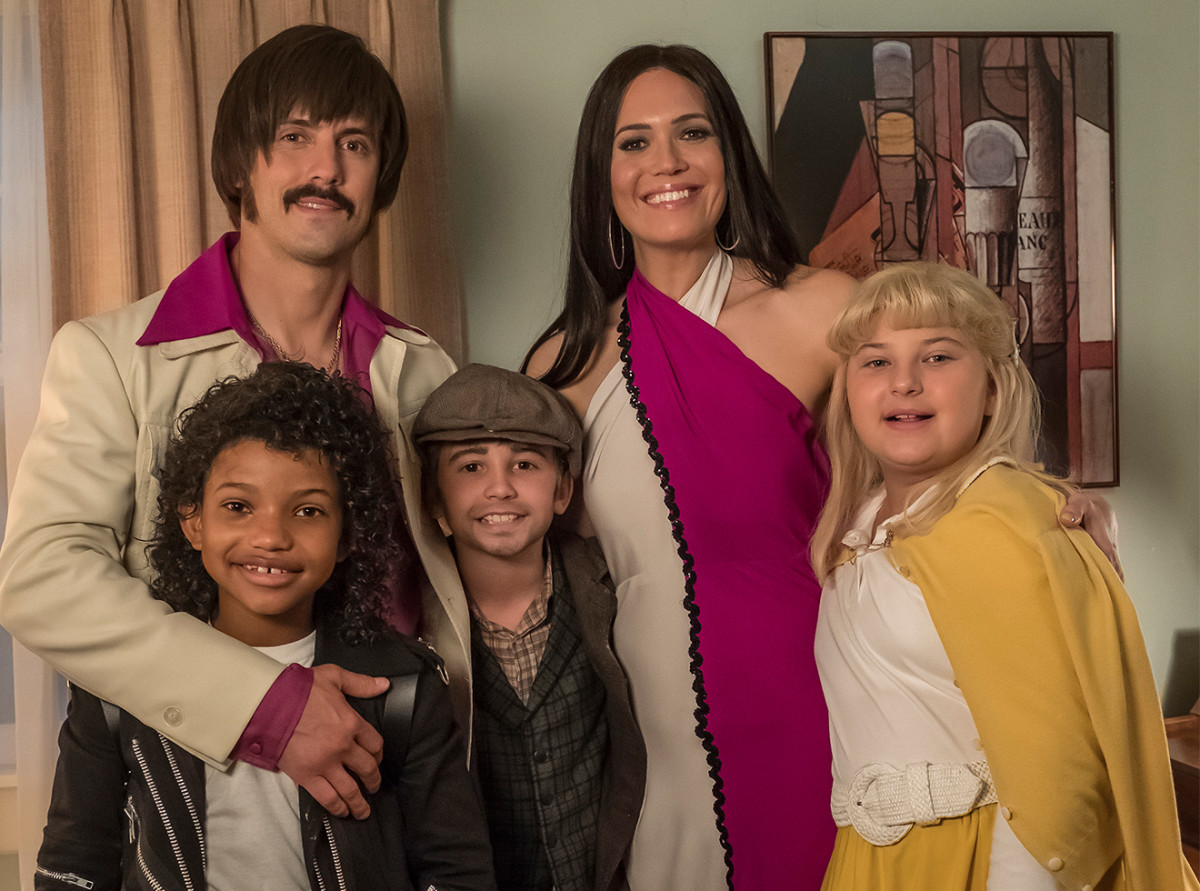 "My neighbors were drug dealers and gangbangers. Do you know the Brig?" he asks, referring to the notorious old-school dive bar where he used to hang out—before the "strollers and whitewashed-wood coffee bars" came to town. "Back in the day, there were two pool tables in the bar, and they had sawdust on the ground to basically mop up the blood at the end of the night from the fights and shit that would go down."
That's where you'd go to get in trouble, meet up with girls. You'd go surfing in the morning and go to Disneyland at night. It wasn't bad, man.
Quaint stories about gentrification aside, what resonates as Ventimiglia speaks—training his patient, empathetic eyes on you—is his sincerity. In a way, it's what made his questing heartthrobs so disarming (in shows like NBC's Heroes) and may explain how This Is Us manages to walk an emotional tightrope that's been doused in slippery tears. Fogelman tells me that he'd initially conceived of Jack Pearson as more of an out-of-shape Everyman, but after meeting Ventimiglia, he was convinced he had to redraw the picture. "Milo showed up wearing a motorcycle jacket, carrying a helmet under his arm, and I immediately knew this was a different version of Jack—this blue-collar, working-class, quiet stud," Fogelman says. "He speaks to an old-school kind of guy who doesn't necessarily wear his emotions on his sleeve. He loves deeply, he loves his family, he lives by a certain code—I think that informs a little bit of Milo and a little bit of the character."
When the show returns this fall, we'll learn more about Jack's past, about his courtship of his wife, Rebecca, played by Mandy Moore, and—more notably—about his time in Vietnam. Ventimiglia pulls a photograph down from the wall and slides it across the table. It's a black-and-white shot of his own father in Vietnam, dressed in uniform, sitting atop his jeep, taken when he was maybe 19. Milo did a deep dive on eBay to find a pair of boots just like his father wore. And when he went to Washington, D.C., to film at the Vietnam Memorial, the first thing he did was find the names in his father's unit—to honor the men who perished so his dad could come home.
"My dad avoided the draft by enlisting in the Army," Ventimiglia says. "He was like, 'I'm probably gonna go anyhow…' He was in Chicago. He went into the Army Corps of Engineers. He was building bridges and bases and roads and helping out in villages. But, you know, all his friends died."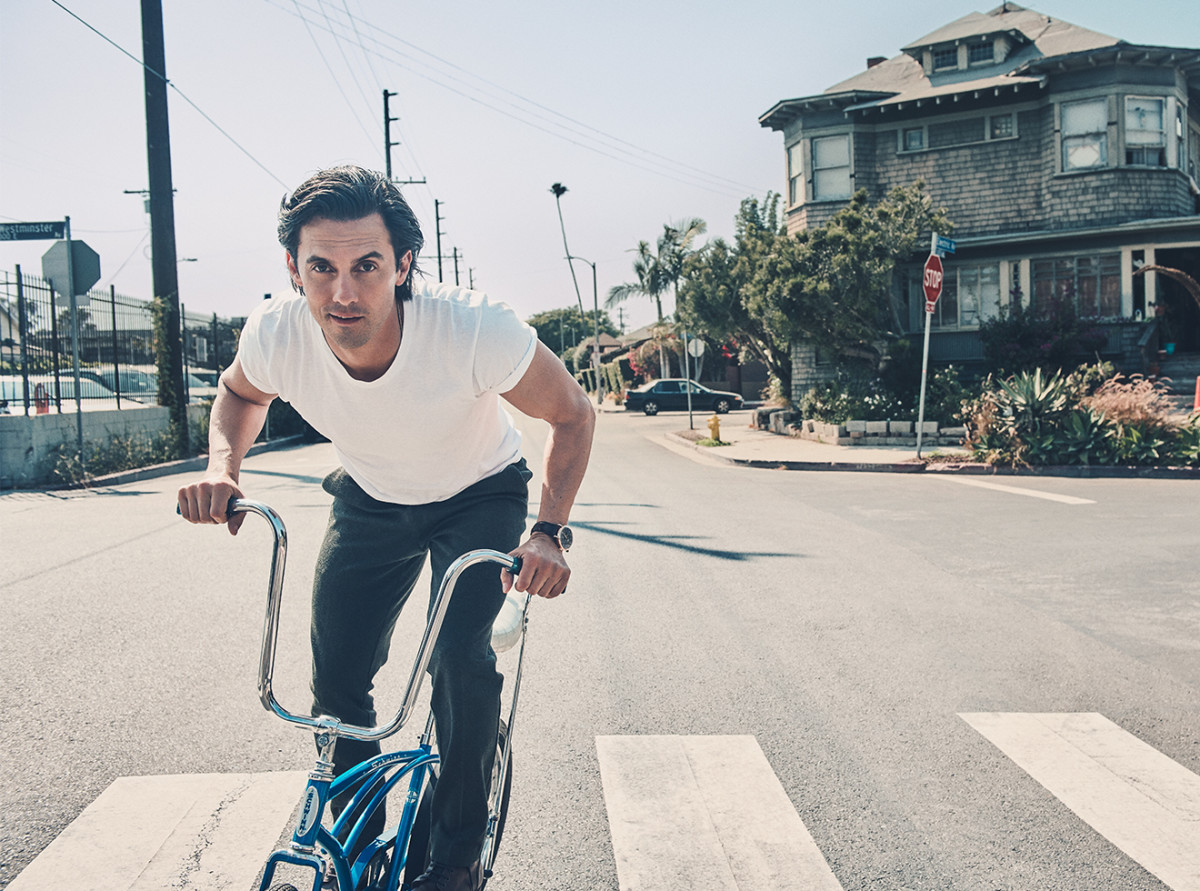 As he tells the story, I'm practically tearing up at his Danish modern kitchen table. I can only imagine what'll happen on screen.
THIS IS WHAT spending time with Milo Ventimiglia is like: The guy is so sincere, so Zen, that it feels like it must be an act. I mean, when this guy calls an Uber, he sits in the front seat! "I don't know why," he says, attempting to explain himself. "I feel weird sitting in the back seat! I feel like, I'm in someone else's car, I should have a conversation with them, thank them for the ride." It's not surprising that he was raised by vegetarians, whom he calls "incredibly decent people," who meditate for more than two hours a day.
Ventimiglia relishes his Everyman status, and if it's sometimes hokey, it's also incredibly charming. He remembers how scorching hot his TV show Heroes was in 2006—and how quickly the viewers fled. In a two-hour conversation about a career that includes working with Nicole Kidman and Sylvester Stallone, he seems proudest of the fact that his friend's kids call him Uncle Donut, because he always brings doughnuts when he comes to visit. The tykes once turned on the TV and screamed for their father to come into the room, because Uncle Donut was somehow on Ellen.
Fogelman isn't surprised to hear about my Tuesdays With Milo experience. Fans are constantly asking him if Ventimiglia is as nice as the character he plays on TV. "Milo is a bit of a superhero guy in real life," Fogelman says. "He rides his motorcycle and he fixes up cars and he's an expert on cameras." Fogelman continues, explaining that Ventimiglia, who is a serious photographer, recently loaned his wife a $10,000 Leica. "We're on vacation," Fogelman says. "I'm brushing my teeth in the bathroom, and I'm hearing Milo from the next room. I'm trying to think, 'What episode is my wife watching?' I come into the room. Milo has made her a series of text videos explaining how to load the film and properly change the exposure levels. This guy is one of the biggest stars on the planet right now and he's sitting there making the equivalent of a YouTube tutorial for my wife."
Milo is a bit of a superhero guy in real life. He rides his motorcycle, he fixes up cars, and he's an expert on cameras.
This fall, Ventimiglia brings that same good-guy energy to Second Act. It's basically an update on Working Girl in which Lopez plays a tough girl from the Bronx who fakes her résumé to land a big corporate job. Ventimiglia is the love interest—an assistant college-baseball coach who just wants to settle down and start a family. In a way, Ventimiglia is the film's ingenue—he exists to look pretty and drive Lopez's story. When I ask if he felt objectified on set, he laughs and says, "Maybe the first day of work when I showed up and they're like, 'So, Milo, you're entering this scene from the shower, your shirt is off…' I went, 'I didn't realize.'"
Lopez remembers that day well. "That's always a stressful thing for actors," she says. "He got whistles from a lot of the women, and even a few of the men, but he handled it like a champ. There is something about him as an actor that feels authentic and grounded."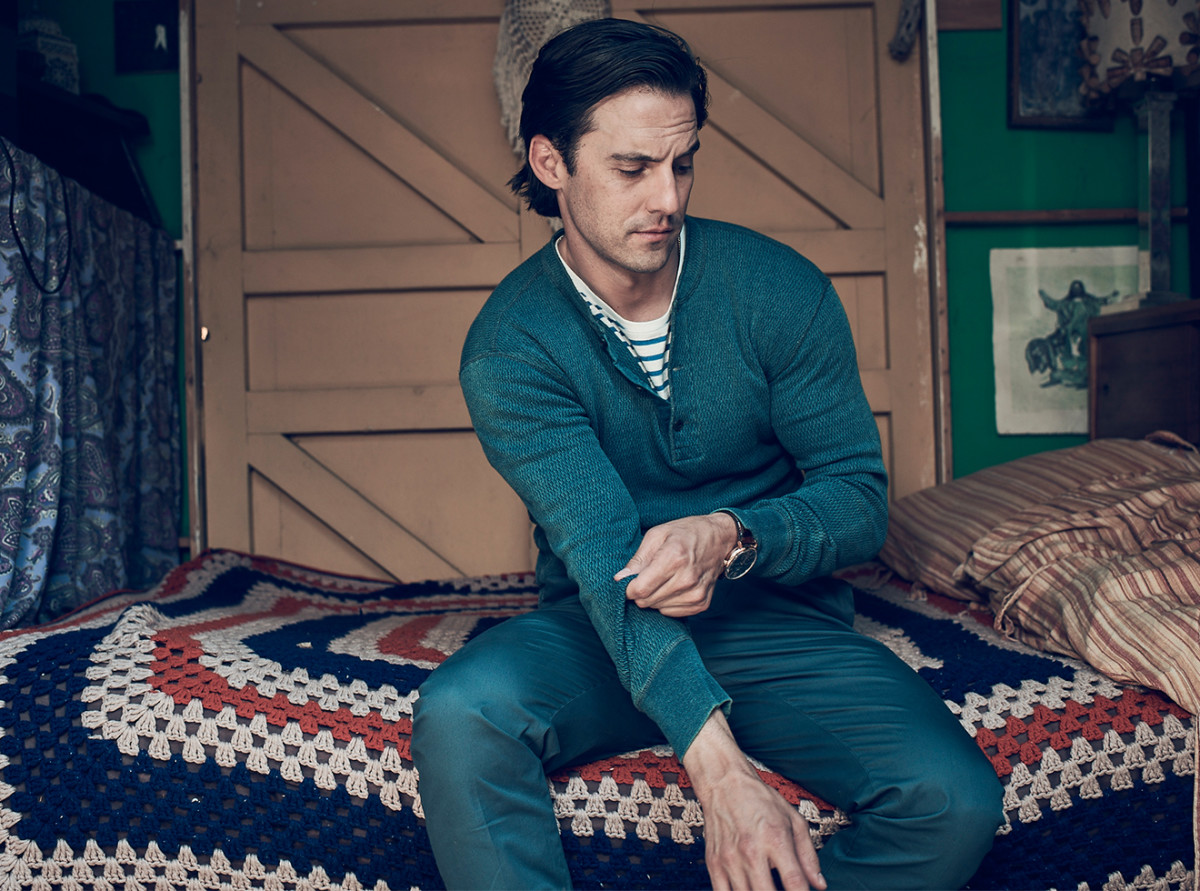 VENTIMIGLIA AND I wrap up our interview—he's looking forward to a rare day of doing nothing at all—and as I take my leave, he offers me some lemons from a tree in his backyard—a tree his father planted shortly after he moved here. It strikes me as a metaphor for his approach to life, a bounty of fruit appearing where so many seeds had been planted years ago. Looking at his neighbor's McMansion, which stares directly down into his backyard, Ventimiglia finally admits he's ready to leave this house. It's not because he's a star, he insists. It's because he wants more space for his bikes. "I bought this house when I was 25," he says. He may have gotten rid of the pool table that once decorated the living room. "But when I walk in," he said, "I'm 25 years old, always."
He got whistles from a lot of the women, and even a few of the men, but he handled it like a champ. There is something about him as an actor that feels authentic.
Time stands still for no one, no matter how deep you breathe. Ventimiglia is 41 now, and from the sound of it, his friends have mostly settled down. He's famously dated co-stars before (Alexis Bledel from Gilmore Girls, Hayden Panettiere from Heroes), which is likely why he won't comment on his personal life today. At the Emmys in 2017, he celebrated with a very beautiful marketing executive for Stella McCartney. When pressed, he will admit that like his character on This Is Us, many people have tried to set him up. "People try," he says, "but I'm OK for now."
He's focused on work, seizing a moment that he knows may eventually cool off. He's got another film in the can—the race car drama The Art of Racing in the Rain—but if he can find a long enough break in his schedule, what he'd really like to do is take one of his motorcycles on an epic road trip. He's already biked from Portland, Oregon, down to L.A. with some buddies. Now he has his sights set on Japan, starting in Hokkaido and making his way 900 miles south to Osaka.
What does he love about riding, I wonder. What does he feel like when he's out on the road? His reply is basically "Zen and the Art of Movie Star Maintenance." "I feel like I'm on the Italian Riviera in one of those old wooden boats, cutting through the water. You don't feel wind, you don't feel anything. It's nice to sit in my helmet, quiet, you know?"
For access to exclusive gear videos, celebrity interviews, and more, subscribe on YouTube!