Entertainment
Norman Reedus Is Not Worrying About Tomorrow
It's the kind of day that makes Los Angeles an advertisement for itself. The sun inches toward the glittering ocean behind a dusting of clouds, and a light breeze stirs the 70-degree air. There couldn't be a better afternoon for a motorcycle ride up the Pacific Coast Highway, through Malibu's twisty canyons, then over the Hollywood Hills. Norman Reedus is painfully aware of this.
"I've got to get on the bike," he says in a tone that suggests he knows full well his schedule will not, in fact, permit him to get on the bike. "It's a beautiful new green Tiger 900. The Mean Green Machine."
He's borrowing the motorcycle while in town, but Reedus already owns a couple of other Tigers. He's also a big Harley-Davidson guy, with a 1946 Knucklehead at his home in Georgia ("My neighbors hate it," he says, "because it's super loud") and a favorite root beer-brown 1987 FXR. (Sorry, Harley purists.)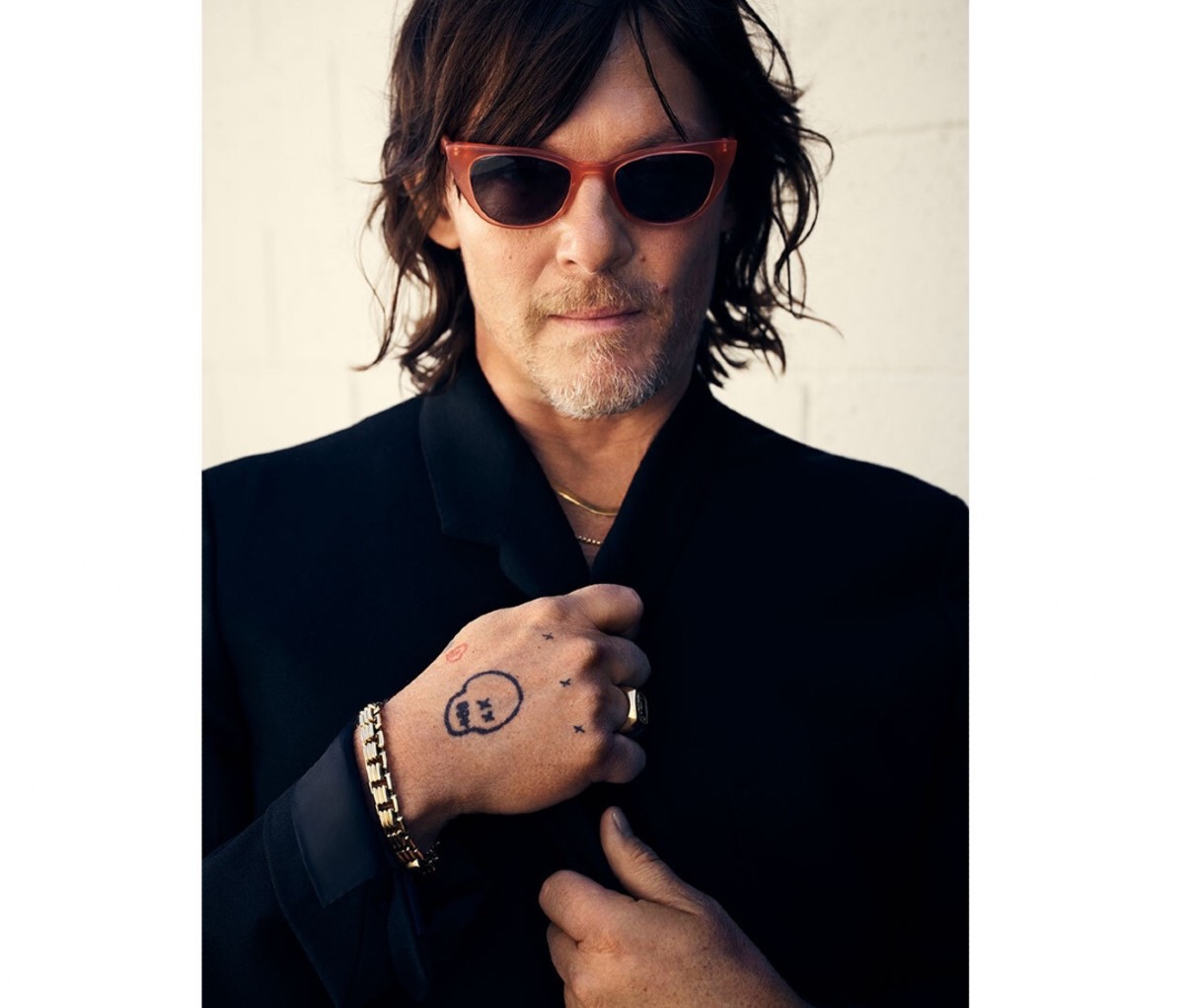 Reedus has just finished filming the final episodes of The Walking Dead, on which he's played the beloved character Daryl Dixon for every one of the show's 11 seasons. Wrapping up a ground-breaking show after more than a decade seemingly would be a logical time for Reedus to take a break and enjoy the fact that he no longer has to spend his summers slaying gore-oozing zombies in the sweltering Georgia woods. His friends, he says, have told him to stop and smell the roses.
Reedus is going in a somewhat different direction. This year he's launching a whiskey brand, expanding his restaurant empire, filming another season of his motorcycle show Ride, publishing his first novel and—why not?—perhaps even getting married. That's all in addition to filming the first season of a Walking Dead spinoff that takes place in a new world that he promises will be far different than what fans are used to.
"I'm not done with Daryl," Reedus says. "Playing him is a dream job—I'd be such an asshole if I decided not to keep doing it."
"We were out in the woods with bug bites all over us. We weren't shooting Succession."
The End Is Near
Though The Walking Dead is based on a long-running and popular comic, the rednecky Daryl character was created specifically for the show. During the first season, Daryl was basically just a tool that writers used to advance the stories of the main characters. But Reedus' soulful performance stole the show, and by the second season Daryl was very much a main character himself. Now, more than a decade later, Daryl is one of only two characters—along with Melissa McBride's Carol Peletier—to have survived all 11 seasons without getting killed, or worse.
And so when, in late March, at the end of a grueling nighttime shoot that came at the end of a grueling year of shooting 30 episodes back-to-back without breaks, Reedus stood in front of hundreds of members of the cast and crew to mark the final production day of the show, he couldn't help but get emotional.
"This is so surreal," he said to the gathered crowd. "Somebody taught me a quote recently: 'Is the juice worth the squeeze?' And The Walking Dead juice has always been worth the squeeze—as perverted as that sounds."
He meant that the rigors of shooting the show, which often required 12- to 14-hour days (and nights), often outdoors and covered in zombie slime, was always worth the reward. For Reedus, that included literal pain—his first season he suffered whiplash from a scene in which he was dragged by his neck. That was the first of many injuries he'd sustain while shooting. He has a sore shoulder and a bum knee. He's had several black eyes. He's needed stitches on his forehead. He literally knocked himself out running through a door. For a time he says he was "popping Advil like they were Tic Tacs."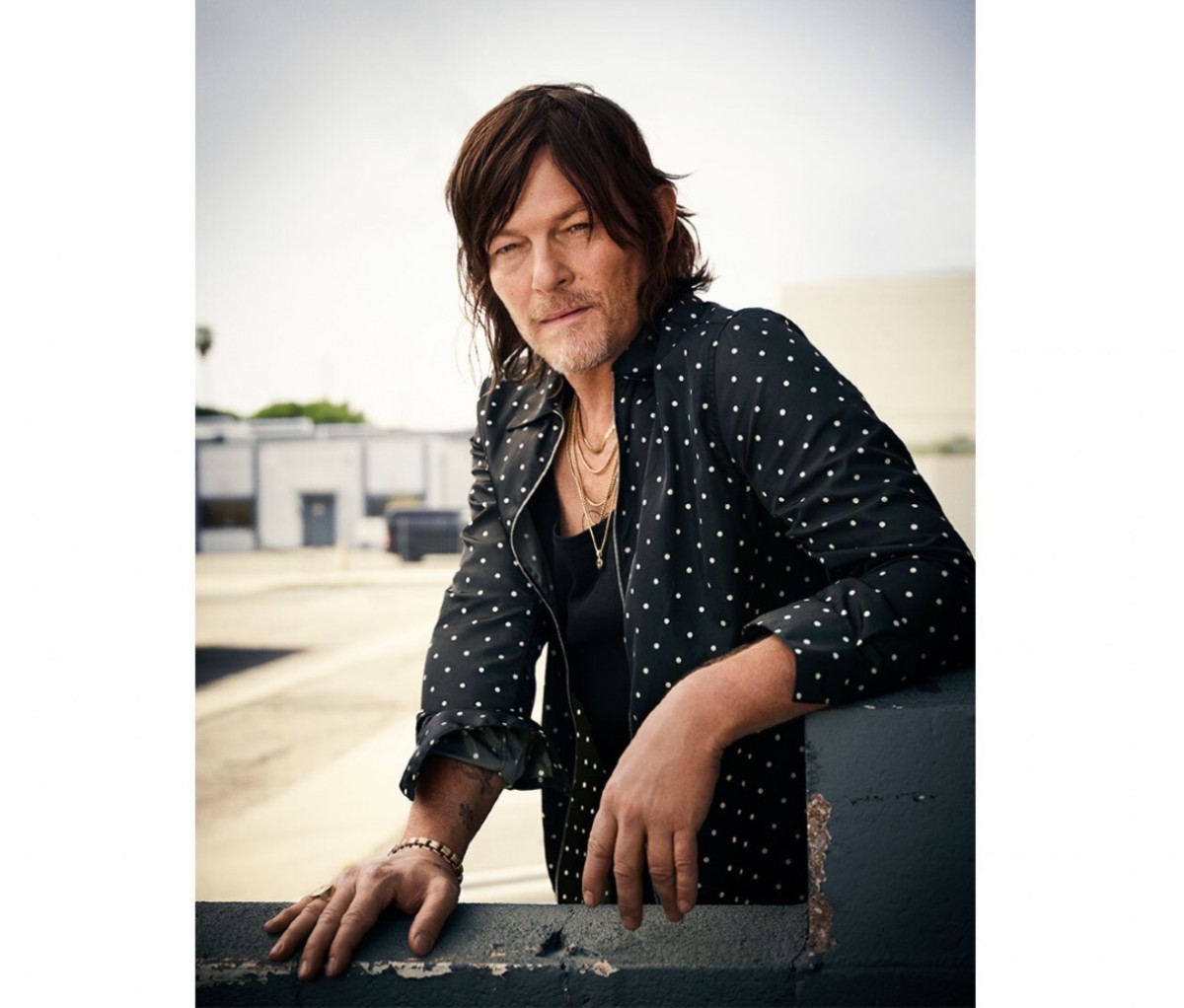 Just weeks before the final season was due to wrap, he fell and suffered a concussion that ended up sending him to the emergency room and shutting down production. Not surprisingly, the one thing he says he'd change if he had it to do all over again? He'd do fewer of his own stunts.
"We weren't shooting Succession," he says. "We weren't drinking champagne and eating lobster on yachts. We were out in the woods sweating with bug bites all over us eating squirrels and possums. It was hard work. The hours are crazy, it's nonstop. But everybody always kept fighting to make the show as good as possible."
The finality of that wrap didn't hit him until he'd left the set. He'd done the country-road drive home for 12 years, often exhausted and thinking only of going to sleep, but this time when he got to the gate in front of his Palmetto, GA, home, he stopped. He doesn't know exactly how long he sat there, but it was a long time.
Reedus isn't done with the Walking Dead universe. He can't say much about the spinoff, he says, in part because he doesn't know many details. He just knows he's excited about continuing Daryl's story, but telling it in a way that's much different than the current show. Because of that difference, he considered cutting his hair to signal the change, since Daryl's scraggly 'do has become somewhat iconic. But when he mentioned the idea to his fiancée, the actress Diane Kruger, she had one word for him: Felicity, the '90s series that dived in popularity after star Keri Russell lopped off her trademark voluminous curls.
"It put fear in me," Reedus admits, only half-joking. He did not cut his hair.
"I always wanted my crew. Being a father is by far the coolest thing I've ever done."
Switching Gears
Reedus is becoming an industry unto himself.
A couple of years ago, he opened the first Nic & Norman's restaurant—co-owner Nic is Walking Dead executive producer Greg Nicotero—in Senoia, GA, where the show filmed. They opened a second location in Chattanooga, TN, and this year a third opened in Lexington, KY.
The restaurants will no doubt pour plenty of Big Bald Head whiskey, which Reedus is releasing this year. (Big Bald Head, also the name of his production company, comes from a line in a song by performance artist Laurie Anderson. Reedus saw one of her shows as a child, and the phrase always stuck with him.) Reedus partnered up with WhistlePig to develop the spirit, all but guaranteeing attention from whiskey nerds.
Anyone sitting at a Nic & Norman's bar, waiting for their table as they sip a Big Bald Head, can pass the time by streaming the new season of his motorcycle travel program Ride, which Reedus is filming—you guessed it—this year. (After shooting an initial episode in Utah, he and his guest riders will head to Europe.) Or by reading Reedus' first novel, The Ravaged, which came out earlier this year. Though the title would be perfect for a postapocalyptic saga, it's not about zombies. Instead the book tells the story of several different people, some running from danger, who converge and "find a sense of family while they're on the move"—not unlike the characters on The Walking Dead.
"There's a lot of me in the book, a lot of my stories," he says. "But I can't help but think I'm drawn to tell stories like this because of the show."
And thus will the Norman Reedus 2022 vertical product integration initiative be complete…unless of course he also ends up playing Ghost Rider in the newest phase of the Marvel Cinematic Universe, something for which fans have been clamoring for years. Reedus exhibits none of the typical evasiveness when Hollywood actors are asked about the possibility of playing certain roles. He's here to rile up the fanboys.
"I would love to be Ghost Rider," he says enthusiastically. "It'd be a dream role."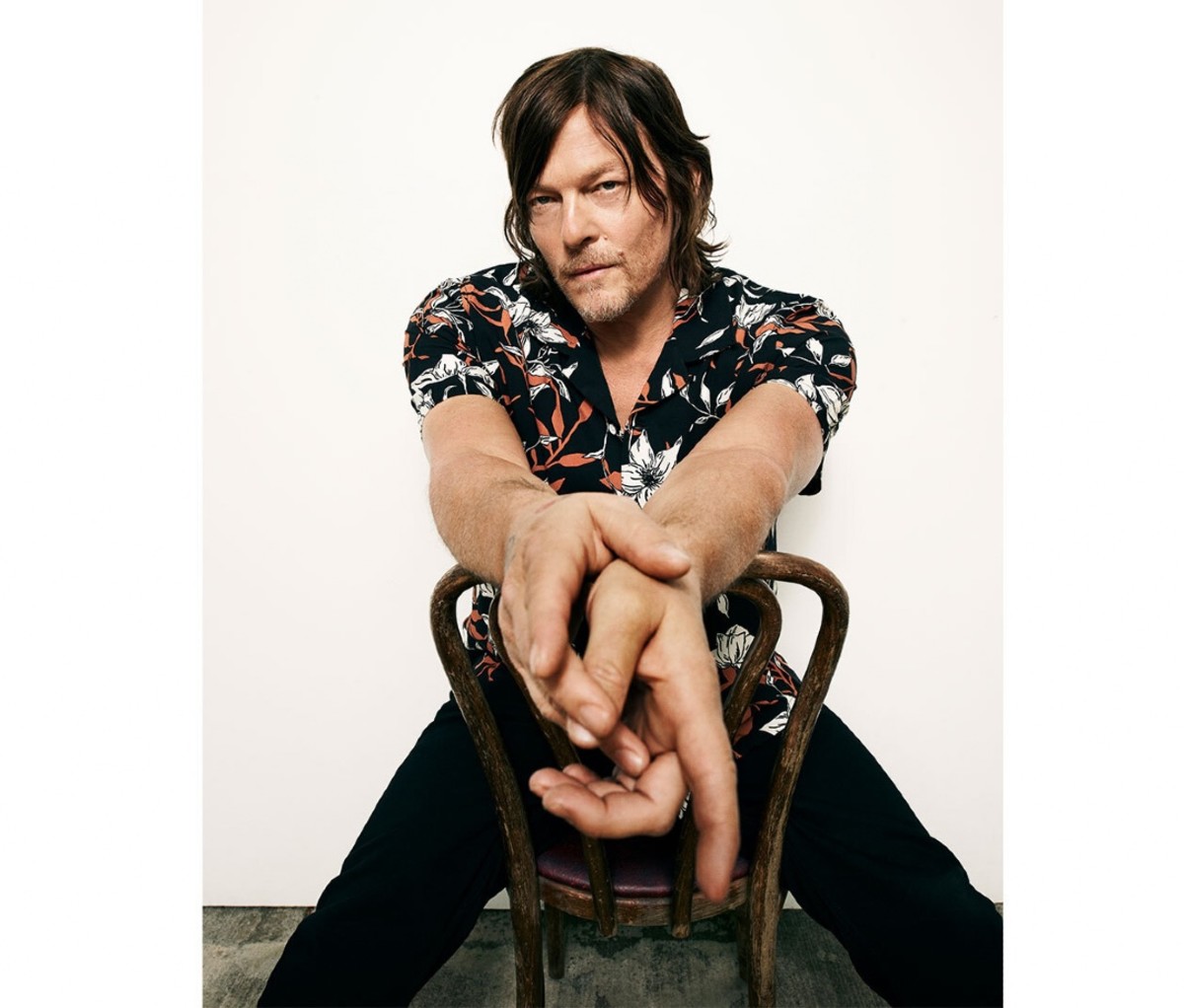 Even if he's announced as the next Ghost Rider, the most momentous thing to happen to Reedus this year may be something very different—marriage. That said, he and Kruger have no date set and are in no particular rush; they've been together since they met filming the 2015 film Sky, and they have a 3-year-old daughter together. (Reedus also has a 22-year-old son, Mingus, who works as a model, following in the footsteps of his mother and Reedus' former partner, Danish supermodel Helena Christensen.)
Reedus had planned to propose during a motorcycle trip from Atlanta to Savannah. As they rode, he kept an eye out for a place to pull over and pop the question, but then a rainstorm broke loose. So instead of proposing, soaking wet, under an overpass, he made the excellent decision to do it some other time and gunned the bike down the highway in an effort to beat the storm.
"I ended up doing it at our home in Georgia with our daughter on my lap," he says. "My daughter starts crying, we're all crying, and she wails, 'Why are we crying?' I tell her they're happy tears, and she's like, 'Yay, they're happy tears!' "
Reedus is relatively tight-lipped about his own childhood. He was born in Florida, and after his parents split up when he was young, he moved around a lot with his mom. When she got remarried to a geochemist whose job required a move to Japan, Reedus, who was in high school at the time, went too.
"I come from kind of a broken family, I bounced around when I was a kid," he says. "I always wanted a family, I always wanted my crew. I love being a father—it's by far the coolest thing I've ever done."
Which is saying something. Reedus had already lived a pretty eventful life when he first appeared on The Walking Dead in his early 40s. Now 53 and with that chapter behind him, he's somehow busier than ever. But as he said, he'd be an asshole not to continue the story of a character so compelling that even after 11 seasons, fans want more.
"I started Daryl," Reedus says. "I want to end him."
For access to exclusive gear videos, celebrity interviews, and more, subscribe on YouTube!