This is sponsored content. Men's Journal is not endorsing the websites or products set forth below.
A tarot reading can change your life. How you respond to the information revealed by these mysterious cards might determine how successfully you handle certain obstacles or opportunities in your life. Even if you don't necessarily believe in tarot, you might be surprised. A tarot reading by a skilled professional can give you thought-provoking insight into your past, present, and future, and help you view things in a totally new light. Plus, it's really fun. 
A tarot reading shouldn't make you feel anxious; it is really quite rare to receive a very ominous reading. For example, some people become frightened if they pull the death card at any point during the reading. However, this card can indicate many things depending on the rest of the reading. It often symbolizes a metamorphosis that includes destroying aspects of yourself that no longer serve your higher purpose. 
So, let's go ahead and unveil our top five most reputable online tarot reading sites. 
We've included some of the best websites providing free tarot card reading sessions to new users in this area. We'll go through what you can anticipate from your online tarot reading and how they may assist you in your particular path. 
Who doesn't like free tarot reading, whether they're new to online tarot card reading or have a lot of experience? Especially in an area as mysterious as tarot, we'd like you to have the opportunity to try out the service before you decide to pay for premium tarot readings. As a result, the list of our terrific five is made up of sites that offer a free online tarot reading before charging anything. 
Best Online Tarot Card Reading Services: Popular Tarot Deck Readers Of 2022
Here are the details reviews of our top picks: 
#1. Purple Garden – 
Best Tarot Reading Platform To Get Live Tarot Cards Sessions
Do you need a spiritual reading because you're contemplating a life-changing choice that will affect your happiness and your family's future? Are you receiving a lot of advice, but none of it seems right? With a tarot reading from a psychic on Purple Garden, you may find the insight you need. Finding a tarot reader with whom you feel most comfortable regarding personal ties and availability is important to developing rapport. Whether you require a dream analysis or a tarot card reading, the site examines each psychic employed, ensuring that you have a positive encounter. 
Purple Garden, a well-known online psychic reading service, is praised for its flawless and high-quality online tarot card readings. Their services are in great demand due to their accuracy. The website's tarot readers provide tarot card readings on any topic you'd like. Aside from answering important life concerns, a tarot online may also tell you what the future has for you, the energy surrounding you, and the areas you can improve yourself. 
Purple Garden helps those seeking a tarot reading in finding a reader who will meet all their unique needs. Those seeking the ideal reader may peruse the various reader profiles and choose the one that best suits their needs.
This may be a more meaningful site for individuals seeking a complete solution or a spiritual connection with their loved ones. After putting in a lot of effort looking for a website that provides genuinely profound psychic readings, we came across this fantastic online reading service. 
Features
Purple Garden tarot online provides customers access to real-time reading services from widely recognized professional tarot readers. Each reader is sorted by area of expertise, be it job advice, relationship guidance, or precise forecasts on any other subject, make it easy to find the right person for the job. Whatever your needs, there is a professional reader on hand.
Their app is designed to be as simple as the website. Additionally, live video and chat readings are available via the app.
Your Android or Apple account is used to top up your account for a tarot card reading. You may have a tarot card reading from your preferred tarot reader or psychic after the money has been successfully deposited. Start conversing with them immediately, or arrange a face-to-face appointment with them through video chat on your phone or laptop for an online tarot card reading.
The site's users enjoy the site's very simple return policy for an online tarot card reading. If you are dissatisfied with your reading, notify them, and they will refund your credits within three days. Just make sure you provide all pertinent information about the session. This should include the psychic's name, the time and date of the tarot reading, and the reason for the refund. 
Depending on how their evaluation of your online tarot card reading, you may get a full or partial refund. You may receive credits or money back. They may take some time to respond, but you should get a satisfactory response if you file your complaint correctly.
Pros
Expert Readers

Informative reader biographies

Tarot readings via chat or video call

Available via browser or app

User-friendly interface
Cons
Does not provide free tarot card reading

The website does not provide additional information on tarot readings
Why We Recommended
If you want a phone app that is both adaptable and colorful, you might choose the well-designed Purple Garden app. You may also use the app to communicate with their staff and learn about new psychic practices. As a result, those who value logic and practicality will find their services appealing. 
=> click here to visit the official website of Purple Garden
#2. Kasamba –
Recommended Psychic Reading Site For Regular Psychic Readings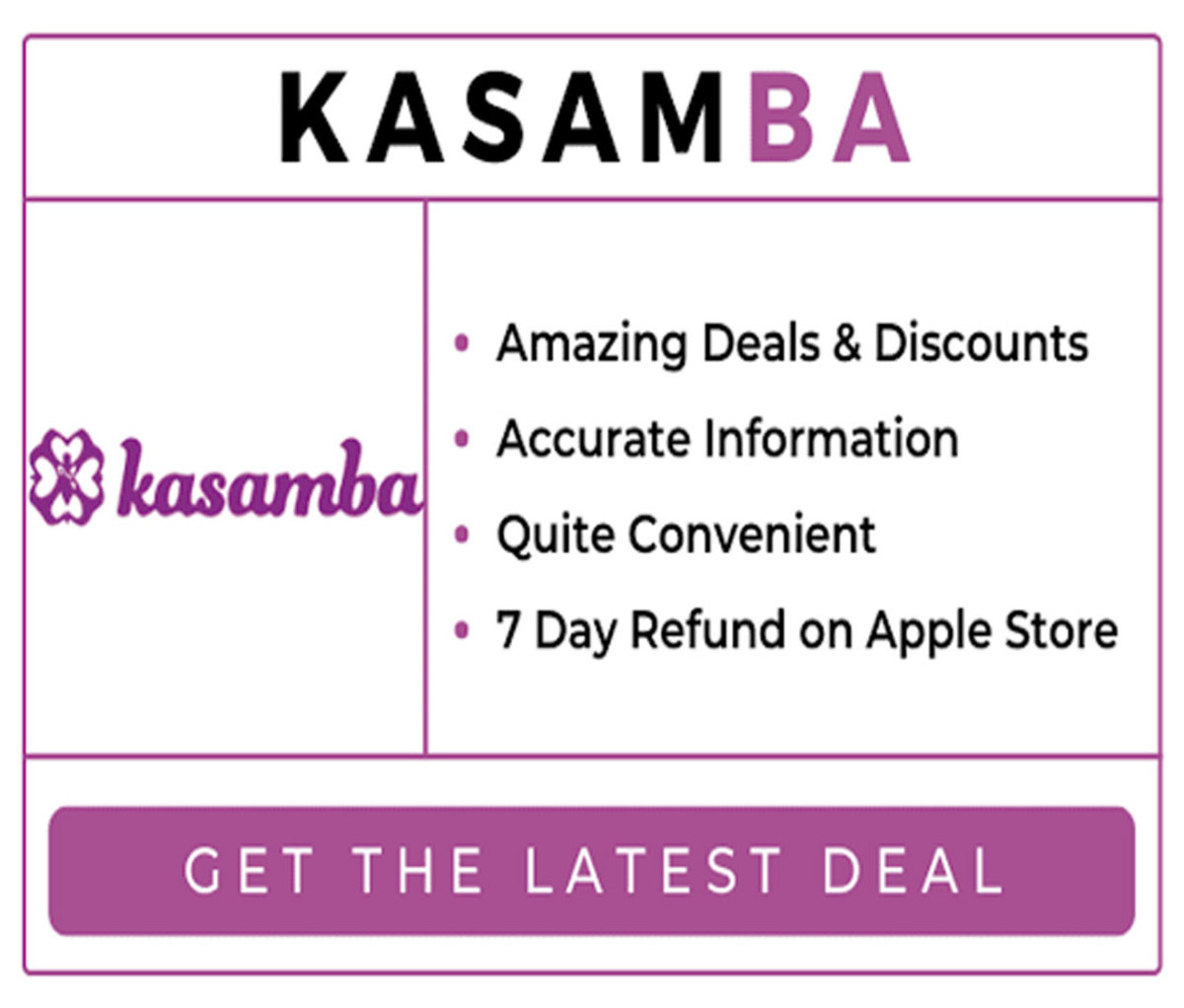 Kasamba provides hundreds of psychics with various expertise, whether you're new to online psychic readings or want to explore your alternatives. These may vary from generic psychic readings to more detailed readings using various techniques such as horoscopes and tarot cards.
Kasamba's free psychic trial offer allows you to identify the greatest psychic readers for free. Unlike other services that restrict free minutes to the first psychic you contact, Kasamba's offer is valid for each new psychic you consult. 
Kasamba's psychics have an inexpensive starting charge of $1.99 per minute. On the other hand, those with greater expertise can get rather costly, costing upwards of $20 per minute. To prevent disappointment, choose a reader that you can afford once the free trial ends. With its satisfaction guarantee, the site instills trust in its readers. If you are displeased with your first psychic reading, you can get a refund of up to $50. 
Kasamba psychic reading services can help if you tend to find love in all the wrong places. Online tarot card readings may assist if you're wary of swiping right just to wind up with Mr. or Ms. Wrong. Because the psychic reading site has been operating for a long time, it has readers with a lot of expertise in dealing with any customer needs, especially when it comes to romantic relationships.
Use the card information to evaluate if you should stay with your present partner, whether love is in your future, who you may eventually marry, and other relationship advice. Sure, your friends may provide helpful counsel, but a Kasamba tarot card reading can help you discover much more. 
Features
Kasamba has legacy tarot readers with over 23,000 five-star evaluations who work through chat, phone, and email. Clients characterize their approach as "caring" and "optimistic." 
Kasamba also boasts love specialists who offer online tarot readings as chat or phone readings. Many customers describe them as providing "genuine honest answers" in an impartial manner. Their approximately 15,000 five-star reviews back this up.
Psychic readings via chat, phone, and email. Intuitive Advisors offer honest online readings using angel and tarot cards. Additionally, they offer cartomancy, which are readings using cards. Customers describe the readings they receive as "intelligent," "kind," and "insightful." The 8,700+ reviews have an average rating of five stars.
Pros
Interface is simple to use

Detailed psychic profiles

Legitimate online tarot reading

Free trial minutes

Good variety

The oldest and most reputable reading resource on the internet

Seasoned tarot readers
Cons
Somewhat pricey

Frequent glitches

Calls and video chats are unavailable for desktop
Why We Recommended
As seen by its extensive range of services, this platform is deeply invested in the demands of its users. Also, given their emphasis on openness and kind, intelligent counsel, it's no surprise how often their users sing their praises.
=> click here to visit the official website of Kasamba
#3. MysticSense –
Popular Tarot Deck Readers For Life Guidance
MysticSense is a new website where you may contact psychics with a variety of specialties. Founded in 2020, MysticSense sets itself apart by offering spiritual guidance via video chat, which is wonderful.
This online tarot reading service also has a sizable social media following. So, you can also discover more about MysticSense on their social media platforms.
MysticSense's website also contains the most extensive informative material available. You'll find anything from writing about tarot cards to mediums to crystals.
So, if you're looking for solutions to a particular query, MysticSense is just what you're looking for. Despite being a relatively new psychic website, it has swiftly established its name and reputation. MysticSense distinguishes itself from other platforms by giving a website that is simpler to use, as compared to other websites that include a lot of information that might be confusing.
This website is a wonderful choice for anyone learning about psychic readings for the first time, offering a roster of roughly 500 psychic readers. What's more noteworthy about MysticSense is that it avoids broad categories such as "careers and paths," instead of touching on individual difficulties. It's simple to come up with the topic you'd like most to talk about with your reader.
Features
The website employs several communication strategies to assist reading sessions. Most psychics prefer to communicate with their clientele over calls or through chat. The client, on the other hand, has complete control over the communication channel utilized for the reading. This service also enables you to conduct video conversations with the reader, allowing you to communicate with them more intimately.
If dissatisfied with the results and reading, you have 48 hours to seek a refund. You won't lose a dime of your money if you're displeased with the outcomes. However, you will not be able to get a refund if you have already paid for your psychic reading. 
MysticSense customers may quickly and easily discover readings using several filtering options. A big benefit is being able to find readers depending on their position, abilities, availability, and tools. You don't need to search through every category to get the results you want.
All you have to do is choose a search engine that meets your needs. This way, you can easily identify psychics that specialize in a certain subject, such as "grief counseling". Even tarot beginners will find MysticSense easy to use.
Pros
Large number of highly trained, motivated, and authentic tarot readers on staff who are dedicated to offering unmatched personal service

Professional and experienced readers

First five minutes are completely free

Affordable prices and superb value for money

Predictions and advice for love and relationships are both hopeful and accurate
Cons
No informative reading or blog available

No mobile app
Why We Recommended
They have mediums from all types of mediums as well as a mobile app that gives great deals to new customers. Kasamba stays ahead of the curve by providing quality and honesty in their services.
=> click here to visit the official website of Mysticsense
#4. Keen –
Renowned Tarot Card Readers For Spiritual Readings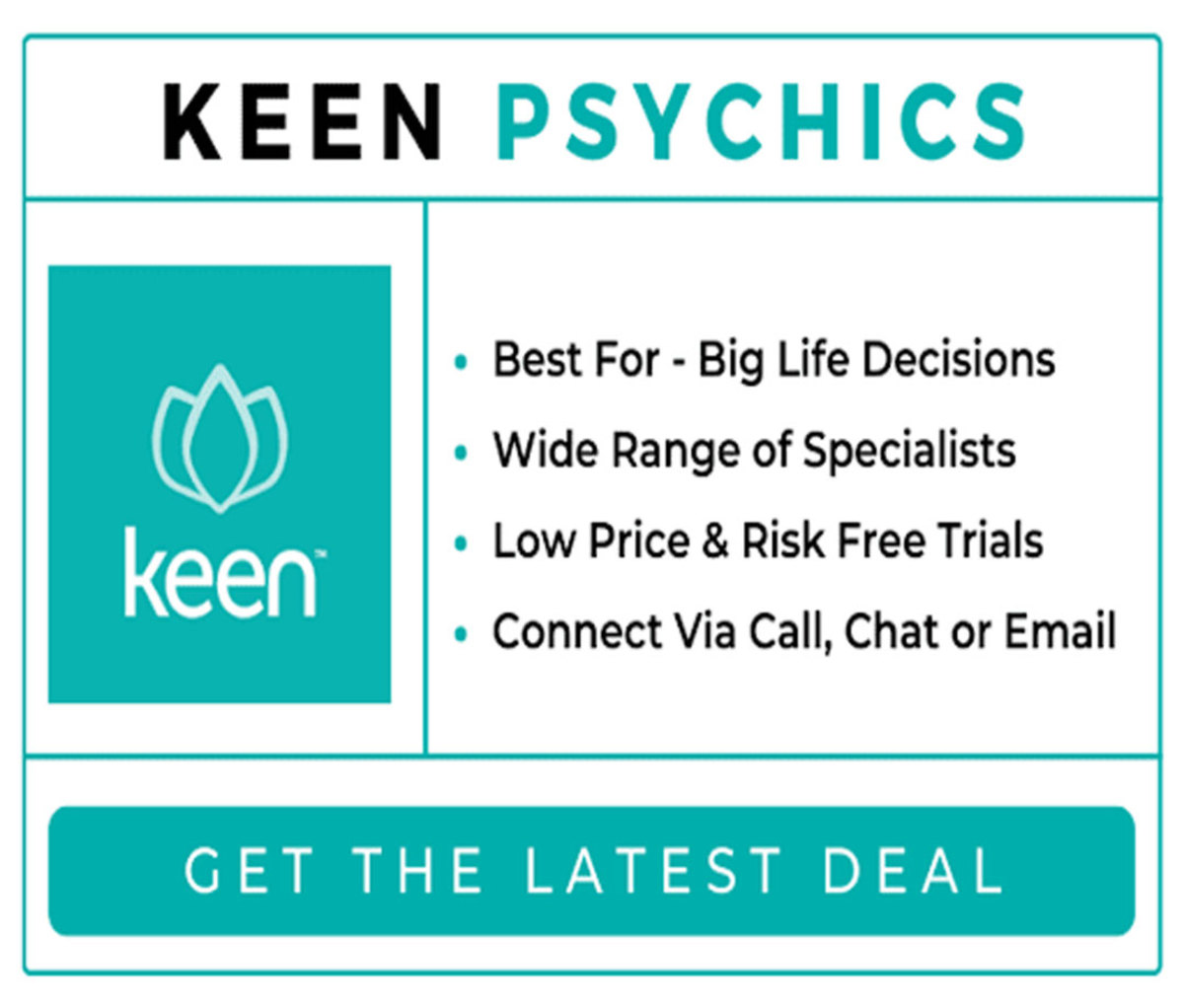 With over 20 years of experience, Keen has some of the best online tarot card readings on the internet. Keen also has an Android and iOS app, making it all the more convenient.
You'll also like that Keen is active on social media sites like Instagram, Twitter, and Facebook. Don't forget to register on this online tarot reading site since you can access free reading and horoscopes daily.
Keen has the most specialists when browsing for a psychic that employs astrology readings. They have several gifted psychic readers specializing in Mayan, Chinese, and Vedic astrology as well as many others. Their specialists can conduct general astrological readings as well as detailed, individual-specific analyses. 
You can also read numerous free publications and informative articles on the Keen website. Their horoscopes are found quite useful. They not only offer daily readings for each zodiac sign, but they also provide monthly and annual forecasts. Keen gives new consumers three free minutes, a standard practice among psychic websites. However, you'll need to pay to continue once your free tarot reading minutes are up.
Although Keen's initial fees are reasonable, you should expect to pay upwards of $9.99 per minute for their more popular and experienced tarot readers. Remember that the complimentary minutes are only applicable for the first psychic you contact, and won't transfer over to other psychics.
Features
On Keen, there are roughly 60 tarot readers to pick from, so you'll have many options. Areas of specialization for these Keen psychics include spirituality, work, and relationships. 
The average tarot reader on Keen has over 40 years of expertise, making them extremely dependable and trustworthy.
On Keen, a tarot reading consultation might cost anything from $1.99 – to $49.99 per minute. You can pay for a tarot reading consultation with PayPal, credit or debit cards, and gift cards. 
Some of the most well-known Keen psychics are quite expensive, but they are the go-to psychics for an accurate reading and are experts in their field. Keen also takes refund claims, so don't hesitate to contact the helpful customer service staff if you experience any issues. 
For your initial appointment, every expert on Keen gives you three minutes for free, a common practice. As a first-time user, you receive 10 minutes for $1.99 if you opt to consult a tarot reader over the phone. 
You may phone or chat with a tarot reading on Keen. However, video conversations are not accessible. If you prefer, a few tarot readers on Keen allow consultations by mail.
Keen's website is easy to navigate, even for first-time users, and the platform's registration process is simple. You may also sort your favorite tarot readers according to their reviews, talents, availability, specialty, and pricing.
One of Keen's most prominent characteristics is its customer service, which is accessible 24/7. Depending on your option, you may contact Keen's staff via phone or mail. Keen's support staff is accessible on Sundays, depending on your time zone.
Pros 
Free love tarot reading

Rates are low, and the first three minutes are free

Intuitive and past life readings available

Call and chat options are available 

24/7 customer service
Cons
The website is quite new

No video call consultation available
Why We Recommended
Keen has been in business for 20 years and has amassed a sizable clientele. To put it another way, they've stood the test of time and managed to expand as a company. In a related vein, users frequently see their low pricing as a huge benefit. So, if you'd like to be keen on your future, Keen is the way to go. 
=> click here to visit the official website of Keen
#5. PsychicOz –
Affordable Psychic Readers With Cheap Psychics Online
PsychicOz has been in business since 1989, making it one of the pioneers of the online psychic services industry. They've established a solid reputation as a reliable supplier of tarot readings over the previous decade. To give their consumers the utmost premium experience, they engage experienced and skilled psychics. PsychicOz has advisers in many time zones, so someone is available to assist you no matter where you are on the globe or what time it is. You may schedule appointments at any time that is convenient for you.
The website is easy to browse, with each area labeled well to get you where you need to go quickly. Every counselor and reader has a public profile on the site that includes reviews, specialties, fees, and previous experience. With this information, you can easily find the best psychic for you. 
Also, pay special attention to the feedback given by previous consumers. These evaluations often provide particular instances relevant to the reader's expertise. Knowing what kind of specialty you want is vital to the process. Many also share thorough reports of their experiences, which can help you choose whether or not they can meet your requirements. 
Features
After you've picked who you want to have a reading with, you'll need to determine how you want to receive the reading. A phone call and an online chat are also available as convenient choices. PsychicOz prioritizes your comfort since you cannot feel relaxed enough to be open unless you are comfortable. Its primary goals are customer satisfaction and assisting someone on their life's path.
PsychicOz provides a $15 introductory package that includes 15 minutes with a psychic guide and a money-back guarantee. This allows you to test out their services with no risk. If unsatisfied, they'll give you credit to try another counselor more suited to your needs. 
PsychicOz is one of the few websites that provide online tarot readings through chat. It's particularly well-suited to individuals seeking solutions while remaining anonymous.
PsychicOz boasts one of the biggest and most experienced groups of readers on the internet. Some have decades of expertise assisting individuals in obtaining the information they want. 
PsychicOz has features called "Rising Stars" and "Staff Picks" that allow you to identify the most popular and recommended counselors.
Psychic Oz's live audio or video call features make tarot reading sessions more engaging and interactive. The opportunity to provide and watch outside the virtual area will help you create a strong link with the reader and effectively explain your thoughts during live online tarot reading sessions.
The Psychic Oz's online tarot reading venture's mobile app makes it very user-friendly. Compared to conventional PC versions, the mobile app is easier to use, contributing to its broad appeal. You may easily communicate with tarot readers from all around the globe with the help of this app.
Pros
Offers languages besides English

Each practitioner provides a unique set of services

Wealth of pertinent material and movies accessible for free

Broad variety of pricing to fit every budget

10,000 free tokens just by enrolling

Simple to use

Accurate readings

Positive feedback
Cons
Not many choices of readers available

There could have been a method to give a greater level of consumer protection
Why We Recommended
PsychicOz has an inclusive strategy that allows people worldwide to choose a language. However, a conspicuous gap is the lack of thorough profiles of their media. To get around this, customers frequently choose to watch a live broadcast rather than listen to a recorded session.
=> click here to visit the official website of PsychicOz
How We Made The List Of Most Accurate Tarot Readings 
There were several factors to consider while compiling our list of the top online psychic reading. First, we did a quick web search to compile a list of the most popular online tarot reading sites.
We then took our evaluation process a step further by thoroughly reviewing each of the websites. We looked at factors like the accuracy of tarot readings, client satisfaction, authenticity, services provided, and pricing, among other things. Then, we eliminated several tarot readers from our list until we were left with the top five tarot reading websites. 
The reading site's and psychics' experience levels are important aspects to consider. A well-known website will always hire professional psychics when doing readings for their clients. Misleading interpretations may have unintended consequences that are not ideal. The comments and reviews section on a website serves as a great example of customer happiness. The review area will give you important firsthand information regarding the previous performance of the site's psychics.
Services and Special Offers
Some websites provide personalized tarot readings in addition to traditional tarot readings. Tarot card readings may include horoscopes, dream interpretation, and more. A site that provides a wide range of services usually really knows what they're doing. Consider using a site that provides free trial sessions or special offers. Also, on some websites, customers who schedule several tarot readings may be eligible for a discount. 
There are as many fake tarot websites as there are legitimate ones. However, you can evaluate transparency by looking at the site's aims and user profiles. Professional card readers should have profiles that describe their expertise, experience, prices, and reviews. Also, the price of a session you pay may vary from what the website shows, but the conditions should be specified beforehand.
Finally, the psychic or tarot reader should also include a testimonials area on the website to show what other people think of their service.
A tarot card website should strive to deliver accurate predictions and consistent results, even if the readings from different people do not always match. The same dream may be interpreted in two ways by two separate people, but there should be some link between the interpretations. Lastly, if you have doubts about a website's authenticity, look at the reviews area to see what other users say. 
Discounts, Refunds, and Free Trials
Offline tarot readers will not offer you a free trial or a discount, and you won't get a refund if you're unhappy with their readings.
Only online tarot readers may provide you with such incentives to develop credibility and confidence with their clientele. Additionally, it guarantees that you get the most out of your money and protects you from being duped by unscrupulous individuals.
These platforms that host tarot readers now provide a variety of payment methods, making them safe, trustworthy, and secure. So you can relax and enjoy the experience, these platforms make it simple to pay and get a refund by providing several payment options. 
On an online tarot reading service, you have a choice of options for connecting with as many or as few readers as you choose. You may also have a one-on-one video chat or a phone call. These features are available on sites that cater to various consumers with varying privacy concerns. 
How user-friendly is the website? Can people look for psychics based on their skill sets, expertise, and comments from previous clients? The answers to these questions also influenced our rating. 
Factors To Consider When Looking For Top Tarot Spreads For Most Accurate Astrology Answers 
We've already listed most of the factors worth considering under our section on how we made this list. However, here are some more personal or subjective factors worth considering. 
You need to know what you should expect from best online psychic readings before considering whether or not they are right for you. It's also crucial to take a step ahead and look at the platform's feedback from other users and clients. This method will assist you in gaining a better understanding of what to expect from these psychic readings. As a result, you'll approach the reading with realistic expectations. 
Free Reading
Look out for best psychic reading websites that offer free readings as they allow you to get a feel for how the site's readers do business. Use your free minutes to test the authenticity of the readings they do on you and fact-check any you can.
This will let you decide whether or not you want your reading done in a specific way. You're also not spending money you'll later regret, particularly if a reader fails to impress you.
We can't ever overstate the importance of reviews. Reading reviews allows you to get a feel of how the readers operate from those who have experienced them first hand.
Customers also share critical comments on their experiences with a particular psychic reading. You may learn a lot about a site and its services by examining what customers say about it. As a result, you'll understand what it's all about when you read the reviews, and you should follow your instincts.
Opting for an online psychic reading help you avoid the time and money cost of going to a psychic reader's location. By searching online, you can locate qualified and experienced psychics in your price range. It is also more convenient, as you have the freedom to schedule a session anytime you choose.
Some online astrology sites, such as the ones we listed, allow you to examine your tarot card reader's qualifications, skills, and licensing. You won't have to spend time or money hunting for a good reader or interviewing several people until you discover the right reader for you. 
Online Tarot Readings vs. Psychic Near Me: 
In-person tarot readings are not without drawbacks, the most glaring of which is the difficulty of finding a good tarot card reader in your vicinity. There's also the travel time to consider. Additionally, since they likely operate during normal business hours, people with day jobs have a harder time making appointments.
However, online tarot readings don't have to deal with those issues since they run 24/7 and exist in virtual spaces unfettered by physical distance. They're also more convenient for clients with social anxiety. Free trials and refunds are also added benefits.
FAQs Regarding Tarot Reading: 
How do I tell legitimate tarot users from the frauds?
A true reader will not always tell you what you want to hear. Look for reviews regarding the reader first. Overwhelmingly positive reviews with a few negatives are always a good sign.  
Make your query without fear, as a genuine psychic reader will provide you with more clarity and as much information as possible. 
Expect ambiguous responses concerning your future because the future is thought to be a work in progress. Most readers can tell you where you're going in general, but they can't always anticipate a specific conclusion.
Are tarot reading and psychic reading the same thing?
Psychic readings are done intuitively and do not require tarot cards. However, most psychic readers will combine tarot cards with clairvoyance or clairaudience, providing you with a more complete and meaningful reading. As long as cards are used, you may call it a tarot reading. A psychic reader might be able to hear or see messages for you. Clairaudience and clairvoyance are terms used to describe these skills. Before you begin reading, you can discuss this with the reader. Before a reader to acquire accurate and meaningful messages for you, they must have a lot of experience and practice.
Does tarot reading have anything to do with astrology?
Many people don't know this, but tarot readings are founded on astrological principles. In the tarot deck, each card of the Major Arcana represents a zodiac sign. What exactly is it, you might wonder? For tarot card reading, a tarot deck consists of 78 cards made up of two subsets called the Major and Minor Arcana. The name cards are split into four suits, namely cups, wands, pentacles, and swords, while the latter is divided into four suits. To make a tarot card reading, the tarot considers all factors pertaining to the card.
Concluding – Best Online Tarot Reading Platforms Of 2022:
Finding the perfect tarot card reading site for you could be hit and miss. However, if you've found one that speaks to you on a deeper level, you'll go further into your own life and subconscious self-exploration. This voyage will teach you things about yourself that you couldn't possibly know before, but that, once learned, seems profoundly true. These revelations will help you clarify your goals and chart a path to success that will ultimately lead to the fulfillment of your higher self. 
For access to exclusive gear videos, celebrity interviews, and more, subscribe on YouTube!