Maybe it's impossible to spend time with Patrick Stewart and not have the conversation move to the extraterrestrial. The man has killed it as Prospero, Scrooge, and Macbeth on the boards – that's theater talk – but to most of us cretins, he will remain Jean-Luc Picard, chrome-domed captain of the Enterprise, or Professor Charles Xavier, the benevolent, wheelchaired mutant egghead in the X-Men series.
Here in America, the Brit-born Stewart is an alien of sorts. We're walking the streets of Brooklyn's Park Slope neighborhood, where the 73-year-old lives with his new bride, Sunny Ozell, a 30-ish singer whom Stewart characterizes as "quite good. Thank God. How horrible would it be to be with someone and have to lie to them?" He's headed home for an afternoon nap before one of the last performances of No Man's Land on Broadway, but he stops to point out his new environs. He has an air of wonderment – like, well, Picard beamed down to some urban utopia.
He gestures toward where the Americans made a stand during the Revolutionary War, allowing most of George Washington's army to escape to Manhattan. Over there are the stables where Stewart claims the Gambino crime family stored their garbage trucks and "other things they kept in the garbage trucks." He slaps hands with some shady characters hanging out on a stoop. Up the street is a boarded-up storefront that makes Stewart smile. He whispers in his stentorian voice: "Behind those windows a man restores old radios. They're really supposed to be quite lovely."
Stewart has lived a life filled with both sorrow and joy. There was a violent father, a pair of failed marriages, and going bald at 20, which pretty much destroyed his film chances. But he's stepped into the light in his later years: cast as Picard at 46; voted TV Guide's, uh, Most Bodacious in 1992, at the age of 52. Stewart was knighted in 2010 and carried the Olympic torch through London two years later. He is now enjoying the twilight with a new girl and a senior bromance with Sir Ian McKellen that has them eating hot dogs in Coney Island. But life isn't that simple. If you spent much of your boyhood hiding from the rent man and stepping between your mother and your abusive father, and then playing with darkness on stage as an adult, not even a Brooklyn stroll can be either good or evil.
Park Slope is best known for its Subaru wagons, which double as troop carriers, trucking around swarms of children who seemingly multiply overnight, possibly as a result of a mysterious gene mutation concocted by malevolent Manhattan fertility doctors. Stewart passes a horde of kids pouring out of an elementary school. He is nearly hit by a flying backpack and a skipping boy. He swims through the youth and sighs when he reaches the other side of humanity.
"You know, Sunny and I have talked about it," says Stewart in a comic, resigned tone. He arches his eyebrows. "If these kids all became aliens at the same time we wouldn't have a chance."
It's an odd comment, but probably true. He chuckles and walks on, safe in the knowledge that if all the grown-ups in Park Slope were slain by tween mutants, Patrick Stewart would have the fewest regrets. He has made it so.
The great revenge of going bald in his youth is that Stewart is essentially ageless. He looks pretty much the same as he did at 47, when Star Trek: The Next Generation premiered in 1987. His wife comes from a family of skiers, so he recently learned how to ski. One day at Lake Tahoe, Sunny took him on an intermediate run and reassured him at the top that they would stop and take several breaks on the way down. Alas, Stewart was already gone; she didn't catch up with him until they hit the lodge. He recently started doing Pilates because McKellen does it. "I thought, 'Bloody hell, if Ian can do it, I can do it, too.' " There's even a picture on Twitter of Stewart doing a one-handed pushup, but he claims he comes by his slender frame naturally.
"I come from peasant genes," says Stewart, as he sits down for a pre-theater lunch.
He isn't kidding. He recently looked into his family genealogy and found no one fancy, no one grand; his great-grandmother signed her wedding certificate with a cross. It makes his life trajectory all the more remarkable. At an age when most actors are kicking their feet up in Malibu or some other mystical Shady Acres, Stewart is finishing up a five-month run on Broadway doing Samuel Beckett's Waiting For Godot with McKellen – where Sir Ian occasionally goosed him to keep things interesting – and Harold Pinter's No Man's Land eight times a week.
(Photos by Mark Seliger)
Now a Spanish vacation looms, a round of press on X-Men: Days of Future Past, and a new project that he's jazzed about but can't discuss. He is living in a sweet, old world best represented by an Ozell-filmed video of Stewart giving a theatrical quadruple take (he actually lost track and gave the rare quintuple). More than 4 million viewers, many of whom posited that Stewart was stoned, have watched it on YouTube. (He says he was not.)
The shocking thing about the recent state of Stewart isn't that he is a great actor, but that he's actually funny. It couldn't have happened a few decades ago.
"I was always too frightened about making a fool of myself," he says with a sad smile. "That dominated so much of my early life."
Stewart was born in Mirfield, in northern England, not long after the fall of France in the summer of 1940. There was no bathroom in his house, but there was much love. He was coddled by his mum, Gladys, and two older brothers, but that all changed when Sgt. Major Alfred Stewart returned from the war when Patrick was five. His parents' relationship had already been contentious – Gladys had to sue Alfred in court to acknowledge his paternity of Patrick's oldest brother, Geoffrey – but after Alfred got home it was worse. Alfred worked as a laborer, but his drinking eventually became unmanageable, and while he never hit the boys, he went to war on Gladys frequently. The fights often ended with the police or an ambulance being summoned. But Gladys never left him, a fact that baffled Patrick.
The turmoil dictated Stewart's childhood, and like many children of alcoholics, he became a straight arrow, the perfect son. He was the head boy of his school, making sure the other kids stayed in their place. Unlike his future pal McKellen, who was mentored by Laurence Olivier, Stewart entered acting with no credentials. His drama-school teacher called him in one day and told him he had talent, but he wouldn't succeed simply by avoiding failure, a Stewart trait.
His not-abundant confidence was further sapped by the sudden loss of his hair, starting in his teens. Stewart employed a series of hats, comb-overs, and simply walking with his head down to avoid detection. "Wind was a nightmare," he remembers.
Then a pal did an intervention. Stewart had a Hungarian director friend who invited him for lunch one day. After eating, the Hungarian and his wife disappeared into the kitchen. They emerged with scissors, and the Hungarian placed Stewart in a bear hug while his wife snipped off his remaining wisps of hair.
"My friend took my shoulders in his hands and yelled, 'No more hiding!' "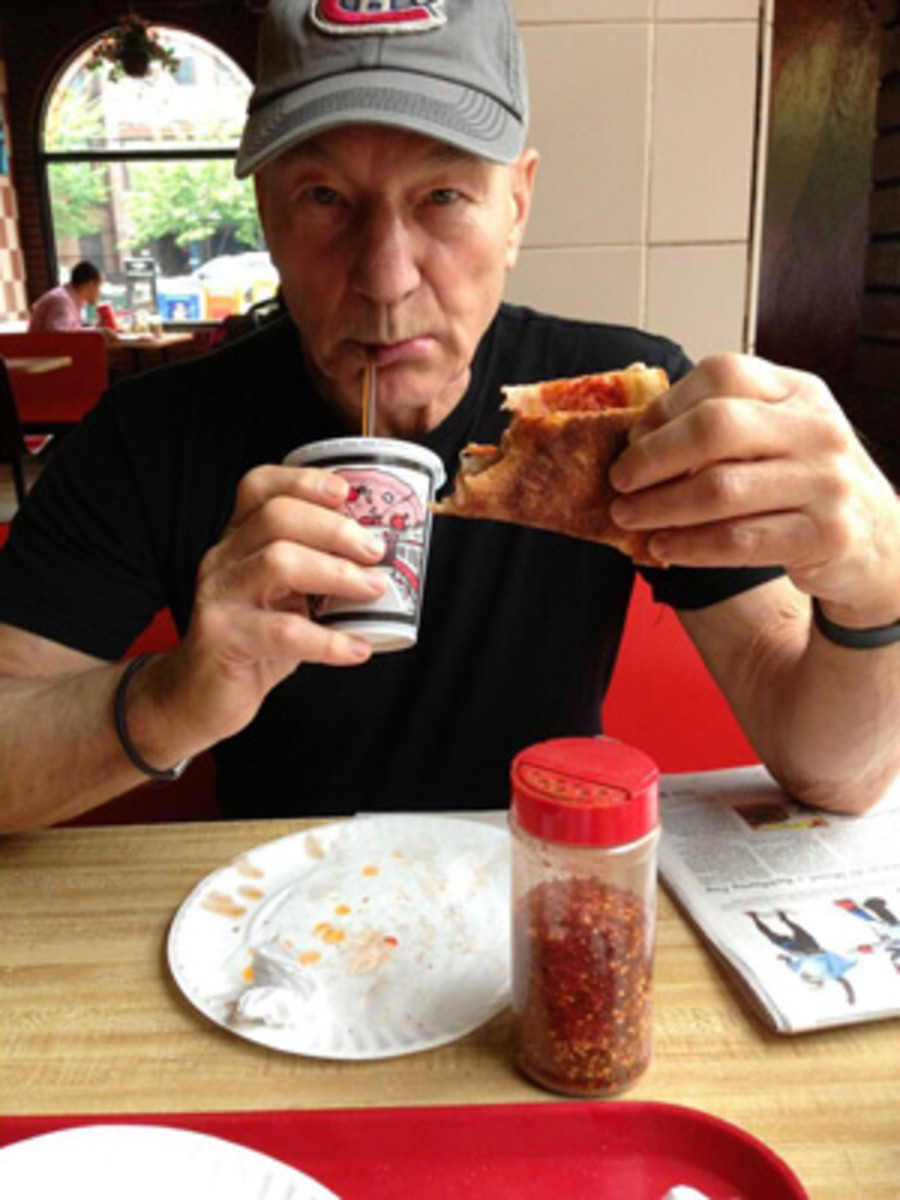 Stewart caused a sensation last year by tweeting a photo of himself with what he claimed was his first ever slice of pizza.
The Cort Theater is one of the few things on Broadway older than Patrick Stewart, yet he has found a way to tame the old dame. For the five-month run of Godot and No Man's Land, he commandeered the theater's top floor, three flights up from everyone else. It has a toilet and a shower, and, most important, a window. It looks out on the grim side of a building, but it lets Stewart know what else is going on in the world. He can either leave it open or do some of the transcendental meditation he's been practicing for decades. Sometimes he thinks about the plays, particularly Godot, in which two beggars wait eternally for the arrival of a benefactor who never appears.
"I think it's the last six pages that make it a masterpiece, because I'm not sure it is before that," says Stewart. "Which is heresy, I know, but the message of the last six pages! Pozzo says, 'One day I went blind. One day we will go deaf. One day we will die . . . the same day, the same second.' And Vladimir realizes what he is saying. Which is, we are living that day, now! And it's racing by and this is all there is!" Stewart shakes his head and sips from a glass of white wine. "It's intense."
Stewart let life race by him even after his Star Trek success. He doesn't speak about his first two marriages with unkindness, but as opportunities missed. There was the Rufino Tamayo painting he didn't buy while filming Dune in Mexico because his first wife didn't like it. He debated buying a house on Oyster Bay in Long Island, but his second wife didn't think much of the idea. Both examples of lack of action clearly bother him. I ask him if he spends a lot of time thinking about time and opportunities past.
"I'm afraid I do," says Stewart. "I'm kind of obsessive in that sense. I now have three Tamayos, and one of them is sensational, but it's not the one I saw in the window."
Stewart's tendency toward the melancholy and the proper marred the first few years of his Star Trek experience. Despite the show's success, he lived for the first three years of the run in a studio apartment and drove a Honda Prelude that in car-conscious Los Angeles led one friend to inform him he would not ride with Stewart to a posh restaurant. On the set, Stewart admits he could be humorless. In one of the early seasons, he chastised the rest of the cast for joking around and wasting time, saying it just meant the crew had to work longer and harder hours. When a cast member pointed out that the jokes and pranks were what made the 14-hour days bearable, Stewart answered with a memorable and oft-lampooned rejoinder: "We are not here to have fun."
He tells the story now with a laugh, but with a bit of a sad admission. "I never knew how to have fun. They taught me over the next six years how to have fun."
The Star Trek cast became Stewart's surrogate family – he has two adult children – and they still remain close, with almost the entire cast attending his wedding last year in Lake Tahoe. Eventually, he accepted his place in the sci-fi pantheon – worshipped by millions, typecast by casting agents – so much so that when director Bryan Singer asked him to play Professor Charles Xavier in the X-Men film series, he said yes.
"I loved his work, and he convinced me that a film character was different than television," says Stewart. Singer also played to Stewart's liberal politics, which have included decades of work with Amnesty International. "He explained it was a movie about a minority group being victimized and downtrodden and opposed in every way," says Stewart. "And he said, 'Look, you know, the mutant civilization are no different than the way that gay people were back in the 1950s and 1960s in the U.K., or women in the business world . . . ' and he got me excited about that aspect of it."
When X-Men started in 2000, it would have been impossible to imagine Stewart doing a quadruple-take video or mugging it up for Twitter in Super Bowl team jerseys, as he did with a baffled McKellen for their recent theatrical run. Now he has 1.1 million followers, with Stewart shamelessly mugging with his head in the stocks under the caption: "I should have never switched to Verizon." During the run of their plays, Stewart and McKellen tweeted pics from everywhere, including Coney Island, the Empire State Building, and under the ass end of the bull on Wall Street. Stewart's social media presence was clearly egged on by Ozell and, of course, there was commerce involved. Stewart and McKellen owned a portion of the Godot and No Man's Land production, so every ticket sale derived from their hijinks was money in their pockets, an angle rooted in Stewart's penniless childhood. Still, something fundamental has changed to loosen up the old man.
It started when he played Macbeth in both London and New York in 2007. The character disturbed him so much that he'd head home to his Tribeca apartment and drink scotch until the man was behind him. It was a modern production, and one day he looked into the mirror in his dressing room and recognized the man in a greatcoat and mustache, holding a rifle.
"It was my father staring back at me."
Not long after, Stewart began investigating his dad's life at the behest of a BBC documentary crew. One of the first things he came across was a clipping from the local paper heralding his father's return in 1940, and mentioning in a brief aside that he was suffering from severe shell shock.
Stewart then made a trip to France. He discovered that his father was supposed to be in the rear with the gear, but his lightly armed unit was rushed to the front as the Germans slashed through France. Their train was stopped outside Abbeville as the Luftwaffe laid waste to the town. Alfred Stewart and his men were caught in grassland between a marsh and a bridge, pinned down by bombing for hours. The train conductor uncoupled the engine and drove away, leaving the troops stranded.
Stewart and his men saw ghastly things – a dead woman with a finger missing where a scavenger removed her ring and the corpses of two young children. They spent the next month on the run from the Germans before being evacuated shortly before the fall of Cherbourg. Then, despite his shell-shocked status, Alfred Stewart did a strange thing, especially for a man of 38: He volunteered for the paratroopers. He successfully dropped into the south of France as part of Operation Dragoon in August 1944, playing a significant role in the liberation of the country he had watched crumble four years earlier.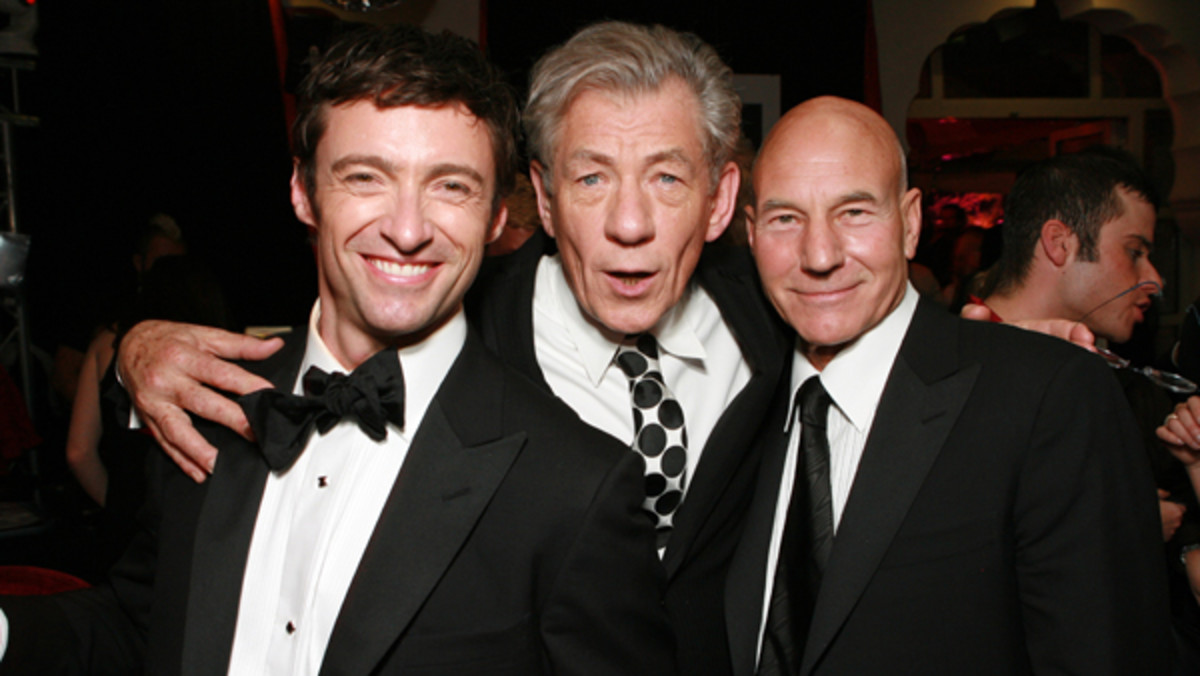 Hugh Jackman, Ian McKellen, and Patrick Stewart pose at the premier of X-Men: The Last Stand (Photo by Getty Images/ E. Charbonneau).
Patrick Stewart knew nothing of this. He knew his father had served, but little beyond that. He exhales as he talks about how the revelations changed things.
"Having spent a good many years naming my father as an abuser of my mother, which I saw and witnessed, I was brought face-to-face with the knowledge that he was a man with experiences I was unaware of," says Stewart. "That there were reasons why he was an alcoholic and physically abusive, depressed at times. I've talked to people who understand post-traumatic stress disorder and described my father's behavior, and they've said, 'Absolutely classic PTSD behavior! No doubt about it.' "
What's left unsaid is Stewart's relief from the abused-child circle of self-recrimination: If only he had been better, if only he had been good, things would have been different. And he understood, finally, why his mother stuck around.
"My anger toward him was dissolving anyway," says Stewart with a grimace disguised as a laugh, "thanks to 17 years living in California and some very, very high-quality therapy to which I am immensely grateful. But nevertheless, he was considered by me persona non grata. I never talked about him outside of the abuser context. I never knew what he saw."
That's all over now. Stewart devotes considerable time to Refuge, a women's abuse charity, and Combat Stress, a PTSD support group. He smiles widely, not out of ego but family pride.
"I do one for my mother, and now I do one for my father."
The next afternoon the rain is pissing down in New York while Stewart is upstairs in his hideaway preparing for his final performance of No Man's Land. Outside his window there is nothing, just gray and heating ducts. He counts the hours until he leaves for Spain.
"This is my first full New York winter," says Stewart. "We haven't left once."
The curtain goes up.
It's a bit startling to see Stewart playing Hirst, an elderly alcoholic writer, in a blond wig. Hirst has met McKellen's Spooner, a literary-gadfly-grifter, down at the pub, and has drunkenly invited him to his stately Hampstead Heath home, where he alternately endures and condescends to Spooner as both characters grapple with the passing of time and the bottle. Stewart's Hirst whispers before shutting his eyes: "No man's land does not move or change or grow old. It remains forever icy, silent."
In the morning, Hirst has no memory of the night before. Spooner turns the tables, taunting Hirst for his vanity and pretense, and mocking him with his own words: "You are in no man's land. Which never moves, which never changes, which never grows older, but which remains forever icy and silent."
Stewart's Hirst responds with faux bravery: "I'll drink to that!"
The curtain falls. Hirst may have been Stewart a few years ago, during his Macbeth, scotch-drinking phase, but he is not that man anymore. The audience stands as one, and Stewart and the cast take a bow. There are tears in his eyes. Is it a farewell to Hirst or a realization that Hirst is a ghost that he has slain? There's no way of knowing until the applause dies down. Patrick Stewart exits stage right. There's a triumphant smile on his smooth face.
For access to exclusive gear videos, celebrity interviews, and more, subscribe on YouTube!