Entertainment
Russell Wilson Is Worth Every Penny
RUSSELL WILSON IS THROWING FOOTBALLS TO ME. Well, not to me, exactly. I am standing just behind Mark Baysinger, Wilson's barber, who is the one catching the balls Wilson is throwing for a photo shoot, so it's an optical illusion—albeit a thrilling one—that I'm the recipient of a football thrown by one of the greatest quarterbacks in the world.
We're on the roof of a building in the Pioneer Square neighborhood, across the street from the Seahawks' stadium, CenturyLink Field, which looms in the background, and the balls travel with all the precision you'd expect of a Super Bowl–winning QB—perfect spirals that are neither too hard nor too high nor too fast. I watch them fly by in a trance—it looks so effortless, I almost want to try it myself, catch one and throw it back, and then I remember who and what I'm looking at.
It's an NFL superstar in the flesh, the first- or second-highest-paid player in the league (depending on how you parse his new four-year, $140 million contract extension), the guy who throws the most perfect deep ball in the game (do not @ me, Aaron Rodgers fans), the guy who, after throwing four interceptions during the NFC Championship game in 2015 against the Green Bay Packers, sealed the improbable comeback with one of those flawless deep balls in overtime. That guy.
Russell Wilson is everything you've heard about him—always on message and extremely polite, truly deeply religious, a bit corny (endearing or annoying, depending on your vantage point), especially on social media.
On the field, he is Houdini, able to run and dodge defenders with an ease that must irritate his opponents as much as it thrills his fans. But he is also known to be one of the most accurate passers in the game, with a devastating arm, able to place the ball with surgical precision—usually done while running for his life.
But Wilson wants to be more than an athlete. Among his side hustles: a clothing line, Good Man Brand, where $3 from every purchase goes to his charity, the Why Not You Foundation; Tally, a sports-prediction app; West2East Empire, a brand-management and production company; and Why Not You Productions, his foray into film and TV with Ciara, his beautiful pop star wife.
His choirboy persona goes against the grain in today's NFL, which often makes headlines for all the wrong reasons (see: Ray Rice, Kareem Hunt, and Adrian Peterson). In a lot of ways, he's a throwback to a simpler era, when sports heroes were DiMaggio, Mantle, or more recently, Ken Griffey Jr., whom Russell once fielded a ball from as a kid at spring training.
In an interview, Wilson is talkative but never veers off script. Today he's wearing a blue plaid button-down and purple Paul Smith bomber jacket. He has let his curly hair grow out, and it forms a perfect halo of ringlets around his head. He has a charming smile and dimples, but in conversation, he is surprisingly serious and only occasionally flashes them. He also is short for a quarterback—just 5'11".
He's most animated when talking about kids and family and the work he does with cancer patients at Seattle's Children's Hospital. He shoots down questions or evades them gracefully when you bring up politics or NFL controversies. He's not afraid to cry and thank God and Jesus—a quality sneered at by many of his peers. (Former teammates Richard Sherman and Doug Baldwin are reportedly not fans of his off-the-field persona.) After winning the 2015 NFC Championship game, Wilson wept openly on national television, a grown man sobbing that "God is so good." The first time Seattle played Green Bay after that game and lost, Aaron Rodgers quipped, "I think God was a Packers fan tonight," a knowing smirk on his face.
But Wilson wants you to know that everything is love. That's what he is about. "The only responsibility on my shoulders is to try to love unconditionally and try to share that and to try to make the world a better place," he says. "By serving and giving back to others. I think that's really the opportunity that God is giving me."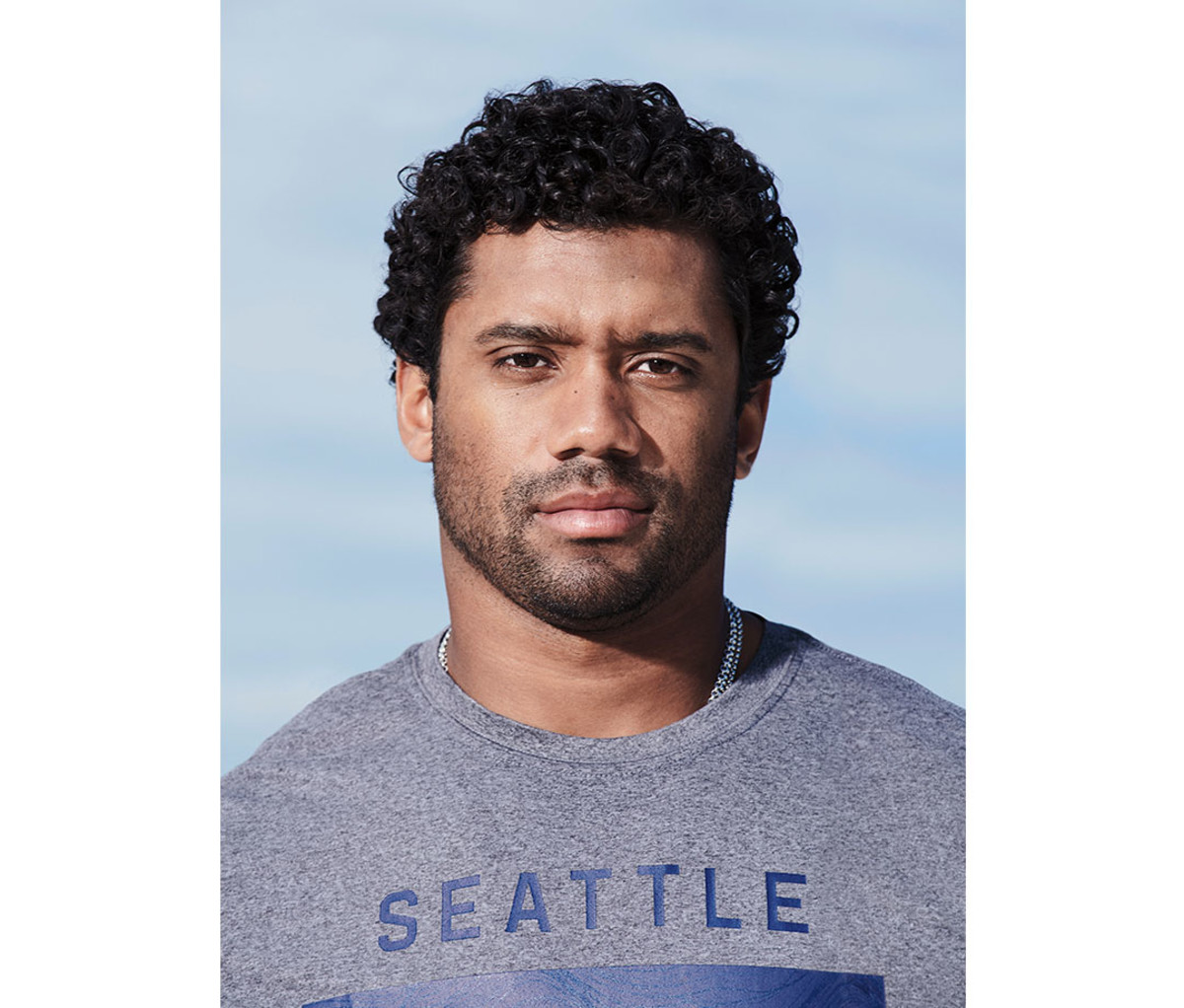 BEFORE THE GAME OF ROOFTOP CATCH, Wilson and I meet for breakfast at the Hotel Theodore in downtown Seattle. It's already midmorning for Wilson because he's an early riser who gets up at 5 or 5:30, works out for two hours, has family time, then works on one of his side businesses.
The breakfast itself is something of a charade. Wilson's meal has already been specially prepared beforehand. A plastic container with coconut yogurt is placed in front of him, to accommodate his low-carb, high-protein, dairy-free, gluten-free diet. Nonetheless, a severely starstruck waitress appears and, seemingly awed to be in Wilson's presence, proceeds to describe the menu in excruciating detail, down to the mascarpone whipped into the eggs. She goes on for almost four minutes, and it becomes painful to watch.
"You're selling me hard here, I like that," says Wilson good-naturedly, appeasing the waitress by ordering a side of bacon.
After she leaves, we wait a beat. He smiles.
"Wow," I say. "Is it like this everywhere you go?"
"Yes," he says, and chuckles.
In Seattle, Wilson is the people's king. Ever since coming home with the Super Bowl ring in 2014, he can do no wrong in the Emerald City. And he adores the city in return. "I love the vision of Seattle," he says. "The vision of business, success, newness. Of new start-ups and new ideas. I love the actual literal view of Seattle. Like the vision when you fly in, how beautiful it is."
He grew up far from here, in Richmond, Virginia. Sports run in the family: He has an older brother who played football and baseball at the University of Richmond and a younger sister who plays basketball for Stanford. His mother worked as a nurse, and his late father, Harrison, played football and baseball at Dartmouth and briefly made the San Diego Chargers, but was cut and became a lawyer.
Until sixth grade, he was a "bad" kid, he tells me, a bully. (I have a hard time ever believing that Wilson has ever been a bad anything.) "I was going to church to see the cute girls," he says, impishly, "and then in sixth grade, I had a dream that my dad passed away. And that Sunday, I went to church, and I just start bawling all of sudden. And that's when my life kind of changed." That, he says, is when he fell in love with Jesus.
Wilson grew up playing football and baseball; a star second baseman, he was drafted by the Baltimore Orioles following high school but went to college instead, playing both sports at North Carolina State before transferring to the University of Wisconsin for his senior year. He remains a dual threat: His professional baseball rights are held by the New York Yankees, and he attended spring training the past two seasons.
In the 2012 NFL draft, he wasn't chosen until the third round. Listed at 5'10" and 5/8 inches, he was largely considered too short for an NFL quarterback, but Seahawks general manager John Schneider convinced head coach Pete Carroll to take a chance. It paid off: Wilson beat out Matt Flynn, who the Seahawks had just signed as a free agent for $19.5 million. The next season, the Seahawks clobbered the Denver Broncos and a fading Peyton Manning, 43–8 at the Super Bowl.
The Seahawks never looked back. In April, the team agreed to pay Wilson $140 million ($107 million guaranteed) to keep him in town until 2023. (Whether he's the highest- or second-highest-paid player depends on how you do the numbers: Philadelphia Eagles quarterback Carson Wentz's $128 million contract comes with $900,000 more guaranteed money.)
Wilson's new contract was preceded by some drama. There had been rumors that he was looking to be traded to the New York Giants, since New York made more sense for Ciara's career, too. The rumors were getting loud enough to keep the Seahawks' Twitter awake at night. But on April 15, he announced his new deal, in his unusual way, in a now-famous social media video made in his bed, with Ciara nestled up against him."Yo, Seattle," he said, conjuring a Barry White baritone, "We got a deal." Ciara, peeking from the covers, murmurs, "Go Hawks."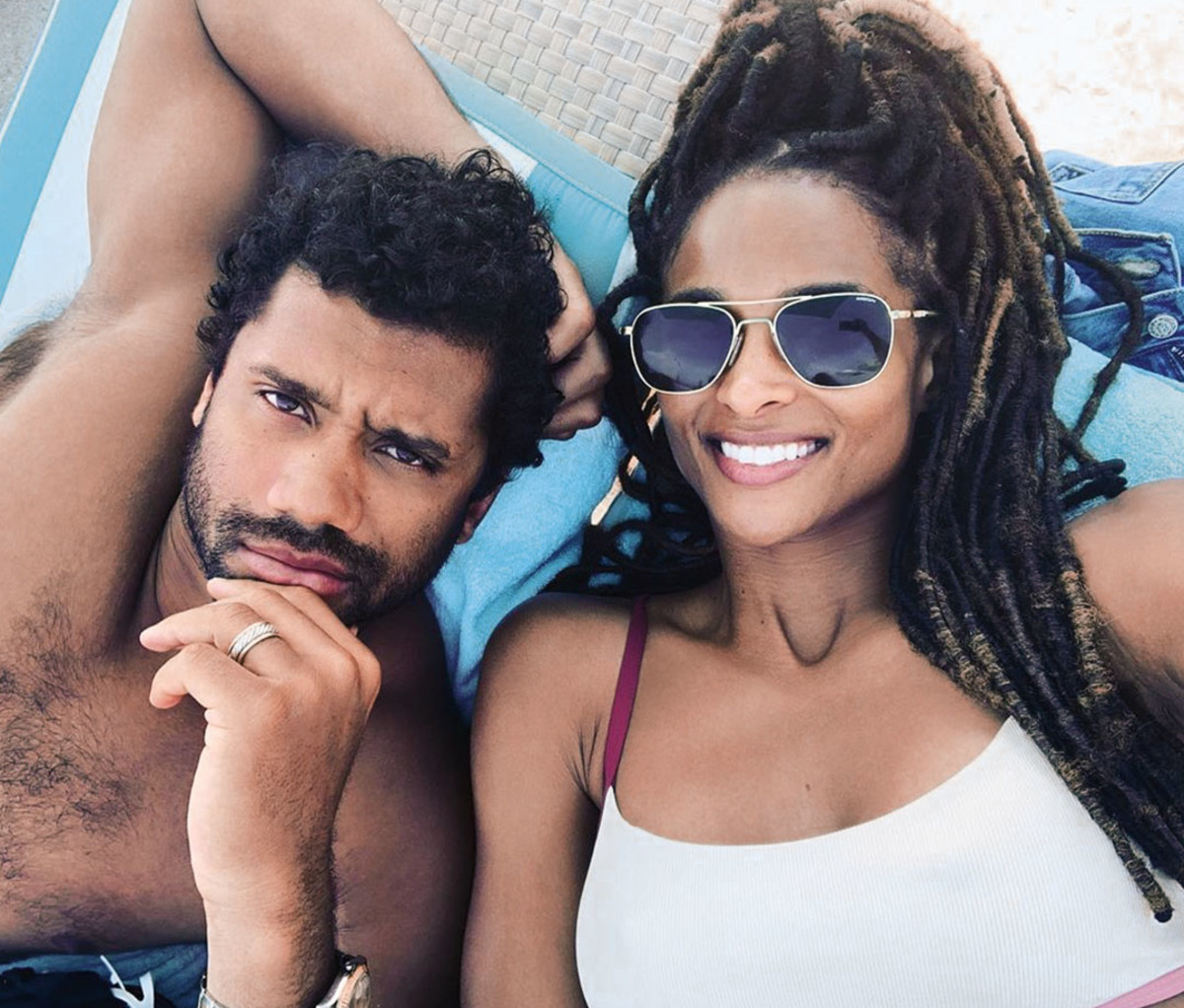 Not long after, teammates Tyler Lockett and D.J. Fluker released their version. (Ciara was played by Fluker, an offensive guard who weighs 342 pounds.) "Go Hawks!" Fluker says, popping out from behind a blanket.
"That's a nightmare to see," Wilson laughs, "but hilarious. It was a good time."
Key to Wilson's success has been his relationship with wide receiver Doug Baldwin, who has an uncanny ability to catch seemingly impossible throws hurled downfield in a game's dwindling moments. But Baldwin unexpectedly retired at the end of last season due to multiple injuries. Now, Wilson will be throwing to former number-two receiver Tyler Lockett and rookie D.K. Metcalf, a second-round pick from Ole Miss. If he can connect with them the way he did with Baldwin, the Seahawks figure to be very dangerous in 2019.
Yet Wilson does not always get the respect afforded to, say, Aaron Rodgers or Drew Brees. Maybe it's because the Seahawks' style of play—run first, spreading around the targets to multiple receivers—isn't the kind that makes the critics and sports fans drool.
Or it could be because of the play that led to arguably the worst interception in Super Bowl history.
"AMNESIA," WILSON SAYS. "YOU'VE GOTTA have amnesia. You've gotta be able to focus on one play at a time."
Amnesia is how Wilson keeps his mind on the play that is happening right now, not the one before or the next one. It's also how he puts that 2015 Super Bowl interception behind him, an error against the New England Patriots so shocking that it spawned memes, documentaries, and endless debates about the wisdom of attempting a slant pass from the 1-yard line when Marshawn Lynch is your running back.
The game was a brawl, with three lead changes and a heavily injured Seahawks squad taking more hits with each quarter. (Cornerback Jeremy Lane broke his arm and tore his ACL; defensive end Cliff Avril was taken out with a concussion.) With 26 seconds left, the Seahawks were four points down on the 1-yard line. Pete Carroll called for a pass. The slant looked like it was going right into wide receiver Ricardo Lockette's hands. Instead, Patriots cornerback Malcolm Butler stepped up and snatched the ball—and tore the hearts out of Seahawks fans. It was jaw-dropping. No matter how many times you replayed it, it seemed unfathomable.
After the play, Wilson clapped his hands nonchalantly. Shoot. Even today, he refuses to dwell on it. "Life is really about adjusting to adversity—and adversity is only temporary," he tells me. "I'm a neutral thinker. It's great to be positive and I am very positive, but positivity sometimes doesn't work. The thing about negativity, though, is that it always works. And it always works negatively."
This is Wilson's mental coach, Trevor Moawad, at work. Moawad met Wilson in 2009 when he was the director of performance for the IMG Academy in Bradenton, FL, and started working with him in 2012. Now, in addition to engineering Wilson's mental game, he's also a partner in yet another venture, a coaching firm for CEOs called Limitless Minds.
"We never talked about that moment," Moawad says. "I knew the city of Seattle would struggle to get over it. But I never worried for a moment that Russell would." Instead of watching the play over and over and analyzing what could have been done differently, Moawad assembled a greatest-hits reel of successful plays, going as far back as Wilson's high school and college days. The idea was to reinforce the notion that Wilson is a fourth-quarter finisher, that The Interception was a fluke, one of many plays that would happen over a lifetime career—not the defining one. "We didn't pretend it didn't happen—it happened," Moawad says. "But we didn't give it more power than it deserved."
Moawad's mental voodoo seems to work. "I haven't seen anything shake him," says Cliff Avril, who played with Wilson through the Super Bowl years and retired in 2018 due to an injury. "Honestly, nothing moves him. He will stay consistent."
So consistent that just two days after the crushing Super Bowl defeat, Wilson showed up to meet with cancer patients at the Children's Hospital, right on schedule. "I don't think anybody thought he would come," says Allison Broadgate, director of the Strong Against Cancer initiative. "Showing up after something like that shows our families exactly what he had been telling them for so many years—that perseverance is key."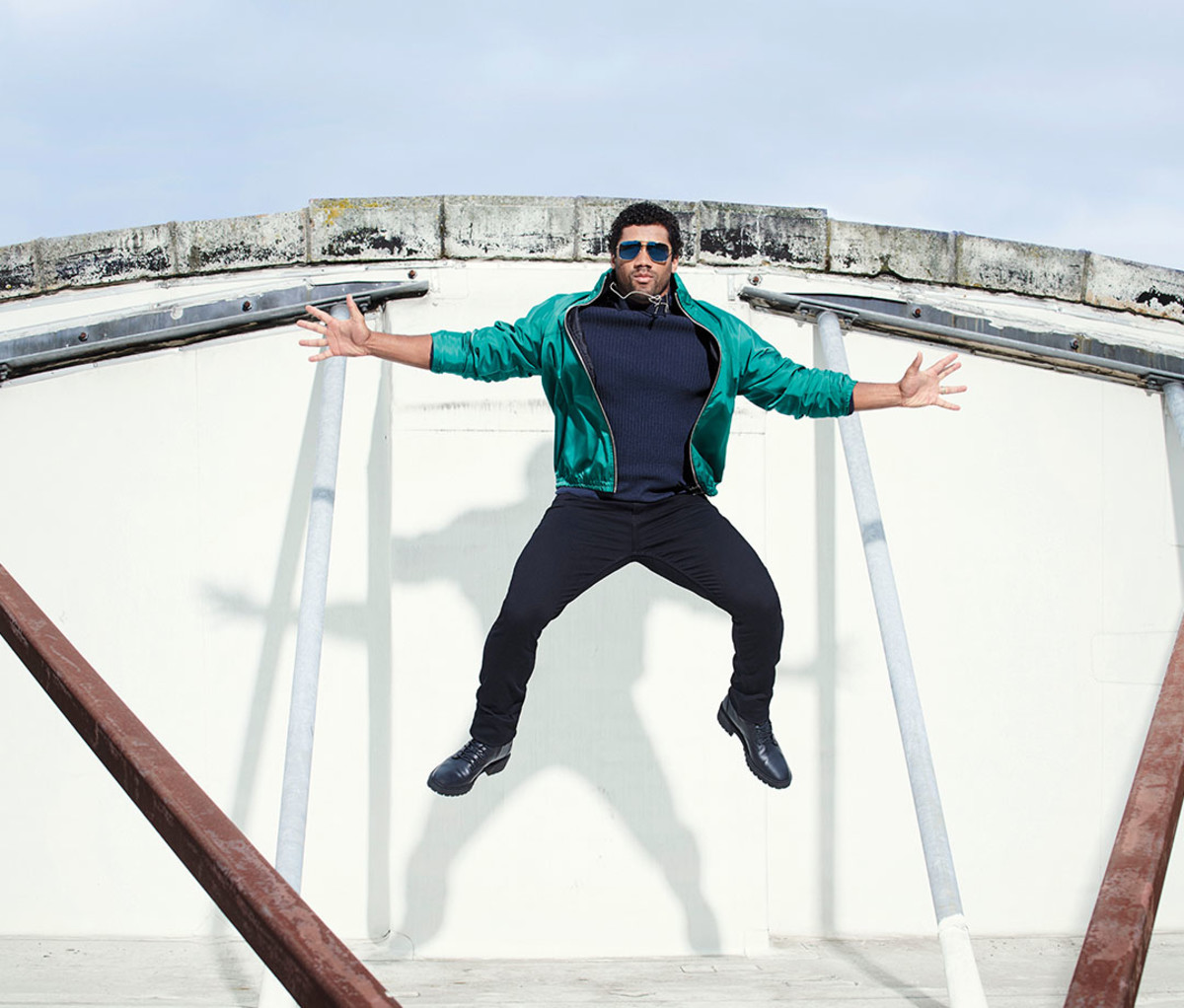 BACK AT THE PHOTO SHOOT, WILSON IS heading to the trailer to change, and we're waiting for the elevator when I decide to bring up something that's the elephant in the room in any discussion about professional football: politics. It's also a subject that Wilson studiously avoids, save for a few stray comments. ("We believe in love—the only way to defeat the hate is by loving people," he opined after President Trump referred to protesting football players as "sons of bitches.")
Instead, my question comes out awkwardly: I ask if he feels a responsibility to speak out about racism, especially now that he has children. "I'm not into politics," Wilson says. "I'm into people: How do you make the world a better place, so you bring people together and not apart."
A politician couldn't have said it better.
Yet a few days later, I am surprised to see that Wilson has tweeted about the two migrants from El Salvador, a father and daughter, who drowned trying to cross the Rio Grande. "I am a Descendant of Slaves," Wilson wrote. "America didn't mind 'Immigrants' then but now it's 2019 & families are searching for a better way of life for their innocent children. The 'American Dream.' It's become a NIGHTMARE. Innocent children dying is wrong. #WhereIsTheLove #MakeAChange."
The tweet reminds me of another viral video, of his daughter Sienna's ballet class, with Wilson, the beefy jock, holding her hand and walking on tiptoe. It's undeniably sweet, and a veritable antidote to the culture of toxic masculinity of the NFL, in which players are more likely to make headlines for domestic violence. "I think it's a good thing to open your heart to the world and give yourself to people," Wilson tells me. "It's part of growth, it's part of life. I think also to have your own daughter—it changes your perspective. It really does."
Talking so openly about love, about growing as a person, makes him an outlier in football, and he often catches flak for it. But Wilson doesn't care if he gets blowback from fans who might not want to see a quarterback telling his wife how much he loves her on social media or singing and dancing in a virtual bunny suit.
"I don't worry about what other people say or think," Wilson says. "I always want to lead with love. That's where my heart is. Let that direct me. It's that simple."
For access to exclusive gear videos, celebrity interviews, and more, subscribe on YouTube!