Even the most talented, wide-ranging Hollywood actors tend to inhabit a certain niche. Dwayne Johnson, for example, ably inhabits the alpha-dog action hero. Chris Pratt has mastered the affable rogue. Scott Adkins' specialty is kicking ass.
With roles in movies like The Expendables 2, The Bourne Ultimatum, X-Men Origins: Wolverine, Zero Dark Thirty, and Boyka: Undisputed, the British martial arts expert has proved that he can go toe-to-toe with some of Hollywood's best actors. He is one of the few men standing who can say he's been in a wild knock-down, drag-em-out fight with Jason Statham—and survived. (Well, sort of.)
But an ass-kicking specialty might actually be underselling Adkins' talent, since he's trained in no fewer than six forms of martial arts: Karate, judo, kickboxing, jujutsu, Krav Maga, and ninjutsu—yes, as in the art of being a ninja. So that's him on screen doing his own stunts, taking beatings and bruises and flipping over punks just like the characters he plays.
Akins did it in his new film Hard Target 2 and he did the same opposite Benedict Cumberbatch in the Marvel blockbuster Doctor Strange, his first foray into the Marvel Cinematic Universe. In his new movie, Adkins plays a retired MMA fighter who can't resist a million-dollar purse for one final fight in the jungles of Myanmar, but things don't go as planned—instead of a fight, he must battle his way against a heavily armed group that has paid to hunt and kill him, making the hunters become the hunted.
All that athleticism doesn't come easy, though. Adkins keeps himself in shape with sparring and fight training. And when he hits the gym? "I'm a bit old-school, to be honest," says Adkins. "I like volume training, simple weight training. I mean, who doesn't like the bench press?"
One rule always applies, though: "I always make sure to go in the gym and train intensely," says Adkins. "We're in there five or six days per week and I train hard. I put a lot into it. I make sure that I work myself all the way. That's what you've got to do."
Adkins spoke to Men's Journal about his martial arts training, how he deals with injuries, and why eating in Thailand is no easy feat. Hard Target 2 is now available on Blu-ray and DVD.
(Editor's note: This interview has been edited for clarity.)
MEN'S Journal: What's your daily workout routine like? How often are you in the gym?
SCOTT ADKINS: I'm training about five to six times a week. Three of those days will be in the gym with weights. Two of those days will be cardio—I'm not a big fan of the running machine or running in general. I get it done, but I'd rather do some martial arts-type training. Depending on the part I'm training for, if I need to be bigger, I just train five times a week with the weights and mix it up.
What types of exercises and techniques help you most in your training?
I'm a little bit old school, to be honest: three sets, reps of 8 to 12. I like dips for triceps. I'll train my chest and my arms on Monday, I'll do my legs on Wednesday, and I'll do shoulders/back on Friday. I don't think there are any secrets. I think you just need to get in there and train, that's the key. The simple stuff works—you don't need to over-complicate it.
What was it like to step into the shoes of Jean-Claude Van Damme for this role?
It was amazing. John Woo [director of the original Hard Target] was my favorite director when that film came out. I mean, he's still one of my favorite directors now. Van Damme, he's my favorite actor. I was worried about it at first because I starred in Universal Soldier: Day of Reckoning with Van Damme and I've done Assassination Games with him. In Expendables 2 I played his character's right-hand man and I was worried that I was going to be seen as the guy who was cashing in on Van Damme or trying to ride the coattails of his success, which was not what I'm trying to do at all.
What has it meant to you to work with some of Hollywood's most badass actors like Jason Statham and Van Damme?
It's great—I was a huge fan when I was a kid. You'd have been hard-pressed to find a bigger Van Damme fan than me when I was 12 to 18. I was obsessed with the guy and obviously he inspired me when I was that age. So now that I'm a man and I'm making movies, I imagine that a lot of what's made him famous has sort of seeped into my way of doing things. There are similarities there. But I wouldn't say the imitation is purposeful. I'm not consciously going out to try to remake Van Damme films or anything like that.
Did you think about that when you were offered the role in Hard Target 2?
I was really unsure about doing it for those reasons. But I read the script, and it was almost tailor-made for me, so I just decided to go with it. I don't regret it. It's surreal to think about it now. If you told me that I was going to be starring in Hard Target 2 when I was watching Hard Target, obviously I wouldn't have believed you. I heard that Van Damme was alright with it [laughs]. We try to pay homage to the original. The director brought back John Woo's style, and we're massive fans of the original. We did our best with this one.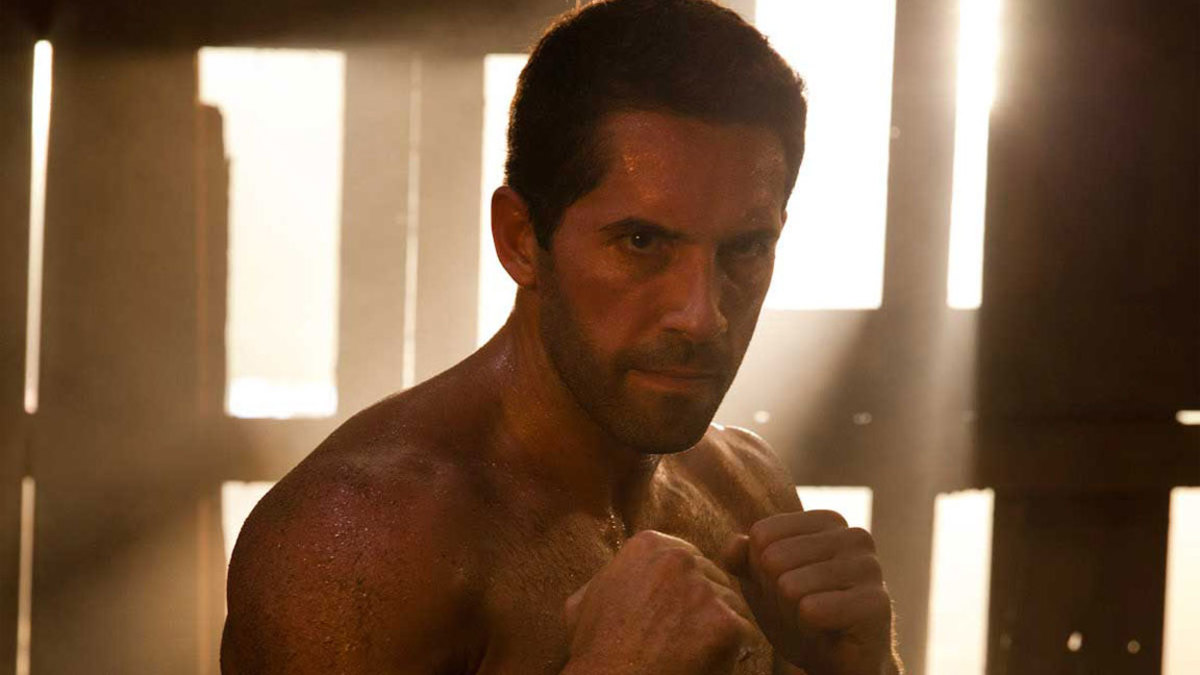 What do you focus on when you do legs and lower-body work?
I like explosive movements. I do some plyometrics for my lower body. I need to train my legs more, since I have some back problems sometimes—so lots of deadlifts to really take it out with my legs. That's why I prefer not to load up too much weight on my back and that's why I do a lot of box jumps and bunches, things like that.
What's your nutrition like when you're staying fit on a shoot?
I find it hard in Thailand and China and places like that—there's a lot of rice and noodles and things of that sort, so my diet sometimes sucks a bit in those parts of the world. But generally I find that if I cut out carbs from after lunch and I'm just having vegetables and some protein for the rest of the day, the weight just drops off me. It's as simple as that. I'll get up, I'll pretty much eat what I want for breakfast, I have a healthy sandwich, and meat and vegetables for dinner.
What are some of your favorite foods?
I've just started doing courgette pasta [editor's note: courgette is the British term for a zucchini], which I think is great. We'll slice up the courgette in thin slices like spaghetti and have that with some bolognese, ragu. It's my favorite right now.
What type of cardio training do you like to do?
I tend to get a lot of injuries, so I'll typically avoid cardio when I'm not making a movie. But I do sprint training, which I feel is better because you're not doing it for long periods of time. It's very explosive and it promotes muscle growth. On the treadmill, I'll put it on an incline and I'll do sprints, 20 to 30 seconds on and 40 to 30 seconds off. I do it up to 10 times. That's a real good sprint training session. The sprint training promotes muscle growth as well, whereas the long distance running will turn you into an endurance athlete. I don't really want to be losing muscle.
What type of weight do you usually lift?
On the bench press, I put 40 kilograms on each side, plus the bar, but I try not to go too much heavier than that. [Editor's note: That's 100kg, or 225 lbs.] I do keep notes though—they're not that detailed, but I do track the weights I was using the previous week so that I don't forget and that I know what I need to put on this week. If I get more reps out than the week before, I'll make a note.
Were you able to keep working out and training while filming the movie? What do you do when you're on-location?
The thing about working in Thailand and the hotel where I was staying—because we were shooting in the jungle—I was staying in a place that didn't have a gym. I couldn't lift weights, and, you know, if you don't use it you lose it. Naturally you're going to lose muscle mass if you're only doing body work exercises. It was hard to stay in shape during the movie but I was so active making it anyway. I was certainly burning a lot of calories.
Did you do any special training to get in shape for it?
First of all, I didn't get in shape for it, because I'm always in shape. [Laughs] It's not like I had to change what I was doing. Physique-wise, I've been in better shape. Yeah, you could stay a monster like I am—bulky all year round. But the thing is, I want to play other parts as an actor. Sometimes I'll play "normal people." If I go in there looking like a monster, I'm not going to get the role. Sometimes I'll get really big through parts, sometimes I'll trim down. But I'm always in shape.
For access to exclusive gear videos, celebrity interviews, and more, subscribe on YouTube!