"I love to drive," Stan Wawrinka said, gunning his borrowed Audi through a yellow light in downtown Miami. As of April, the 29-year-old is the third-best men's tennis player on Earth, even if he hasn't yet learned to act like it. Wawrinka doesn't travel with much of an entourage – there's no nutritionist on call, no hired hands to carry his luggage. He is Swiss; gracious, humble, and unassuming; the sort of guy who posts on Instagram, "A person who's nice to you but not nice to the waiter is not a nice person."
Indisputably, the past decade has been a golden age of tennis, but the era's glitter stuck to only an elite gang of four. From June 2005 until this past January, all but one Grand Slam tournament was won by someone named Federer, Murray, Djokovic, or Nadal. Wawrinka always hung in there, even occasionally beating the top seeds, although to casual fans he was known as the second-best player in Switzerland. His friend Roger Federer is considered by many to be the best player ever. Wawrinka agrees. He has told anyone who will listen that he isn't bothered by playing in the great one's shadow. After all, Federer's not just some dude – he's a buddy, a supporter, and an occasional doubles partner. He and Wawrinka joined together in 2008 to win a gold medal at the Beijing Olympics.
Wawrinka is an underdog's underdog – reserved off-court but a wunderkind when holding a racquet, with all the modern accoutrements: big serve, outstanding fitness, and a balletic, one-handed backhand that may be the finest in the game. But for all his skill and precision, he simply didn't win big matches. Worse, he never looked as if he thought he should.
Until he did, in January, when he won the Australian Open.
Before "Stan the Man" – Wawrinka's inevitable nickname in the press after his Melbourne triumph – there was Stan the Teenage Farmhand. Stan grew up working on his parents' farm in Lausanne, Switzerland. When he was eight, his parents told him and his brother to choose a sport. Five minutes up the road was a tennis club. "That's it," Wawrinka said, shrugging, when I asked him, Why tennis? "That's just how it goes."
At 15, he devoted himself to the game full-time. He's been on the circuit for about a decade, occasionally winning smaller tournaments or making inroads at the majors, eventually losing to one of the top players. Commentators praised his dramatic shot-making, his decorum, his foot speed. Yet for a decade Wawrinka remained one of the guys who might win a major one day.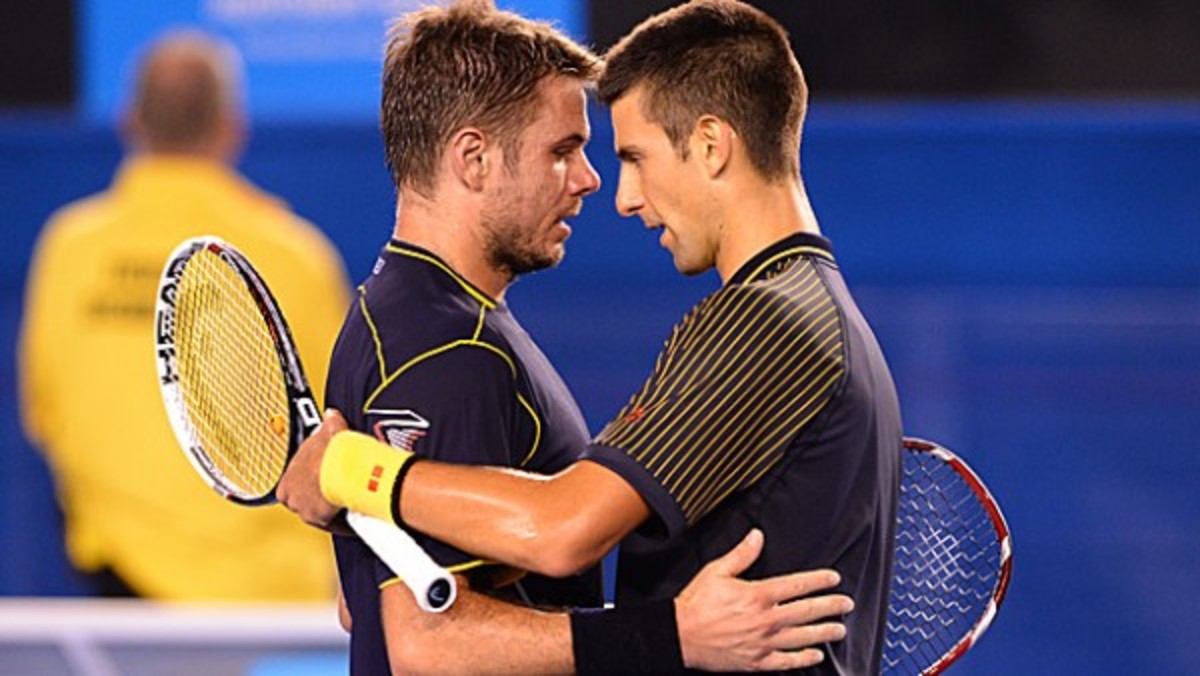 In March, days before the Sony Open in Miami, Wawrinka was number three in the ATP rankings. Federer was number five. As we drove, Wawrinka talked about the state of the game and why it isn't really possible for young phenoms to break into the sport's top rankings. "They don't have the strength at that age," Wawrinka said. "They don't have the maturity."
He had a point. As of March, the average age of the top 10 players was 27½. Contemporary tennis has become an older man's game, and the elders, like elderly people anywhere, aren't going to budge easily from comfortable seats.
Before he was known for his grit, Wawrinka was known for his losses. In 2013, he and Djokovic played a classic match at the Australian Open: a fourth-round bout, which the Serb ultimately won ­ – but only after five tense hours, in a riveting 22-game fifth set, on a third match point with a winner that made people gasp. When that ball shot past, Wawrinka fell to his knees. He cried in the locker room. He said in the press conference, "In the end I lost, and the disappointment is there, and the disappointment is enormous."
He concedes the loss had been harder to stomach than most. How could it not be, when he'd been so close? "It was different than the others because my level was way better than I'd ever played," he said slowly. "It was the first time I was playing that well in a Grand Slam, against the number one player in the world." He nodded to himself. "That match gave me a lot of confidence for the rest of the year."
That year, Wawrinka would go on to play four ATP finals, finishing in the top 10 for the first season in his career. His first tournament of 2014 was the Australian, where he beat an injured Nadal, but just making the final was a feat. By beating Djokovic and Nadal on his way to the trophy, he became the first player since 1993 to eliminate the top two seeds at a Grand Slam.
I brought this up in the car. Wawrinka merely smiled modestly.
His left forearm is covered with a tattoo, a quote in script, from Samuel Beckett, the playwright who wrote so well about despair, it makes sense that he was also an avid tennis player: ever tried. ever failed. no matter. try again. fail again. fail better.
He got the tattoo shortly after that loss to Djokovic, but it was already in the works: "I love tattoos. I don't know if I'm going to get more, but I love them." He showed me another, on his right torso, a drawing of his daughter's hands. So I asked: Surely the Beckett tattoo related to his tennis at that time? He shook his head. He paused, thinking about it. "You need to be sure before you get a tattoo. When I'd found [the quote], and I was sure, I just did it." But he agreed it pretty much summarizes the tennis player's life.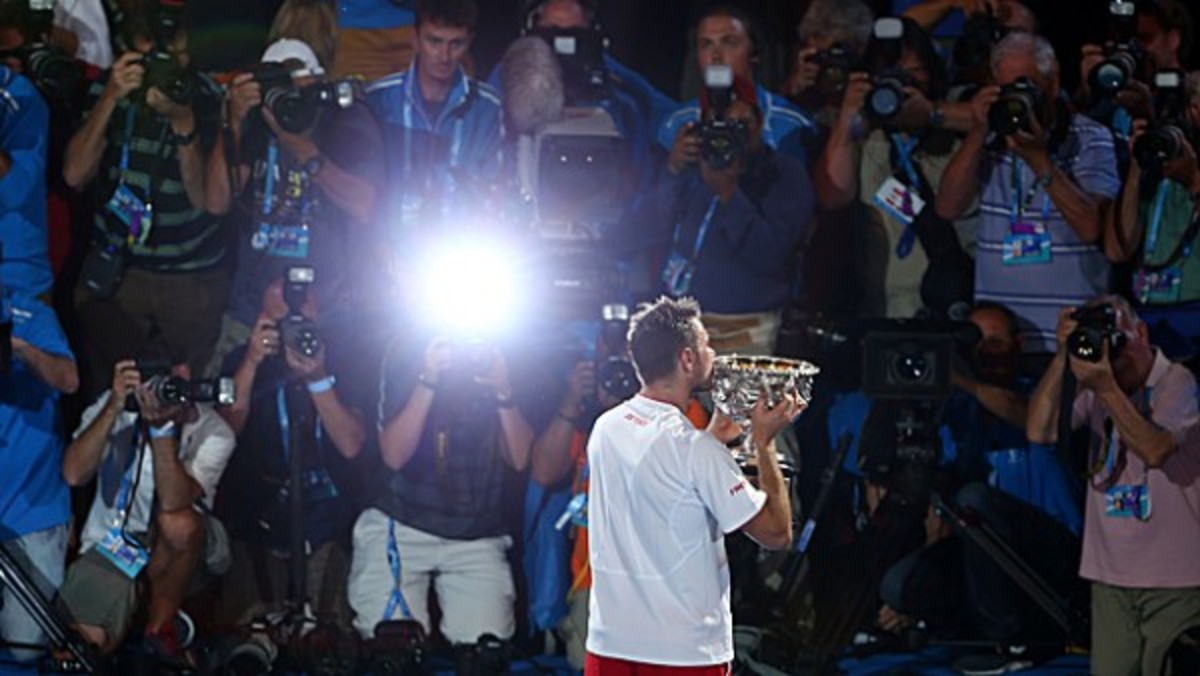 Back in the car, I asked him who his favorite player was as a kid. "Sampras," Wawrinka said. "Always Pete Sampras."
"You know the quote, right?" I asked. "Sampras said after Australia that he wished he had your backhand."
He cracked up.
"Yeah, and I want his trophies."
After Miami came Monaco, where Wawrinka reached the finals, and across the net was a familiar opponent: Roger Federer, who'd beaten him in their last 11 matches. But that was a different player back then – one lacking a champion's validation. In Monaco, it was Roger's turn to lose. Wawrinka clinched the match, 4–6, 7–6, 6–2, failing the best way he now knew how.
For access to exclusive gear videos, celebrity interviews, and more, subscribe on YouTube!