The cast of Cinemax's Strike Back is ready for action. With the season finale of Strike Back: Revolution set to air at the end of March, it was recently announced that the show will be back for one final season.
Stars of the series Warren Brown, who plays Sergeant Thomas "Mac" McAllister, and Jamie Bamber, who joined the squad for the most recent season as Colonel Alexander Coltrane, likely happy to have another ride. We caught up with both stars before the start of Strike Back, and while they didn't know for sure at that time they'd get another chance, both said they'd love to play their characters again in the future.
"I've been so lucky doing this job the past few years," Brown told Men's Journal. "I've worked with and met some amazing people that I now can call friends. Getting to do these two seasons has been incredible. I love playing this character and getting to do it again would be a blessing and a great way to continue what we've started on Strike Back."
While Bamber was new to the squad and the show, he fit in easily and was welcomed by the cast, which also included Daniel MacPherson as Sergeant Samuel Wyatt, Alin Sumarwata as Lance Corporal Gracie Novin, and Varada Sethu as Lance Corporal Manisha Chetri this past season. Bamber, who previously starred as Lee Adama in Battlestar Galactica, enjoyed the chance to get back into action-focused work.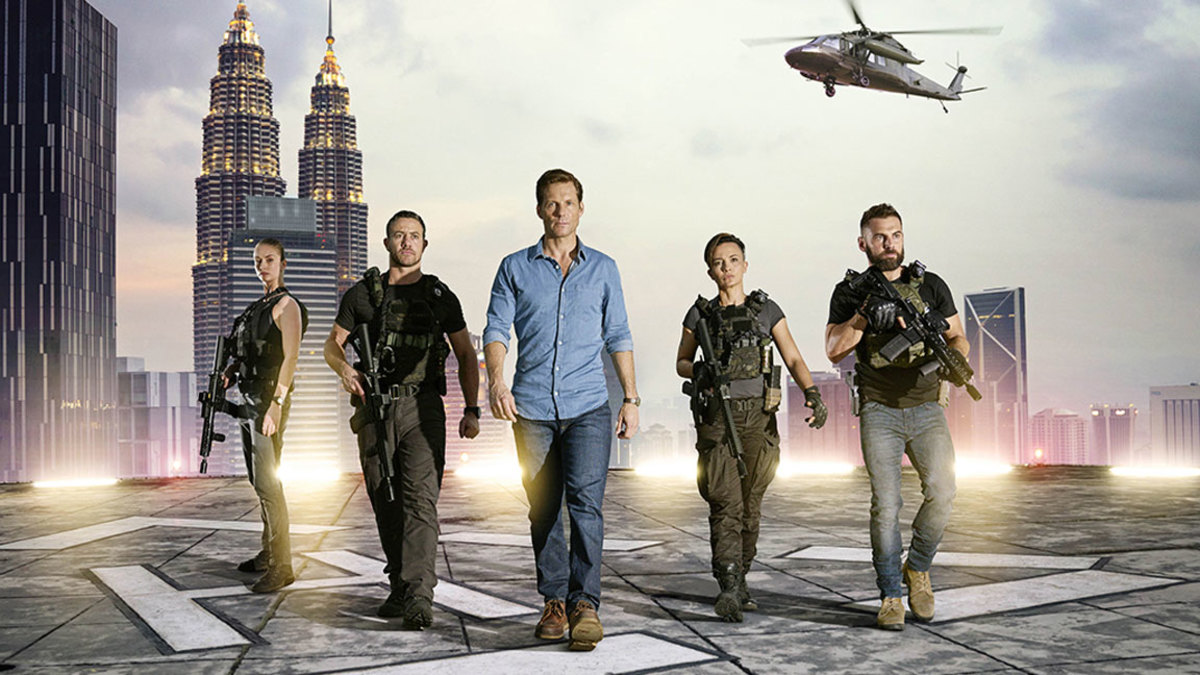 (Note: The finale of this season of Strike Back airs on March 29, and the entire season and series can be streamed from the Cinemax MAX GO app and Cinemax.com.)
"I was excited to meet everyone on the show and while they had been together for a bit, they made me feel like part of the team," Bamber said. "My character, he sort of was in semi-retirement before getting back into the field with this bunch. I could see how that was going to throw up some interesting situations. The group had been through an amazing experience the previous season, so it was up to me to catch up. It was a bit of pressure, but I enjoyed it—plus it was a set of skills I hadn't really been using since Battlestar."
The stunt work on Strike Back is some of the best on television, and both Bamber and Brown got to film some incredible sequences during the course of the season. Like the previous years in Strike Back, there were plenty of explosions, firefights, and combat scenes to go around for everyone.
"The stunt work is crazy and it's incredible on the show," Bamber said. "I think it's some of the best out there, even with movies. I think what Strike Back manages to do on a television budget is extraordinary and some of the set pieces are just amazingly done."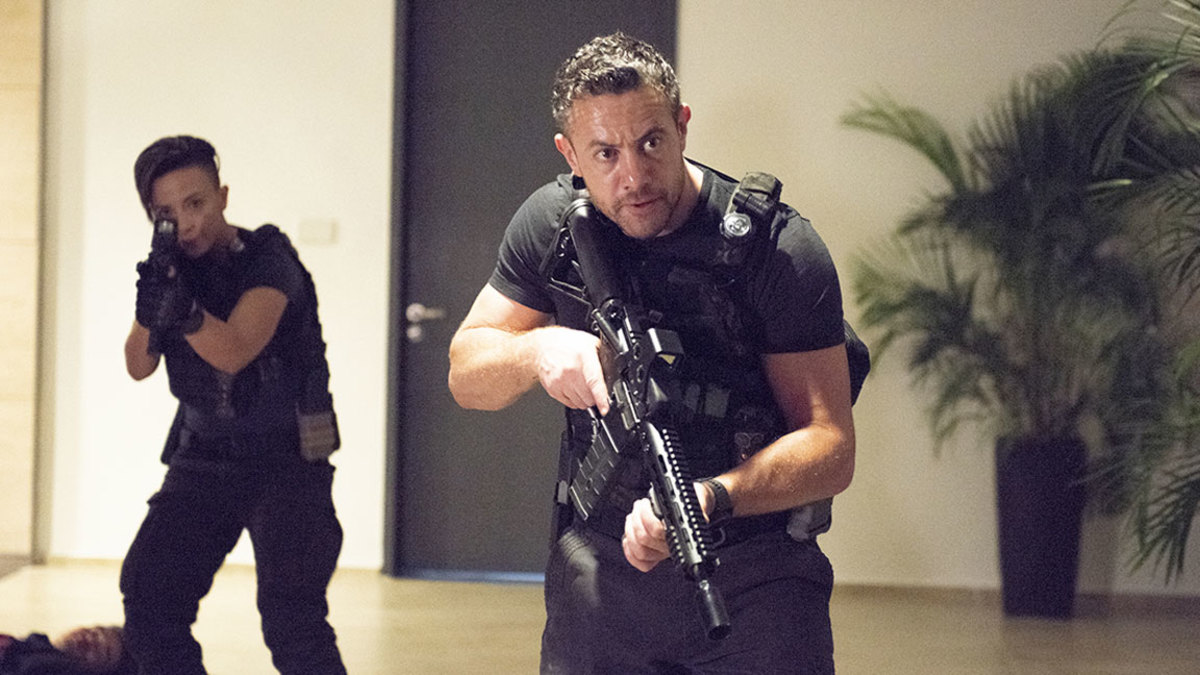 Brown, who previously was a professional fighter before becoming an actor, enjoyed all the physical work and stunt work that he had to do while preparing for the show and shooting the season. Last season, MacPherson, Brown and the cast went through an intense boot camp with real soldiers to prepare, and Brown brought some of that knowledge to this season as well. One sequence that Brown worked on was particularly exciting.
"It's a sequence that was—and I'm not kidding—like six or seven minutes towards the end of the season that we called the gauntlet," Brown said. "It was basically the three of us trying to escape from a village without getting caught and this whole sequence, it goes on and it is supposed to be one shot. It took a lot of rehearsal and there's gunfire, explosions, weapons, and the whole village is going up and it's just an incredible sequence. It's a testament to the crew and everyone that works on the show. We all trust each other and the crew that works on this show is one of the best anywhere."
To prepare for his role, Bamber did physical training—including weightlifting, playing tennis and squash, as well as running and fight training—but also focused on studying real-life people and situations that could help inform his performance of the characters.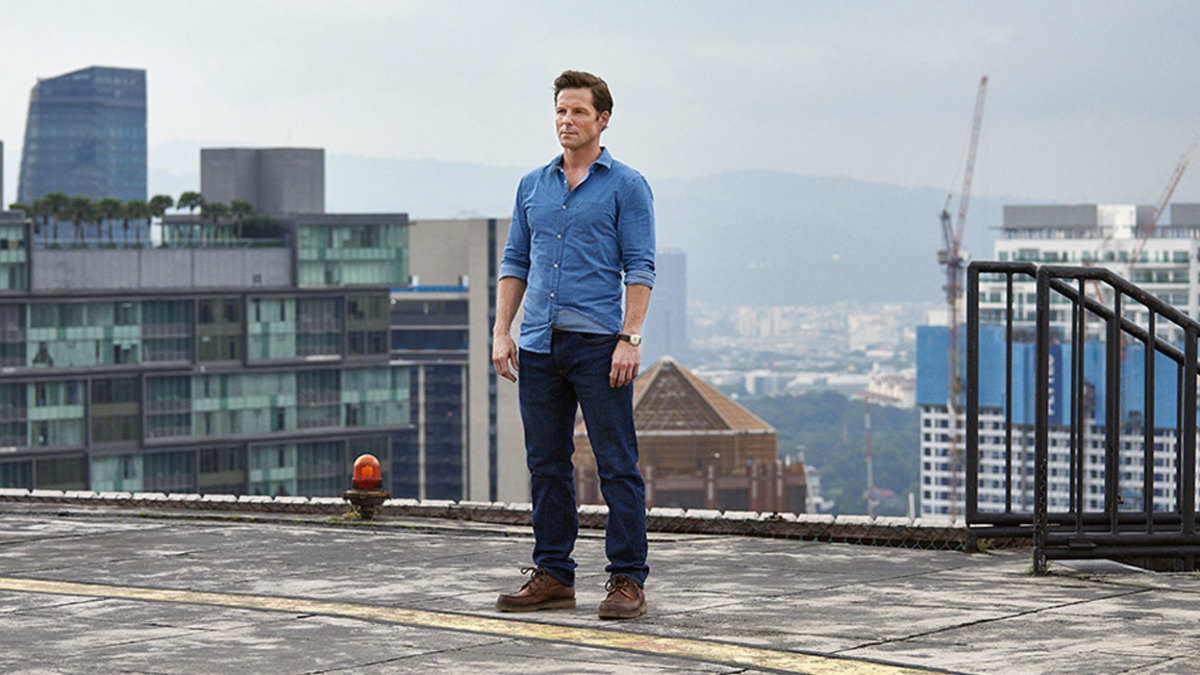 "I tend to research history for roles when I can, I enjoy that," Bamber said. "I looked into SAS and Special Forces stories, other international conflicts all over the world. Obviously, it's slightly different with fictional units, and the majority of the stuff you read about is very secret, but I also talked to friends of mine who serve, I've got a friend who's actually in politics right now, but has been a lieutenant colonel in intelligence and that was great. I always love to get first-hand experience as much as I can. You create a reality that is fictional, but you use all these strands of fact to build it.
One of the most exciting parts of working on Strike Back for both Brown and Bamber was shooting on-location, including in Malaysia. A large part of the show was filmed in Kuala Lumpur, giving the cast the chance to explore and travel along with filming in some incredible locations; Brown took time to visit Bali and Indonesia during some breaks in shooting.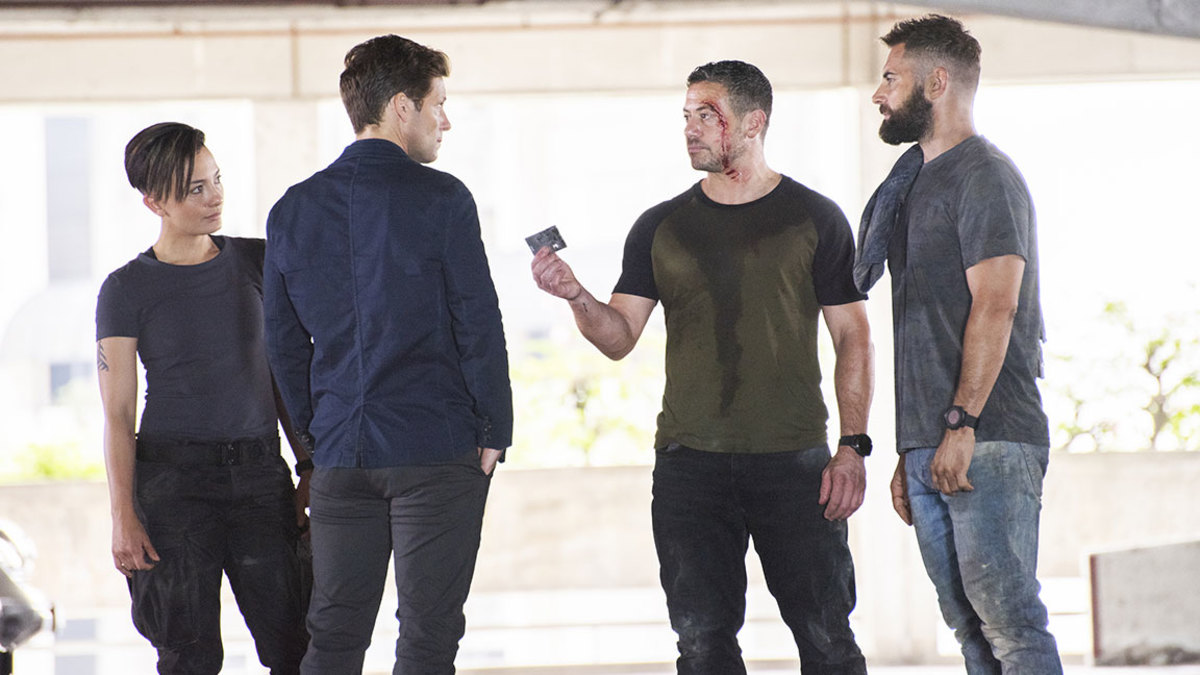 For Bamber, he was amazed at the development in Kuala Lumpur, as he had previously visited there when he was 18 after completing school: "I was a little shocked at how much had been built up over the years," Bamber said. "All the high-rise buildings and shopping malls had been a big change from when I was there two decades ago. I was backpacking back then with some friends so it was exciting and interesting to be back in this part of the world."
While this season of Strike Back is finishing up, the cast is excited to get one more season to finish off the stories of the characters and arcs that got started years ago.
The finale of this season of Strike Back airs on March 29, and the entire season and series can be streamed from the Cinemax MAX GO app and Cinemax.com.
For access to exclusive gear videos, celebrity interviews, and more, subscribe on YouTube!