"Delayed gratification often pays off much more than when it's instant!" This age-long philosophy rings true for the successful entrepreneur Reno Davis, who's spent the past years building an impressive profile as a Miami real estate wholesaler.
When people look at Reno today, beyond his business chops, they probably see his keen sense of fashion and preference for the finer things in life.
According to Reno, this year alone, he's doled out about $40,000 to maintain his wardrobe. He puts in the work to stay true to his desire to always stand out, whether he's at work or play. It's not uncommon to find Reno rocking designer sneakers or tracksuits. Dolce & Gabanna, Louis Vuitton, and other timeless labels. Whether it's their clothes, shoes, or perfumes, they all have their home in Reno's regular rotation.
But it's not just the scents and the clothes and the kicks. Reno's got a thing for the bling. Davis recently went to one of Hollywood's top jewelers, jeweler to the stars Johnny Dang, for his own custom grill.
However, all the fancy fits and bling wouldn't be what they are to Reno Davis if it wasn't for the hard work it took to get him to where he is today. In other words — delayed gratification. Reno Davis didn't just wake up and stumble into success or have it drop on his lap like some rich kid. He worked his way to the top.
During a recent interview, Reno spoke on the sacrifices he made at the beginning of his journey and the ones he continues to make to keep his business thriving. In a market as saturated as Miami's, immediate success for Reno was out of the question. He decided to set himself apart from the pack right from the very beginning. He put in the hours and paid attention to each detail. "I sacrificed nights. I missed out on events and parties. I focused on my business and getting the firmest grasp on the real estate wholesaling market here in Miami as possible."
Thankfully, success was closer than he'd hoped. Reno soon hit it big. Unlike those who'd rest on their laurels, Reno doubled down. After his first major deal, there was no stopping him.
This was all before the bling and fast cars. Before that drip, there was the drip of sweat that came from hard work. After all, it's hard to avoid sweat when you come from the landscaping business.
Reno's success results from a deliberate, conscious effort and a positive attitude that drives him forward. Today, Reno Davis can't help but be grateful for what he's achieved. He's living a life that many could only dream of, and why not? As he puts it, "I'm busting out $3,000 for a pair of sneakers because the way I see it, if you work hard, you gotta get what you deserve."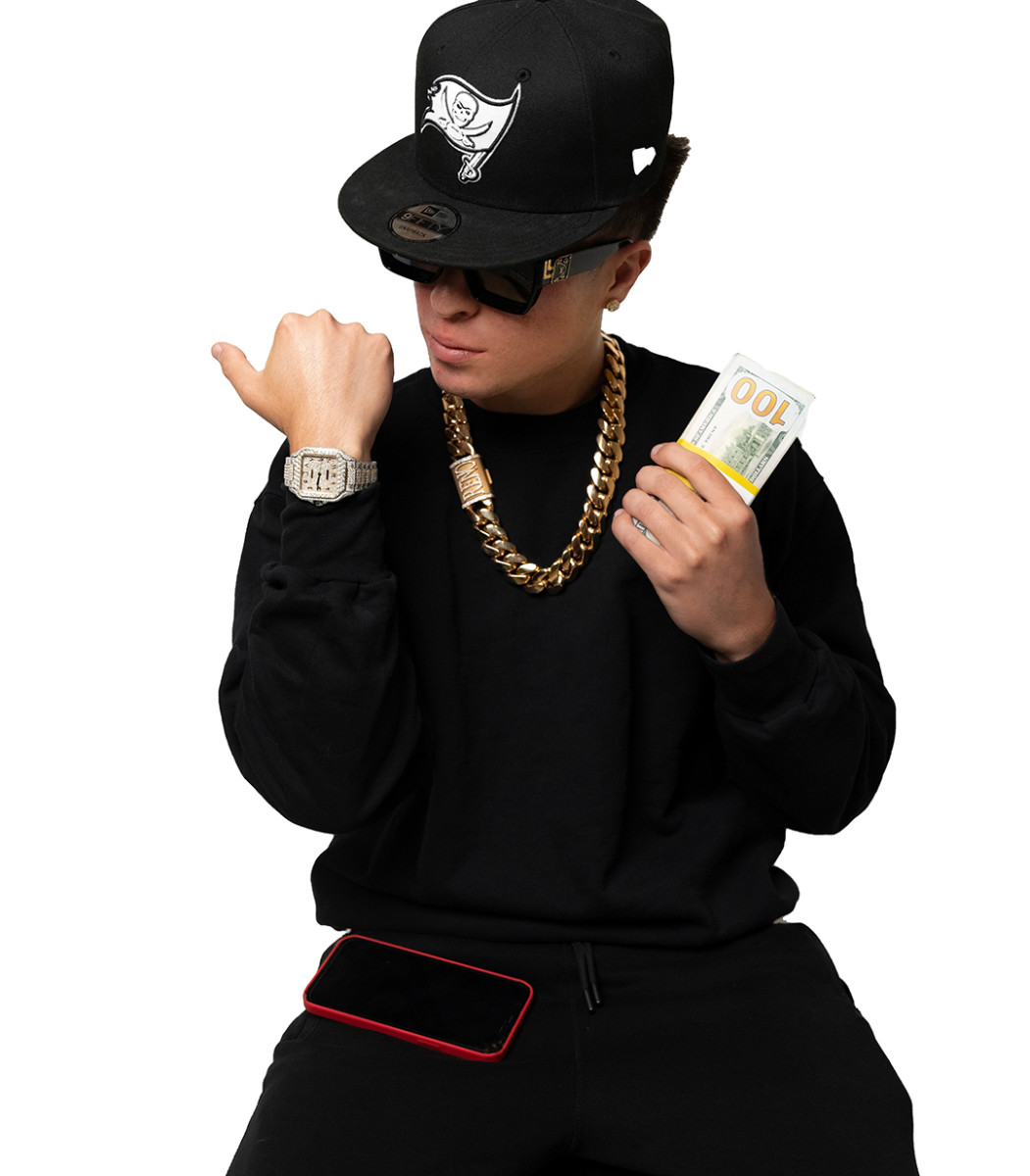 Written in partnership with Luke Lintz
For access to exclusive gear videos, celebrity interviews, and more, subscribe on YouTube!