Through his comic book creations, heroes like Spider-Man, Black Panther, Iron Man, and hundreds of others, Stan Lee connected with people over the world.
Following his death at 95 on Monday, fans, celebrities, and actors who have played the heroes Lee created shared their emotional reactions and honored his legacy on social media. Stars like Chris Evans (Captain America), Chris Hemsworth (Thor), Scarlett Johansson (Black Widow), and Robert Downey Jr. (Iron Man) shared condolences for the man who originally built the Marvel comic book brand.
"Thankful everyday to be a small part of Stan's universe. He was a legendary visionary and a true artist," Johansson said in a statement, according to NBC News.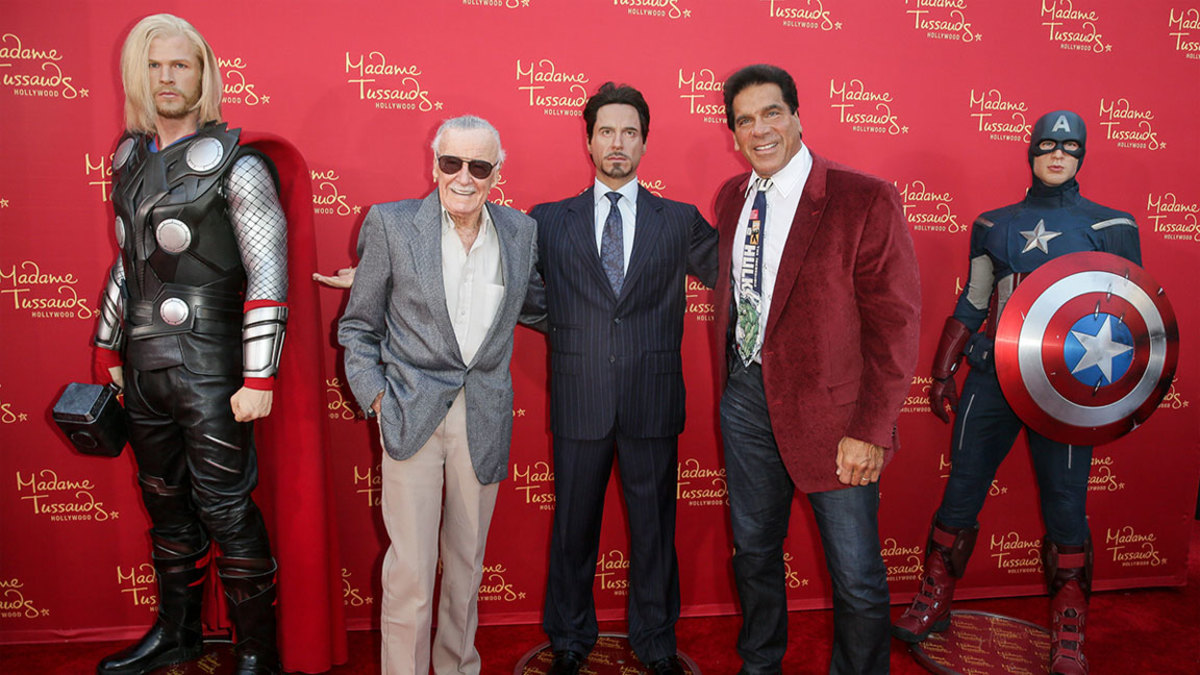 "Stan Lee was as extraordinary as the characters he created. A super hero in his own right to Marvel fans around the world, Stan had the power to inspire, to entertain, and to connect. The scale of his imagination was only exceeded by the size of his heart," said Bob Iger, Chairman and CEO, The Walt Disney Company, in a statement released by Marvel.
Lee previously spoke with Men's Journal about working into his 80s, saying that he was "happiest" when he was working. "If I'm not working, I feel like I'm wasting my time," Lee said. "Most people say, "I can't wait to retire so I can play golf," or go yachting or whatever they do. Playing golf, you get together with your friends for an afternoon, talking and having fun. But I do that in the office, and we're accomplishing more than hitting a ball into a hole."
After creating so many iconic characters, Lee's legacy was celebrated. Here's a look at some of the reactions from celebrities on social media:
The Avengers actors
A very nice Stan Lee tribute ad from 6 of the Avengers is in this week's @THR print magazine. pic.twitter.com/0tt34otjqi

— Matthew Belloni (@THRMattBelloni) November 14, 2018
Hugh Jackman
Ryan Reynolds
Damn… RIP Stan. Thanks for everything. pic.twitter.com/TMAaDJSOhh

— Ryan Reynolds (@VancityReynolds) November 12, 2018
Robert Downey Jr.
Lou Ferrigno
Not enough kind words to post about my dear friend @TheRealStanLee
My life wouldn't be the same without his incredible talent as a creator, storyteller and friend 👍🏽

Rest In Peace Stan. You'll be missed.
.#legend #hulk #stanlee #rip pic.twitter.com/9XU45GHCnq

— Lou Ferrigno (@LouFerrigno) November 12, 2018
Dwayne "The Rock" Johnson
Chris Pratt
NBA players shared their favorite superhero characters in honor of Lee:
1. Atlanta Hawks' Jeremy Lin – Iron Man
2. Brooklyn Nets' Spencer Dinwiddie – Iron Man
3. Detroit Pistons' Andre Drummond – Thor
4. Indiana Pacers' Victor Oladipo – Black Panther
5. L.A. Clippers' Danilo Gallinari – Spider-Man
6. L.A. Lakers' JaVale McGee – Venom
7. L.A. Lakers' Kyle Kuzma – Wolverine
8. L.A. Lakers' Lonzo Ball – Thor
9. New Orleans Pelicans' Anthony Davis – Venom
10. OKC Thunder's Paul George – Wolverine
11. Philadelphia 76ers' JJ Redick – Ant-Man
12. Phoenix Suns' Dragan Bender – Deadpool
13. Portland Trail Blazers' Jusuf Nurkic – Spider-Man
14. Sacramento Kings' Marvin Bagley – Spider-Man
15. Washington Wizards' Otto Porter Jr. – Black Panther
Spencer Dinwiddie also honored Lee with these awesome shoes:
Excelsior.

Shout out to Spencer Dinwiddie for paying tribute to Stan Lee. pic.twitter.com/1NAD59eH8G

— slamkicks (@SLAMKicks) November 15, 2018
Chris Hemsworth
Questlove
 

View this post on Instagram

 
Chris Evans
There will never be another Stan Lee. For decades he provided both young and old with adventure, escape, comfort, confidence, inspiration, strength, friendship and joy. He exuded love and kindness and will leave an indelible mark on so, so, so many lives. Excelsior!!

— Chris Evans (@ChrisEvans) November 12, 2018
Tom Holland
Joss Whedon
Stan Lee created a universe where, if a character was beloved enough, they could never really die.

Now THAT'S thinking ahead.

Thanks for so much of my life. You'll never not be in it.

— Joss Whedon (@joss) November 12, 2018
The Russo Brothers
Mark Ruffalo
Sad, sad day. Rest In Power, Uncle Stan. You have made the world a better place through the power of modern mythology and your love of this messy business of being human… pic.twitter.com/x6yZ6ClNSX

— Mark Ruffalo (@MarkRuffalo) November 12, 2018
Anthony Mackie
You were a man before your time… now it feels like you are gone before your time. RIP Stan the Man… thanks for the laughs and words of support. It's a honor to live in your universe! #MarvelKnight pic.twitter.com/1TXdPqUB3x

— Anthony Mackie (@AnthonyMackie) November 12, 2018
Paul Bettany
Now that was a life well lived and lived to its fullest. Excelsior! 1922-2018
Thank you Stan Lee, from all your fans.

— Paul Bettany (@Paul_Bettany) November 12, 2018
Zoe Saldana
Samuel L. Jackson
Thank you @TheRealStanLee for the escape from this world & great joy inhabiting the ones you created!! You made so many believe in the good, the heroic, the villainous, the exciting, most of all, you were giving & gracious to us all. RIP

— Samuel L. Jackson (@SamuelLJackson) November 12, 2018
Letitia Wright
Rest in Peace Stan Lee

💙

— Letitia Wright (@letitiawright) November 12, 2018
Halle Berry
RIP #StanLee – thank you for sharing your incredible vision with us. We are eternally grateful to you and would not be the same without it. I am so honored to have played a part in your world, and will forever look back on the opportunity with love. #XMen #Storm pic.twitter.com/pKfxHMUKmP

— Halle Berry (@halleberry) November 12, 2018
For access to exclusive gear videos, celebrity interviews, and more, subscribe on YouTube!