It just takes one watch of the opening credits for Narcos to realize that even though the new Netflix series features a promising young cast of actors, the show's true stars are the legends of cocaine kingpin Pablo Escobar and two DEA agents that helped bring him down, Steve Murphy and Javier Pena.
Following the inception and eventual triumph of Search Bloc, a task force created in 1992 by Colombian president César Gaviria to hunt down the seemingly invincible drug trafficker, Narcos is a history lesson as much as it a TV drama. The show regularly features authentic archival footage and photos from the era, including news broadcasts, public addresses by Ronald Reagan, and even the rare clip of Escobar himself.
But it was Murphy and Pena, who were consultants on series, that proved to be the greatest resource of all. The two now-retired DEA agents were on the ground during Escobar's brutal rein as head of the Medellín cartel, when he used his unlimited stream of cash to pay for the execution of informants, police officers, and even judges. The show's plot points are more often than not lifted from the pages of their lives in a good-versus-evil battle that seems too wild to be true.
"I was just shocked that anyone would even want to watch a show about some two-decade-old case where the villain is dead now," says Murphy in his Southern drawl, while his former partner Pena laughs. But during a conversation with the two, it becomes clear that their story has the makings of riveting television: violence, greed, and political corruption. Better yet, it's a story in which the good guys win. No spoiler alert necessary, the ending is in the textbooks.
When you first got back from Colombia, were you surprised at the attention that your story got, and are you surprised that people are still interested?
Javier Pena: At its core it is a lesson in history, and it's proven a useful one. Mexico is employing the same techniques we used to take down Escobar in their pursuit of El Chapo.
Steve Murphy: When we first came back from Colombia in 1994, that's when they first started doing some documentaries. Frontline did one first. In my personal life, I never really talked about it. It would have just felt like bragging. I moved to a couple new police offices and eventually people would find out that you were involved in the case and there would be a lot of questions. To be honest we were just doing our jobs and trying to have a good time. We both enjoyed what we were doing and we had the opportunity to go up against the biggest narcotics distributor at that time. And eventually we won.
JP: Just like Steve says, I never thought that what we were going through would get this much attention, but we knew it was serious. It was rough. There were people getting killed around us: police officers. What the show does is help to keep the story alive so that people can prevent it from ever happening again.
Did they have you on set during the filming of the show?
SM: We weren't on the set for the most part. We flew to California to work with the writers. After that, we spent hours and hours on the phone and on email answering questions and filling in the gaps. Javier got to go down right before they started filming with the director and the producers to show them some of the locations. This past March, my wife and our two daughters all went down for the last month of filming.
JP: I hadn't been there for a long time before the trip, and a lot of things have changed. I showed them where we used to live, at the Carlos Holguin Police School. I showed them the prison… well, what was left of it. [laughs] They destroyed most of it. I wish they had kept it as a museum, but I guess it was just a reminder of a bad period in their history. I'm not sure, exactly. I never got an answer. I took them to where Escobar lived; they went on their own to his ranch, which I hear is now something of a museum.
What did you think of Wagner Moura's take on Pablo? How does it stack up against the real thing?
JP: I met Wagner there in Colombia and we visited Medellín together. I tried to tell him everything I could about who Escobar was, that he was an egotistical, power-hungry maniac. I told him that while Escobar was creating this Robin Hood character to present to the people, he was a truly violent man who would kill anyone in his way. Wagner enrolled in a Spanish class because the Medellín accent is very noticeable, the way that they speak. It's different than the accent that comes from Bogotá.
SM: Wagner and I exchanged emails for the first time just a few days ago, and I said, "I think you really captured his ego and his smartass attitude."
In the first episode, we see Escobar put a half-a-million-dollar bounty on your heads, which really happened. Can you explain what it was to go up against a man like that?
JP: He was terrifying. He had this Robin Hood aura around him, providing money to the churches and the schools. When he declared war on Colombia, you learned how powerful and violent he was. But when we first started working Escobar, it felt like just another case that just became more and more fantastical. The killings. The billions. I remember saying, "This can't be happening." But it was. I don't think that Hollywood would be able to come up with the kind of plots that he concocted if they tried. What we like to say, though, is we were not the heroes of this story, or the CIA, it was the Colombian National Police.
SM: When I first started working on him, I just knew that he was the one sending the majority of the cocaine to Miami and the European markets. The closer we looked, the more that was revealed, that he had an organization of other traffickers that he controlled. They are not the kind of people you boss around, so we knew he must have something to him to have that kind of ability. You learn that he pulled it off by killing anyone who crossed him. He was rich. He was dangerous. And he wasn't afraid to use violence to get his way.
Do you have any friends or family members who are reaching out now and are shocked by what you guys went through out there?
SM: Even when just the trailer came out, I got a few calls: "Why didn't you say anything about this?" It's not exactly the sort of thing that you just bring up while you're around the BBQ.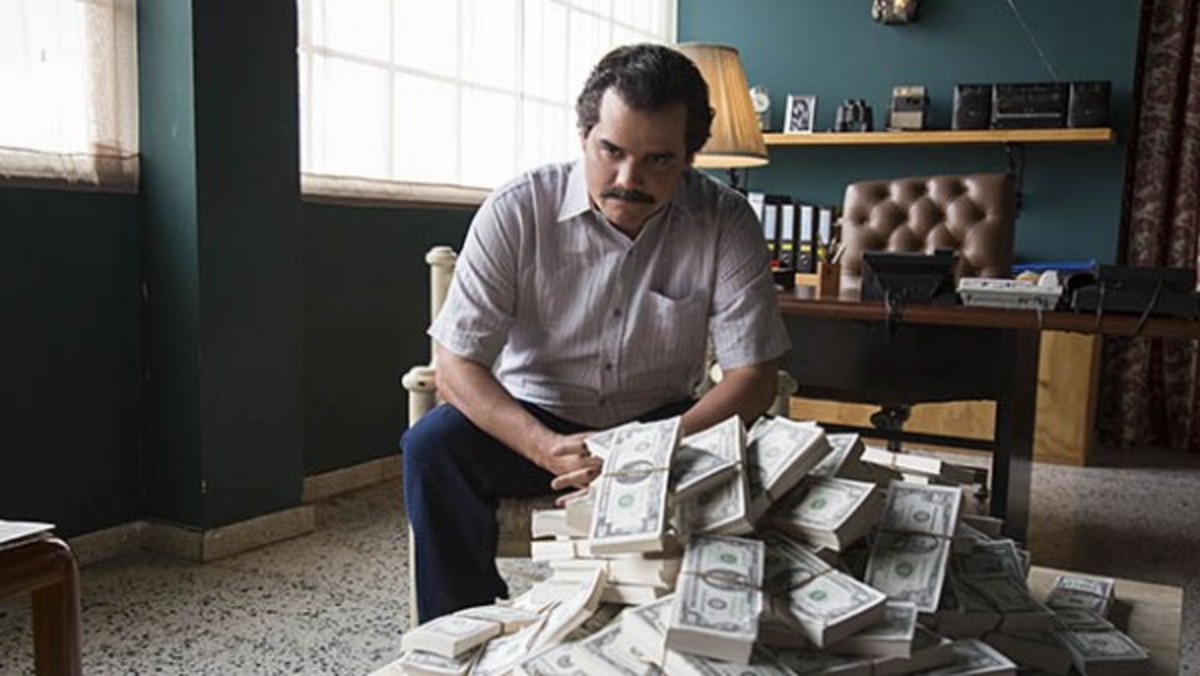 Wagner Moura as Colombian Kingpin Pablo Escobar in 'Narcos.'
How did you train the show's stars Boyd Holbrook and Pedro Pascal about the DEA practices?
SM: Javier and I thought that it would be good to bring them down to the DEA Academy in Washington, so they spent a week training with the real guys. They did very well. They spent about half a day on the range and took it very seriously. They learned how to conduct felony traffic stops, they learned how to arrest somebody. They even did role-playing for under-cover operations. We even sent them into a training scenario where they had to buy meth. One followed the instructions and survived, the other messed up the instructions and was "killed" in the deal.
RELATED: John McAfee: The Prophet of Paranoia

Who was killed? Can you spill?
SM: I'm not going to tell you. I'll let you figure it out.
Since these events occurred, in the '90s, there have been a lot of changes in Colombia. Now it's a growing tourist destination. You both made recent trips, how was your experience?
JP: It's changed. It's changed for the better. I went back with the crew to show them the sights. It's night and day. It's safe now and very tourist friendly. I remember when I was working there, no kids were allowed and we had to drive in convoys. Colombia is now looked at as a model country for their policing efforts.
SM: I agree 100 percent. I had not been back for a decade, and it's changed incredibly. You expect to see armed guards everywhere, jeeps with machine guns, and huge convoys. But it's nothing like that anymore, and the airport is beautiful and modern. The restaurants are fantastic. We were comfortable walking around the city, and the people completely understand. My wife says that she would go back there in a heartbeat.
Though they do not live in the same city Steve Murphy and Javier Pena still regularly communicate and tour the country giving seminars on their experience as part of the National Law Enforcement Speakers Bureau.
For access to exclusive gear videos, celebrity interviews, and more, subscribe on YouTube!