Filmmaker Angelo Pizzo penned such iconic sports films as Rudy and Hoosiers, but when asked to explain how he came upon the story that would become his directorial debut, My All American, he's reluctant to answer. "Maybe you leave that part out," Pizzo says with a laugh. We're not budging. 
"I opened up Facebook and there was a message from a guy named Tony Jones," he says when pressed, after repeating that he'd rather not receive hundreds Facebook messages. "This was not the first time I had been pitched a movie on social media, and usually I just ignore it. But he said he had optioned a book by Jim Dent, who I already had great admiration for."
The book was Courage Beyond the Game, which chronicled the life of Freddie Joe Steinmark, an admired University of Texas college football player who helped his team win "The Game of the Century" against Arkansas, only to find out two days later the pain was the result of a bone tumor. The leg was amputated, but after only 20 days, in a show of great strength, he stood on the sideline with his team at the 1970 Cotton Bowl. Before passing away at the tender age of 22, he had helped inspire Congress to draft the National Cancer Act of 1971, which President Nixon signed into law, beginning the War on Cancer.
"I started to actually weep as I read it," Pizzo admits. So moved by the story, he decided to make it the first film he would direct, having already received great acclaim for the screenplays he had written for others. "I saw that there was a true American hero, who could be a great role model, and there was a great ending."
But there was no budget to produce the picture, so Pizzo put it in the back of his mind until six months later, when he received yet another Facebook message from Jones saying they had found the money. One of the producers lined up was Bud Brigham, who played football with University of Texas and had a special connection to the story. "The first thing Bud asked me was how much of Rudy was true," says Pizzo. "I said about 75 percent. He said he would be happier if this was 100 percent."
Coming off of that conversation, Pizzo set himself to a higher standard of storytelling. Instead of "Based on a true story" before screening the movie, he wanted to be able to show "This is a true story." The chances of achieving that goal looked grim at first, as many attempts had been made to tell Freddie's story, but the family was yet to collaborate with any one of them. It was Brigham who arranged for them to meet with Pizzo so he could present his case. "They were worried that Hollywood was going to come in and completely fictionalize what had happened. I promised them that I wasn't going to let that happen."
Pizzo admits that without his previous credits it's unlikely that the family would have given him their trust, and he set hard at work to make sure that it wasn't misplaced. He had ongoing conversations with Freddie's girlfriend Linda Wheeler, his friend Bobby Wuensch, and the widow of his coach Darrell Royal. "I did a lot of research. You can make special note of this: Every scene that I wrote, I spoke to at least one person who was there."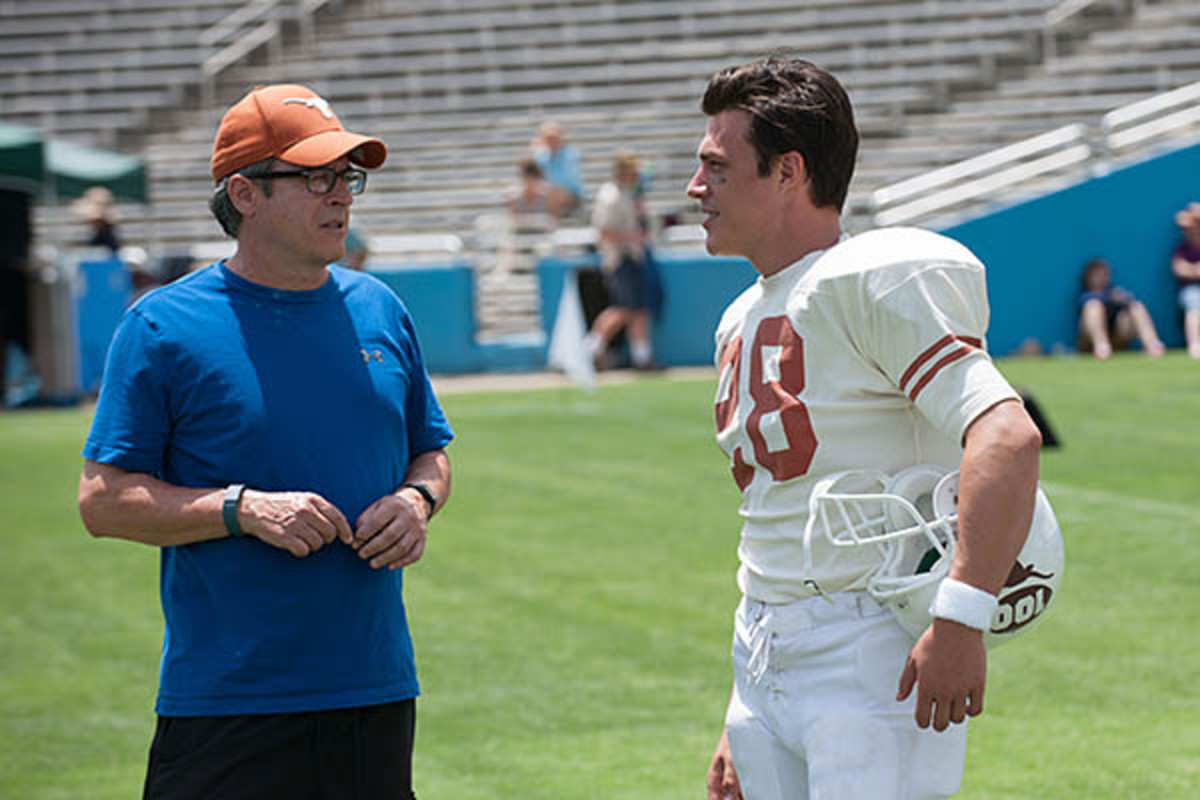 Pizzo and Wittrock on set at University of Texas. (Van Redin/Clarius Entertainment)
To bring that same level of authenticity into the filming process, production took place in Texas, surrounded by Freddie's friends and family, even within the cast. The legendary UT quarterback James Street is actually played by his son, and upcoming actor, Juston Street. But the most difficult challenge was given to American Horror Story star Finn Wittrock, who portrayed Freddie. "I had a lot of information to use," Wittrock says. "His brother Sammy was right there with us on set, and he was incredibly helpful." He also went through a weeklong boot camp, training in Freddie's position of defensive safety.
Despite the benefits of having family members at the ready to share insights to his character, Wittrock admits that the situation posed a challenge as well. "It's kind of hard to play someone that everyone is so in love with. I would ask what he was like, and their answer would be, 'perfect.' "
For access to exclusive gear videos, celebrity interviews, and more, subscribe on YouTube!