As he proved with his incredible stunts in Mission: Impossible—Fallout, Tom Cruise just might be the youngest 56-year-old in Hollywood. Cruise has been hard at work on his next film Top Gun: Maverick and the latest look at the actor on set shows that he's still continuing to defy aging, just like Rambo 5 and Creed 2 star Sylvester Stallone.
Some new photos have trickled out from the Top Gun 2 set, including some of Cruise riding his new Kawasaki Ninja H2R motorcycle. In the original Top Gun, Cruise's character rode on a Kawasaki GPZ900R, and in the sequel, he clearly has an upgraded model. Cruise is following suit of stars like Stallone, who is doing a new Rambo, and Arnold Schwarzenegger, who is doing a new Terminator sequel by bringing back one of his best-known roles to the big screen.
Here's a look at the age-defying Tom Cruise, who basically looks the same as he did in the original Top Gun:
Tom Cruise filming TOP GUN 2 and looking like he stepped into a time machine. pic.twitter.com/YkdDpak9Ja

— Dave Quinn (@NineDaves) October 10, 2018
Here's another look at Cruise in his aviator sunglasses and badass flight jacket:
I feel the need to see more images of Tom Cruise back on the bike rocking the bomber jacket and aviator shades in #TopGunMaverick pic.twitter.com/x4r5qaojtT

— Erik Davis (@ErikDavis) October 9, 2018
In the Top Gun sequel, the story picks up decades later with Maverick now working as an instructor at the academy—with an upgraded jet possibly—and teaching a new generation of pilots how to survive in the skies. The film will also have a focus on drones and new technology that has made the previous generation of pilots learn new techniques to survive in their industry.
Along with Cruise, Val Kilmer will be back as Iceman, while the rest of the cast is filled out with notable names, including Miles Teller—who has been getting absolutely jacked for the role—Jon Hamm, Ed Harris, Glen Powell, and Jennifer Connelly. Some of the younger pilots in the film will be played by Jay Ellis, Monica Barbaro, Jack Schumacher, Manny Jacinto, and Danny Ramirez.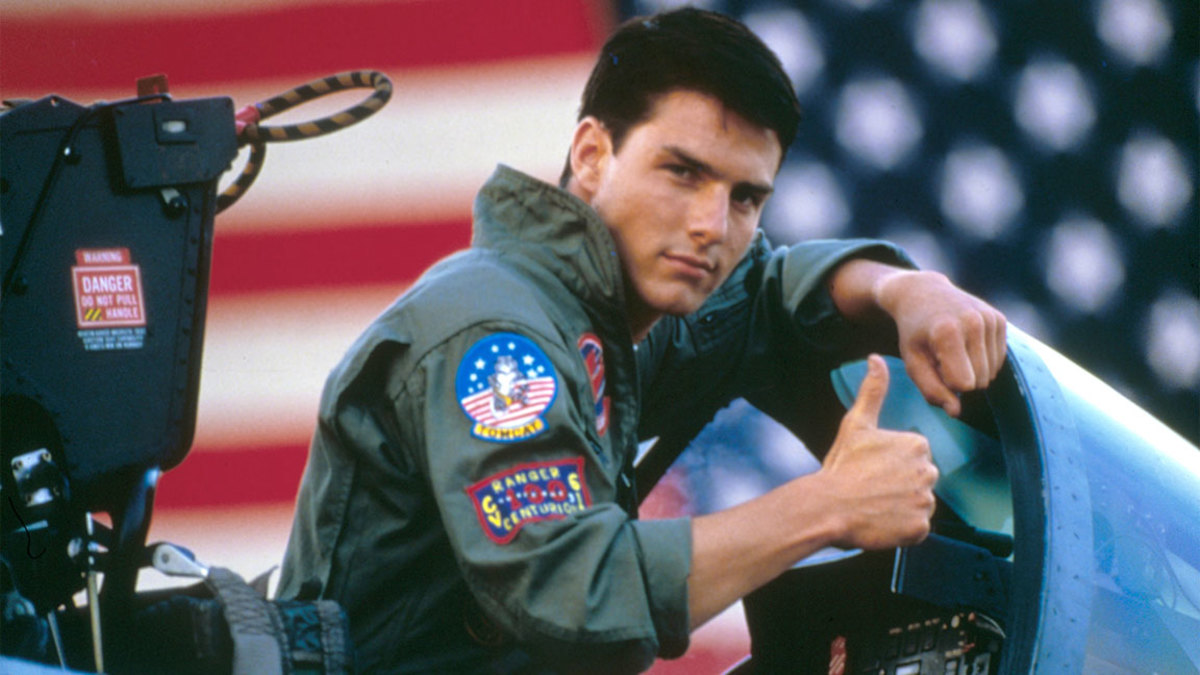 The film was originally slated for a July 2019 release, but the movie was delayed so that director Joseph Kosinski and the crew could work on upgrading their technology and getting the best shots of the flying jets as possible. As Kosinski put it, he wants the "production [to] work out all the complex flight sequences so that the pic can be great," according to Deadline.
Top Gun: Maverick will be released on June 26, 2020.
For access to exclusive gear videos, celebrity interviews, and more, subscribe on YouTube!