Tom Hardy knows a thing or two about body transformations. He also knows they aren't easy. Over his career, the Academy Award-nominated actor added slabs of muscle to play a mixed martial arts fighter in Warrior and the titular criminal in Bronson, but nothing compares to what he did to play Bane in The Dark Knight Rises. In fact, his Bane body transformation is still sticking with Hardy in a way.
Hardy transformed himself into one of the most physically dominating villains of all time with his training, doing four training sessions per day to add over 30 pounds of mass, muscle, and strength. Hardy truly looked like the superstrong mastermind who breaks Batman's back—but as he recently revealed, that transformation came at a cost.
"I think you pay the price with any drastic physical changes," Hardy told The Daily Beast in an interview. "It was alright when I was younger… but I think as you get into your 40s you have to be more mindful of the rapid training, packing on a lot of weight and getting physical, and then not having enough time to keep training because you're busy filming, so your body is swimming in two different directions at the same time… I haven't damaged my body, but I'm certainly a bit achier than I used to be! I certainly have joints that click that probably shouldn't click, you know what I mean? And carrying my children is a little bit harder than it used to be—but don't tell them!"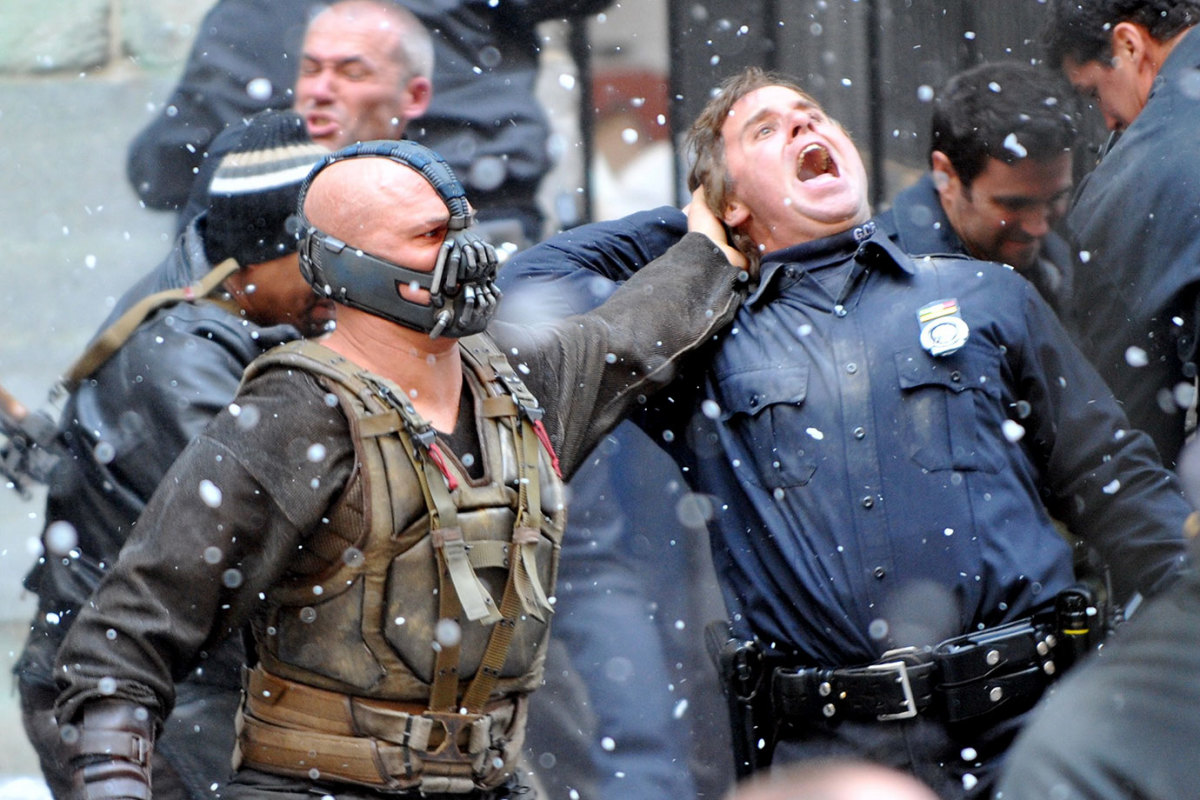 Even though Bane and Batman are (likely) in the past for Hardy, there could be some more body transformations coming along. Hardy has signed on for more Mad Max sequels, and he recently locked in a deal to portray an aging Al Capone in a new film from Josh Trank.
"It's not the classic Al Capone that you necessarily envision with the silhouette," he said in the interview. "I don't want to give too much away about it, but there's definitely a transformation with that role. I don't know if it's as drastic as Bane. I've probably damaged my body too much. I'm only little! If I keep putting on weight I'll collapse like a house of cards under too much pressure."
Hardy is having himself quite the run as of late. Following his Academy Award-nominated role in The Revenant, he's become the face of the FX show Taboo, he reunited with Inception and Dark Knight Rises director Christopher Nolan for Dunkirk, and he also starred in Venom one of the films we were super-pumped to see in 2018.
Keep 'em coming, Tom. And maybe consider yoga.
For access to exclusive gear videos, celebrity interviews, and more, subscribe on YouTube!