Content written in partnership with Boomf.
Buying Christmas cards for your loved ones can be a lot more fun and rewarding than hitting the closest card shop on the 23rd of December and buying a multipack of cards they've probably received a million times before. After all, it is more than giving your other half a piece of cardboard. It's a way of showing your appreciation, of making memories together, and, frankly, setting the right tone for the Christmas season.
In today's digital world it's become all too easy to send an e-card or simply wish a loved one happy Christmas via a text message (especially if you're far from one another!). Meanwhile, a physical Christmas card from Boomf can play a huge role in strengthening your relationship and communicating your love towards your partner.
Read on to find out how to make your Christmas card work its magic. Make this one count!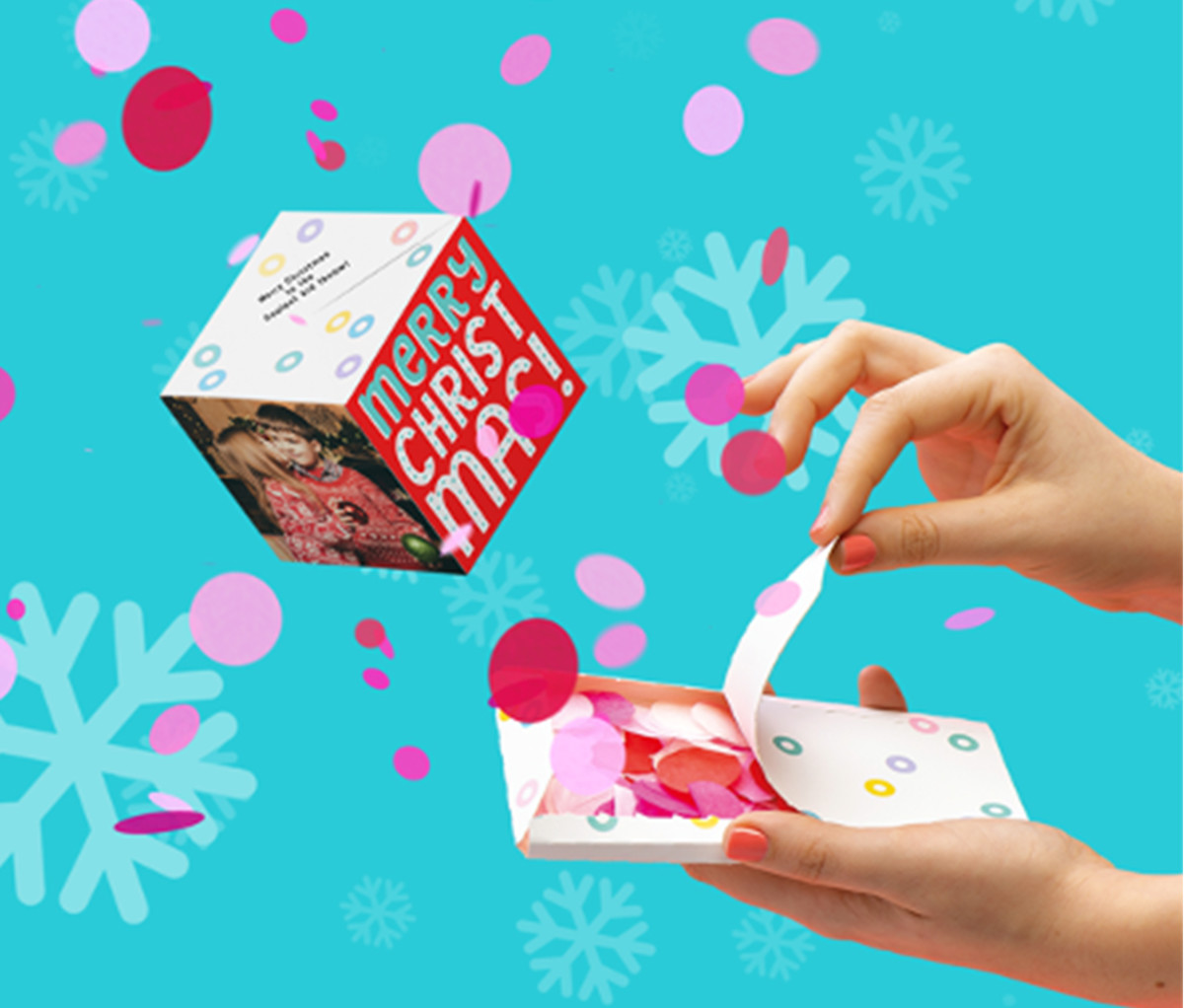 Which Christmas card should you choose?
We understand, when you show up at a card store and look at the seemingly endless shelves stacked with Christmas cards, it is easy to get overwhelmed. Most likely, your first instinct is to grab the first one you see and run (to later realize it says "Merry Christmas Grandpa!").
Don't worry, we got your back! Just follow our simple rules for a successful (and maybe even pleasurable) card buying experience.
Golden Rules for Christmas Cards Shopping 
Avoid tacky cards
Yet another reindeer Christmas card from a multipack just won't do (some picky partners may even argue they prefer no card to a standard, boring one). Remember the last time you got one of those? Chances are it ended up in trash, in a recycling bin or in an abandoned corner of your apartment. Trust us, it's likely going to be the same for your partner, no matter how much they love you.
Top tip: For a card that truly stands out, why not check out Boomf cards. There is nothing more extraordinary than a 3D pop-up card that showers your unsuspecting sweetheart with love & confetti!
Make it personal
If you want to make it exceptional, why not personalize it? When it comes to personalization, think of funny and romantic photos together, inside jokes, their interests & hobbies – think of all the things that make your significant other and your relationship special. You won't go wrong with a personalized card that requires just that little bit of effort but goes a really long way in winning your partner's heart.
Top tip: Personalize Boomf cards with your own photos and message! Make their Christmas card truly unique and they'll want to keep it forever.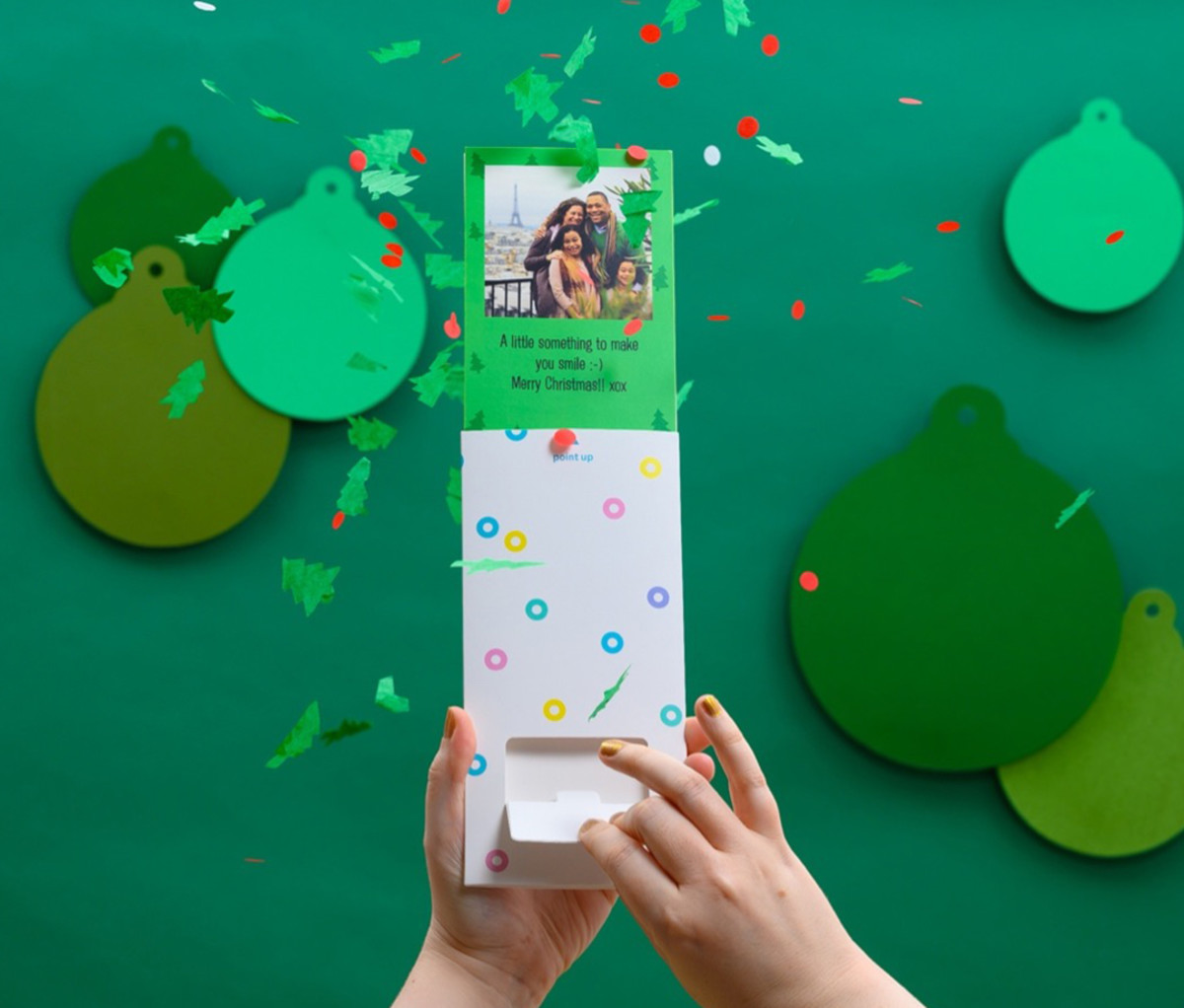 Be careful with cards that are a bit raunchy
We get it, your loved one's the sexiest person in the world. Some couples love giving each other cards that are a little (or a lot!) on the suggestive side. There are many reasons for going with a raunchy Christmas card, however, there are also a few reasons to decide against it. Of course, it can infuse your relationship with more passion and fun. On the other hand, if they are planning to celebrate Christmas with their family, it might not be the best idea (according to your partner's 80 year old auntie).
Top tip: If you do decide to go ahead with a raunchy card, we suggest you try Boomf photo marshmallows. They work pretty much like a card, only yummy & edible. You can get creative by adding your photos and a saucy message. Just make sure they open it in private 😉
Tips for writing stellar Christmas cards to your partner
This part can be the trickiest one for many of us as writer's block is a real condition and it hits us at times when we need to be inspired, not stupefied. Good news, you don't need to be a writer or a poet to write a couple of lines of meaningful Christmas wishes to your loved one.
Try to write from your heart
Most of us try really hard to think of a good Christmas wish. Something that doesn't sound cheesy or repetitive. Try to think with your heart rather than your head.
Top questions to get inspired when writing Christmas cards
What are some of the best memories we've made together this year?
What feelings does my beloved awaken in me?
What would I like to wish for them based on what I know about them?
Why is this Christmas important to us as a couple?
Why is this person so important to me?
What do I want them to know and what do I want them to remember about this Christmas?
Don't be afraid to open up to your beloved and to bring up something significant. Many of us are out of touch with our feelings and emotions as a result of busy lifestyles, and writing a Christmas card to your partner can be a perfect way to connect not only to your feelings towards them but also to yourself. Their Christmas card's content doesn't have to be excessively intimate or emotional but if you stay authentic and sincere, we are sure it will be a keepsake that they can read and re-read.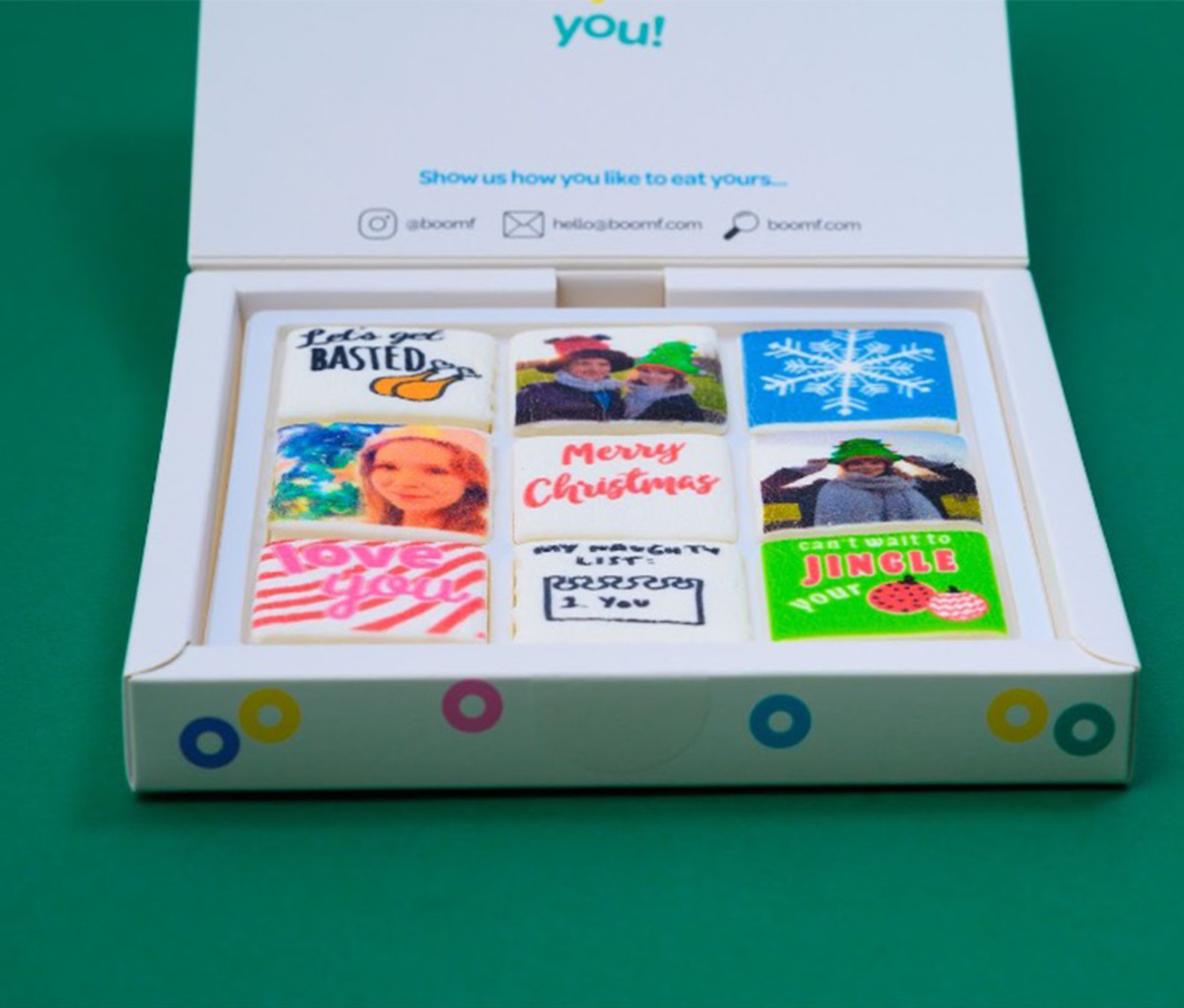 In summary
If you are looking for an extra special card that can be personalized with your favorite photos and custom messages, that will surprise them with a burst of colorful confetti and really turn the Christmas card-giving ritual into an unforgettable experience – look no further!  Cards & gifts with extra "oomph!" from Boomf are exactly what you need. From the legendary pop-up confetti Bomb to surprise butterfly cards – every card is sure to bring joy and is worth keeping. With our worldwide shipping and free delivery on cards to the US & UK customers, it's a no-brainer. Explore the full range on boomf.com
For access to exclusive gear videos, celebrity interviews, and more, subscribe on YouTube!