Daniel MacPherson perfectly remembers the moment he decided to change the course of his acting career.
"It was halfway through a marathon at the end of an Ironman competition in Germany in 2014," MacPherson tells Men's Journal. "It was over 100 degrees; I was having a bad day, heart rate was super-high, my calories had gone wrong. I was seeing stars, and I had this moment of clarity: 'Why am I still doing this?'"
That was the question that led MacPherson to the biggest role of his career so far: starring on the Cinemax action series Strike Back for multiple seasons.
From "overweight kid to action hero"
A self-described "overweight kid," MacPherson played rugby and was bullied in school, but when he first started doing triathlons, everything clicked into place. Since he was a teen, the now-37-year-old MacPherson had been competing and training for triathlons. In fact, when he was growing up, MacPherson didn't have dreams of becoming an actor—he wanted to be a professional triathlete.
After being discovered by an acting manager at 16 while competing in a race, MacPherson put together a successful career in his native Australia, starring in a number of stage productions, television, and film projects, including the long-running Australian soap Neighbours, the police drama City Homicide, and hosting gigs on The X Factor and Dancing With the Stars.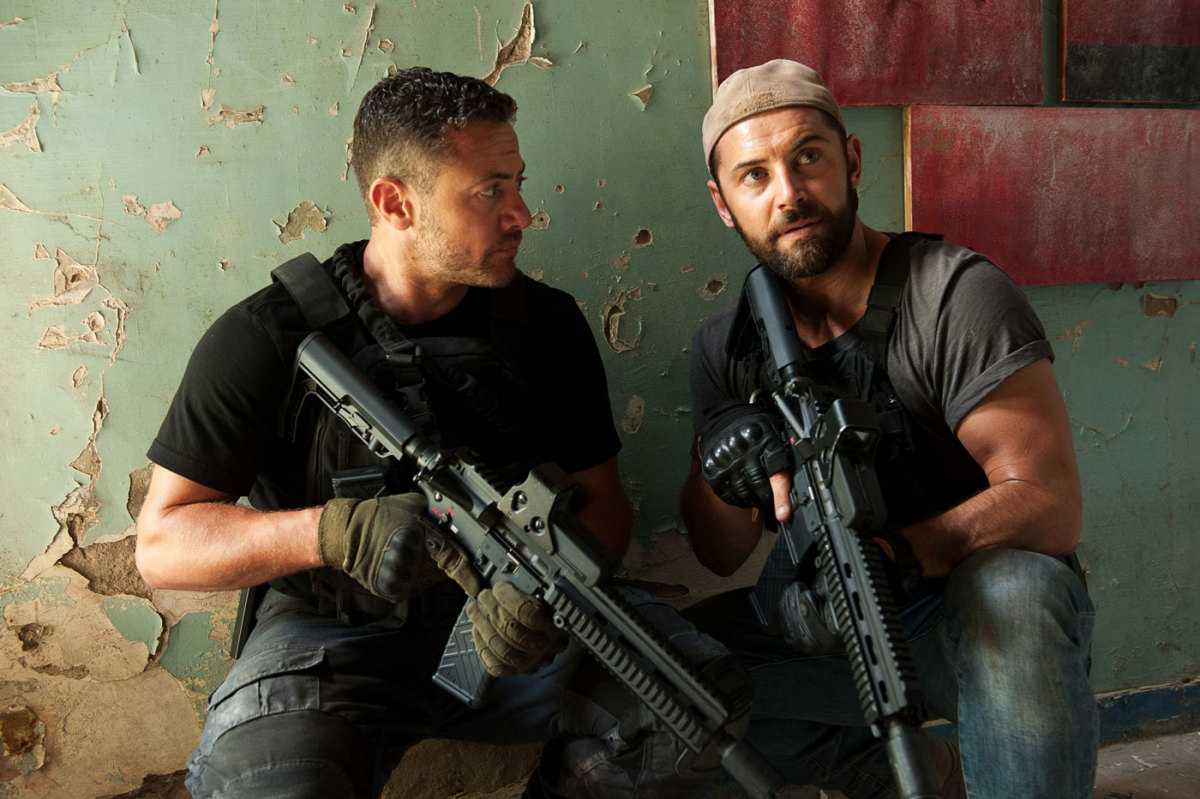 But MacPherson left that behind when he moved to Los Angeles, following a generation of Australian actors who made the successful jump to Hollywood—like MacPherson's pal Chris Hemsworth, workout buddy Luke Hemsworth, Liam Hemsworth, Jai Courtney, Luke Bracey, Simon Baker, and, of course, superstars like Hugh Jackman and Russell Crowe.
But for all his success in Oz, something was holding him back in America. While MacPherson was getting auditions for what he called "big roles in big productions"—lots of tryouts as soldiers, FBI agents, and military operatives—he kept finishing in second or third.
"I had been competing in triathlons for over 20 years," MacPherson says. "But I had moved my entire life to LA, and started to wonder if I should just pack up and go home: 'Maybe it was a stupid decision to come.' I was getting so close to breaking through on these projects, so I made a conscious decision around three years ago to put on 20lbs of muscle. I went from trying to be a lean, efficient triathlete for two decades—no one was ever going to cast me in Man of Steel at that time—so I felt I had to make that shift. As an Australian male in Hollywood, I needed to have that physicality in my toolbox."
Transforming his body—and his career
MacPherson had been spending 20-25 hours per week training and focusing on his triathlon work, but following that fateful Ironman race in Germany, he poured his energy into transforming his body to fit those auditions.
"I shocked my body into growing it as quickly as it could, and burning more body fat than ever before," MacPherson says. "I went from training my body to make one calorie to last for as long as it can for a triathlon, to trying to gain size and muscle. I spoke to Chris Hemsworth's trainer, Luke Zocchi, and he helped me get maximum results in a short amount of time to make that transition. I did a lot of fasted cardio, a lot of high-intensity workouts, and eccentric moves."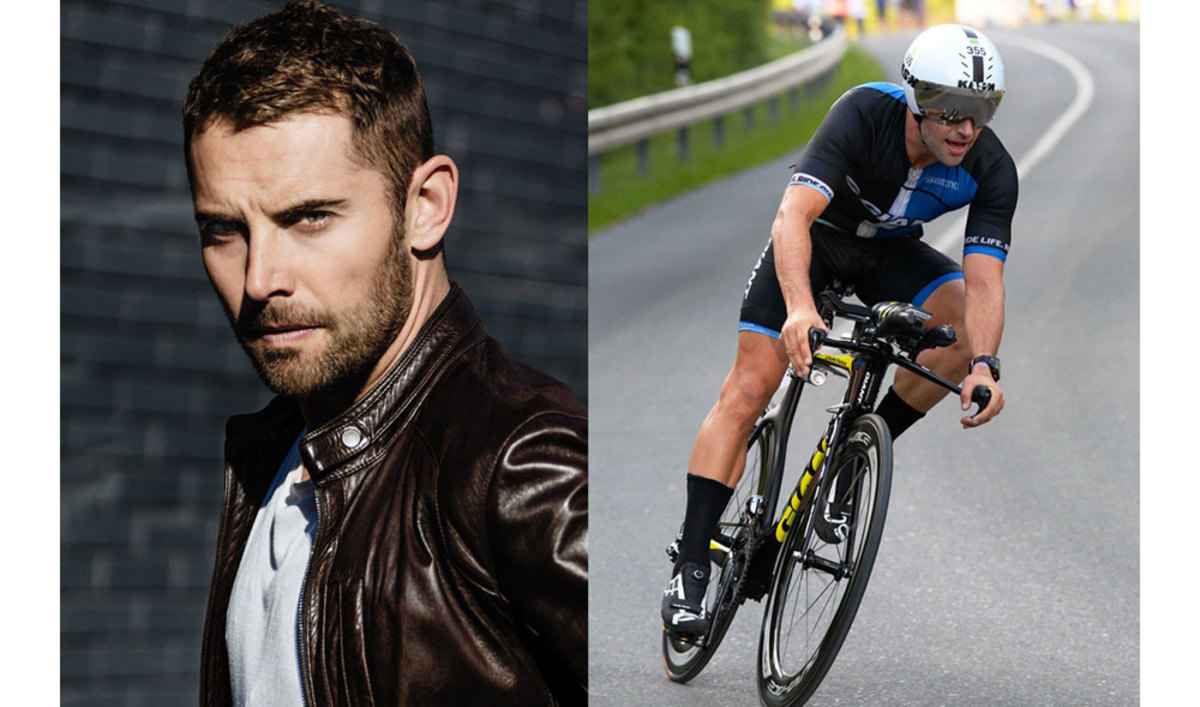 Consider the transition a success. Following his physical change, MacPherson quickly booked roles on MTV's The Shannara Chronicles, and the FOX series APB, both of which eventually were canceled. But MacPherson's fitness transformation led him to getting his biggest American role: playing Sergeant Samuel Wyatt on Cinemax's Strike Back, a high-octane action-drama featuring special forces missions around the world.
MacPherson added even more muscle to his frame to get into character, putting on another 15-20lbs while focusing on his shoulders, chest, and back to get as "thick" as real-life Navy SEALs and commandos he met while doing research. MacPherson built his foundation with deadlifts and squats so he could move like his real-life character would while carrying 30–40lbs of equipment and weaponry.
"I was the heaviest I've ever been in my life," MacPherson says. "I worked with a body-shaping and bodybuilding coach to maintain the frame and the size, and to create the physicality that these guys have. I was doing weighted hiking—like, five-hour hikes with weight vests on. I did a lot of thrusters, a lot of up-and-down movements, rowing, and depth through chest and back with the squat press, shoulder press, a lot of Arnold curls for the triceps, and building up the delts. Growing up, I had a weaker lower back, and was quad-dominant over glutes from cycling and running from such a young age. The training really helped me right those imbalances."
Facing death—and having fun—on Strike Back
The cast of Strike Back (which also includes former professional Muay Thai fighter Warren Brown), did firearms training at Taran Tactical, where Keanu Reeves trained for John Wick. ("We got to go out on the same range as Keanu," MacPherson says. "I was pinching myself.") The cast also trained together in a three-week bootcamp in Jordan, where some of the show was filmed. MacPherson and the actors lifted weights in the morning, followed by an hour of jiu-jitsu, and then rock climbing. The rest of the day, they trained at the state-of-the-art King Abdullah II Special Operations Training Center alongside Jordanian Special Forces.
"The place was like Disneyland for soldiers," MacPherson says. "You've got a full Boeing 737 for practicing hijack takedowns. It's got a full five-story kill house with the doors that can move and smoke and sirens and things that pop up at you. We were training on a range, all live-fire stuff, being trained by incredible instructors. We're next to Russian spec-ops guys, the Polish Special Forces. There were Americans there, too. The fact that we got into that facility and were allowed to train there for three weeks is an experience that I'll probably never get to do again, it was incredible."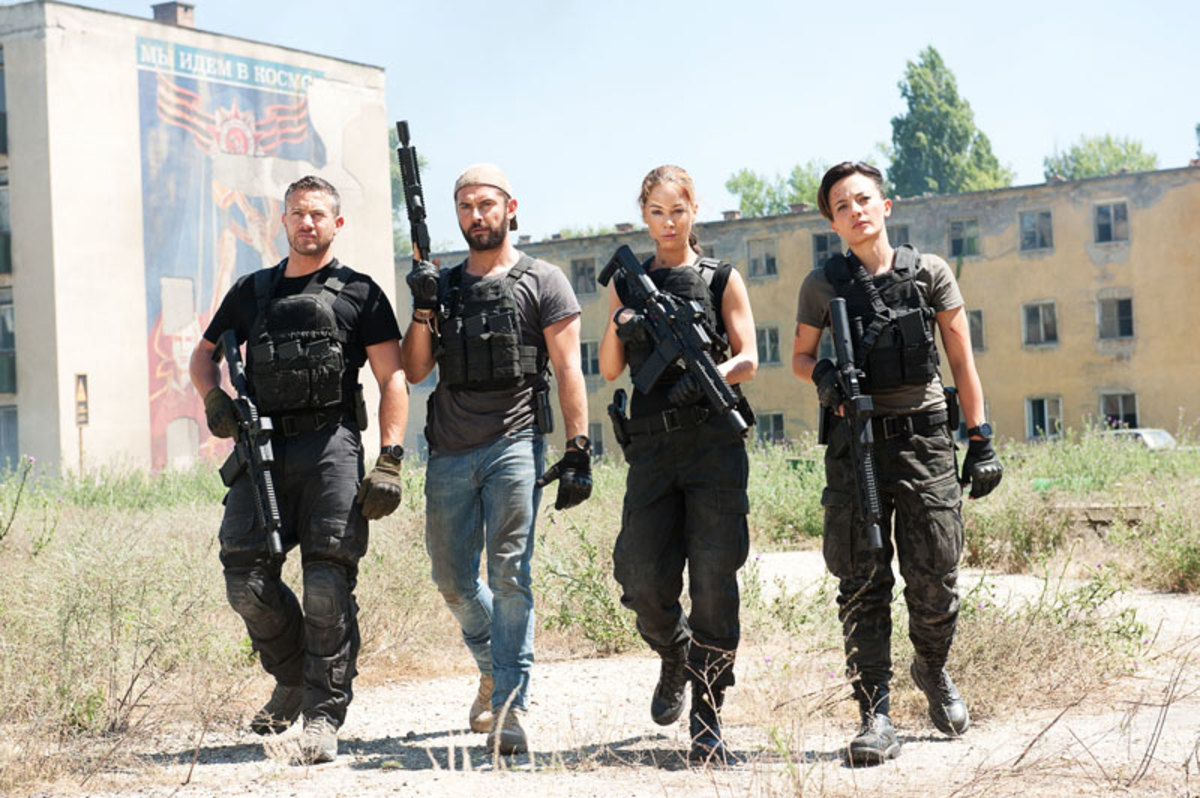 But not even all that training could totally prepare the actors for what they had to do on set. Given that Strike Back portrays adrenaline-soaked military missions, filming called for death-defying stunts—explosions, gunfights, and close-quarters combat—and almost all of it was done without CGI assistance.
"My first stunt sequence was insane," MacPherson says. "Warren [Brown] and I are being chased in a Jeep, and I have to jump from a moving Jeep into another moving Jeep, have a fight there, throw a guy out of it, then I jump back into my Jeep, and the other one explodes. We have one of the best stunt teams in the world—some of the guys worked on Game of Thrones, The Hitman's Bodyguard, and the new Hellboy—but when you're standing 20-feet from an exploding car that's doing a full somersault in the air, and your job is to run into that explosion, if you mistime that by three seconds, you're dead. So it's intense. You're treading a fine line every day. There are things that I don't tell my wife or my mother that I've done that day [laughs]."
The Jeep stunt was just a warmup. Through the course of the season, MacPherson jumped off buildings, jumped out of helicopters, ran out of explosions, and he even drove a speed boat, too.
"One day you're flying around in the Prince of Jordan's Blackhawk helicopters, flying around the Dead Sea," MacPherson says. "Another day you're roping out of a helicopter—it just got bigger and bigger, then, to top it off, we finished with a speed boat chase in Croatia. The scene is Warren and me, and I get to drive the speed boat. They're like, 'Can you drive a speedboat?' I said 'of course I can, I'm Australian! Come on.' I'm not going to tell him I've never driven a speedboat before. It's this unreal scene—a camera boat flying up next to us with a camera on a crane, there's drones—it was amazing. It was a James Bond-like action scene, and we had some of the same English Marine Stunt Team—as in water stunt team, not military Marines—that worked on James Bond. So these guys are jumping out right behind us and their firing weapons at us, and we're firing back at them. Of course, everything blows up. Their boats blow up, Our boats go up and of course the last shot is us jumping off this exploding boat in the middle of the Adriatic Sea. Warren and I literally just look at each other and laugh. It was incredible."
"The thing about Strike Back is that this is one of the few jobs where you can throw a 110 percent of all your energy into it," MacPherson added. "This job will take everything you throw at it and more."
Another Australian Wolverine?
Clearly, MacPherson survived the production, and his work on Strike Back has already gained him notice in Hollywood. MacPherson will appear in Disney's $100 million epic adaptation of A Wrinkle in Time coming out in March, and he has a few other projects lined up, too. Perhaps his new physicality could lead to the actor stepping into a genre in which fellow Australians have had success: superhero films.
With his friend Hemsworth starring as Thor in the Marvel films, and fellow Aussie Hugh Jackman hanging up his Wolverine claws, it's worth asking: How would MacPherson feel about taking over as the bearded, cigar-chomping X-Men hero?
"I'd love to go on a physical transformation as a superhero," MacPherson says. "If I can marry my physical background with my acting again, like I did on Strike Back, then that's the Holy Grail for me. I'm Australian, it might soften the blow for fans to see another one take over for Wolverine. But it also would be fun to play the bad guy, one of those rich, big villains."
MacPherson's already working on that training. The actor's been keeping up with the workout regimen that helped him get Strike Back in the first place, and he's hoping that he'll get to step into Wyatt's shoes again for a second season.
"When I returned from Strike Back, I joined a CrossFit gym, and I'm feeling better than I ever have," MacPherson says. "The mobility work has really helped my hips, and I'm doing a lot of new stuff in my weightlifting. I'm really hoping the show gets renewed for another season. I love Wyatt—these kinds of characters don't come along every day."
Strike Back: Retribution premiered Friday, February 2nd on CINEMAX at 10 p.m. and is available on-demand.
For access to exclusive gear videos, celebrity interviews, and more, subscribe on YouTube!