Hiroyuki Sanada made a hell of a debut on Westworld.
The award-winning actor, who has starred in The Last Samurai, Lost, The Wolverine, and Sunshine and also has a Japanese Oscar to his name, made his first appearance on the HBO series in Episode 5, "Akane No Mai" with some action-packed scenes, showing off some of the ridiculous sword work he's learned from over 35 years in the film business. Sanada stars as Musashi, a Ronin—basically a samurai without a master—who teams up with Maeve (Thandie Newton) and her crew as they navigate a new park: Shogun World.
The park had been teased to viewers of the show since the Season 1 finale, when Maeve saw samurai host robots being worked on in the Delos labs. Shogun World, which takes place during the "Edo" period of Japan (1603-1868), is the third world revealed on the series, following the titular Western-themed park and "The Raj" park, which is inspired by the Imperial British rule era in India.
Sanada's character had some standout moments in the episode, including a massive fight scene against dozens of ninja warriors, and his storyline—along with basically all of the characters in Shogun World—reflects the same arc that Hector Escaton (Rodrigo Santoro) and his gang had in Westworld. As it turns out, writer Lee Sizemore (Simon Quarterman) has been cribbing his own work for the other parks, giving Maeve, Hector, and Armistice (Ingrid Bolsø Berdal) quite a surprise when they see their classic saloon heist story play out almost the exact same way, except this time with samurai swords and Geishas in Shogun World.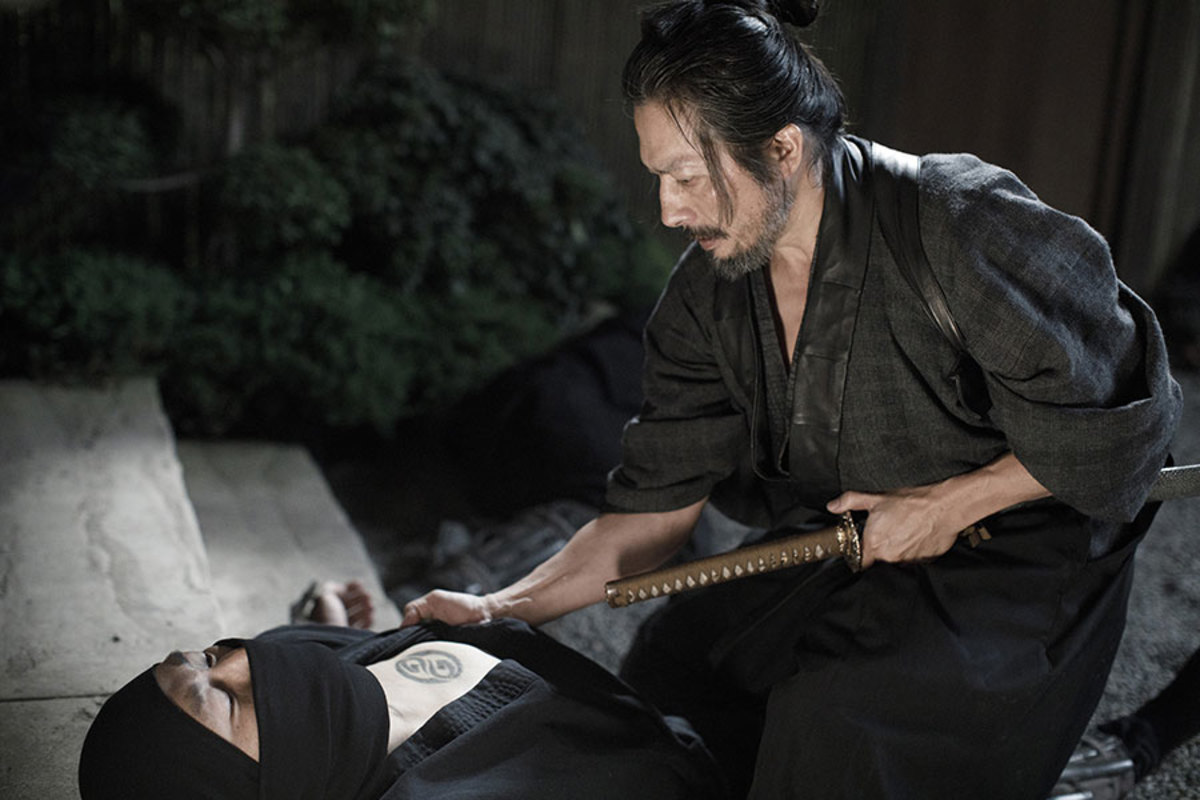 While Sanada has been busy with Westworld, he's not slowing down anytime soon. This summer, Sanada stars alongside Paul Ruud in The Catcher Was a Spy, an absolutely wild, real-life historical drama about an MLB catcher who joins World War II as—you guessed it—a spy; he's currently filming a role in John Wick: Chapter 3 with his 47 Ronin co-star Keanu Reeves; and in 2019 he has a part in the highly-anticipated Avengers 4 alongside Josh Brolin, Chris Hemsworth, and his Sunshine co-star Chris Evans.
Sanada spoke with Men's Journal about introducing Shogun World to the Westworld audience, chatting in Japanese with Thandie Newton, what's coming next for Musashi on the series, and what it was like working with Paul Rudd.
After being teased since Season 1, you get to take some of the characters into Shogun World and show it up close for the first time. What was it like working on that set and seeing this new world?
HBO really created an amazing-looking Japanese village for the Shogun World. I was so excited when I saw it for the first time, they really paid attention to the details. It looked authentic and beautiful, including the a great Tea House set with a Cherry Blossom in the backyard. I was so happy to work on those sets with the great crew and creators who researched our culture very well for this episode and the entire Shogun World.
Can you tell us more about your character and what he's going through?
My character, Musashi, is a host in Shogun World and he's considered to be a sword master. He previously served the Shogun as a Samurai before as part of his army, but now he's a Ronin, so that means he's on his own. Without giving anything away, he has a interesting relationship with one of the characters of Westworld and that will be explored more.
You had some sword-heavy action scenes in this episode. How much training did you have to do to prepare for the role on Westworld?
Even when I'm not working, I'm always training by myself and sharpening my skills. When I'm doing a project that doesn't require any action, I'll just keep swinging my wooden sword and keep my training going the same as usual. For this episode and the action scenes, I did my training the same as usual, then we created the fight scenes with authentic movements as a Samurai and all the props.
Were you a fan of the first season of Westworld? What was it like working with actors like Thandie Newton and Rodrigo Santoro on this episode?
As a big fan of the first season, I was so excited when I saw the sets and got to work with the actors at the Japanese village in Shogun World. My character Musashi mostly had scenes with Maeve, and we had some great interactions in the episode. I had a wonderful experience with Thandie on set and working alongside her. I was so surprised, because she was so talented at speaking a foreign language in the scenes when we used Japanese. I really respect her talent and effort. All the actors from Season 1 had great teamwork and a very welcoming atmosphere for new cast members coming in for Season 2. I really enjoyed collaborating with those actors on this episode and this second season.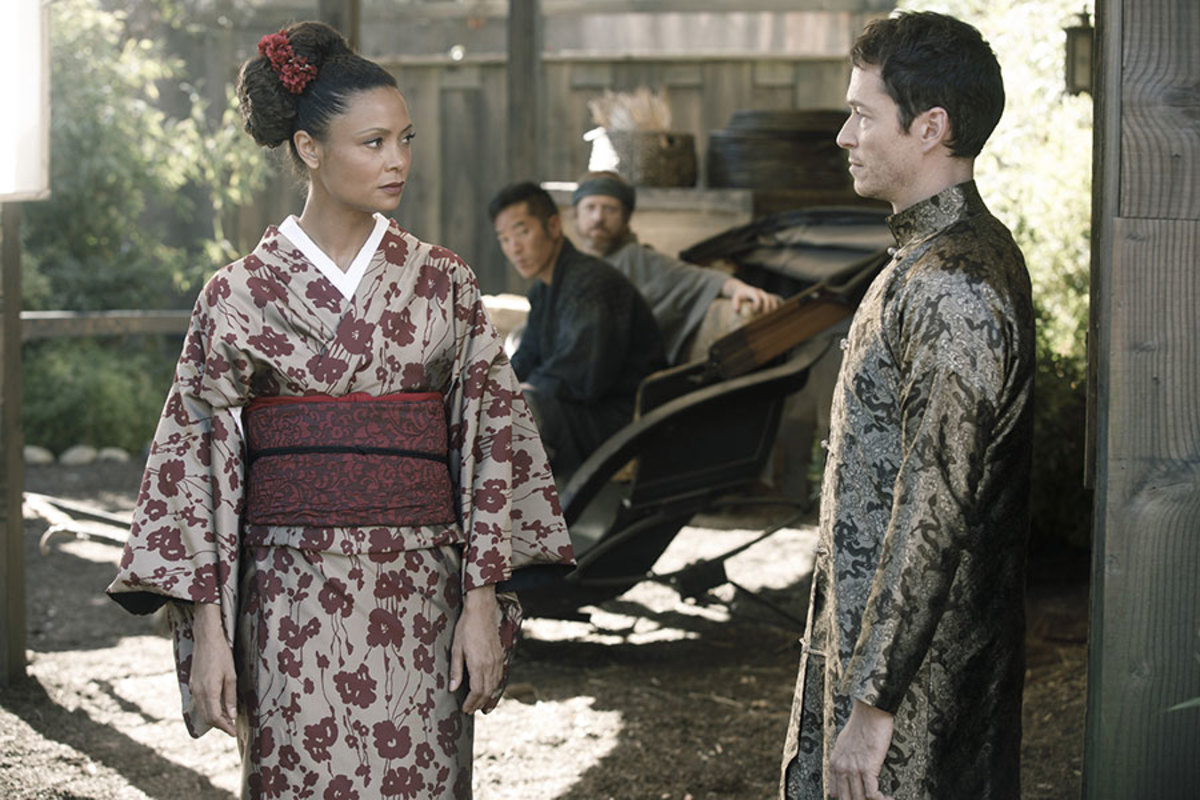 What was it like working on those incredible action scenes in this episode? What's coming up next for Musashi?
At first, Musashi is fighting against the Westworld hosts, but when the story in the park goes in a different way, unexpectedly, he tries to survive and help the other hosts with his sword. The fighting scenes in this episode were really well done, and I really enjoyed the collaboration with the great stunt team and camera crew as we filmed those sequences. Coming up, Musashi will continue fighting with his destiny like many of the other hosts. He will eventually make a big decision as a Samurai, but I can't reveal much more.
What were some of your best memories and experiences from shooting this episode?
It was fun, it turned out that we were shooting the day of my birthday. That day we filmed fight scenes all day, and the crew brought me a big birthday cake, and the crew and cast sang "Happy Birthday" for me. It was one of my favorite birthdays ever in my life and it was very special getting to share it with everyone on show as we were working on it.
You've had a long career and worked on a range of great movies and TV shows—Sunshine, The Wolverine, The Last Samurai, LOST, Life, Speed Racer—all come to mind. What has it been like working with filmmakers like James Mangold, J.J. Abrams, Edward Zwick, Danny Boyle, James Ivory, and the The Wachowskis on those projects?
I have been very lucky to work with those great filmmakers over the past 15 years, and I've learned a lot from them. When I was working in Japan and starting off my career, I never could have imagined that I would one day work with filmmakers like that. They trained me a lot during those projects and all the advice and the pointers from them are now living in my DNA as I do more roles and projects in my career.
One of your new movies coming up, The Catcher Was a Spy, is one of the all-time great stories that's never really been told on the big screen. Paul Rudd is playing Moe Berg, a 15-year veteran Major League Baseball player who ends up spying for the United States in World War II. Can you tell us about your role in the film and what it was like working with Paul on the project?
It's a great story, and in this film, my role is as Isao Kawabata, who is a Professor of History in Tokyo. When Paul (Moe Berg) came to Japan as a baseball player, my character became a very close friend of his, and that impacts what he does later. Some of our conversations were a big influence for Moe Berg's future as a spy during World War II. It was a great experience working with Paul; he is a really nice and funny person, but he is also a hard worker and very professional. I had a wonderful time during the shoot in Prague.
We know you won't be able to tell us anything detailed about your role in Avengers 4 without Marvel dropping in and kidnapping you, but what can you tell us about being a part of the film?
Unfortunately, I can't say anything yet. But I will say that I can't wait to watch this movie in the theater with a beer and popcorn.
You've had a long and distinguished career in the film industry in both Japan and America. What has that journey been like for you and what have you learned along the way?
Since I started acting at age five, I feel like it has passed so quickly. I'm always trying to find new and difficult projects to do, so I can try roles and things that I've never done. I really enjoy getting to pave a new path for the next generation of actors. I've learned over the years that challenging myself is the only way to keep me fresh and to avoid being bored with acting and creation.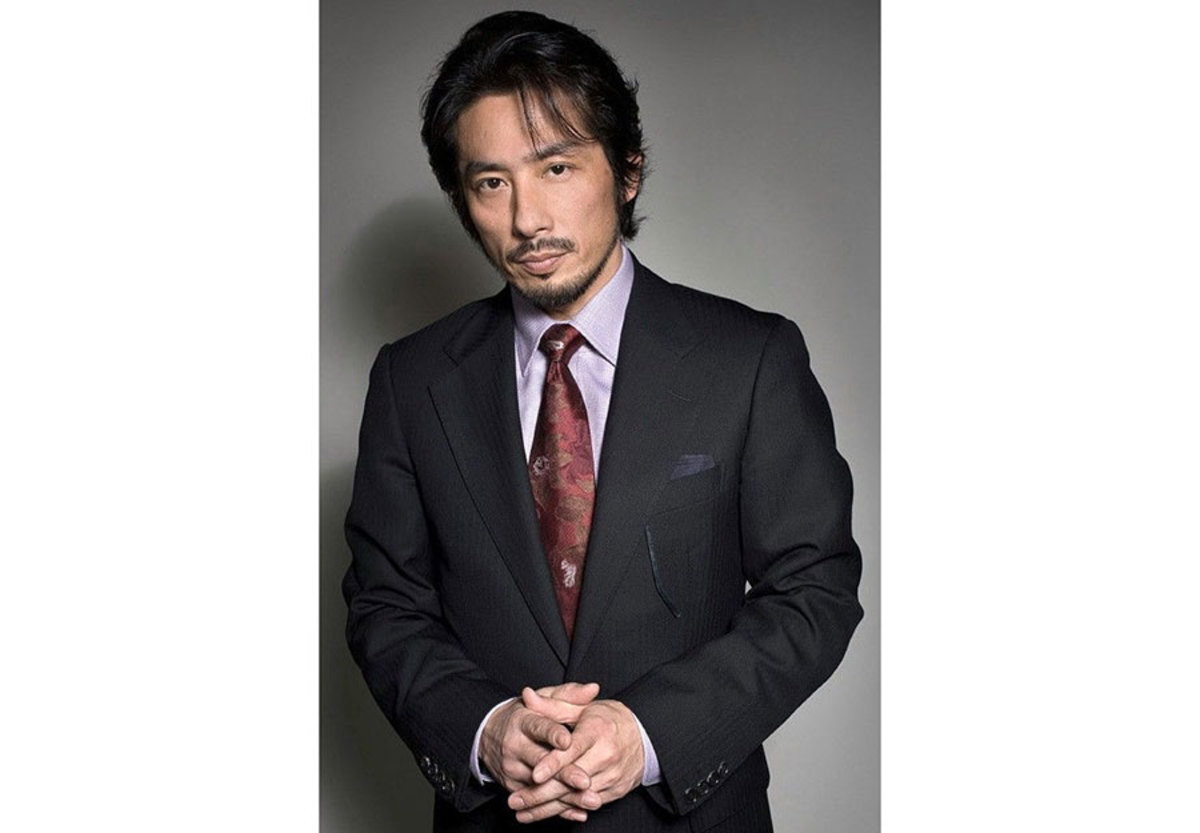 For access to exclusive gear videos, celebrity interviews, and more, subscribe on YouTube!