Who hasn't dreamed of going on an adventure with survival expert and Special Air Forces veteran Bear Grylls? Derek Hough did. So when the British explorer's television series Running Wild called to offer a filmed expedition into the Rila Mountains of Bulgaria, there was no hesitation for the Emmy-winning pro dancer.
"I am just a fan of people who live their life on the edge," says Hough, who is no stranger to the outdoors, growing up hiking in Utah. "I don't mean living dangerously just for the sake of living dangerously, but more putting themselves out in new worlds."
Hough was not disappointed by the experience. "Everyone has been asking me if Bear is for real," he says. "There is no stopping for the cameras. We were there existing in the moment and scaling that terrain." Men's Journal asked Hough to share some of what he learned along his trip. And you can catch Hough in the new episode on NBC June 25.
You Don't Need Coffee When You Have a Freezing Lake
"We didn't drink coffee while we were out there. But we ended up beside a glacial lake, and, of course, Bear says we are going in it. I was like, 'I do ice baths. I am going to be fine.' We stripped down and jumped in. Halfway across, the cold really hit me, and I was finding it hard to catch my breath. I had to figure out how to make it the rest of the way. I was definitely awake after that."
Don't Fight the Rappel Rope
"I find it amazing how many helpful metaphors can be found in adventure. There was a 300-foot cliff that we came across and needed to rappel down. I was looking to Bear for advice and tips on how to do it best, and he just said, 'Let's go!' He literally pushed me off a cliff. I tried to muscle my way down at first, and was gripping so tightly I blew my arms out. I was forced to loosen up, and the trip down got easier. Once you commit to where you are going and relax, things get easier."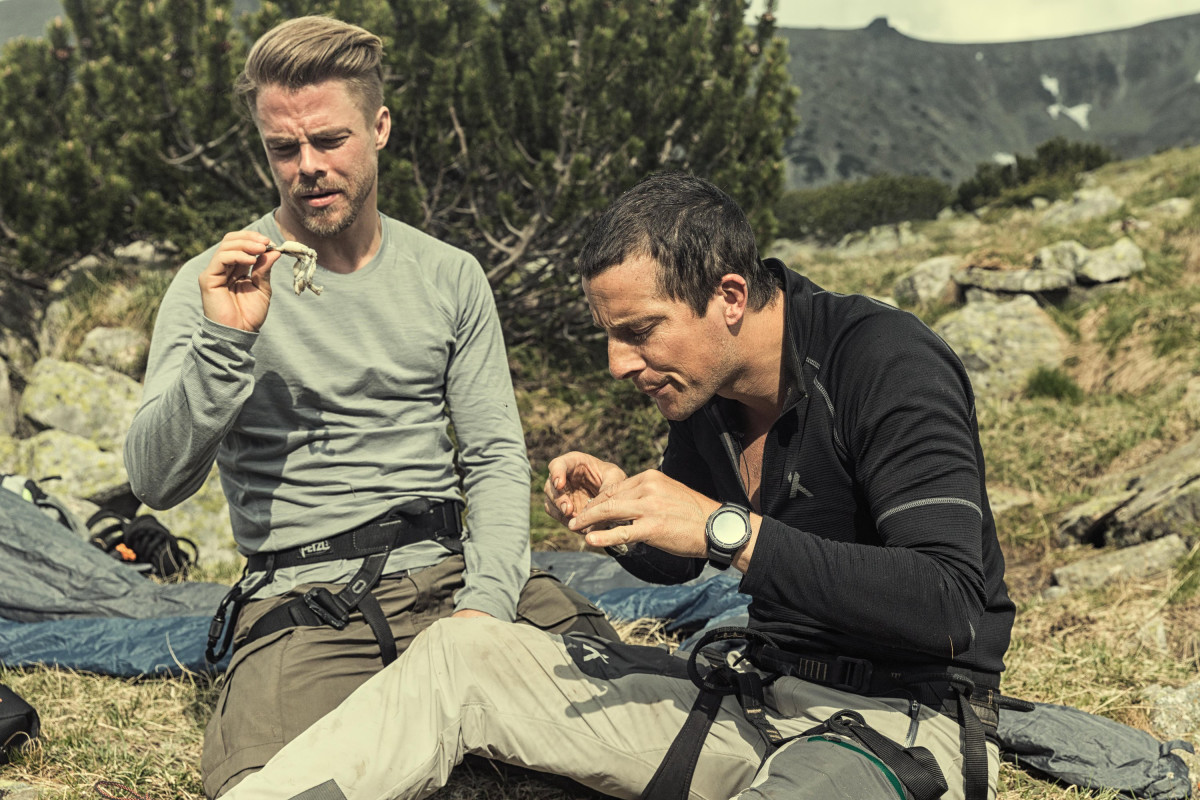 Keep Your Distance From the Fire
"I guess I was watching when Bear was making the fire a little too closely and singed most of the hair on my face. I didn't even notice it until I got back home and saw it charred in the mirror."
Bear Is Not the Best Dancer
"Bear came up to me and said, 'Before the cameras come, can you show me some dance moves?' Apparently his wife has not been impressed with his dancing so far, and he was hoping for a little guidance. He wanted to learn a few steps. I started teaching him a little bit, and, unfortunately for him, the camera men showed up a little early and were filming us through the bushes. He was mortified by it. He kept saying, 'Please tell me you did not get that on camera.'"
Always Face Your Fears
"Growing up, I was seriously afraid of heights. I have been able to battle that a little bit by getting out there. But I definitely took on that fear more during this journey. There was a lot of looking down sheer cliffs and helicopter rides. Especially jumping out of the helicopter with zero notice. Most of the time you do something like that, you know you are going and filling out paperwork for hours. I didn't have that kind of notice. They just started strapping me to some guy with a blacked-out helmet. It was crazy."
For access to exclusive gear videos, celebrity interviews, and more, subscribe on YouTube!