The new series Yellowstone, which follows a seventh-generation family struggling to keep its ranch afloat, may be the closest thing to capturing the ever-threatened, real-world West.
YOU'RE GOING to want to watch this," Taylor Sheridan says. "This is gonna be interesting."
It's a cold winter day in the snowy Bitterroot Mountains of western Montana, and Sheridan—the screenwriter of Sicario and Hell or High Water and writer-director of Wind River—is on the set of Yellowstone, the action-drama series he's writing and directing, premiering this month on Paramount Network. For this scene, a character played by actress Kelly Reilly (True Detective) is about to get on a horse for the first time in years—not since a childhood tragedy scared her off when she was 14. It doesn't help that the horse she's chosen to ride, Pistol, is the wildest and least-broken one in the stable. And according to the script, it's going to throw her.
Well, not her, exactly. Sheridan calls action, and Reilly's stunt double mounts the horse, which promptly charges a fence and bucks her off. ("You don't really have to train a horse to buck," one of the wranglers explains. "They kind of do it naturally. You just don't train 'em not to.") Sheridan calls cut, but the stunt-woman is slow to get up. She sliced her hand on some ice in the corral when she hit the ground, and now she's bleeding and in need of stitches. Someone takes her to the hospital, where it's determined that there's no nerve damage or broken bones. Still, it's a scary reminder of the risks out here. Even when it's make-believe, this land is dangerous.
"If you live in the country, you're going to meet someone who dies on a horse, who dies in a fall," says Sheridan, who grew up on a cattle ranch in central Texas. "Someone's going to get mauled. It's the small-town equivalent to texting on your phone when you're walking through a crosswalk. It's just gonna happen."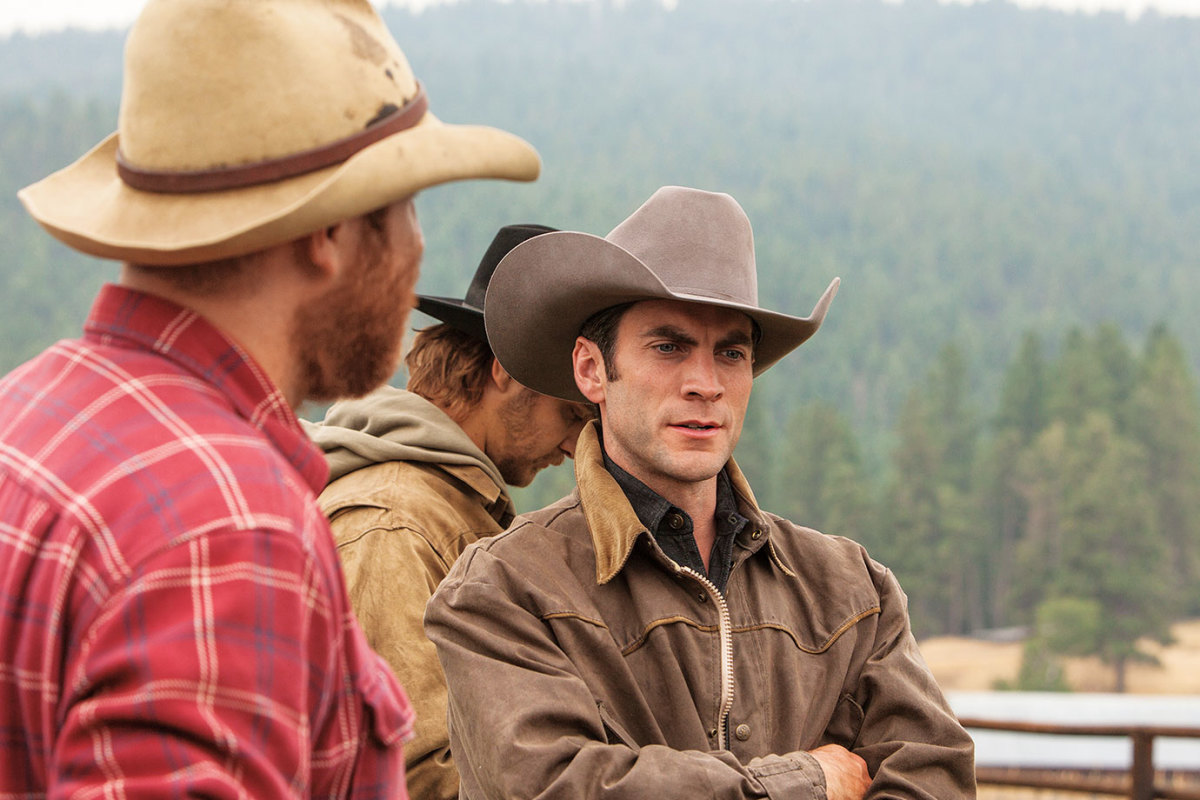 Yellowstone stars Kevin Costner as John Dutton, the grizzled patriarch of the Yellowstone Dutton Ranch, the largest contiguous ranch in the U.S., which borders the eponymous national park. Dutton faces a host of competition, including scheming politicians, greedy land developers, and a rival Native American tribe, all of whom threaten his ranching dynasty. For the cast and crew, including Costner, it was important to portray the struggles accurately. "We don't know a lot about modern-day ranching," says Costner. "We know how to order off a menu, but we don't understand what brought it to the restaurant. The fight of the rancher, like the fight of the farmer, is just something that somehow escapes us. But there's a real life going on 365 days a year."
THE WEST HAS BEEN a fixture of film since the earliest days of the medium. The Great Train Robbery, in 1903, about a crew of bandits who stick up a locomotive, essentially created the western movie genre and helped ignite America's fascination with cowboys and the frontier. More than 100 years later, prestige dramas such as The Son (AMC) and Godless (Netflix) have continued to mine the Old West for inspiration, regurgitating many of the same tropes of gunslingers and range life. Though there's no shortage of period pieces about the region, Hollywood has largely failed to capture it as it exists today—as a place that's still hardscrabble and fiercely independent but also grappling with modern economic and social issues along with the rest of the country. And that's what makes Yellowstone, set in contemporary times, so striking.
Anyone who has spent enough time in places like Aspen or Jackson or Livingston in the past decade will no doubt recognize the backdrop of the show: Californians buying up land for vanity ranches, thereby pricing out locals; microbrew-loving hipsters invading sleepy mountain towns; oil and gas companies bringing in money and jobs but destroying a down-home culture.
To Sheridan, the themes of the show are as grand as its Rocky Mountain views. "It's about the conquest of land and the changing West," he says. By splitting his time between where Yellowstone films in Montana and Park City, Utah, and where he lives in Wyoming, Sheridan has seen firsthand these changes and what he calls "the gentrification of the West."
We've seen the struggling farmer, but we haven't seen the big business od ranching, like as an epic," he says. "I wanted to take 19th-century issues and kind of slam 'em into the 21st century.
For the past hundred years, the West has relied on a handful of industries to sustain its economy, and life has changed little as a result. But now that ranching and farming are becoming economically unsustainable, the old way of life is disappearing. Meanwhile, more and more tourists and outsiders are pouring in. "Now people have second jobs and do this as a lifestyle as opposed to a business," Sheridan says. In time, the novelty of ranching will fade for them, he suspects. Ranching is hard work, and "people don't like real hard lifestyles."
This sort of conflict is what Sheridan hopes to document in Yellowstone. "We've seen the struggling farmer, but we haven't seen the big business of ranching, like as an epic," he says. "I wanted to take 19th-century issues and kind of slam 'em into the 21st century."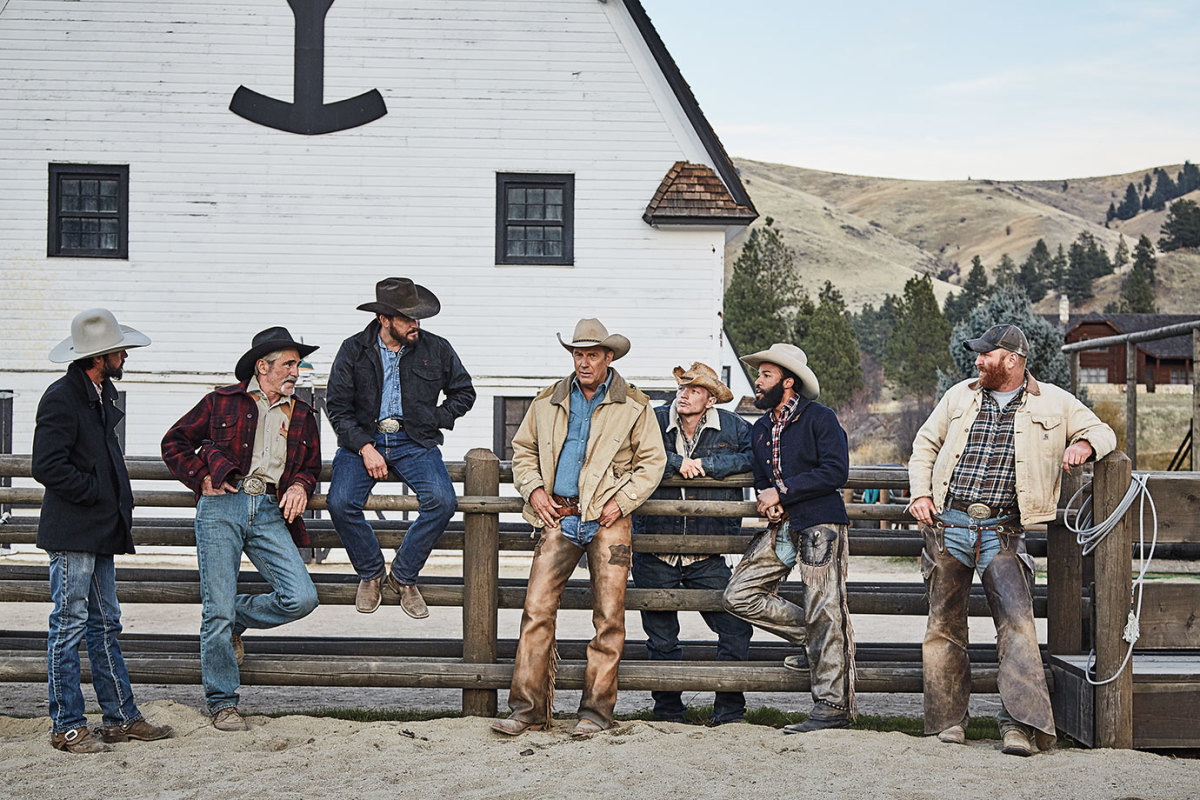 When Paramount Network decided to make the show, Costner was Sheridan's first call. "It was Kevin or bust for this," he says. Costner's character is deeply flawed, which Sheridan finds compelling. "There's also a certain virility to him," he says. "He's in his 60s, yet he still feels like he can whip you in a fight. That was an important balance for this character."
But, in some ways, the ranch is the true star of the show. The team searched for months before landing on the Chief Joseph Ranch, a 150-acre spread that stands in for Dutton's place. Located in the Bitterroot Valley, it's miles from Yellowstone park, but it's perhaps just as wild.
"I've gone down several rivers that Lewis and Clark went down in canoes myself," says Costner, who owns a 160-acre ranch outside Aspen, Colorado, "and it doesn't get any richer than the Bitterroot Valley. You can't be in the Bitterroot without thinking it must have looked like the Garden of Eden."
Chief Joseph Ranch, as Dutton's HQ, is replete with horse trailers and Dodge quad cabs and lots of weather-beaten dudes in Carhartts and boots. Sheridan even brought some of his own horses from Wyoming. "I didn't want some half-broke horses the actors couldn't ride," he says.brought some of his own horses from Wyoming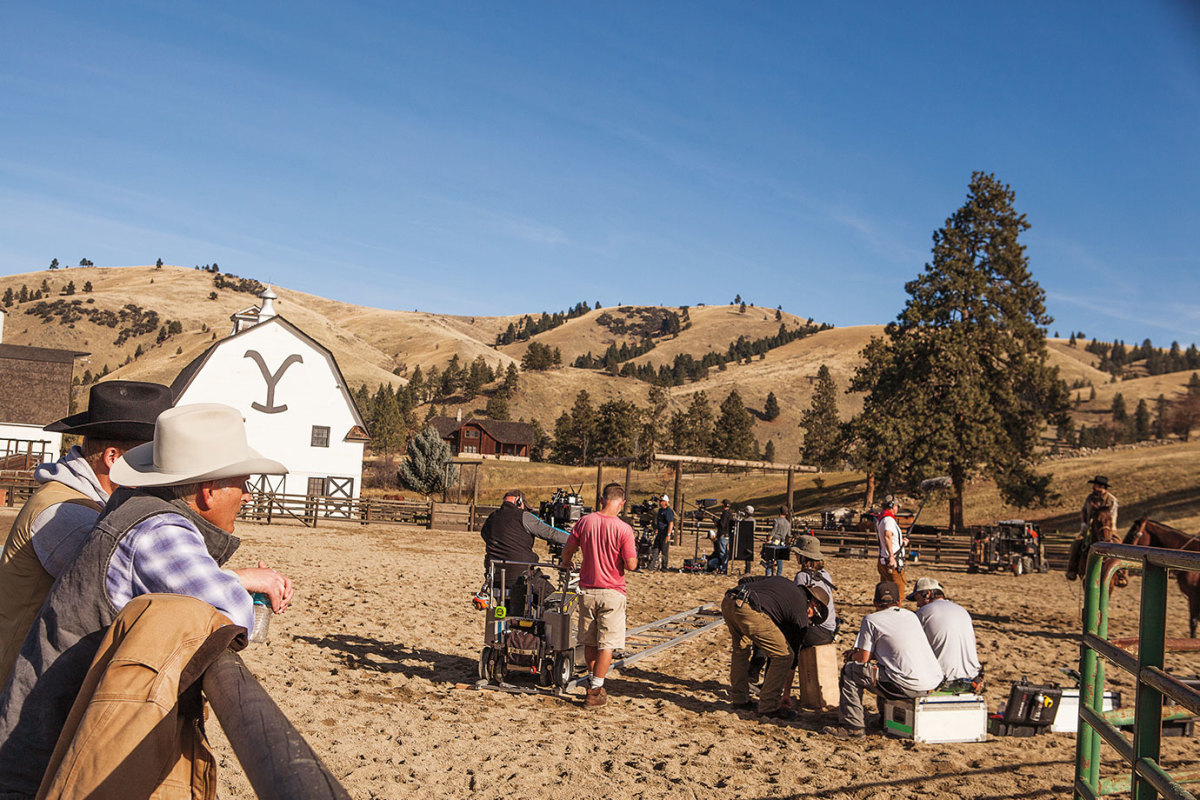 Authenticity is a chief concern for Sheridan. "He wanted very specific guns, very particular saddles," says the prop master, Ian Roylance. "We had nine saddles custom-made, $6,000 each, then olded them up with dirt so they looked real." Sheridan even sent the actors down the river with guides to teach them how to fly-fish, and held a three-day "cowboy camp" in the mountains with pack mules for the actors playing ranch hands. The effort has paid off, he says. "It looks real on camera, and the actors feel immersed in the world."
"On many shows you feel like you're faking the whole time," says Jefferson White, who plays another cowboy. "But here, all the work that you'd usually be doing in your imagination is done for you by a real-ass mountain."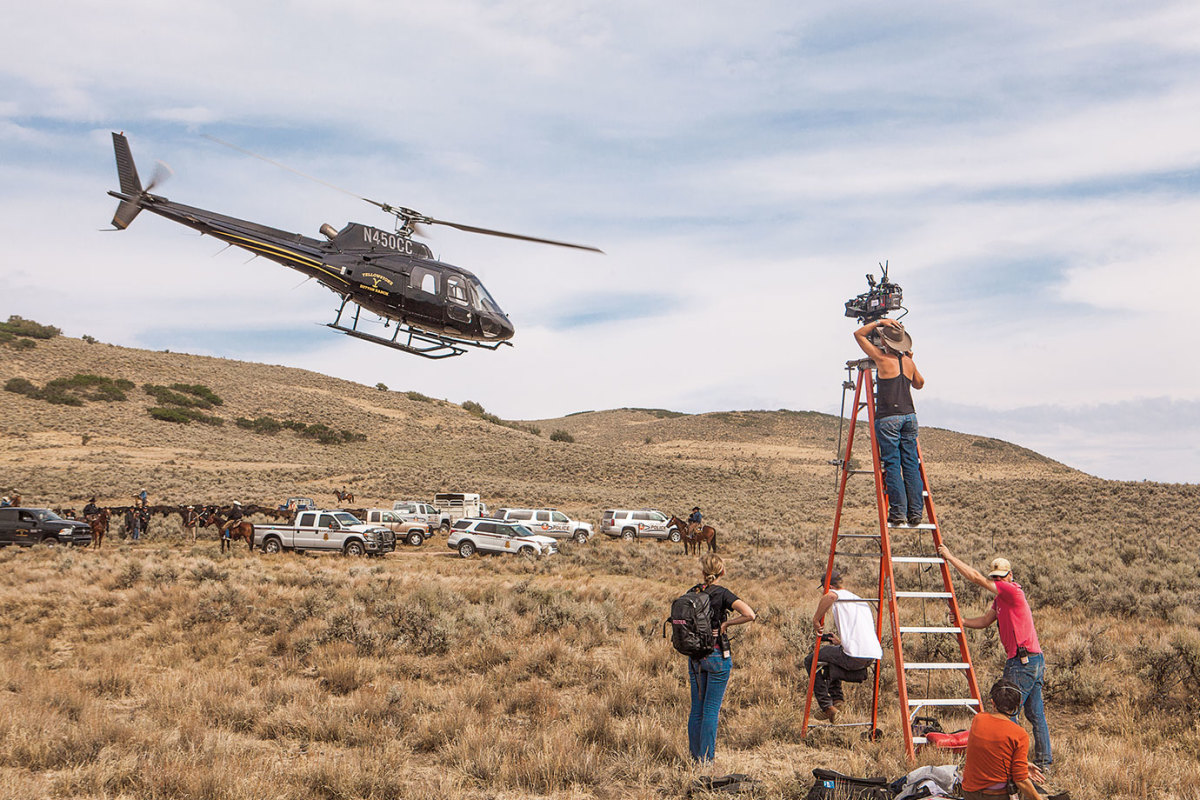 Even Costner, who has done his share of shooting and riding in life (both on camera and off), says he had to work to learn how to ride cutting horses, like they do on the ranch. "I've seen [Sheridan] not be happy with something and go out and buy it himself, whether it's a horse or it's clothes," he says. "He cares about this project deeply, and he'll dig into his own pocket to make something right."
THE NEXT MORNING, there's a grizzly bear on the set. His name is Tag. He's an 800-pound captive-born six-year-old who's been trained to rear up, lie down, shake trees, and hit his mark—all in exchange for rump scratches and bites of rotisserie chicken. Tag has a walk-on cameo in the scene they're filming today.
In it, two tourists have strayed from a hiking trail and fallen over a cliff, where they now precariously cling as Rip, the head wrangler of the Dutton Ranch (Cole Hauser) attempts to pull them to safety with a lasso. The catch is, Rip, in turn, is being menaced by a grizzly (Tag) who doesn't appreciate the encroachment on his territory. The moment plays into Sheridan's idea that the West is becoming a theme park for people who don't understand the land.
The scene was inspired by several real incidents in which newcomers unwittingly put themselves in harm's way. "It's great for people to come see [the park]," Sheridan says. "But once a year, somebody's going to put their kid on a buffalo and try to take a picture of it, and that guy's going to get gored."
On a recent visit to the park, he watched a crowd of people stand 30 feet from a grizzly while a warden struggled to keep them back. "This is an animal that contests its place on the food chain with us, openly," Sheridan says. "And someone's like, 'Oh, it looks friendly!' " He chuckles. "It's interesting how disconnected we've become from the natural world."
UPDATE: 'Yellowstone' has been picked up for Season 2, which will consist of 10 episodes, according to the Hollywood Reporter. The series will shoot in Utah and Montana for the second season for an expected 2019 air date. 
For access to exclusive gear videos, celebrity interviews, and more, subscribe on YouTube!