Hunter McIntyre was searching for something, something more than the acid and ecstasy, the mushrooms and madness that marked his daily life in Malibu. It was the fall of 2011, and it'd been six months since he'd moved across the country to a buddy's "bro mansion" in the hills above Pacific Coast Highway. The plan was to become a celebrity personal trainer, but he was mostly just pumping iron, chasing girls, and raging. And while McIntyre had earned eight certifications, deep down he knew that kinesiology wasn't going to cut it.
As a record-setting cross-country runner and champion wrestler in high school, he'd dreamed of becoming a Navy SEAL. He figured he had the steel mind and stamina to survive Hell Week, and though he was accepted into the Navy, shortly after being sworn in, some "questionable details" from his past had surfaced, according to McIntyre, and he was rolled out. He tried the Marines, Army, Coast Guard. No dice. Then, as luck would have it, one of McIntyre's "Malibros" burst into his bedroom hooting and hollering something about Spartans. "He got me all amped up," McIntyre says, "and I was beating my chest screaming, 'I'm gonna crush this thing!'"
McIntyre did well in that first Spartan race, a three-mile Sprint, in spite of himself. Hung over from the usual Friday night shenanigans, he arrived early and drank several beers leading up to his 1 p.m. start time. Still, he finished ninth overall, eight minutes behind superstar Hobie Call, a sinewy 2:16 marathoner who has won 42 of his 53 obstacle races to date.
"It was the greatest thing ever," McIntyre says, with a signature surfer-meets-hillbilly charm. "Some people just have a need to rip off their shirts and go buck wild. I'm one of those people. I was running around like an absolute freak, like I had a WWE belt strapped to my waist. I was pushing past people, shouting 'I AM NUMBER ONE AND YOU CANNOT TAKE DOWN THE CHAMP!'"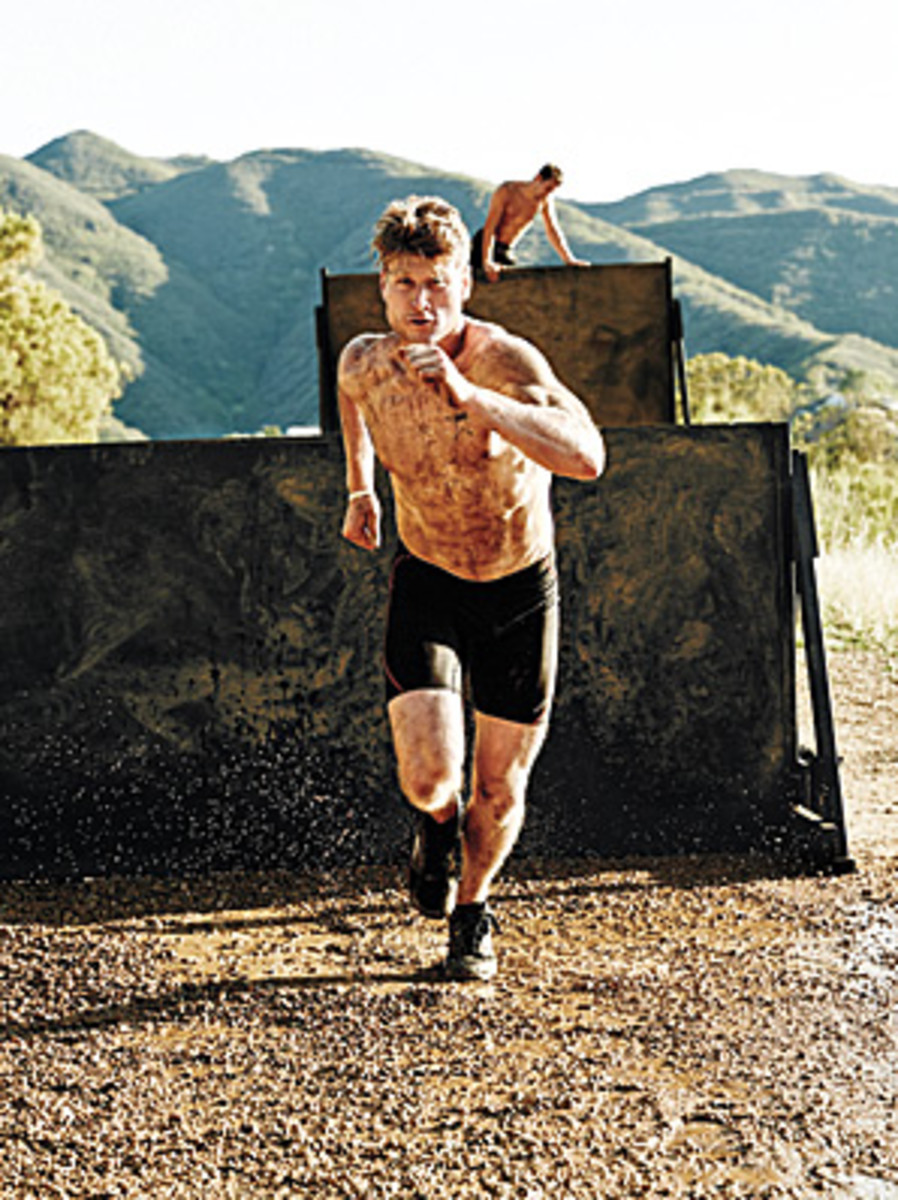 "The Sheriff," as he likes to refer to himself, is not shy. In stark contrast to Hobie Call, a devout Mormon and humble father of five, McIntyre has cultivated an aggressively, if not comically, narcissistic persona. Especially on social media, where @huntthesheriff goes to foie gras lengths when feeding shirtless selfies to his Instagram. "Mirror, mirror on the wall, who is the most ripped Spartan of them all," reads one. Other workout clips challenge followers, and rivals, to "GET ON MY LEVEL." "If you didn't know Hunter you might think he's a jerk," says Call. "But if you take the time to connect with him, you'll see it's always in good fun. He's a character."
Since that first race, McIntyre has competed in 28 events, mostly Spartans. He's won half of them — three against Call — and never missed a podium. It's all the more impressive when you consider his 6'2″, 195-pound frame is an outlier in a sport that favors smaller men.
"SOME PEOPLE JUST HAVE A NEED TO RIP OFF THEIR SHIRTS AND GO BUCK WILD. I'M ONE OF THOSE PEOPLE."
"When you see Hunter at the starting line, you think he's nothing to worry about. He's just so big for an obstacle racer," says Matt Murphy, Australia's top-ranked racer. "You figure he'll drop off after a few miles. But then he turns it on and you don't see him for the rest of the race." The pair has faced off twice, with the Aussie edging out The Sheriff to take second place, behind Hobie Call, at last September's Spartan World Championships in Killington, VT. The Sheriff came back to crush both men at the Atlas Race in Temecula, CA in February. Says Murphy: "He has the body of a CrossFitter and the pace and endurance of a Kenyan."
McIntyre is the top ranked male in Spartan's point system, and is one of the handful of Elites the company flies to select races. And if he does what he can do on any given Saturday, the Reebok-sponsored athlete could clear $100,000 this season, call himself a World Champion, and sneak out from under the shadow of success that comes with his surname.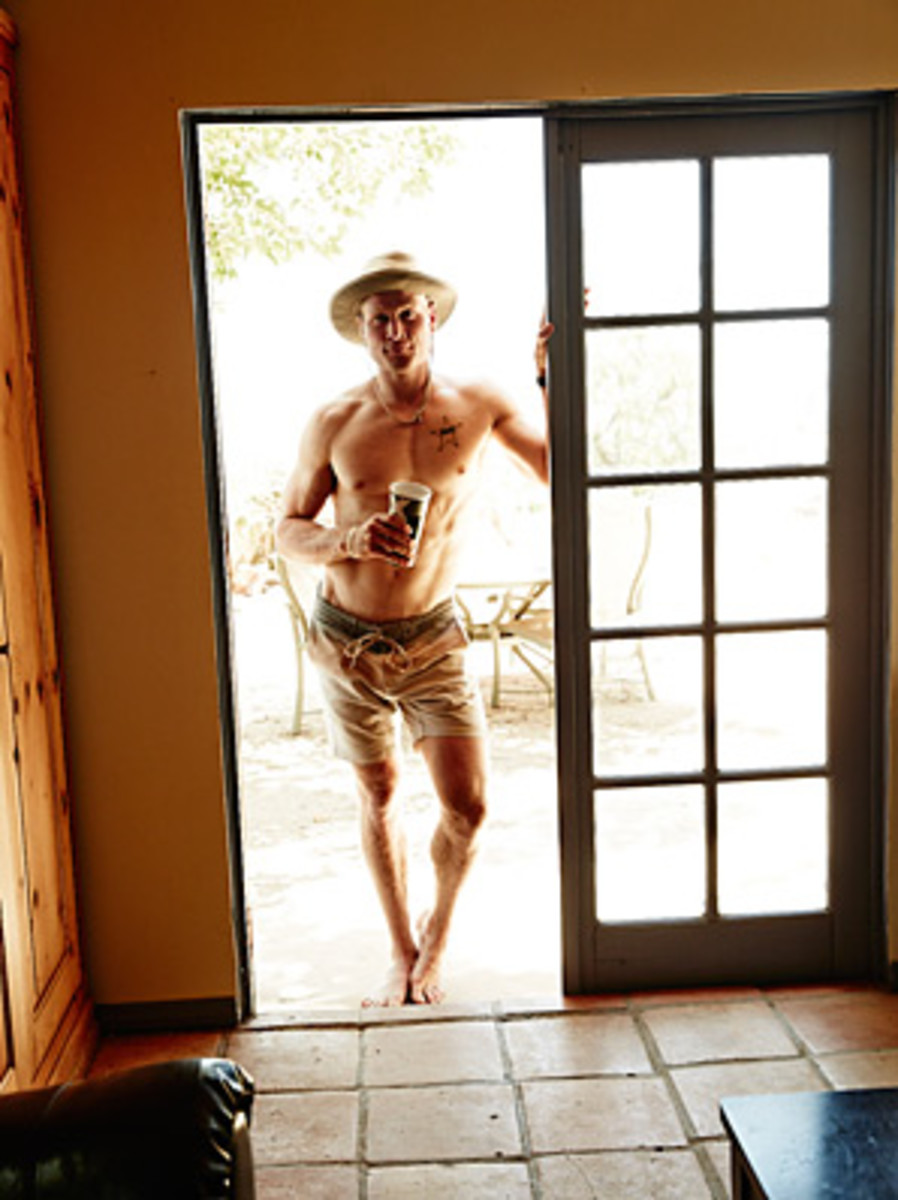 McIntyre grew up a cocky country club kid with very large shoes to fill. His father was a Wall Street executive with a Harvard MBA, and his grandfather was a colonel in the Army who went on to become a beloved mayor in Orchard Lake, Michigan. His three older brothers had careers in law, medicine and finance; but he was wired differently. He couldn't sit still in school. "People would always say to me 'everyone thinks their child has ADD, but yours really does,'" says his mother, Pawler Garrahan. "His first grade teacher nearly quit the profession. He was a lot of work."
They tried stimulants, sedatives, bipolar pills, anything and everything they could. Nothing could curb his enthusiasm. "He was always full blast," recalls Ryan Varjas, a childhood friend who used to film some of their Jackass-esque antics and pranks — like the time Hunter climbed 50 feet up a pine tree during a storm and was "leaping like a squirrel" from one swaying treetop to the next. "There were a lot of moments when we thought, 'This is when Hunter is going to die.'"
McIntyre discovered drugs at the age of 14 – first pot, then coke and acid – with predictable results. He was suspended often, and racked up an impressive police record for things like pulling a fire alarm during a standardized test. In his leafy Fairfield, Connecticut suburb, he was on the tips of the cops' tongues: "Whenever something would happen, like if a hundred mailboxes were smashed, the police would show up at our house and say 'We think Hunter's involved.' They were usually right, but there was a lot of stuff they couldn't prove." The summer after tenth grade, his father packed him off to military school in West Virginia; the following summer, he was sent to his grandfather's place in Michigan. But McIntyre proved untamable.
"THERE'S A DIFFERENCE BETWEEN ABUSING DRUGS AND BEING ENTHUSIASTIC ABOUT THEM. I WAS A DRUG ENTHUSIAST."
Then just before graduation, he and a few friends were caught breaking into a classmate's house. It was part of an elaborate senior prank that involved stealing his friend's mom's dildo. But the authorities came down hard this time. Facing the likelihood of jail or a full year of rehab, McIntyre settled on an outpatient program in Missoula, Montana. He was taking classes at University of Montana, but wasn't taking them seriously. And after "pissing dirty" several times, he was sent to "more intensive types of situations" in Nevada and New Mexico, before returning to Missoula for the final six months. This time, his sobriety officer, who moonlighted as a logger in the nearby mountains, hooked McIntyre up with a job.
"I went up there in skinny jeans and a fleece jacket, smoking Marlboro Smooths and looking like a total moron," he says. "They threw me into the thick of it. I was chopping down trees, dragging logs, super macho stuff. I went from 160 pounds to over 200 pounds. They made a man out of me."
Though he was bulking up, he didn't exactly sober up: "I was doing a ton of psychedelics because you couldn't test for those things." He's quick to note, however, he was never a drug addict. No, no: "There's a difference between abusing drugs and being enthusiastic about them. I was a drug enthusiast."
McIntyre left Montana and set out to become a male supermodel — because that's what you do when you're The Sheriff and your dial is set to 11, apparently. And with his new physique, he didn't have much trouble finding work, landing campaigns for J-Crew and Abercrombie. But to really get ahead, an agent advised, he should get in good with one photographer by doing a few nudes. "I didn't get into that industry to shake my dick around, but I was like, 'I'm a fun, free guy. I'm cool with it.'" The photos, he was promised, wouldn't show his face or be publically released. They were for a private portfolio. But they were released, and thanks to another, um, physical gift, they ricocheted around the web. Gay blogs, mostly. One of which identified McIntyre. "It was a nightmare," he says. "I'm not one of those kids that comes from a farm with a family who doesn't have a computer. My whole family saw it right away. And they flipped shit." Turned off by the entire episode, he quit modeling and moved to Malibu: "Modeling is a creepy fucking business."
These days McIntyre is solely focused on standing atop the podium at September's Spartan World Championship. His day job as a Malibu SoulCycle instructor offers him 10-12 hours of intense cardio per week, which he supplements with a dozen hours of CrossFit and trail running. He's planning on moving to the Rockies for a spell of high altitude training ahead of the race, and he's no longer raging like his mad lunatic hero, Hunter S. Thompson. It seems as if McIntyre has finally found the one thing that could do what military school, jail, and rehab couldn't: dial him back to 10.
"Spartan helped me take all this power and energy I've had locked inside and focus it. I started to take my life more seriously," he says. "I always needed to be Number One. And right now, I want to be a World Champion meathead."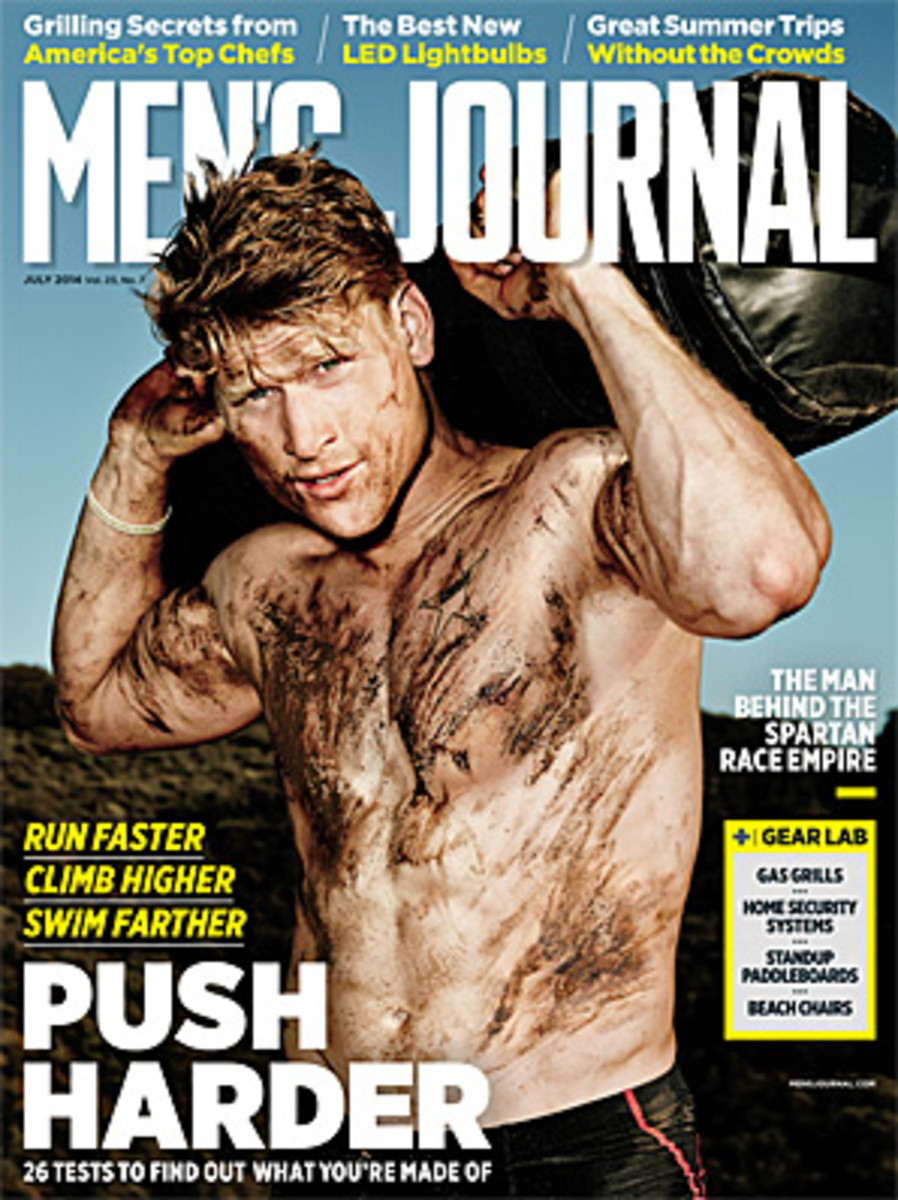 Hunter McIntyre on the cover of the July 2014 issue of Men's Journal.