Features
The Oyster Is Your World: Celebrating the Comeback of Gourmet Chesapeake Bay Oysters
Dining on the patio at Rappahannock Oyster Bar in Washington, DC, with owner Travis Croxton is like having a private seafood sherpa, expertly navigating the icy ridges and valleys of the just-shucked Chesapeake Bay oysters on the platter between you. These bivalve beauties are all of the species Crassostrea virginica, native to the eastern coast of the Americas, but represent three flavor profiles matching exactly where on the Chesapeake Bay they were harvested by Travis' other enterprise, Rappahannock Oyster Company.
"First, try this one," he prompts, oyster knife nudging a chilled half shell.
Slurp! The immediate sensation is a burst of freshness usually found only in seafood within a toe's dangle of a water-front dock, then discernible sweetness balanced by understated saltiness. The next oyster also is clean and bright, with a heightened salinity that swaps places with the sweetness. Classic oyster taste, hard to beat—until the final style is tipped, that is. Harvested closest to open sea, it packs an unabashed brininess that begs to be enjoyed with a hoppy IPA. Hell, even if the next shuck were to reveal a perfect pearl, an oyster lover might flick it aside just to get at the real treasure.
The return of gourmet Chesapeake oysters is a sports analogy-worthy comeback story, right up until the pandemic threw seafood producers on every coast for an existential loop. Not only did they lose most restaurant clients overnight, but those that did remain open understandably focused on more takeout-friendly fare.
The silver lining is that many producers have made it easier than ever to ship super-fresh oysters direct to your door. That makes right now an opportune time to order a sack or two and invite your gang over for a full-on backyard oyster fest.
"We're really proud of how people respond to our oysters," says Travis. "And when they see where they come from, they love them even more."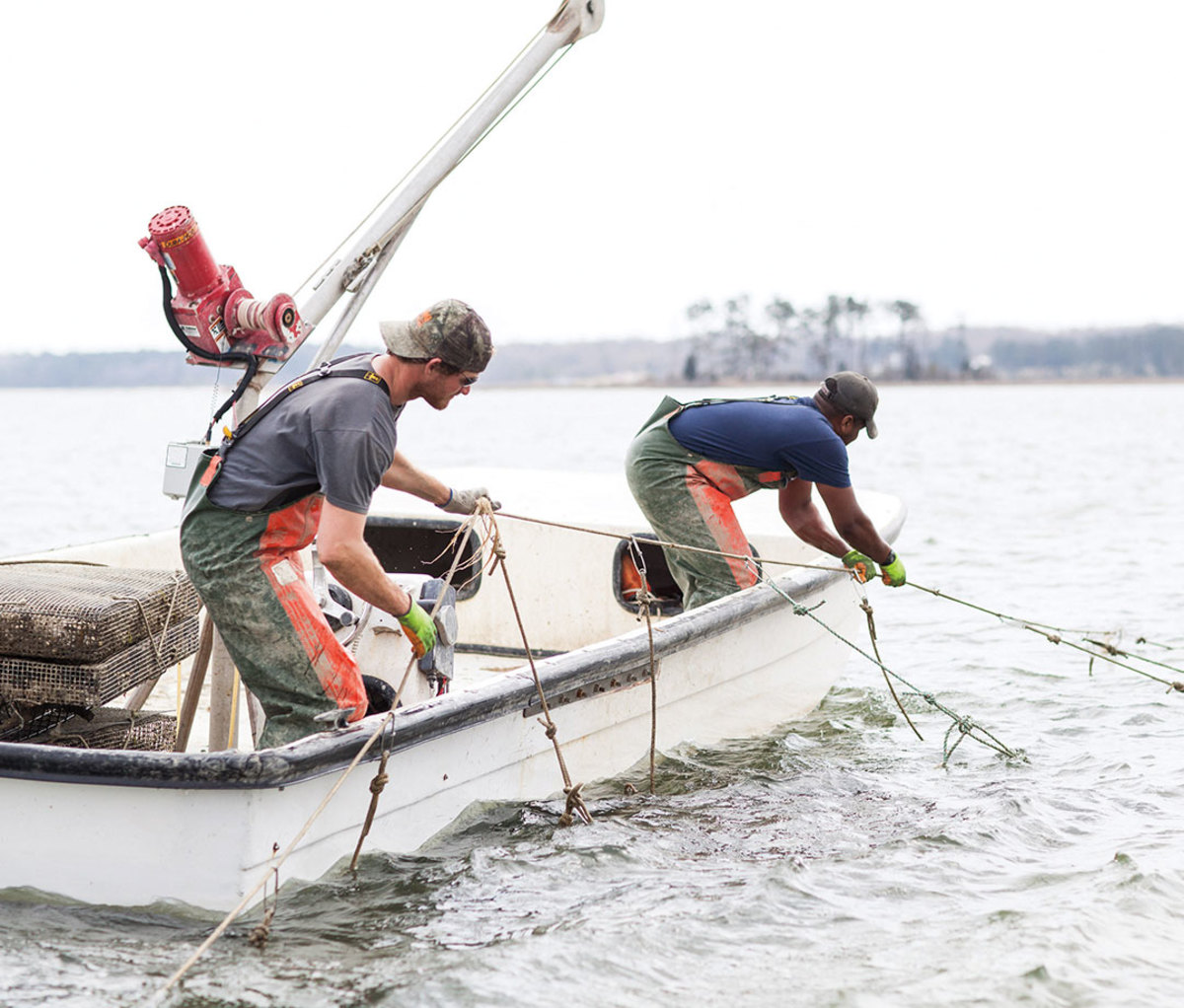 One day earlier and 140 miles south, in the rural coastal community of Topping, VA, a four-man crew readies for work. The breaking dawn reveals sailboats moored across the rippled surface of Locklies Creek, but these young guys are unfazed by a backdrop so picturesque it makes a landlubber swoon. In the "oyster shed," a weathered, garage-size wood shack perched on pilings over the water, they gulp coffee and pull on uniforms of neon-orange or camo-patterned hip waders, boots and gloves.
The crew chief consults today's orders—the rare clipboard on which a random home cook shares space with world-renowned chef José Andrés. Two of the crew crank up the Evinrude outboard on a flat-bottom fiberglass boat and churn away from the dock. Soon the craft is out on the wide Rappahannock, where the early spring waters are choppy, green and ass-numbing cold. Under the chop are the storied oysters of the Chesapeake Bay.
Ancient heaps of shells show that Native Americans enjoyed the wild bounty here for thousands of years before Europeans came ashore. Those settlers also were drawn to the resource, and by the 1850s, millions of bushels of oysters were harvested annually by dredge boats, with boxcars of the prized delicacy rolling north to New York City and Boston.
Rappahannock Oyster Company traces its lineage back to 1899, when farmer James Arthur Croxton purchased 5 acres of river bottom. Unfortunately, that was just about the heyday of Crassostrea virginica—by 1950, overharvesting, disease and habitat loss had taken their toll, slashing production by 99 percent.
The Croxton oyster beds were long dormant, but in 2002, a new generation, Travis and his cousin Ryan Croxton, hatched a brash plan—a return to producing high-quality oysters by embracing innovative aquaculture practices. Experts told them it wouldn't work, that Chesapeake Bay oysters were an inferior product. They were right, at least at first.
"We killed a lot of oysters," admits Travis, "but we learned quickly."
By 2004, they had oysters of which they could be proud. So they loaded a cooler and headed for Manhattan. "We literally opened the Zagat guide to find the top restaurant," says Travis. They wound up at the delivery entrance of Le Bernardin, the seafood shrine of celebrity chef Eric Ripert. "I think they felt sorry for us, but the sous chef loved the sample. So they put our oysters on the menu."
That kind of credential kicks open doors, and word spread that the Chesapeake Bay was once again producing oysters fit for upscale raw bars. Soon a dozen other producers, often family operations, were farming up and down the Bay. In 2004, the Croxtons harvested 3,000 oysters. In 2006 it was 300,000. And in 2019, they hit an astounding 10 million.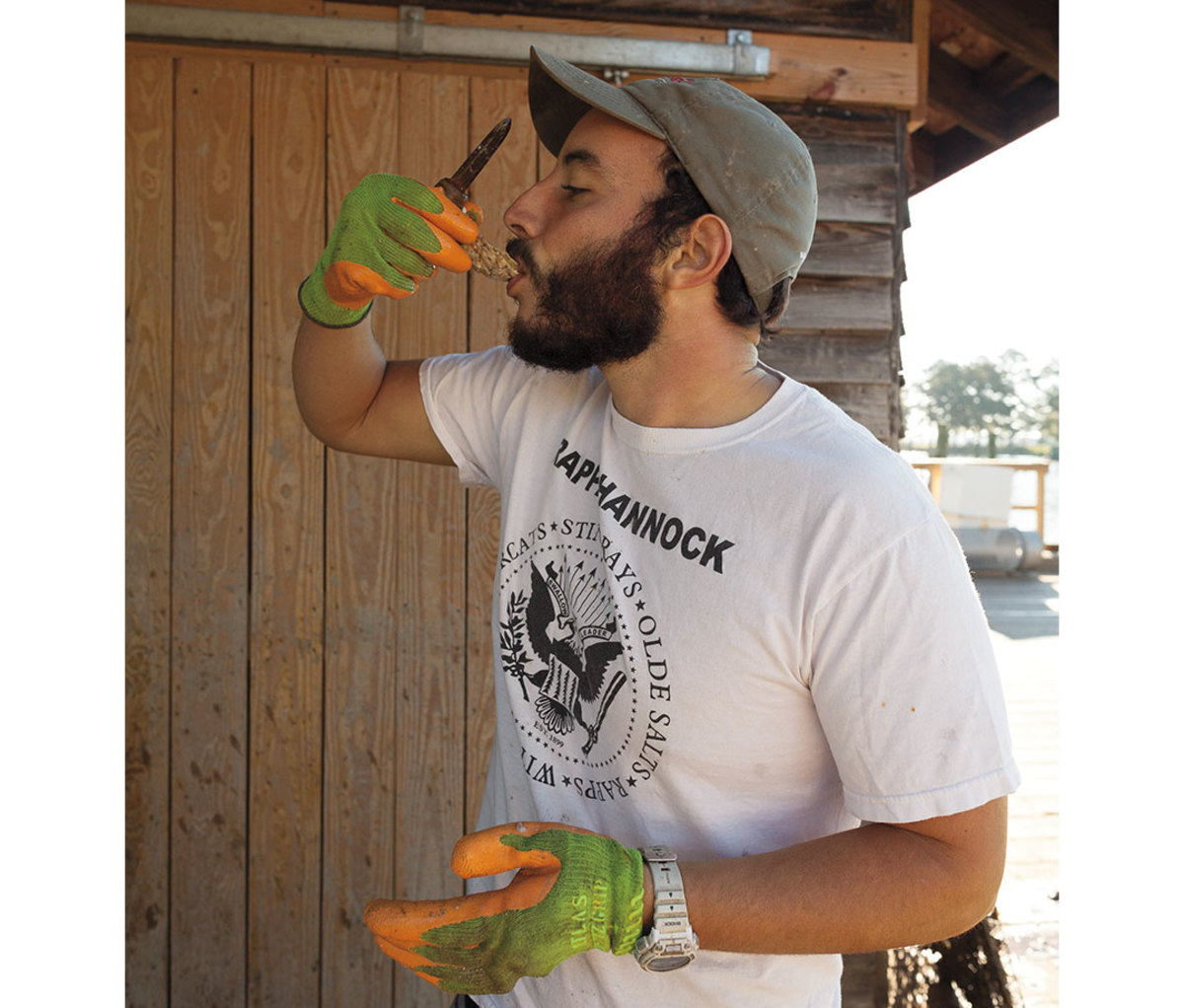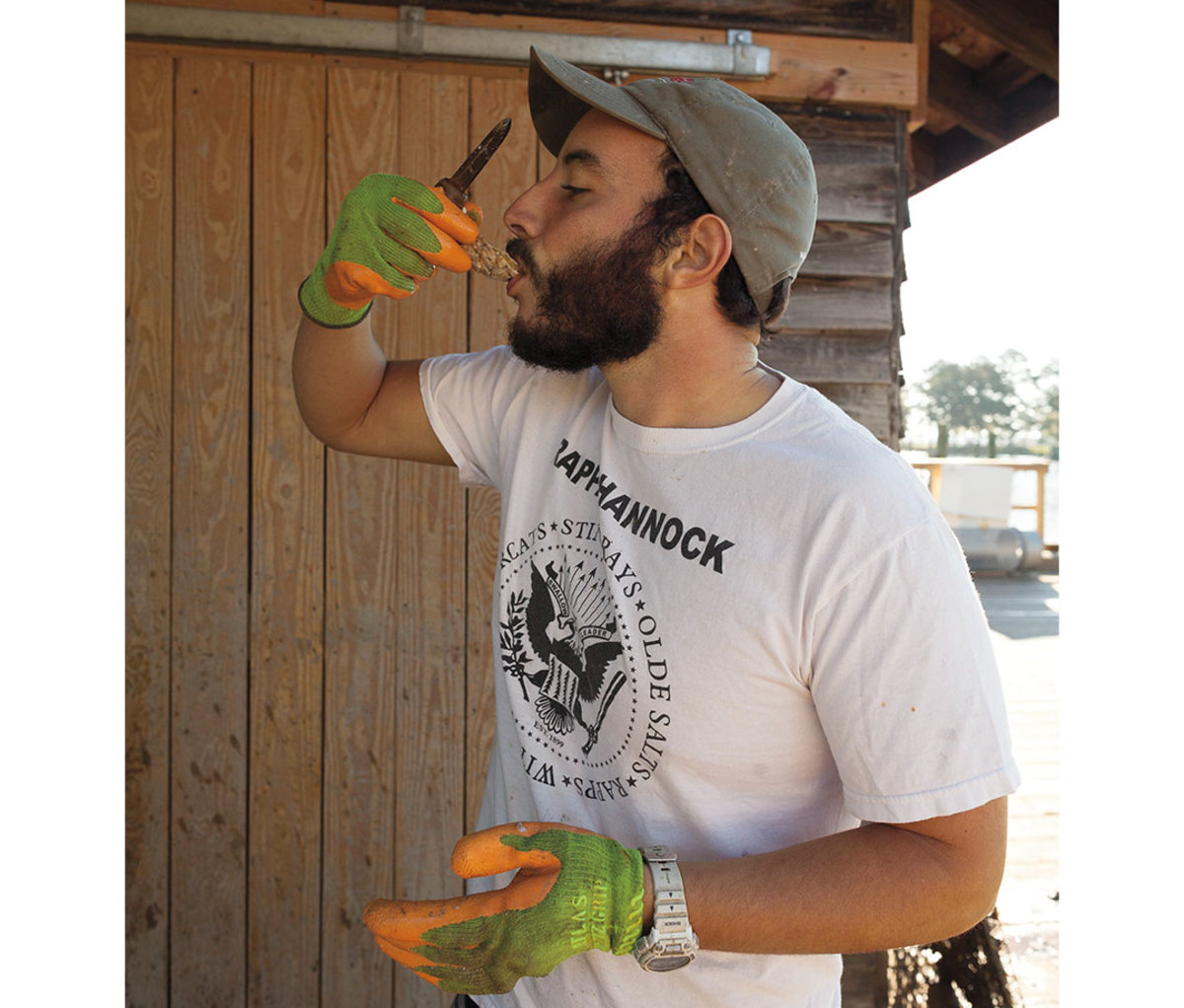 Even with those numbers taking a huge pandemic hit, somebody still has to harvest the oysters. Back out on the blustery Rappahannock, the boat drops anchor near a knot of bobbing buoys. Hundreds of oyster cages are hidden by the murky water below, resting 6 inches off the bottom on metal legs. Crew members wield long-handled hooks to fish out a thick rope and wrap it around the boat's cleats. Cages are fixed at intervals along the rope, and the boat's pole winch swings them aboard, slick and dripping.
Inside are mild, sweet, inner-bay oysters. Follow the current a few miles downstream and you find another site farming the more salty-sweet version. And exiting the bay to the open Atlantic near Chincoteague gets you to those super-briny ones.
Oysters don't deserve the same suspicion as some other farmed seafood. Travis says that many people are surprised that farmed oysters aren't fed an artificial diet. "The cages sit in the current right off the bottom, and the oysters eat the algae that washes over them and filter the water," he explains, "just like wild oysters."
Furthermore, cage farming is kinder to the ecosystem than bottom dredging. Compare an aerial photo of the Croxtons' harvest area when they first began farming to one taken now, and you see brown, lifeless river bottom replaced by green native widgeon grass, a key element in curbing erosion.
After the boat is filled with cages and enough icy, brackish water to slosh around the ankles, it motors back to the shed. Vegetation and muck obscure the wire grid of the cages, so it isn't until a top is pried off that the 1,500 oysters inside can be seen clearly.
Cages are emptied into a rotating metal cylinder fitted with holes, sorting oysters onto a rolling belt where the crew performs further grading. Every few minutes someone pauses, whips out an oyster knife and indulges in a little quality control. "Oh yeah, good oyster," declares one before getting back to the routine. Gloved hands move in rhythm while talk veers from weather to cars to girlfriends. The oysters and the language tend toward salty this morning.
It requires about 18 months to raise oysters to this moment. But as soon as they fill mesh sacks or insulated boxes, they start going out via a succession of delivery vans. "Once you harvest an oyster, you have to get it moving to its destination fast," says Travis.
That means that an oyster that's in the water today can grace one of those tiered seafood towers at a fancy bistro tomorrow. Or, if you're so inclined, the picnic table in your backyard.
For access to exclusive gear videos, celebrity interviews, and more, subscribe on YouTube!