Bill Tai stands in a mudflat on the outskirts of San Mateo, California, harnessed to a very neon-green kite. A few moments later, the kite is overhead, and Tai is hauling ass on a twin-tip wakeboard toward the middle of San Francisco Bay.
It's a break for Tai, a Silicon Valley venture capitalist who spends most of his time in coffee shops and office parks listening to geeky kids explain why their new app or website is the next Uber or Airbnb. Most of these pitches don't pan out, but sometimes they do; Tai's firm, Charles River Ventures, put $250,000 into Twitter in 2007, back when the company had just a handful of employees. So Tai must pay attention to every new idea that crosses his desk. "My mind is noisy all the time," he says. "It's like a bag of microwave popcorn." Kiting is a respite.
Of course, even a session on the water can turn into a business deal. This happened most memorably in 2009. Tai had just landed on the beach when he ran into Eric Setton, a fellow kitesurfer and engineer with whom he'd briefly worked. Setton said that he was thinking about starting a company. "What do you have in mind?" Tai asked. Setton paused awkwardly. "I'm thinking it is going to be in the communications space and there's going to be a video angle," Setton said. That was it. No product. Not even much of an idea. Setton waited for a perfunctory "good luck."
Instead, Tai said, "I want to back you."
A week later, he became Setton's first investor, sinking $100,000 into a venture that eventually morphed into Tango, a free text-messaging service. Tango was most recently valued at $1.5 billion.
Tai's little bet on the beach had paid off. "My business model," he says, "is a little different from everybody else's."
If kitesurfing is, as Forbes has called it, "the new golf ?" in Silicon Valley, then Tai — who is known as the "Kite VC"— is the resident pro. In addition to holding impromptu meetings in his wetsuit, Tai also hosts one of the Valley's most exclusive events: MaiTai Maui, an annual invitation-only gathering that attracts 150 or so investors, entrepreneurs, and pro kiters. Every year millions of dollars are raised on the beaches of Maui. Elon Musk, the founder of Tesla Motors and SpaceX, has been to MaiTai, as has Dropbox's Drew Houston. "MaiTai is like this secret code," says Alexandra Chong, a founder of the popular dating app Lulu and a MaiTai regular. "It's like, 'Oh, you're a MaiTai-er.' There's this unsaid bond of being happy to help you out."
In the early 1990s, before kiting became the Valley's cool-kid test, Tai was a young banker who windsurfed at San Mateo's Third Avenue Beach. The son of Taiwanese immigrants, Tai began disassembling electronics in elementary school; in seventh grade, he discovered "phreaking," a sort of proto-hacking that involved tapping into phone-company routing systems. After studying electrical engineering at the University of Illinois and a stint at Harvard Business School, Tai moved to Silicon Valley to work as an analyst at an investment bank.
Tai did well riding the first dot-com wave, but he started to feel burned out. He recalls an early morning in 2000, when he flew to Tokyo for a meeting and then immediately took the red-eye home. "I'm walking up the stairs, thinking, 'Man, my life is kind of fucked,' " he says.
For relief, Tai would fly from San Francisco to Maui. He arranged for a surf shop to leave a van loaded with windsurfing gear in the first row of the airport parking lot so that he could be on the beach by noon. After a while, he resolved to spend even more time at the beach. He'd seen kitesurfers in Baja California that year, and for Christmas he received a kite from a friend. Tai took it out to a field, Velcroed it to his body, and let it loose. "It just took off," Tai says. He tripped and went airborne, and then, after managing to detach himself from the rigging, fell face first to the ground.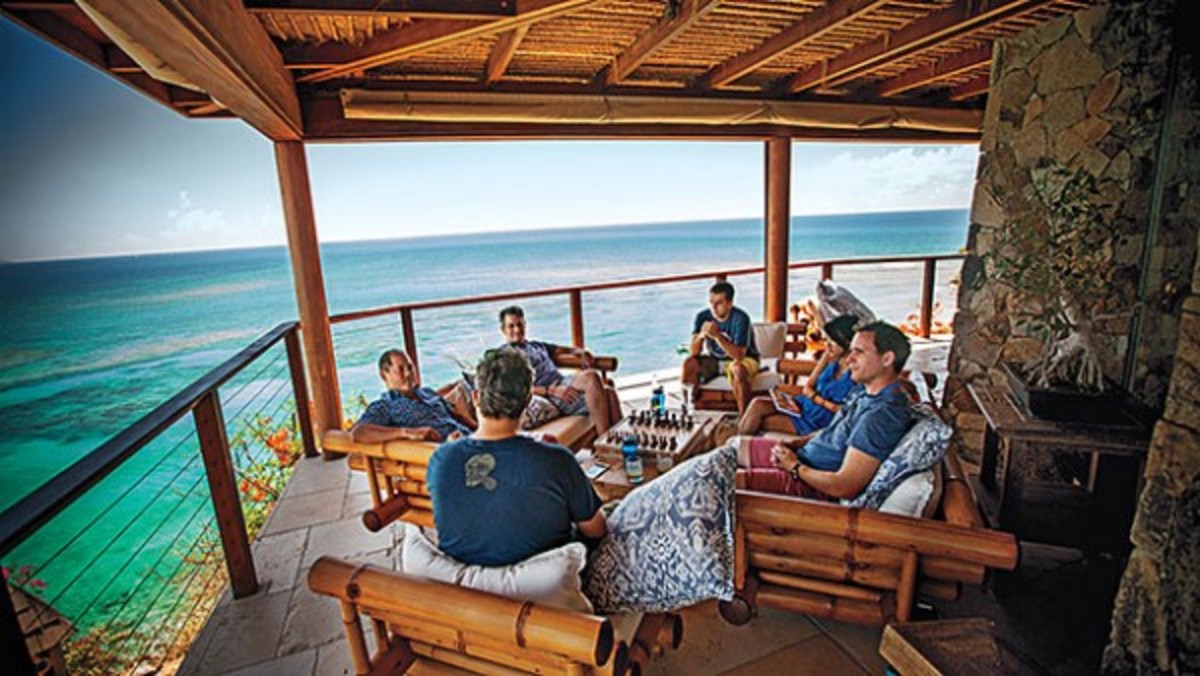 (Schmoozing at MaiTai, Tai's kiting-ivesting confab in Maui. Photograph by John Dill)
Tai doesn't remember what happened next, but he was later told that the first words out of his mouth were, "Man, if  I could only control that — how cool would that be?"
It's the second day of the MaiTai confab, and Tai is itching to hit the water. The conference was born out of a guys' weekend that Tai organized with a few of his friends. "All these other investors were into golf, and we didn't like golf," says Aaron Gershenberg, the founder of investment firm SVB Capital and an avid kiter. (SVB has become, at Gersh­enberg's behest, a major if unlikely sponsor of professional kitesurfers.) By 2005, the group had grown to a few dozen, and Tai went looking for an instructor to teach newcomers how to kite safely. That's how he found Susi Mai, a then-21-year-old pro kiter from the Dominican Republic. He sent her a one-line email: "Our names together spell MaiTai. We should do something."
"I was like, 'Who is this creepy guy?' " Mai says. Still, she met with Tai; the two hit it off and she agreed to become MaiTai's president. Soon MaiTai was oversubscribed and drawing comparisons to TED, the ultra-exclusive tech conference. "You can pick the tech guys out a mile away — they're so out of place," says Jesse Richman, a pro who helps Tai's crew learn the sport. A dude in too-long boardshorts awkwardly dragging a $3,000 hydrofoil board upwind is a dead giveaway. But so, says Richman, is a certain drive, an expectation of mastery that one tends to find in expectant Masters of the Universe. "A lot of these guys are fearless," he says. "They get here and want to go full speed."
The differences between people like Richman and the business types are thrown into sharper relief off the beach, when MaiTai feels less like a surf weekend than a typical networking event, with talks by entrepreneurs and investors about business and technology. The attendees (and sometimes the speakers) seem only to half-listen, keeping their eyes on the flags flapping in the wind just outside Maui Community College's multipurpose room.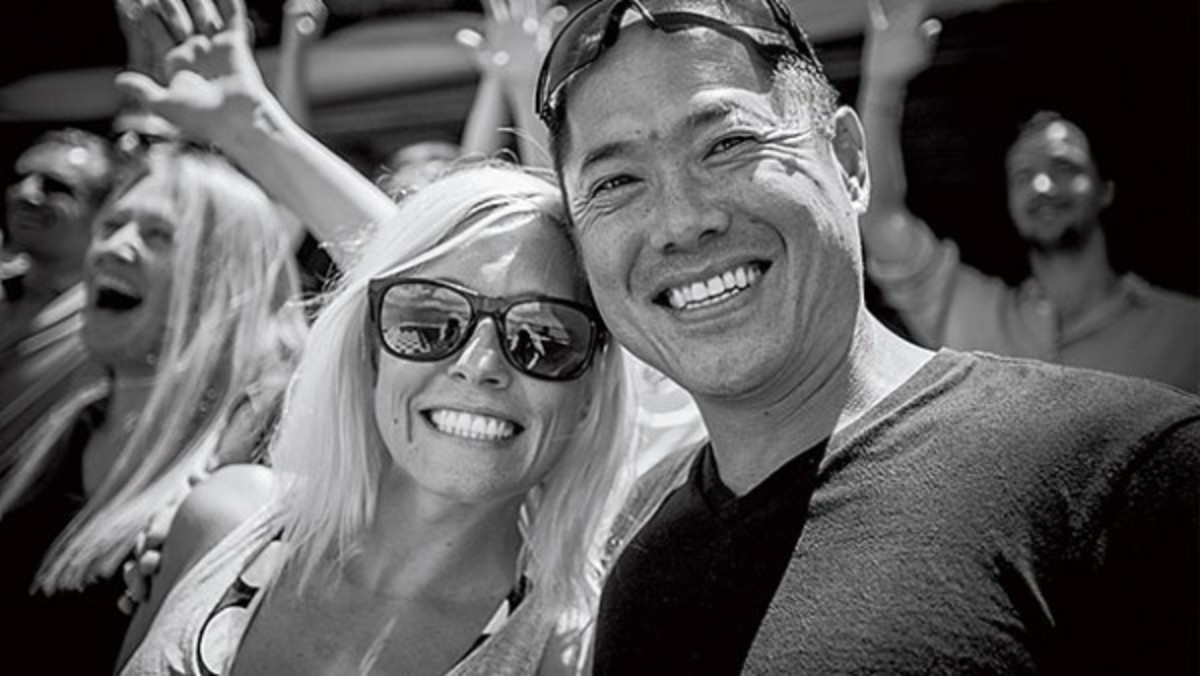 (Tai with pro kiter and business partner Susi Mai. Courtesy MaiTai Global)
At noon, Tai packs his stuff in the car and heads to a strip of beach where some of the wealthier members of the crew have rented houses. He unloads his gear, lays his kite down, and pumps up its inflatable frame. "All right, I'm going to launch," he calls out to no one in particular.
While Tai is ripping away, I find myself chatting with Tom Katis, a Yale-educated former Green Beret who served as a communications officer in Afghanistan. Katis came to his first MaiTai in 2011, hoping to pitch Voxer, which makes an iPhone app that addresses the communications frustrations he'd experienced while in combat.
Tai was impressed, and the following year, he and several other attendees cast their lots with Voxer as part of a $30 million investment. "Everyone here is using Voxer. They all know it and they love it, and a bunch of them have invested," Katis tells me. "How do you buy that? You can't."
For access to exclusive gear videos, celebrity interviews, and more, subscribe on YouTube!