Early one morning in November, Azzam Alwash parks his truck beside a sandy embankment in southern Iraq and climbs down to the water where his boatman, Abu Haider, is waiting in a narrow wooden skiff. Alwash embraces the old man and bums a cigarette. As Abu Haider steers the boat away from the district capital of Chibayish, kingfishers circle and dive around the marsh; a moorhen runs along the surface and heaves itself aloft. Alwash's laugh cuts through the wind. In cargo pants and hiking boots, with a fitness tracker strapped to his wrist, he looks like a tech entrepreneur on safari. "Can you believe there was nothing here before?" he shouts. "It was all desert!"
Bordered by the Tigris and Euphrates rivers, these alluvial plains formed ancient Mesopotamia ("the land between rivers"), where the Sumerian and Babylonian civilizations developed writing and the wheel. Until recently, it was home to a quarter million Marsh Arabs, an ancient community that lives in huts of mud and reeds, fishing and tending to herds of water buffalo. During Saddam Hussein's regime, the Mesopotamian Marshes also became a refuge for Shia rebels and outlaws — "Iraq's Sherwood Forest," as Alwash puts it. To drive them out, Saddam ordered a series of dam and canal-building projects to drain an area larger than the Florida Everglades. The verdant expanse became a barren wasteland, forcing most of the Marsh Arabs to flee to nearby cities or across the border to Iran.
Alwash, an Iraqi-born engineer who spent most of his career in California, is the head of Iraq's first environmental nonprofit, Nature Iraq. For the past decade, he's been working to recover thousands of square miles of what Saddam destroyed. Two years ago, he convinced the government to designate the area Iraq's first national park. That same year, he was awarded the Goldman Prize, sometimes called environmentalism's Nobel. "Some experts were saying that the marshes cannot be restored," Alwash says. "Not only was it possible, but we did it."
Still, Iraq's ongoing instability has made protecting the marshes an endless task. The country is being torn apart by the rise of the Islamic State. A nearby boom in oil production means the fragile ecosystem is one big spill away from disaster. And a string of dams cropping up in Turkey is threatening water flow to the marshes. Even as much of the region splinters along sectarian lines, Alwash is meeting with government officials, embassies, and oil companies to promote peaceful relations based on environmental necessity. "Maybe it's not realistic right now," he says. "But you have to dream big."
Alwash grew up in the nearby provincial capital of Nasiriya. His father, Jawad, was an engineer in the Ministry of Water Resources and a passionate duck hunter. He'd find an excuse to check on a canal regulator or a pumping station and spend the day boating around with his shotgun, often taking his young son with him. Like his father, Alwash studied engineering, and earned a Ph.D. at the University of Southern California in 1988. He made partner at a civil engineering firm in Los Angeles and settled into a suburban home with his wife, Suzanne, a geologist he'd met at USC, and their two daughters. As a hobby, he took up furniture-making. "That's how I spent my time," he says. "I smoked my cigar and drank my whiskey and sanded my wood."
Then a 2001 United Nations report detailed the full extent of the marshes' destruction, calling it "one of the Earth's major and most thoughtless environmental disasters." Azzam and Suzanne were horrified. Avid kayakers, they had dreamed of one day paddling through those marshes. Now they wondered what could be salvaged. Alwash's father, who had immigrated to the U.S. in 1990, could still remember his old hydrological data with remarkable detail. "He started explaining to me the flow of the Tigris and Euphrates on a napkin," Alwash recalls. "He knew it was possible."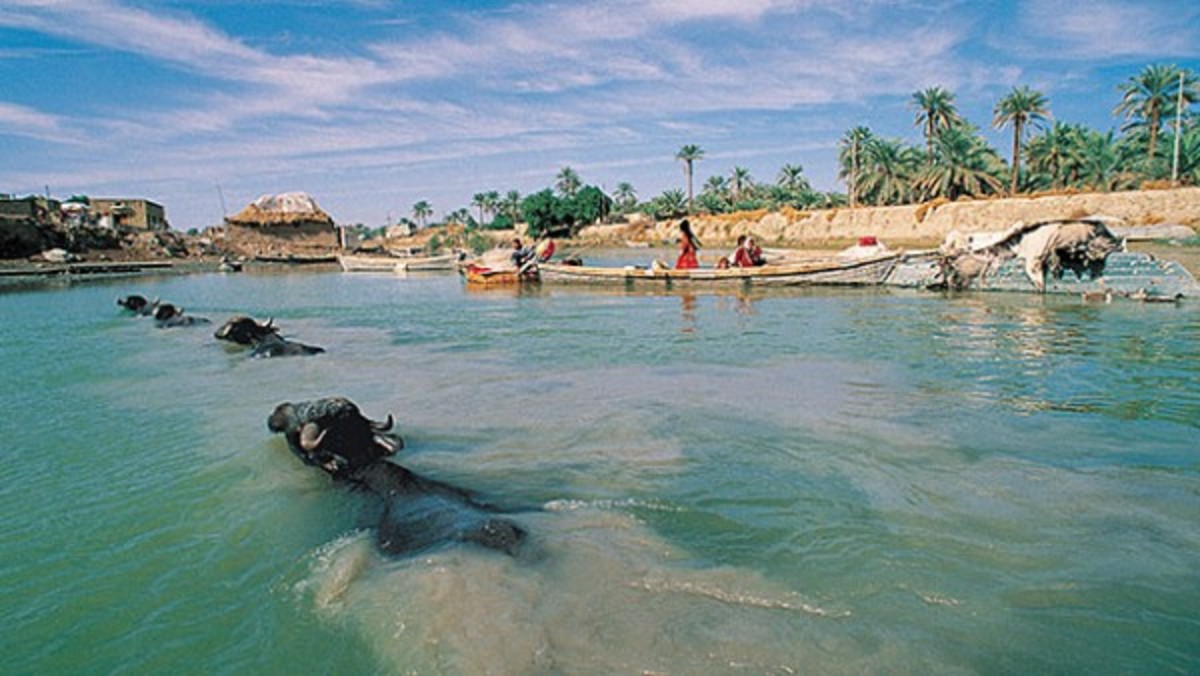 (Water buffalo have returned to the Mesopotamian Marshes. Photograph by Alamy)
In January 2002, Azzam and Suzanne made a presentation on environmental restoration in Iraq at the State Department, and were invited to take part in planning certain programs for a post-Saddam occupation. But as the invasion got under way in March 2003, the Bush administration sidelined the State Department and handed postwar reconstruction to Donald Rumsfeld at the Pentagon. "I was excluded from the team because I was viewed as a State Department stooge," says Alwash. "Which in hindsight was the best thing that ever happened to me."
That summer Alwash secured a grant from the Italian government (then in charge of part of southern Iraq) to lead an eight-month-long survey of the marshes' ecosystem. But Alwash suddenly felt uncertain: Could he really give up a six-figure salary and leave his wife and daughters for a war-torn country he hardly knew anymore? "My wife told me, 'If you don't go, you're going to be a grouchy old man,' " Alwash recalls. " 'Go do it.' "
When Alwash arrived in Baghdad, the war was still raging. In the south, locals had already reflooded huge sections of the dried landscape. "I thought I was going to have a war on my hands to convince people that the restoration of the marshes was needed," says Alwash. "Well, that was one battle I didn't have to fight. People began restoring the marshes by breaking dikes, by flooding various areas haphazardly. Not because they loved nature, but because they wanted to resume their way of life."
Q&A: Climate Change's Cultural Tipping Point

Jassim al-Assadi, now Nature Iraq's local director, was then working as an engineer for the Iraqi government. He asked Alwash to visit Chibayish, which was still salt-encrusted desert. The Italians had given Alwash money to study the feasibility of restoring the marshes, but Alwash ultimately made a radical decision: He and al-Assadi were going to breach the embankment themselves. In December 2003, they went to the Ministry of Water Resources and paid the equivalent of $400 in cash to hire an excavator. Locals gathered on the pile of earth that separated the dried-out marsh from the Euphrates — dancing, singing, and firing rifles into the air — as the water gradually wore away Saddam's barrier.
Pleased with their handiwork, Alwash and al-Assadi returned to Baghdad, where Alwash was setting up the nonprofit. A few months later, they returned to Chibayish to check on the progress of the restoration. It looked like a toxic wasteland — the water was red and putrid. "Oh, fuck, Jassim," Alwash recalls saying. "We created a disaster."
But something remarkable happened that spring: The water flushed itself clear, and reeds shot up. Carp traveled upriver, and fishermen followed them. The area is now home to apex predators like the imperial eagle and the gray wolf. "It's engineering at a giant scale," says Alwash. "That $400 was directly responsible for restoring no less than a thousand square miles of marshland."
Since then, 10 years of grueling work in Iraq have changed Alwash, as well. He's become a leader who can cajole the hardest men from Baghdad to the rural south. "I discovered aspects of my personality that I didn't know existed," he says. But his bravado and infectious enthusiasm can be tinged with melancholy. He and Suzanne had imagined the family would reunite in Iraq, but he has hardly seen his daughters grow up. "No one envisioned Iraq as it is now," Suzanne says. "We thought it was going to be this grand, glorious democratic experiment." A few years ago, she and Alwash divorced. "I gained the marshes," he says. "But I lost a family."
On today's trip, Alwash wants to check on the rebounding water buffalo population, which is critical for returning Marsh Arabs. As we pass a grazing herd, Alwash says with satisfaction, "Nice and fat." He's currently working with the Iraqi government to expand protected areas beyond the national park, and attending a series of conferences around the region called the Blue Peace initiative — all while constantly raising money for Nature Iraq. "I'm the beggar-in-chief," he says. Last summer, when the Islamic State seized a dam outside Mosul, Alwash emerged as the international expert on the potential consequences for Iraq's water supply. "I've got too much going on right now," he says. "But it's been an incredible trip."
That evening in Chibayish, Alwash opens his laptop and is reminded of the unceasing violence across the country. "My friend was killed in Baghdad yesterday," he says. "He was a 32-year-old doctor." On several occasions, Nature Iraq employees have been kidnapped for ransom. After an armed militia raided its headquarters in Baghdad, Alwash moved it north to a more secure stretch of Kurdistan. He reads the details of his friend's death and sighs: "Well, maybe it's my turn tomorrow."
For access to exclusive gear videos, celebrity interviews, and more, subscribe on YouTube!