Piss bottles slosh around the cab of a 37-foot luxury RV as former world number one tennis player Mats Wilander steers his rig into an unusually tight spot in a trailer park in Elverson, Pennsylvania. The stereo clock reads 9 pm as Wilander, 49, disembarks into the cool October night. The ladies drinking Solo cup cocktails at the campsite smile without recognizing the seven-time Grand Slam singles champ. "We're hippie tennis players," Wilander says to me as he lugs wood to the fire pit after a day promoting his traveling tennis clinic Wilander on Wheels (WOW) with his two-man team. "We go from place to place and meet new people. It's much better to do this than go mad at home."
One of the greatest athletes to ever play the game, Wilander now drives across the country about 100 days a year giving tennis lessons to supplement his TV commentating and senior-tour appearances – and to relive the freedom of his early days as a pro, when he'd drive his Porsche from Rome to Hamburg to Paris, traveling from tournament to tournament. "When I first retired from the game, I had times in my life when the days just wouldn't move," he says, "but now I get paid to live my life."
In the Eighties, pros like Wilander took home prize purses that were a fraction of today's multimillion-dollar payouts – top place might have brought about only $36,000. Whereas other stars of his era now pay the bills by doing ordinary pro-tennis clinics – where people pay to hit balls and receive tips from former world champions – Wilander decided it would be more fun to run his own traveling road show, based out of Sun Valley, Idaho, where he lives with his wife and four children. In 2009, he got behind the wheel of his family's RV, set up an itinerary of clinics across the country, and hit the road. "I'm driving because I love driving," Wilander says, rubbing the gray stubble on his perpetually tan face. "I don't care where it's to."
RELATED: Is Milos Raonic the Future of Tennis?
His RV companions include Tim Brown, a 50-year-old photographer who once toured with Steve Miller, and WOW co-founder Cameron Lickle, a 33-year-old former nuclear engineer who briefly played bottom-rung pro tennis and now helps teach the clinics and manages their day-to-day logistics. The schedule is grueling. Yesterday, WOW docked at the public courts in Ossining, New York; today, a private event at Chartwell country club, in Severna Park, Maryland; tomorrow, a tennis club in King of Prussia, Pennsylvania. There are two separate stops in New York City the following day, and then sessions in West Virginia and North Carolina before the tour culminates in Georgia with a weeklong private event on Sea Island. In a typical day, Wilander will conduct up to four 1.5-hour sessions at locales ranging from a private mansion's grass-yard court to the cracked pavement of a public park. A single-session group-event ticket starts at around $300 per person, whereas a full day one-on-one tutorial can cost up to $10,000 – some wealthy clients reserve WOW for a full week. Despite the grind, Wilander's lopsided grin never wavers. "He's the same guy all the time," says the six-foot-two Lickle, who initially had misguided expectations about life on the road with a superstar. "I thought we were going to be, like, boy-band crushing it, but he's got blinders on. Women come up to hug him, and he doesn't care. He looks right past them."
Indeed, the first rule of the RV is no girls. The second is no shitting in the RV. For midnight leaks, there are piss bottles, although that's less of a problem than it could be, thanks to the final rule: no alcohol. "A single beer with the clients would soon turn into 10, and then we'd be swinging from the rafters," says Lickle, who embraces this monastic existence. (It jibes with his time in the Navy.) At 10 pm in the Pennsylvania trailer park, Lickle has already popped his nightly Ambien, while Brown searches for kindling. Wilander sits by the fire pit. It's been a long day, with three sessions on Chartwell's private tennis courts followed by the drive north, but the campground seems to reenergize the former champ. Holding an acoustic guitar, Wilander strums a tune and talks tennis. "Literally, it's the thing I know most about," he says.
By 1988, Wilander had grown restless. He'd won all seven of his major singles titles, earned his number one ranking, and felt he had nothing left to prove. "I lost motivation," he says, staring into the fire. By 1991, he was ready to quit, and when he hurt his knee before Wimbledon, he did just that: "I said, 'Fuck it. I want to play music.' " At his Greenwich, Connecticut, home, Wilander was already hanging around rock-star neighbors like John Oates and Keith Richards. So along with his friend Christopher Seldon, Wilander decided to take on a new challenge – becoming a professional musician. They formed the band Wilander and Seldon, recorded an album, and toured Sweden. Wilander disappeared entirely from competitive tennis for almost two years.
Earlier, in the RV, Wilander played an outtake from the album for me. "This will tell you where I was at in my life," he said, cranking up the volume. The song, recorded in Wilander's basement, paints a repeated image of a lonely man sitting "at the end of the bar." Wilander's hiatus from the game lasted until 1993, when he and his wife were near divorce – "I've been married 26 years," he says, "and I've been home for maybe 13 of them" – but his love of music has never wavered. In many ways, Wilander's current never-ending tour – WOW is on the road up to 15 weeks out of the year – is the modern fulfillment of his abandoned rock-star dreams.
Wilander plays a chord and lets it hang in the night air. He enjoys working with adults, less so with kids, who often lack the fundamentals and instead try to emulate the big boys on TV; Wilander gets annoyed when kids do things like hit open-stance forehands when they have plenty of time to square their bodies to the ball. The absolute worst question he ever gets: Do you think my kid has a chance? Wilander rolls his eyes. Having crisscrossed the U.S. for several years now, he has identified a glaring reason for the weak state of American men's tennis. "Spain is competing with its A team, in terms of athletes," he says, "but America is basically competing with its D team. If an athlete like Michael Jordan played tennis, he would be the best – he's flexible, not too bulky, and has unbelievable hand-to-eye coordination."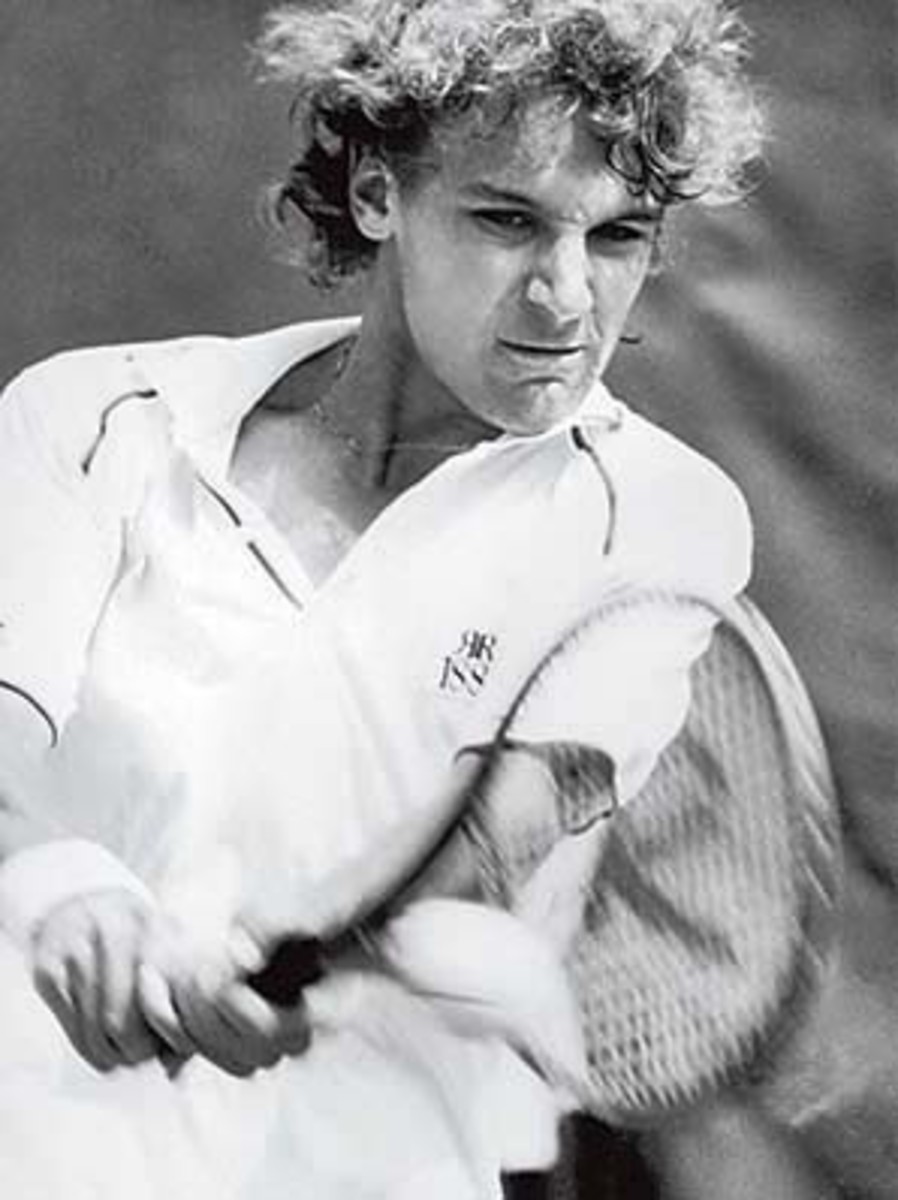 A couple of days later, Wilander is conducting a clinic at the prestigious River Club in Manhattan. This is the most upscale venue WOW has stopped at since the start of the trip – all members must wear white – and Wilander is in the process of dropping his serve in a doubles match to a hedge funder named Pierre. Wilander often loses double matches – his partners sometimes need coaching on how to hold a racquet – but he normally never drops his own serve. As his paying clients exit the court after the match, the onetime tennis champion stays behind. His frustration is palpable. Alone on the court, Wilander takes a bucket of balls and begins serving repeatedly to no one. He hits power serve after power serve until sweat runs downs his forehead and coats his back. After a few minutes, Brown walks onto the court and begins batting at Wilander's serves with his bare hand. The former superstar laughs. The tension is broken. After walking off the court, Wilander smiles: "Well, at least I haven't dropped my serve since quarter to noon."
Soon after, the River Club hosts an elaborate luncheon of smoked salmon and chocolate-covered strawberries. The grand meal is the added-value portion of the WOW clinic – the schmooze – when Wilander answers pro-tour questions and dishes insider gossip. Before a rapt table, Wilander holds court. He insists Andy Murray is an underachiever and that "Nadal is going to break all the records." He mentions a rumor that hotels hate delivering room service to Serena Williams during the Australian Open, because she answers the door naked. When asked how he would do in today's game, Wilander says you cannot compare eras, because racquet technology has now made tennis a completely different sport. But when pushed, Wilander admits he would not be a top player. "Power is not tennis to me," he says. "I'd rather lose playing my game."
At all these sessions, the question that inevitably comes up is why Wilander would choose to spend months vagabonding around the countryside, subjecting himself to the grueling nature of life on the road. It's a source of income, sure, the WOW attendees get that, and there's no denying Wilander is a rambling man (with a killer backhand). But the best explanation came a few nights earlier, when Wilander and his crew were speeding south along the New Jersey Turnpike to a gig. "Why do I do it?" Wilander said, staring out the window. "Because you never know what's around that next turn in the road."