In 2011, Răzvan Cojanu, a heavyweight boxer from Romania, fought his first professional match against Alvaro Morales at the Planet Hollywood Casino in Las Vegas, losing in only four rounds. It nearly ended his career.
"I wasn't ready mentally," Cojanu recalls. "The guy fought dirty and I couldn't figure it out. Things weren't good with my manager, I had no money, and I was about to leave for Romania—and then I met John Arthur."
Cojanu, 30, is a remarkable underdog fighter, the latest boxer in a long line to be revitalized by legendary trainer John Arthur, a tough-as-nails lawman and brawler featured in the July 2018 issue of Men's Journal. A massive 6,7", 260-pound journeyman, Cojanu is having his ultimate shot at fame on Saturday, July 28—a heavyweight match against Luis "King Kong" Ortiz at the Staples Center in Los Angeles.
Airing on Showtime, the fight is the co-feature of the night, one in which Ortiz is the heavy favorite. A former WBA heavyweight champion originally from Cuba, Ortiz, 39, recently said at the press conference for the fight that he's "looking to make a statement on July 28 and get back to challenge for the heavyweight championship of the world." But first Ortiz will have to get past Cojanu, a last-minute replacement looking to finally make his name.
"Cojanu has some world-class skill and this is the kind of fight every boxer waits for," says Randy Gordon, a former New York boxing commissioner and the co-host of At the Fights on SiriusXM. "In addition, imagine what it will do for his longtime trainer John Arthur. He's pushing 70 but if Cojanu wins then both their phones will start ringing—in this sport, miracles can still be made."
Born in the village of Voisteni, Romania in 1987, Cojanu grew up fighting in the streets, eventually getting spotted by a fight manager and formally trained to become an amateur boxer. A skinny 6'7" scrapper at the time, Cojanu rose to become a national star in Romania, even competing in the Olympics in Beijing in 2008. Spotted by a U.S.-based manager, Cojanu then moved with his wife and infant son to Las Vegas in 2009. His dreams of fame were instantly brought down to reality, though. Sparring in gyms by day, Cojanu barely managed to support his family, with promised money never appearing and landlords constantly knocking on his door.
"I was getting threatened with evictions," he says. "We had no money, no food, no nothing. It was my dream to come to the USA, but the light was beginning to dim."
In 2011, after moving to LA on the advice of his former manager, Cojanu lost his pro boxing match debut and was about to quit the sport entirely when another trainer approached.
"I was sparring at the gym when I met John Arthur," Cojanu recalls. "It was like love at first sight. I always say, 'I believe in God and in John Arthur."
Long adept at finding discarded boxers and transforming them into champions, Arthur himself is a long-shot outsider. Despite having never competed as a pro boxer, Arthur, 69, has gained a reputation as one of the top trainers in the sport, his bona fides coming from a different realm—his years competing in illegal bare-knuckle matches and in law enforcement. As a teen in Chicago, Arthur was trained to fight in death matches by a mob hitman known as the Greek, flying across the world to compete in martial-arts bouts in which loss could mean your life. In 1972, after a stint playing football at Clark Atlanta University in Atlanta, Arthur then joined the police force in rural Griffin, Georgia, fighting racist superiors to eventually become a standout undercover agent in the Georgia Bureau of Investigation and the FBI—all while still competing in martial-arts matches on the side. Now working out of concrete gyms in the Valley, Arthur has revived the careers of boxing legends like Michael Nunn, James Toney, and now Cojanu.
"I saw him hitting the bag and immediately knew he had talent," Arthur recalls. "He was a big guy who could box and bang. He was green as hell, but he had come here to find his American dream."
Working with Arthur in 2011, Cojanu began an incredible run, winning his next 13 matches in a row. Using different techniques from other trainers, Arthur had Cojanu spar and then run the length of rounds, sprinting for three minutes at a time and then slowing for a minute until picking it back up—all part of a regimen to prepare him for the rhythms of a match.
"I was taught by the Greek to run by the rounds in martial arts," Arthur says. "So it's what I do for my boxers. It gets their heart used to working at that level—if you can't last six minutes then you're in trouble boy."
More than anything else, Arthur offers psychological conditioning. Instead of using tricks like reverse psychology, Arthur simply says little until praise is due, the reinforcement gradually building his fighters' confidence. Outside of the ring, he also takes care of them in unusual ways. When Cojanu and his family needed a car to navigate LA, Arthur put them in touch with a friend who owned a dealership. Even now, he regularly gives parenting advice to Cojanu—all part of his comprehensive approach to the fight game.
"Pops helped us buy a car, takes us to dinner, helps me with being a father to my sons," Cojanu says. "He is with us and for us. He just has this energy. I know he was one of the early black agents in the FBI, that he's had to overcome racism and enemies—you better take him serious."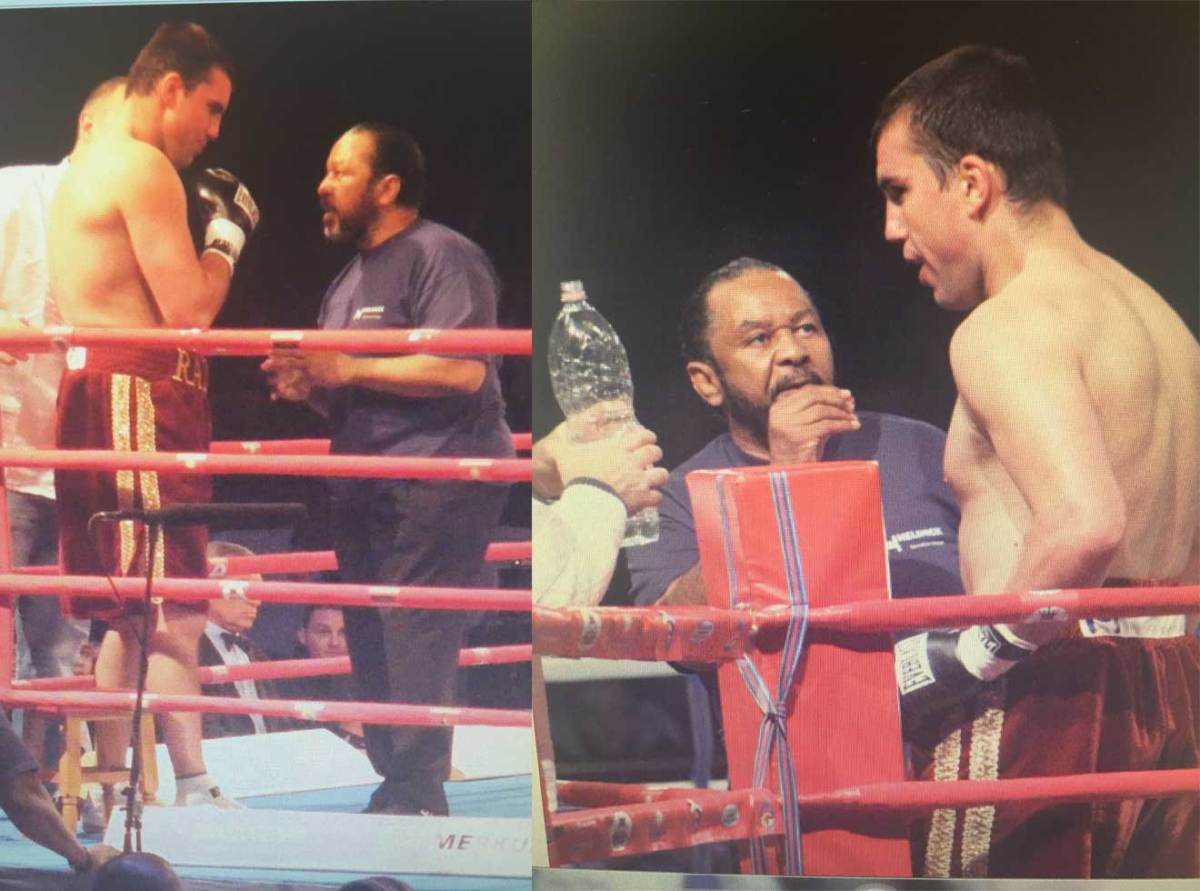 When asked about his methods, Arthur just smiles: "I stay on his ass."
In 2017, Cojanu got a chance to fight for the WBO World Heavyweight Championship belt when another fighter dropped out of a match against Joseph Parker in Auckland, New Zealand. At the last minute, Cojanu took his place. Out of shape and overeager, he lost that fight.
"He didn't listen to me," Arthur says. "He didn't stick to our strategy."
Now Cojanu is getting a second shot at fame, thanks to another last-minute switch, when a fighter recently dropped out of the match against Ortiz at the Staples Center. Every day, he wakes up to do roadwork, swims laps, and spars endlessly for Arthur as well as his full-time trainer Lionel Lara. Yet, going into the fight on Saturday, no one's giving Cojanu much of a chance.
"Even the Romanian magazines aren't paying attention," Cojanu adds.
But Cojanu knows something the rest of the world doesn't. This is his chance to finally take home a piece of the American dream, helping his aging trainer out along the way—and no one is going to stop him.
"My dream is to beat the best and be a part of history," he says. "People forget I'm a heavy hitter, too. You should ask my sparring partners."
For access to exclusive gear videos, celebrity interviews, and more, subscribe on YouTube!