If you're looking for a way to infuse some flavor into your boring and bland chicken breast, steak, or seafood without adding a ton of additional calories or fat, look no further than a marinade. Homemade marinades are super simple to whip up on your own. All you need to do is combine a few ingredients, throw some meat in a zip top bag, dump your marinade on top, refrigerate anywhere from one to 24 hours, and throw on the grill. The end result will be a perfectly tender and flavorful dish that wont pack on the pounds.
Here, five versatile marinades that can be used with any type of meat or seafood*. Meat and chicken can marinate anywhere from 2 hours to overnight. Seafood should marinate 30 minutes to 2 hours (any longer could cause the fish or seafood to cook in the acidic ingredient that's included in the marinade). If you want to use any leftover marinade for basting be sure to boil it first before using. Boiling will kill any bacteria and make it safe for use.
*Some of these recipes were created for one type of meat or seafood but feel free to swap the protein for whatever you like.
Recipe: Roasted Chicken French Dip >>>
Simple Chimichurri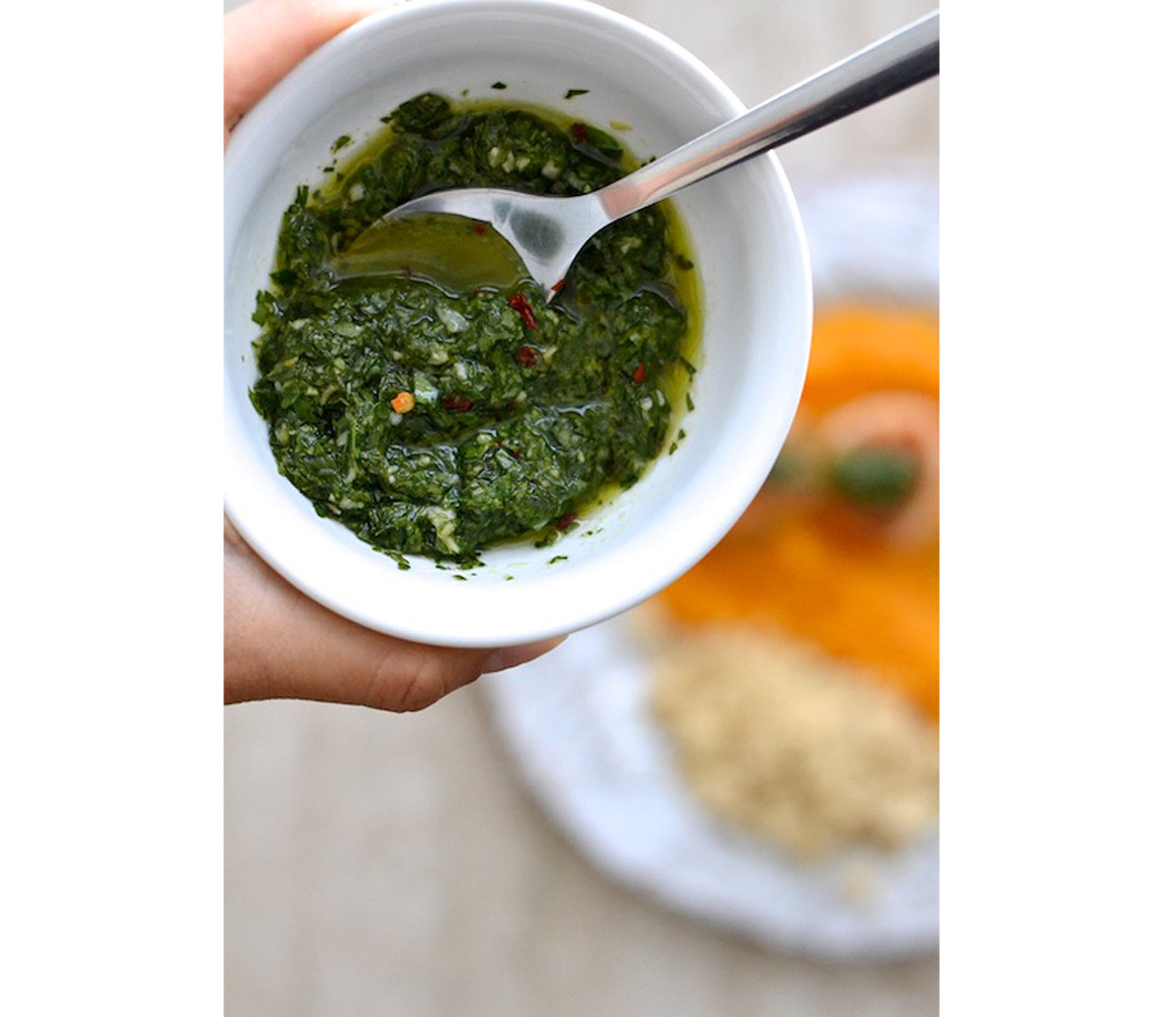 Makes 8 ounces
Ingredients
1 bunch parsley
⅓ bunch cilantro
4 four-inch sprigs oregano
3 cloves garlic, peeled
¼ cup red wine vinegar
⅔ cup olive oil
1 tsp red chili flakes
Instructions
1. Wash herbs and lay out to dry. Pick parsley leaves, cilantro leaves, and oregano leaves off the stems. Place herbs and garlic in food processor. Pulse a few times to chop.
2. Add red wine vinegar and olive oil. Pulse for 30 seconds, until the mixture is well chopped and combined. Add red chili flakes and stir to combine.
Recipe and photo courtesy Kristin Hong @ The Fresh Find 
Recipe: Roasted Chicken Grilled Cheese with Bacon, Avocado and Maple Mustard >>>
Spicy Buffalo Lime Chicken Marinade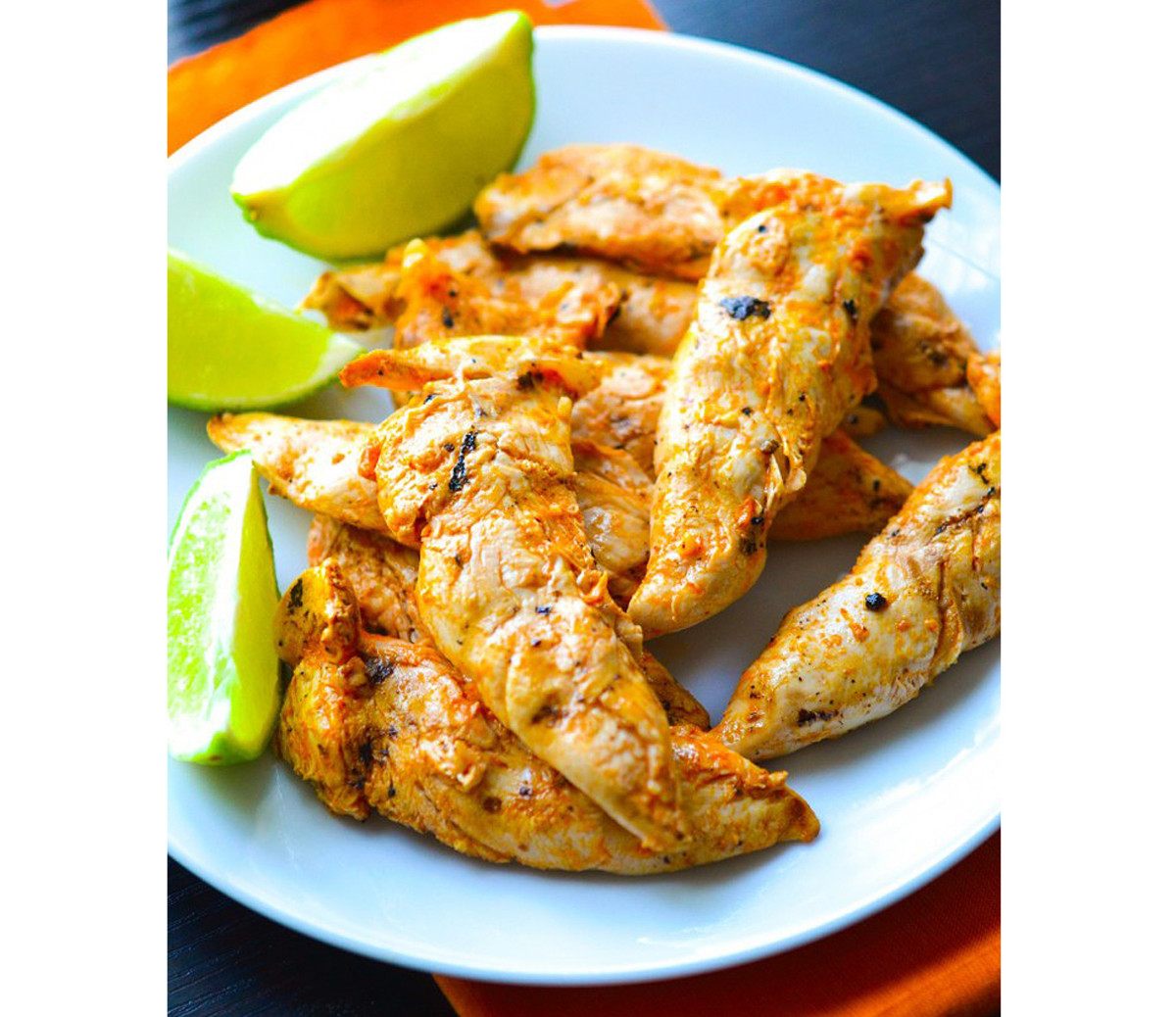 Makes 6 servings
Ingredients
2-3 lbs of chicken (breast, thighs, drumsticks, wings ~ bone-in or boneless)
1/2 cup Frank's RedHot Original
1/4 cup olive oil
1/4 Cup lime juice
2 cloves of garlic, minced (about 1 teaspoon if you are using it from a jar)
Lime – cut into slices, for serving
Instructions
1. In a medium bowl, whisk Frank's RedHot Original, lime juice, olive oil, and garlic until combined.
2. Place chicken in a large Ziploc bag and pour in marinade; refrigerate for 2-4 hours.
3. Remove the chicken from the bag and place on the grill over medium-high heat. Grill for about 4 minutes on each side. Squeeze fresh lime juice over top and serve immediately.
Recipe and photo courtesy Emily Loving @ Layers of Happiness 
Quinoa Paella with Chicken and Chorizo >>>
Marmalade Shrimp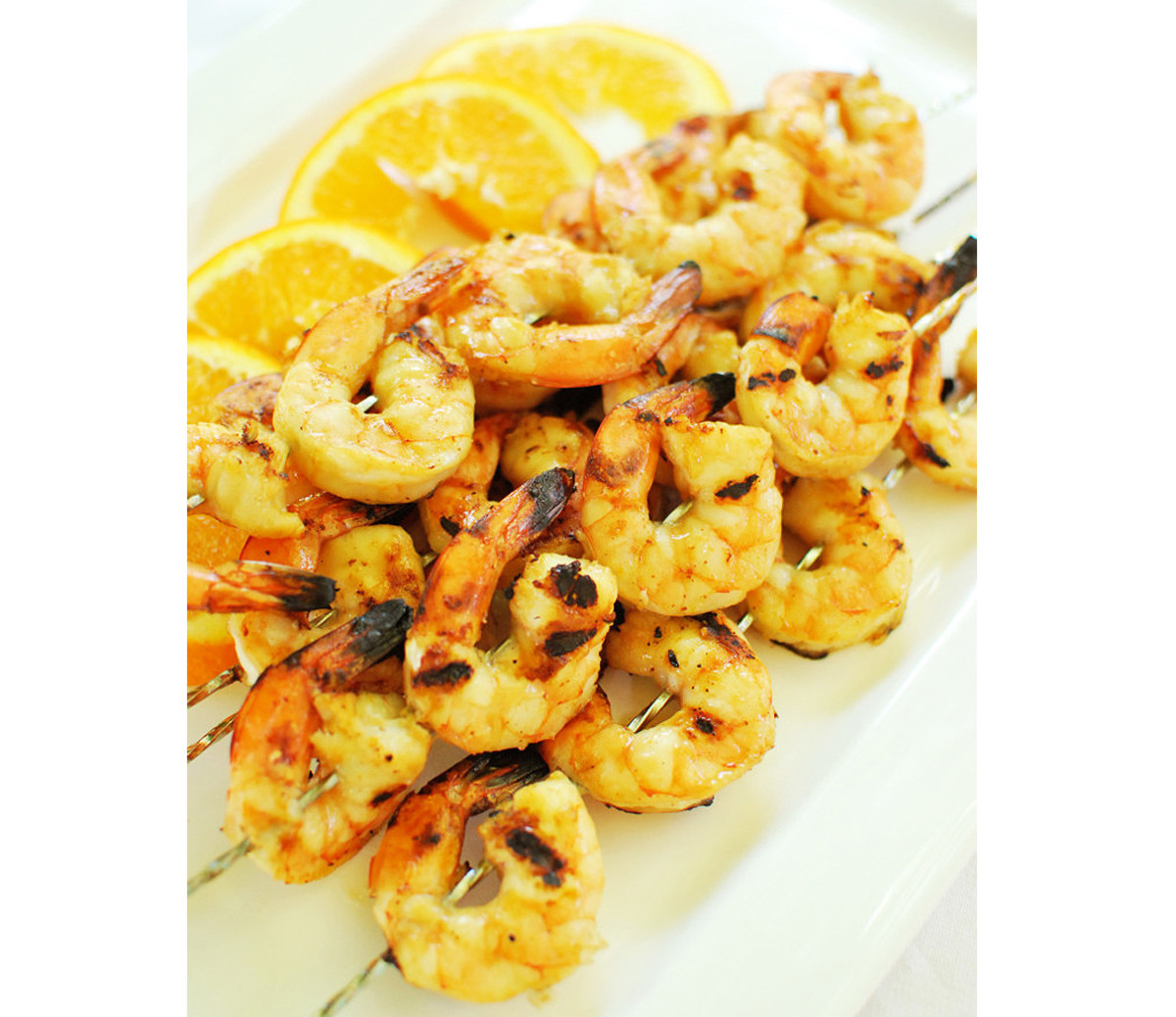 Serves 6
Ingredients
1 lb. raw shrimp, peeled and deveined
1 tablespoon marmalade
1 tablespoon Dijon mustard
1 teaspoon miso
1 teaspoon garlic
1 teaspoon honey
Lemon wedges, for serving
Instructions
1. In a bowl, mix marmalade, Dijon mustard, miso, garlic, and honey. Add shrimp and stir gently to coat. Cover and chill for several hours prior to cooking.
2. Thread marinated shrimp on skewers.
3. Lay shrimp skewers on a hot grill or grill pan for 2-3 minutes per side each side, until shrimp are bright pink and opaque but still moist-looking in center of thickest part.
4. Serve with lemon wedges to squeeze over shrimp.
Recipe and photo courtesy Lisa Samuel, RDN and McKenzie Hall, RDN @ Nourish RDs 
The Ultimate Asian Flank Steak Marinade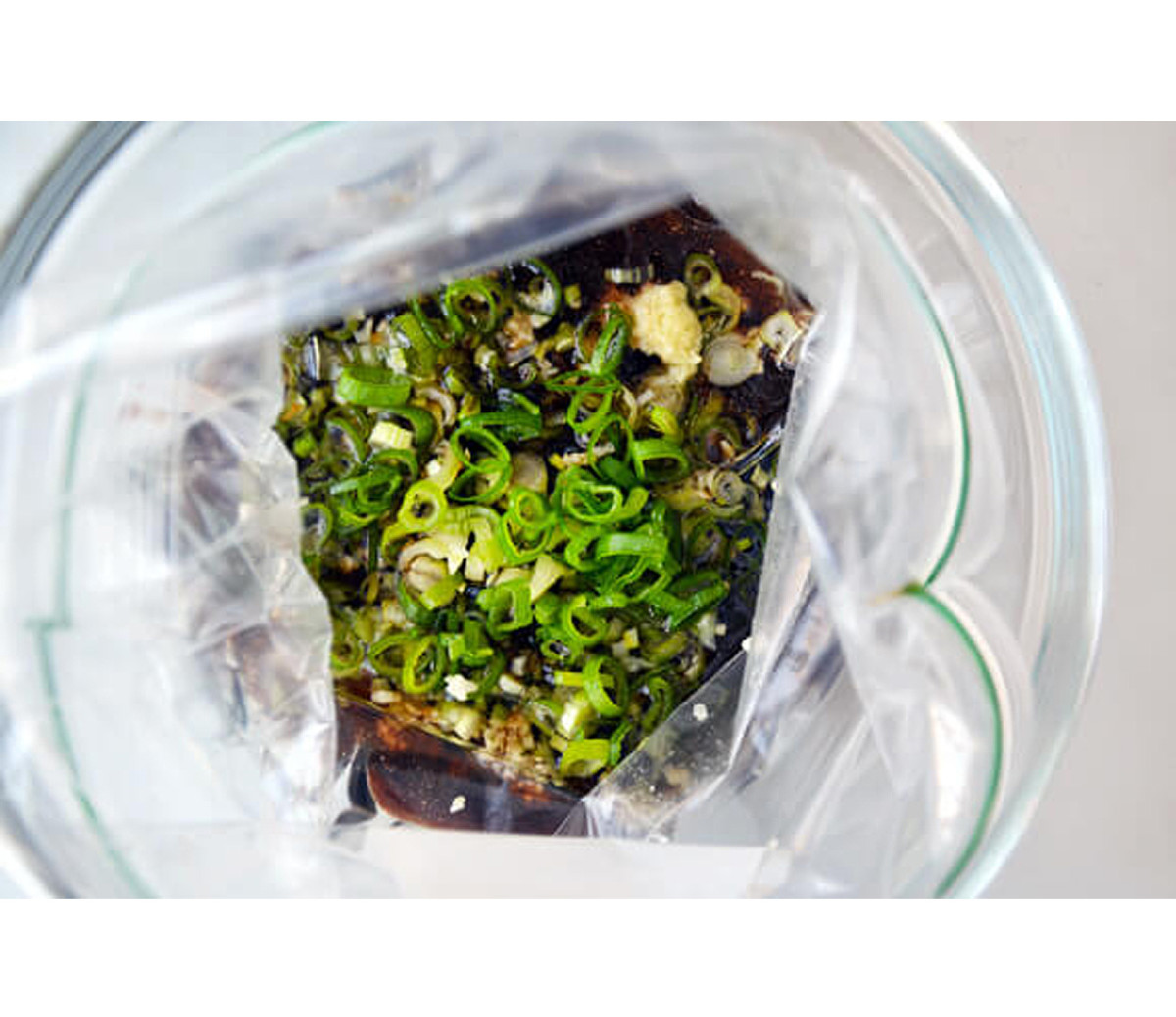 Serves 4
Ingredients
1 1 1/2- to 2-pound flank steak
1/4 cup low sodium soy sauce
1/4 cup balsamic vinegar
1/2 cup vegetable oil
3 tablespoons honey
4 garlic cloves, minced
2 tablespoons minced fresh ginger
3 scallions, thinly sliced
Instructions
1. Place the plastic bag in a large bowl and then add the soy sauce, balsamic vinegar and oil to the bag. Whisk in the honey, garlic, ginger and scallions. Add the steak to the bag, flipping it to coat it in the marinade, and then seal the plastic bag.
2. Place the steak in the fridge and marinate it overnight, or for a minimum of 10 hours.
3. When ready to cook, remove the steak from the fridge and preheat your cooking surface (grill or stovetop grill pan). Remove the steak from the marinade, discard the leftover liquid, and sear the steak on each side until it's cooked to your desired degree of doneness. Let the steak rest for 5 minutes and then slice it against the grain and serve.
Recipe and photo courtesy Kelly Senyei @ Just a Taste 
Spicy Grilled Salmon Steak >>>
Lemon Garlic & Rosemary Marinade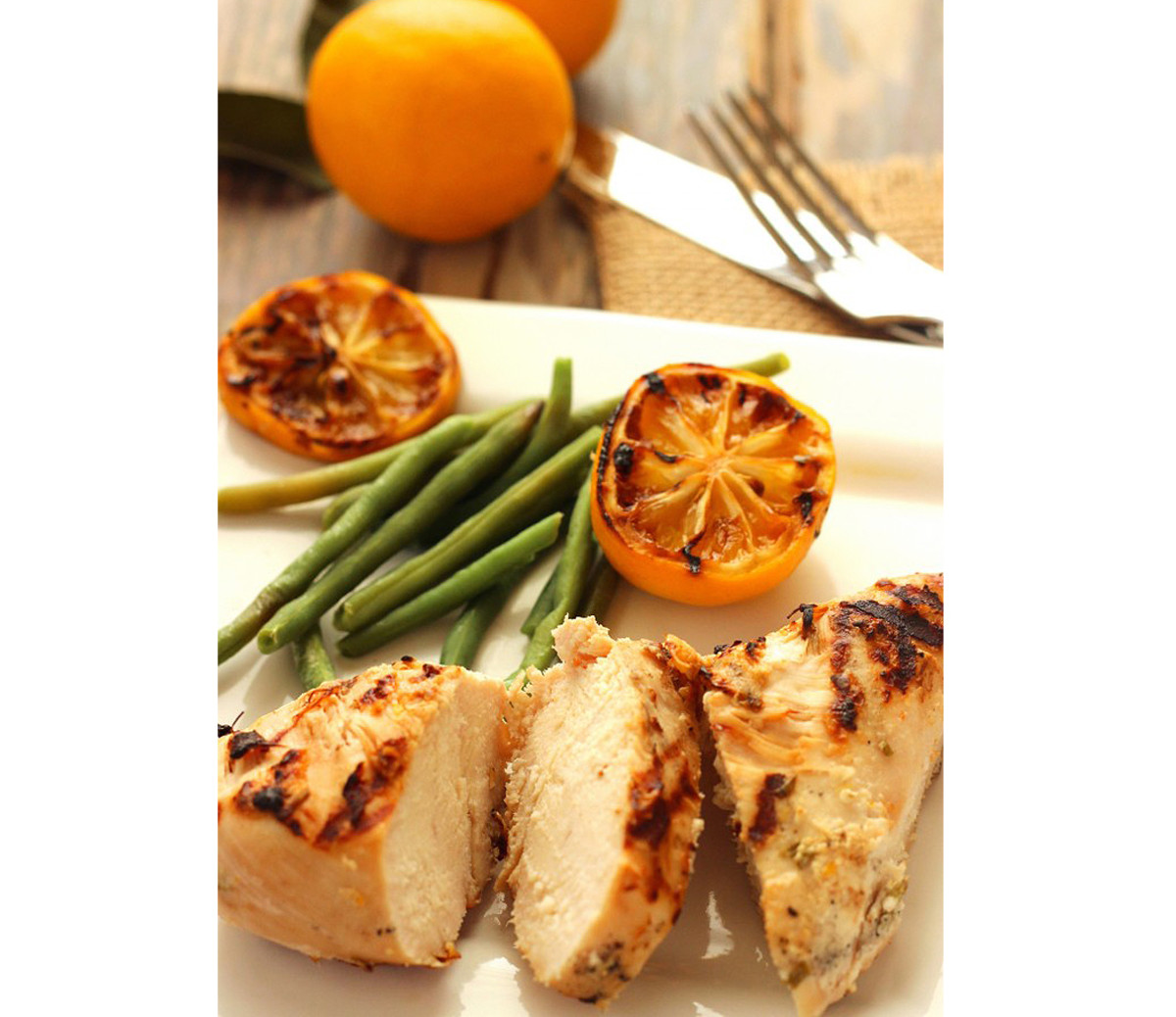 Serves 4
Ingredients
Juice and zest of 2 lemons
Olive oil
2-3 garlic cloves, minced
1 tbsp rosemary
Instructions
Mix together ingredients. Pour it over chicken (or other meat) and let it sit for about an hour before grilling.
Recipe and photo courtesy Anne Danahy MS, RDN @ Craving Something Healthy 
Recipe: Lemon and Basil Chicken-Veggie Kebabs >>>
For access to exclusive gear videos, celebrity interviews, and more, subscribe on YouTube!